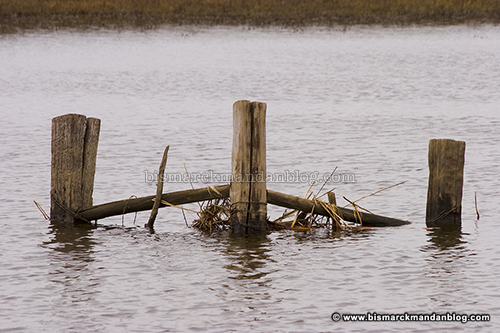 I got the opportunity to poke around the Apple Creek area the other day and scope out the ol' stomping grounds. For instance, there's a Great Blue Heron living near the 66th Street bridge that has eluded me for years, and he made a fool out of me again already this Spring (as if I need help for
that
). This time around, however, much of the area is under water, or at least it was several days ago.
I didn't get any earth-shattering photos of this, but there were people lined up along the ditch beside 66th Street, fishing the high water in the ditch. Carp up to three feet long were everywhere! One of the ladies in our office came back to work after her lunch break, saying they were spearing carp "as big as me!" over at the golf course. Amazing.
My hope is that this will be a good year for the wetlands of the Prairie Pothole region. I suspect it'll take more than spring flooding to accomplish that, however. We'll have to wait and see!
[ add comment ]
( 3 views ) |
permalink
|
Click a dot to rate this entry:





( 2.9 / 313 )
---
inside
the east entrance of one of Bismarck's hospitals. An elderly lady turned Medcenter One's coffee shop into a drive-thru a couple of years ago. Coincidence? You be the judge.
One interesting note: according to the Bismarck Tribune story, the driver of the vehicle lodged in the ER of St. Alexius was "arrested for driving under the influence of prescription drugs and taken to Medcenter One..." Apparently St. A's must have been too busy dealing with a black S-10 in
their
emergency room to treat the guy.
Life sure is interesting, ain't it? It's going to be rather unpleasant in a few hours too, for this guy at least. I've stayed up way too late reading the last 176 pages of a Ted Bell novel and nursing a sore throat with medication and chicken soup. Not a good way to prepare for an early morning Thursday. I'd better get some rest, so I don't doze off and drive into a building or something. We don't have any untouched hospitals now, so perhaps I'd have to settle for a clinic...
[ add comment ]
( 2 views ) |
permalink
|
Click a dot to rate this entry:





( 3 / 301 )
---

If you have Flash installed on your computer, and supposedly almost 100% of us do, then you have noticed that the banner at the top of my website rotates through a series of pictures. Some of them are repeats because I love to start a project. Finishing it is sometimes another matter. Well, I'm a little closer now with the above addition to the banner, showcasing some our state's energy-related assets.
The dragline is from the Falkirk Mine, whose tour video I edited. In the middle is a wind farm, taken at sunrise north of Bismarck. And finally we have transmission lines, which are great for our power grid but sometimes a nuisance for a landscape photographer. Thankfully they can be photoshopped out when unwanted, and make a pretty neat subject when tried.
I've got some other ideas for thematic banners, and plenty of photos with which to go to work. Now all I need is more time, which grows more elusive each day...
[ add comment ]
( 3 views ) |
permalink
|
Click a dot to rate this entry:





( 3 / 325 )
---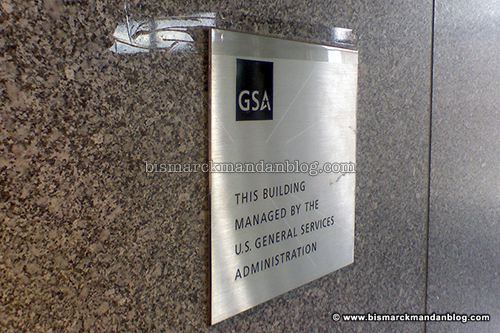 I noticed this stunning piece of work at least a year ago in the federal building on 3rd and Rosser. Every time I walk past it I consider taking a photo and remarking on it. Naturally people with cameras taking pictures in or around the federal building make feds nervous these days, but I saw no harm in pulling out the cell phone camera for this one.
This sign has been held on the wall by a piece of clear shipping tape for
at least a solid YEAR
now, and maybe two. I took this pic at a funky angle so the reflection on the clear tape would show you where it's applied. Beautiful, ain't it?
This is
exactly
the kind of thing you can expect whenever government promises to "fix" something. Right now I bet
Chrysler
feels like they've got a big ol' piece of government tape strapping
them
to a wall too, don't you think? General Motors can't be far behind. So does the
first power plant
to find out that Obama was serious about
bankrupting the coal industry
, an industry that provides a lot of prosperity for North Dakota. And heaven forbid...our health care system after that.
Hope™! Change™!
[ 2 comments ]
( 30 views ) |
permalink
|
Click a dot to rate this entry:





( 3 / 265 )
---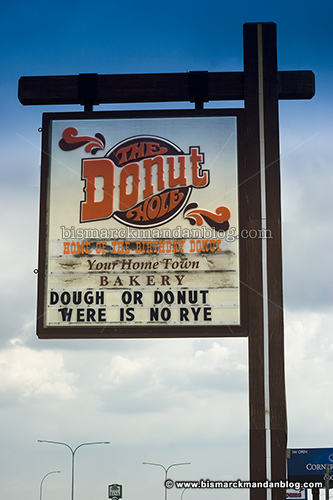 I was having lunch with my friend Luke today at the Steak Buffet when another friend at our table suddenly started laughing. He pointed out the window to the Donut Hole sign, and all three of us instantly started laughing. If you don't get it, rent The Empire Strikes Back. If you do...welcome, fellow geek!
This reminds me of a post from a long time ago, when I had
an R2-D2 sighting in downtown Bismarck
.
[ 2 comments ]
( 27 views ) |
permalink
|
Click a dot to rate this entry:





( 3.1 / 299 )
---
<<First
<Back
| 147 | 148 | 149 | 150 | 151 | 152 | 153 | 154 | 155 | 156 |
Next>
Last>>