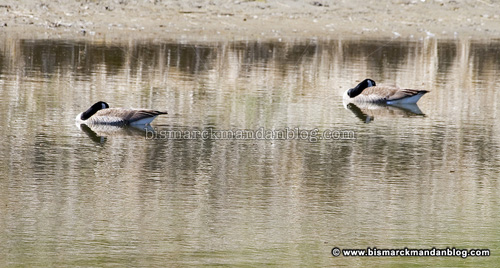 Bismarck and Mandan have a lot of nice scenic backwater to explore, if one is willing to get muddy shoes. I was willing to do so, and this weekend I had an arrangement with these two geese. By this arrangement they agreed that I posed no threat, and I agreed to move along after a couple of quick photos.
These geese were actually helpful in my approach of the Great Blue Herons described below. Under the watchful eye of the big birds, I stood by my tripod as these two geese walked by. They didn't pay any attention to me and hopped in the water, and by doing so they demonstrated to the herons that I wasn't worth much concern.
While they tucked in and took a nap in the sun, I was able to work my way closer to the big birds, eventually getting a couple of nice photos before they finally decided I was getting too close for comfort.
[ add comment ]
( 7 views ) |
permalink
|
Click a dot to rate this entry:





( 3.9 / 767 )
---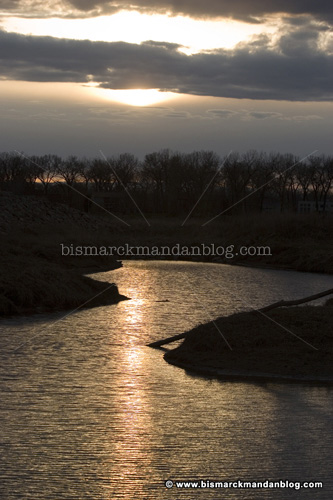 While poking around the water other day, I noticed that the sun had hit just the right spot. While it was quite light out that evening, the clouds had a pretty cool effect on the water. Getting just the right angle with the camera on its side, I managed to capture the water, the skies, and no buildings. I never expected to be able to do that on the edge of Southport!
[ add comment ]
( 6 views ) |
permalink
|
Click a dot to rate this entry:





( 3.9 / 731 )
---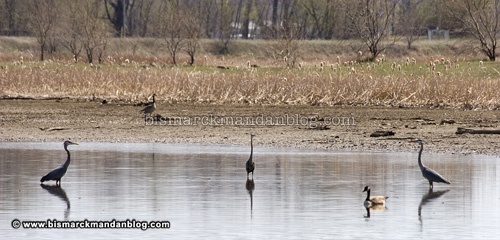 From what I've heard, the Great Blue Heron is a territorial bird. I've also been under the impression that they're also a solitary bird. Apparently not, as I spotted a group of FIVE of them this weekend!
One thing I know to be true: these are very perceptive, alert, and skittish birds. Trying to get near them is a near impossibility, a feat which I've tried to accomplish repeatedly in the past two years. I got some pretty good success once so far this year, getting within 50 feet of one of these birds, but didn't really come away with the greatest of pictures from it. I'll keep trying.
With these particular birds, I spotted them from afar. I clipped my camera to the tripod and began to advance along the soft muddy shore of the backwater. I would walk ten paces or so, stop, and remain motionless for a while. The birds would see me, of course, since there was no cover for me...but after a while they'd lose interest and go back to snatching fish out of the water.
I originally only saw three of the birds, but then was surprised to spot a fourth playing lookout. I would pan the camera back and forth to keep tabs on all of them as I worked my way closer, and suddenly I realized there were five! As I started to get within what I'd consider "good" photo distance, one bird took off and flew down river a ways. Shortly thereafter, a second birds took flight and went to join its pal. These three, however, held out for a while... allowing me a chance to work my way a little closer.
I was never able to get too close, but thankfully I have one of Canon's new 300mm zoom lenses. While parked on a tripod it's able to pull some pretty awesome shots from a distance. I'm still saving for a 400mm prime lens, which should be really awesome, but until that time this'll have to do.
[ add comment ]
( 5 views ) |
permalink
|
Click a dot to rate this entry:





( 3.9 / 752 )
---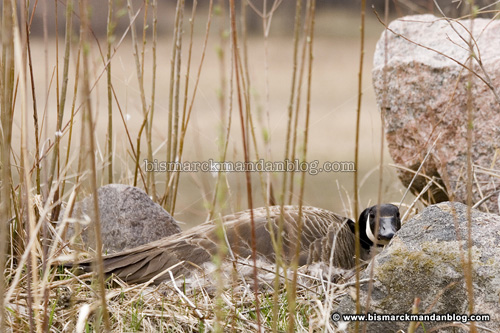 While out on another one of my notorious photo hikes, I was surprised when something caught the corner of my eye. It was this goose, all hunkered down in the rocks. I presume this goose is a she, and I also presume she's guarding a nest. I documented the find, then moved on so I didn't cause any further distress.
I got quite a few neat pictures from this particular hike, and I'll post them as time allows. I also found two ticks crawling on me through the course of the evening, both times on my pant leg. Yuck. I carry insect repellent spray and wipes in my truck, but I had grown accustomed to not needing them. I guess those days are over!
[ add comment ]
( 6 views ) |
permalink
|
Click a dot to rate this entry:





( 4 / 706 )
---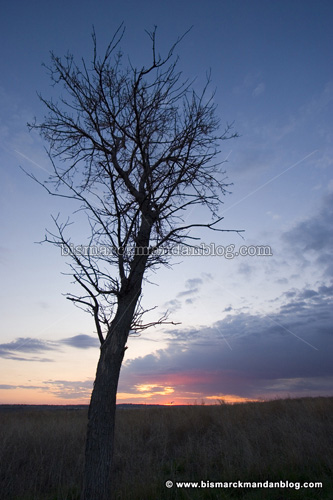 It's been very difficult to find a sunset lately; it's been cloudy, I've been busy, and they are arriving later and later! The sunset is around 8:30pm these days, which is nice; but it's far less convenient to have to wait four hours after I get off work! In some ways, those early sunsets are very handy. I can stake out a location, get the photos, and be home in time for dinner. Not any more.
This lone tree sits atop a hill northwest of Bismarck. As I grabbed this angle on the sunset, I realized that I had zoomed in on this particular little lonely tree from the other side of the river earlier this afternoon. In that case, however, there was nothing but a gloomy sky behind it. This angle turned out far better.
I noticed up at one of my favorite sunset spots, a vantage point that is endangered and probably won't be available for much longer, someone had set up some old patio furniture. Truly remarkable spots are hard to keep secret!
[ add comment ]
( 12 views ) |
permalink
|
Click a dot to rate this entry:





( 3.9 / 769 )
---
<<First
<Back
| 243 | 244 | 245 | 246 | 247 | 248 | 249 | 250 | 251 | 252 |
Next>
Last>>