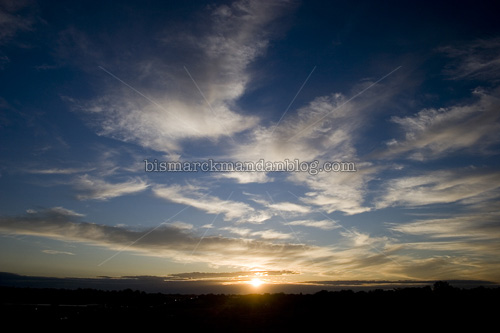 So there I was...at the
motorcycle/atv track east of Bismarck
this morning, when this glorious sunrise took place. These late September mornings can be brisk, and I wouldn't have them any other way.
One other characteristic of fall in North Dakota is the elevation of the sun above the horizon. As a motorcyclist, I'm all too aware of this; it makes us even harder for the people driving cages to see. This also makes for some unique sunrises and sunsets, such as this one.
[ 1 comment ]
( 58 views ) |
permalink
|
Click a dot to rate this entry:





( 2.9 / 755 )
---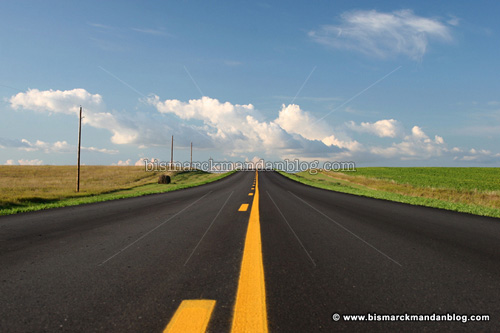 I've been on the road a lot lately, trying to cram in some North Dakota sights while the weather's cooperative. You'll see the fruits of that in upcoming posts as time allows. Of course I try to keep things on this blog related to Bismarck-Mandan, but I also want to share with you an epiphany I had in the process of this project.
I was one of those guys who couldn't wait to graduate high school early and get the heck OUT of this area for college. It wasn't until after I'd been away for college, back again, off to my original home of Montana, then back again, that I started to realize how great a state we have. It may have something to do with a newfound love of history, or perhaps just with growing up...I don't know. In any case, I have developed a love not only of our fair cities, but our state as well.
There are a lot of stories and sights in North Dakota that deserve more exposure. The number of books by local authors and the size of our now-expanding Heritage Center should give good testament to that. Well, it's about time this particular photographer / author got out to see them! I love our state's unique features, people, and wildlife enough to share them with you. I hope you enjoy them along with the local content I provide.
[ 3 comments ]
( 63 views ) |
permalink
|
Click a dot to rate this entry:





( 3 / 662 )
---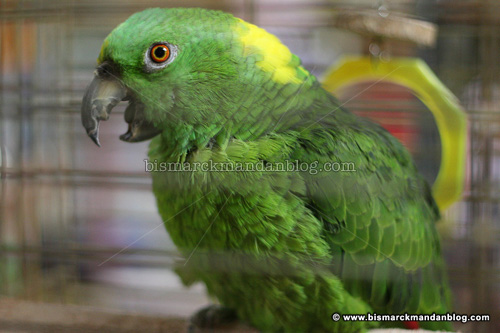 No, I'm not being fresh. I wanted to introduce you to Baby, one of the friendly faces at The Birdhouse! I can't actually claim to know whether Baby is male or female, but I guess that's hardly important. All I know is that this is one talkative bird! I caught Baby in mid-"hello" for this shot.
I did find out that Chipper, the energetic little lovebird that greets visitors from atop his cage / amusement park, is a little off these days. Apparently he's had a stroke or something, causing him to have a poor equilibrium and be a little less comfortable with folks he doesn't know. I was really sad to hear this because I believe he's related to Scooter, my little lovebird. They're the same age, anyway.
I recommend The Birdhouse as a wonderful place if you're looking for a pet bird; however, I'm going to be very adamant about one thing:
birds are not your average pet and have lots of special needs!
They require lots of attention and interaction as well as regular care such as having their wings clipped. They are also susceptible to a myriad of household dangers, including toxins present in air fresheners and scented candles. While it's common knowledge that Scooter is allowed to fly in our house, it's only through years of diligent care and constantly working with him. We're definitely a rare case. If you plan on being a bird owner, you have to accept some lifestyle changes in order to accomodate your new friend.
Even if you just want to say "hello" I recommend a trip to The Birdhouse. But please don't decide to take a birdy home as a pet until you've thought it through and decided to accept the commitment. I spent two weeks thinking it over before I got my bird. It was worth it, but every bit as big a responibility as I'd imagined. I had a little bit of foreknowledge, as my parents had a parrot over at their house, and I got to hear all of their bird stories...good and bad.
[ 1 comment ]
( 26 views ) |
permalink
|
Click a dot to rate this entry:





( 3 / 614 )
---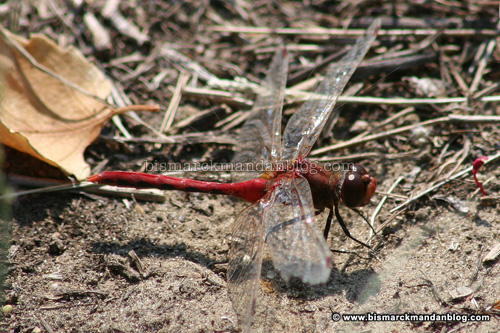 I honestly don't know. This is the time of year when we get those dangerously low overnight temperatures, so it's quite possible that we won't be seeing dragonflies or damselflies around until next year. I captured this little guy's picture several days ago, and we've had some cold snaps since then.
The past couple of years have been very good to the dragonfly. This summer at the capitol I saw several that looked like small birds, hovering over the lawn on the commons area and feasting on mosquitoes. Due to circumstances beyond my control, I was unable to spend as much time as I'd hoped in the wetlands areas. This led to a lack of dragonly or damselfly photos. I've had some really nice ones in the past, but this year slipped away too quickly.
Dragonflies are your friend as a North Dakotan. They seem to keep pest insects to a minimum, and anything that can accomplish that feat is a friend indeed! The Japanese kept praying mantises in their bedrooms to eat insect pests; maybe some guy needs to find a way to put a leash on a dragonfly...
[ add comment ]
( 5 views ) |
permalink
|
Click a dot to rate this entry:





( 3 / 594 )
---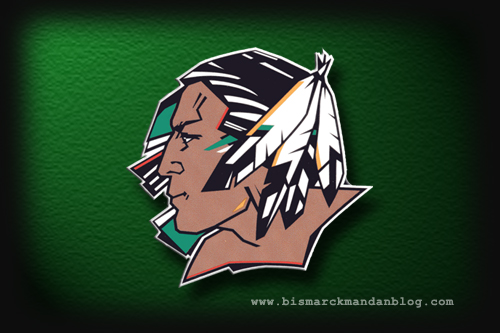 In a recent letter to the NCAA regarding their outrageous decision against the University of North Dakota's use of the "Fighting Sioux" nickname, President Charles Kupchella writes:
"We are concerned that even if we were to cave in and change our name, you might subsequently hold us hostage until the great State of North Dakota changes all of its state highway signs which now depict a silhouette of an Indian. You might, some say, insist that the Indian logos on the doors of all of our (marked) Highway Patrol cars be removed."
Right on! I wonder if he got the idea from
this post about the HP cars
or
this post about the highway signs
. If so, I'm sincerely flattered. This blog has repeatedly received over 100,000 hits a month...if even one of those helps preserve the UND Fighting Sioux tradition, I am the happiest guy on the block!
One other point that President Kupchella brings up here is that UND does a
lot
to help out Native American students:
"Although you say you considered all of the material we put into our appeal, your responses and actions indicate otherwise. I point out, again, some of the extraordinary programming we have in support of American Indian students.

American Indian education is a $12 million enterprise at UND. Much of the total is provided by the tribes themselves, by the students and their families, and by the federal government. None of this would happen, obviously, if the environment here were in any way hostile and abusive. There is also a substantial University component as well. The University annually provides about $400,000, mostly in the form of waivers of tuition specifically for underrepresented groups. Nearly all of this goes to American Indians.

We have more than 30 separate programs in support of American Indian education. Most of these are administered by a staff of seven American Indians. Most of the programs are based in a new American Indian Center funded by the University and by generous donors. These programs include a thirty-year-old Indians-Into-Medicine program which has educated about one-fifth of all (enrolled) American Indian physicians in the United States. Your action has, unfortunately, put all of this under a cloud of "hostile and abusive." We must find some way to set the record straight."
Amen to that! I'm glad he took the opportunity to point that out, as I mentioned in
this post concerning the logo an UND's programs for Native American students
.
You can read the full text of President Kupchella's open letter to the NCAA by clicking
here
. Well said, sir! Let's hope that logic and prudence win the day in your struggle to keep the nickname.
[ add comment ]
( 3 views ) |
permalink
|
Click a dot to rate this entry:





( 2.9 / 625 )
---
<<First
<Back
| 281 | 282 | 283 | 284 | 285 | 286 | 287 | 288 | 289 | 290 |
Next>
Last>>