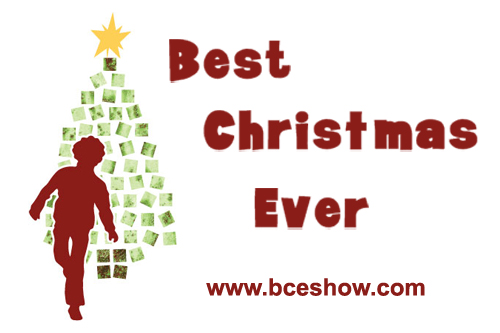 You may have seen posters for this locally-produced short film about a young boy who discovers the true meaning of Christmas. From the website at
www.bceshow.com
:
Local actors and musicians will share the holiday message of love and hope through the film, Best Christmas Ever, airing on local television stations on Christmas Eve and Christmas Day.

The film features a young boy struggling to find significance in Christmas. Watch and follow Isaac, played by local actor Reilly Hedegaard, on his journey through familiar Bismarck-Mandan holiday backdrops as he searches for a gift he didn't know he already had. The film is truly a local Christmas commemoration for all to enjoy.

The cast of Best Christmas Ever has years of stage and film experience. Isaac's father is played by Waylon Hedegaard, his mother by Anne Green, pesky little sister, Judith by Elizabeth Green and Daniel Rogers plays the loveable grandfather.

AIR TIMES

Christmas Eve
12:05AM - Fox
Various Times - Cable Access

Christmas Day
8:30AM - Fox
12 Noon - KFYR, KXMB
Various Times - Cable Access
If you're in Minot, Williston, or Dickinson, tune to your local affiliate at the above times. I'm pretty sure it's going to air on all western North Dakota affiliates of the stations listed above.
You can watch the first two minutes of the program
on the show's website
. Of course I've seen the rough cut, and I can say that you'll absolutely love this locally-produced short film. It's produced here in Bismarck-Mandan by a local crew with local actors. Not just that...it's an amazing story with a lot of heart. Check it out!
[ 1 comment ]
( 15 views ) |
permalink
|
Click a dot to rate this entry:





( 3.1 / 383 )
---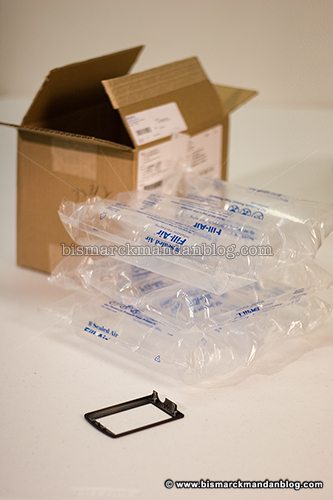 This week I performed some repair work on one of our HD video cameras after the various parts arrived. There were two Sony boxes that made me laugh when I first saw them. Notice in the picture above, the relative size of the little square replacement part to the mountain of packing material and large, square box!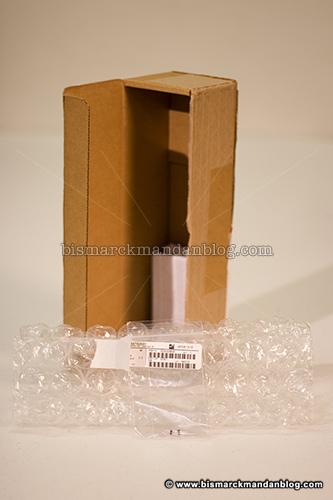 But oh, it gets more amusing from there. This box is about a foot long and two inches or so square in height and length. It contained a bundled section of bubble wrap and --do you see them? -- two very tiny little mounting screws!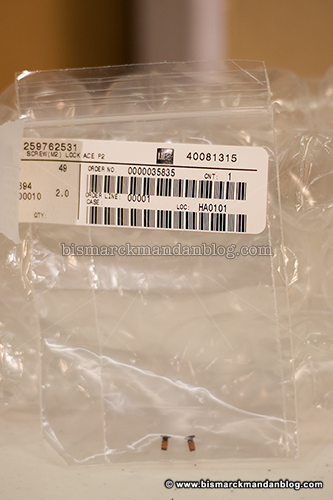 The collective weight of these screws is certainly less than a gram, but they were in a foot-long box! Not only that, they were also double-bagged in two tiny zip-loc baggies!
I suppose there are some interesting reasons why such boxes are chosen for things, and Sony isn't the only one that ships us stuff in abnormally large boxes. In this case, it prevented some very small, very important parts from being lost or misplaced due to a tiny box escaping notice or falling into a nook or cranny somewhere. The larger box actually shipped for free since it was a backordered part. It can also be cost prohibitive for a company to stock the right size box for absolutely every possible combination of parts. Still, when something shows up in a box 1,000 times its size, it's fun to enjoy a good laugh.
[ 2 comments ]
( 22 views ) |
permalink
|
Click a dot to rate this entry:





( 3 / 288 )
---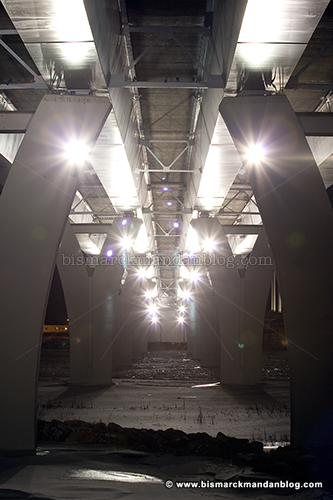 My wife and I just paid off her truck in just under two years instead of five. Shoveling money at our bills in an effort to make them go the heck away takes discipline and a budget. That means that I don't often get those little indulgences I've favored in years past, such as my beloved Applebee's boneless wings. Imagine my surprise (and glee) tonight when she asked me if I wanted to go get some, since our budget could handle it! Yowza! I thought maybe it was because I surprised her by doing a bunch of housework while she was gone...in reality, I think it's because she loves me. To top it off, she thought it'd be keen if I took a few minutes to grab a couple of photos along my way.
The bridge shot above is a reshoot of something I tried the night before (see the post following this one). I accidentally left the lens's gyroscopic image stabilizer turned on for the shots last night, probably in an effort not to freeze my fingers off, which left it room to wander a little bit and blur my photos. Oops. I made good tonight.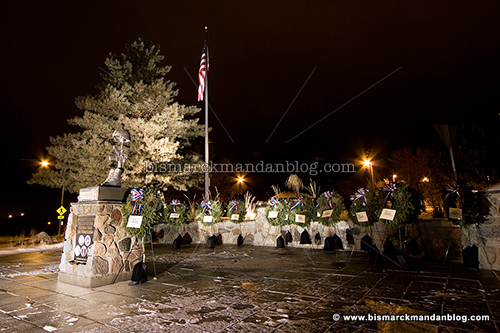 I also featured the Global War On Terror memorial recently, but this was an opportunity to show it at night. The variety of light in the area made it a particularly challenging shot, one that I wasn't sure would turn out. I was pleasantly surprised with the results.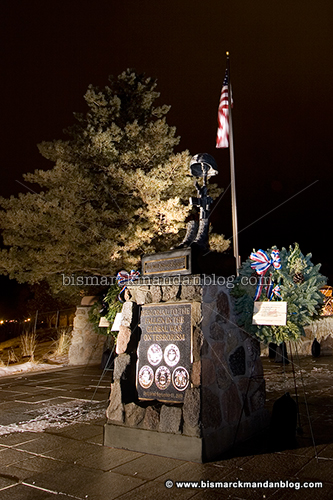 One more angle of said memorial. After I got a few photos out of the way, I figured it was about time for my Carside To Go order to be ready. I pointed the truck toward the 'bees and picked up my wingies. Mmmmmmmmmmm. Clint likey. Clint want wingie. (I couldn't wrap this up without a music or movie quote.)
[ add comment ]
( 3 views ) |
permalink
|
Click a dot to rate this entry:





( 3.1 / 295 )
---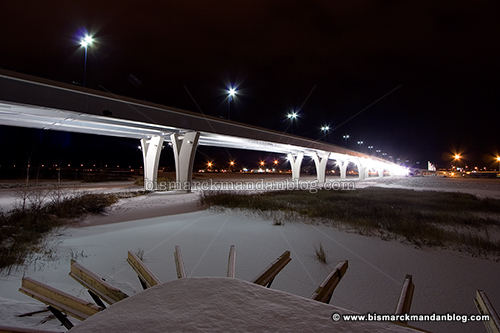 Not only is the new bridge finally lit, but work has commenced on the park facilities along River Road nearby. I took this photo standing behind the construction fence along part of the work in progress. If you've read this blog for a while, you already know that I don't take photos where I'm not supposed to. I heed No Trespassing signs and that sort of thing as well. Besides, the structure on the other side of the fence didn't look like a wise place to be!
[ 1 comment ]
( 28 views ) |
permalink
|
Click a dot to rate this entry:





( 3 / 251 )
---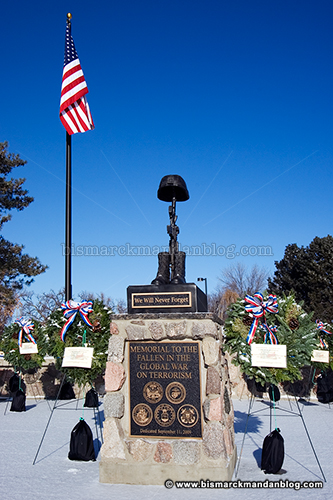 The Patriot Guard Riders donated wreaths to adorn the Global War on Terror Memorial, located near the entrance of Fraine Barracks in west Bismarck. This memorial honors any North Dakota soldier who gives the ultimate sacrifice on behalf of the rest of us in this ever-important war.
I have been doubly proud of this memorial not just because of the honor it bestows on these brave soldiers, but also because it acknowledges the Global War on Terror. President Obama and his lockstep liberals are too pusillanimous to acknowledge the threat of evil against the forces of freedom. This memorial shows that North Dakotans have the sack to stand up and call it what it is: a Global War On Terrorism. Period.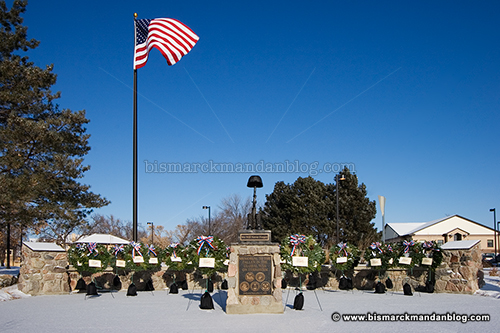 As you celebrate this Christmas with your family, please be mindful of the soldiers' families who will be celebrating with loved ones absent. In most cases, they'll have someone special deployed away from home. In some, however, they won't have any more Christmases with that person. This memorial stands as a testimony to that. It isn't just the soldier who sacrifices; it's everyone they love and who loves them. If you or someone you love serves in our military, I'm grateful for what you give on behalf of your country.
[ 1 comment ]
( 16 views ) |
permalink
|
Click a dot to rate this entry:





( 3.1 / 263 )
---
<<First
<Back
| 121 | 122 | 123 | 124 | 125 | 126 | 127 | 128 | 129 | 130 |
Next>
Last>>