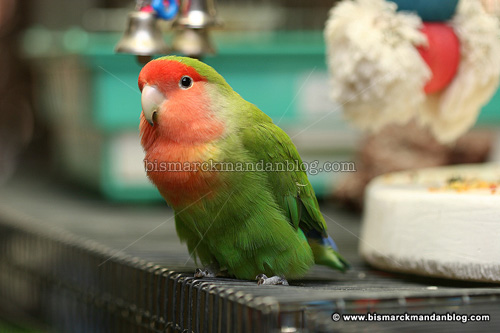 At first glance, this would look like another post about Scooter, my lovebird. Nope...wrong birdy! This is Chipper. For twelve years he's been the official greeter at The Birdhouse in north Bismarck. Not only is he a cute, sweet little fella, he's also accomodating in letting prospective bird owners hold him and decide if a birdy is right for them.
I visit Chipper every now and then and help rub out his pinfeathers over a conversation. He tweets and peeps, scolding me when I touch a sensitive one. We're old pals, Chipper and I...in fact, it was my experience with him that made me decide on a lovebird before I purchased Scooter!
Chipper's getting along in years. He went through two owners before coming to The Birdhouse for his role as store mascot. I don't know how long it was between his hatching and his becoming a store employee, but he's at least twelve years old. A healthy lovebird can live up to 20 years, so he may have plenty of time left in him. He did, however, have an unfortunate incident this year which resulted in a nasty fall. We figure he had a minor stroke which caused him to lose balance. To this day, he's lost his equilibrium somewhat and leans to his right. He walks sideways too. That disability hasn't stopped him from his duties as the store ambassador, however!
If you ever find yourself at The Birdhouse, stop and say hello to Chipper. He may not be as willing to let people pick him up these days due to his balance problem, but he's still very friendly. Maybe you'll just see him curled up in his coconut half-shell, beak tucked away in his feathers. But hopefully he'll be there for years to come, providing smiles to new customers and old friends alike!
[ add comment ]
( 3 views ) |
permalink
|
Click a dot to rate this entry:





( 3 / 470 )
---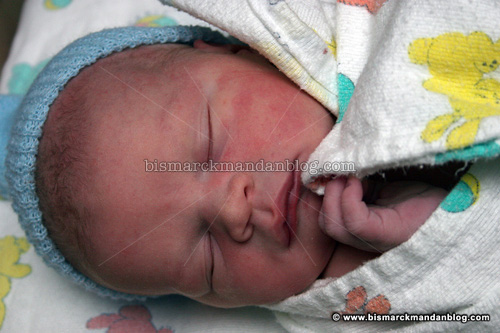 Yes, that's right...I'm a dad After nine months and one day ahead of schedule, Paul Joseph ("PJ") joined our family. He's a little tank too, weighing 9 lbs 4 oz and measuring at 22.5" long. He's got blond hair and blue eyes, just like his proud papa!
We went into the hospital for a checkup, and ended up being admitted. My wife is so strong, such an amazing lady...she endured an endless stream of contractions that were causing an immense amount of pain, but weren't getting us closer to delivery. Finally she agreed to an epidural, and that allowed her body to relax enough for the process to get going.
No matter how many books you read, how many videos you watch, and how closely you pay attention in Lamaze class, there is nothing to prepare a man for childbirth. There's so much uncertainty, so much helplessness, so many feelings of inadequacy. This is the woman's job, and all the guy can do is try to be as supportive as a husband has ever been. To watch my wife in pain and travail through labor is the most gut-wrenching thing I've seen as far as I can remember, but its fruition is such joy that all those things seem in the distant past.
One observation I've made about women, and you can disagree with me if you want, is that they are 1) more in touch with their emotions than men, and 2) far less able to handle sudden changes in emotion than men. Sure, the stereotype of women being tougher emotionally is true; but a guy can be mad one second and happy the next, with no trouble switching gears. Those roles were reversed last night.
Stacy's travail turned to joy, although some pain lingered. Once things settled down, however, I found myself finally able to decompress and sob through the flashbacks of her pain and disorientation. She's so amazing. For her labor we've been blessed with a perfect little (big) boy, exactly an answer to prayer, and to see the two of them together wells up feelings I never knew I had.
I was a loner for 35 years. I had my own room as a kid, always kept my personal space regardless of friendships and relationships, and lived alone for a long time before getting married. I wasn't sure I would be able to change and put a wife before myself, or a child for that matter. Obviously Stacy changed my mind in respect to marriage. When little PJ reached up with both hands and grabbed my finger last night, less than five minutes after being born, I was reassured that things will be okay there, too.
I didn't spend any time preparing emotionally for fatherhood. How can I? There's no possible way to do so. Instead I chose to be totally blindsided, with no preconceptions and no expectations. It was the best way to approach the birth of our little (big) guy. Now the only variable is how Scooter's going to take to him. He's a pretty understanding bird...hopefully he'll be as awestruck with little Paul Joseph as I am.
Now, at the risk of sounding like an Academy Award winner, there are some people we'd like to thank. First and foremost would be my employer, Candace, whose experience and guidance have brought us through this whole amazing event. She was with us through every step of the way, counseling us and providing lots of much-needed backup. I can't even describe the degree of comfort and help she brought to us this weekend. The Muggerud family is our family, I'm just fortunate enough to work for them as well. Second would be the nurses at the hospital. They've gone the extra mile to insure our comfort, and every need is met. One in particulary, Jody, even stopped in to talk to us at the end of her shift, even though she'd had to stay over an hour later than her scheduled time off. When she came in the next morning to find that we're parents, she came to greet us with congratulations.
Obviously, my head is still swimming from the whole thing, and I need to cut this word dump short and get back to my family. Thanks for your prayers throughout our pregnancy and delivery. To those of you who loved the nickname we'd given him before birth, "Klaus", thanks. To those of you who said we'd be nuts to name our kid Klaus, your fears can be abated. And to those of you who thought it was unfair to keep his real name a secret until his birthday...well, now you know.
[ 14 comments ]
( 174 views ) |
permalink
|
Click a dot to rate this entry:





( 3 / 469 )
---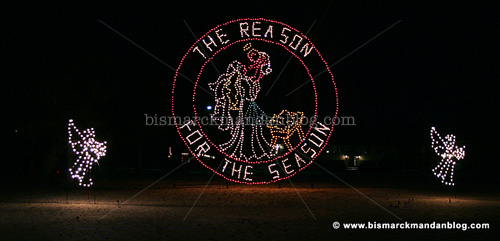 When Christmas in the Park opened this year, my wife and I were one of the early visitors. It's neat to see the displays, especially ones from sponsors who do new ones each year, while driving through the park in the dark. It's a display that can be seen from Mandan and the Memorial and Expressway bridges. I wonder if it can be seen from the Schaff house?

Of course, we're biased toward the Peanuts-themed displays. They're our favorite and, instead of listening to the Christmas music broadcast by the Sertoma folks, we were listening to A Charlie Brown Christmas in the truck.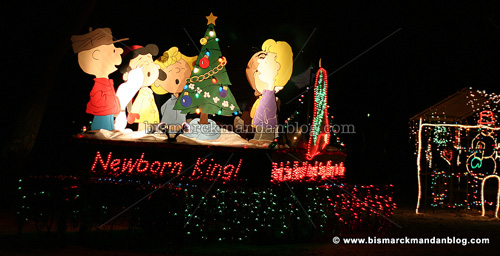 Of course, it was much nicer when there was actual snow on the ground. I'm really bummed that we're having a brown Christmas so far. Keep praying for snow...and if it arrives, go back through Christmas in the Park again!
On a side note, I think it's funny that people like me will complain about spending $7.75 to sit through a two hour movie at a theater while happily spending $5 to cruise through a 15-20 minute Christmas display. I don't think there's anything wrong with the five bucks, I just think the human nature of it is funny. While a theater like the new Grand is worth $7.75, Christmas in the Park is equally deserving of your five bucks.
[ add comment ]
( 3 views ) |
permalink
|
Click a dot to rate this entry:





( 3 / 461 )
---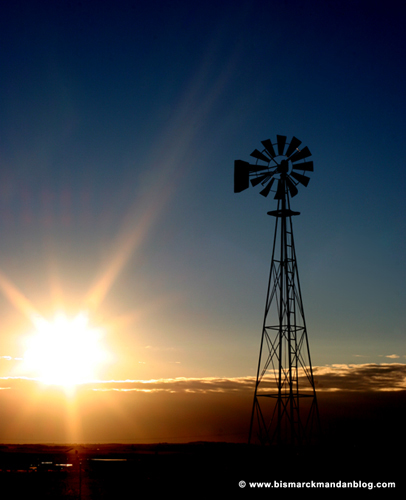 I was hoping that we'd get more of the red/purple thing that the sun has been doing the past few days, but that wasn't the case. I believe it's because of the clouds on the far horizon, which don't give the sun a chance to refract or something to that effect. Not only did that strip the sunrise of its colors, but it also prolonged the time I had to shiver until the sun poked its head above the clouds. The wait was worth it, as I got quite a few neat shots. This is one of them.
There were some ups and downs to this little adventure. It seems that I can't leave the house without something blogworthy happening, and today was no different. While I got lots of nice sunrise and pre-sunrise pictures, I also had some other trials. First, the cap for the lens I was using fell out of my pocket out in the middle of this field, and I noticed it once I'd hiked back to the truck. Being of the stubborn sort, I hoofed it back out there and actually found it within five minutes! To help, I brought the camera and lined up the picture the same way, then followed my tracks back toward the truck. Whew! Canon charges an arm and a leg for those things. Oh, one more thing: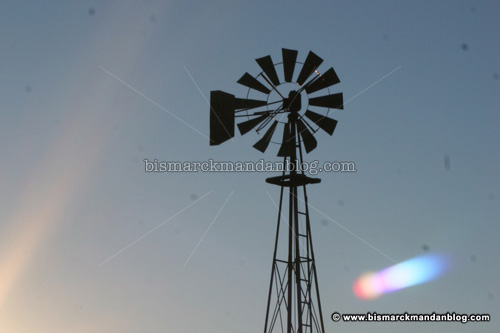 This is what the last few photos looked like. Yuck. As it turns out, the beautiful little prime lens I was using to shoot this somehow sucked a bunch of dust into itself. I got home, looked at the pictures, and was immediately horrified. Inspection of the lens showed that yes, there was some nasty gunk on the lens...but not on the outside! Somehow it had gotten inside. That's a mystery to me.
A lot of those other dots are caused by a dirty sensor on the camera. This is a problem unique to digital cameras, since film uses a new surface for each exposure. When you own a digital camera where you change lenses a lot, there comes a time to clean it. Sensors attract dust, and dust shows up when you point the camera at bright stuff with narrow apertures (I think this was f/22). Drat.
I just ordered a couple of different sensor cleaning kits, so it's time to try them out. It's never fun to stick foreign objects into a $1500 camera, but I honestly don't trust anyone else to do it for me. I've always been the same way with my motorcycles, mountain bikes, and other stuff. There are too many horror stories flying around out there. So I'll be sticking a solvent swab into my computer very soon. Hopefully I'll do it right, or it'll be hard to come up with more photography for the ol' Blog!
[ 2 comments ]
( 39 views ) |
permalink
|
Click a dot to rate this entry:





( 3 / 555 )
---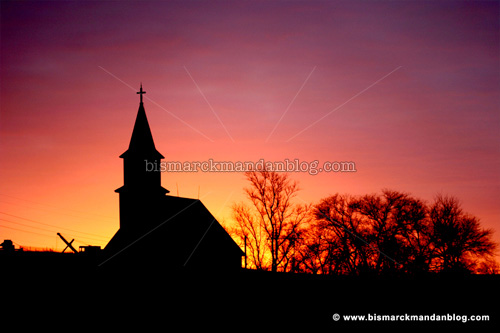 Obviously there was a fantastic spectacle last night (Thursday) with all the Aurora Borealis activity. What I didn't tell you (yet) is that the day started out with a lightshow as well. Shown above is the sunrise from Thursday morning, an amazing display of color. A sunrise like this will really make a photographer's day, but to have the day bookended with such a Northern Lights display will make this day stand out in history.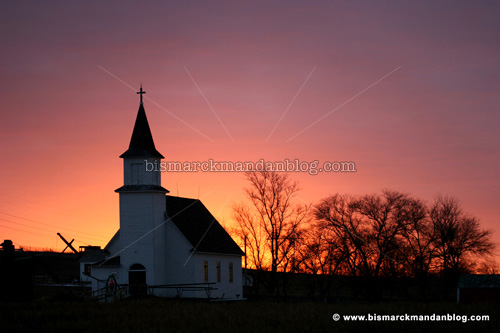 Just in case you wanted to see the front of the church, here ya go. Aren't those colors in the morning sky simply amazing? The same sort of thing was happening in the sky this morning, but I didn't get out of the house in time to catch it. Sunrises and sunsets with this type of dramatic color only happen for a few minutes, and then they're gone.
[ 3 comments ]
( 897 views ) |
permalink
|
Click a dot to rate this entry:





( 3 / 461 )
---
<<First
<Back
| 266 | 267 | 268 | 269 | 270 | 271 | 272 | 273 | 274 | 275 |
Next>
Last>>