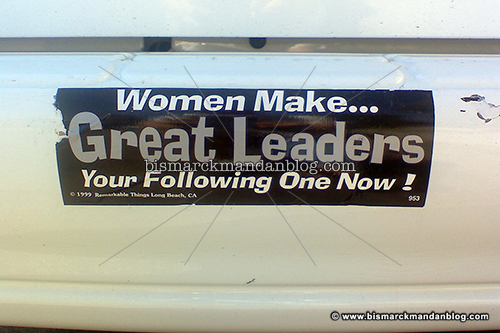 On a recent stop to the post office, I saw this sticker on a vehicle parked in front of me. Being typographically minded, I noticed something odd about it. I'm told that contractions are uncomfortable, but I didn't think that applied to parts of speech as well!
[ add comment ]
( 2 views ) |
permalink
|
Click a dot to rate this entry:





( 3 / 290 )
---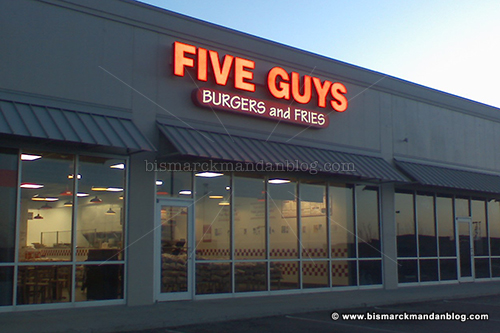 Someone at the U-Mary game this weekend mentioned that they thought Five Guys would be open on Monday (technically today!). I sure hope so. If you've never eaten at a Five Guys restaurant, you're in for a real treat! Order your burger just how you like it, with a variety of fixin's, and fries made from fresh potatoes. You get peanuts to snack on while you wait.
I had never heard of this chain until earlier this year. I was on a traveling video shoot with a couple of guys who'd worked in Washington, DC and were absolutely hooked on Five Guys burgers. We stopped in Fargo and saw one of these shops and they absolutely had to stop, even though I was in a taco mood. I was so glad we did! I'm very excited to frequent this establishment, beginning as soon as possible. Yum!
By the way, I'm sure you were going to try this anyway...but the URL for their website is
fiveguys.com
.
[ add comment ]
( 11 views ) |
permalink
|
Click a dot to rate this entry:





( 3.1 / 196 )
---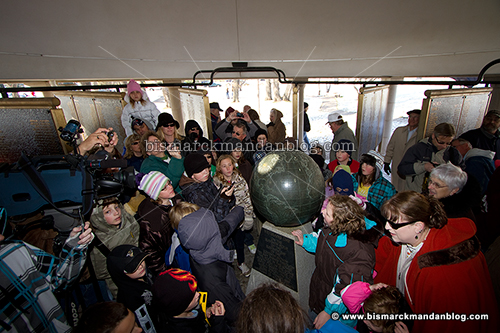 I didn't think I'd make it to the memorial at the capitol today, but I did. I had plenty of company. Showing up twenty minutes early turned out to be a pretty good plan, as it really packed in with people (including a LOT of kids) waiting to see the phenomenon!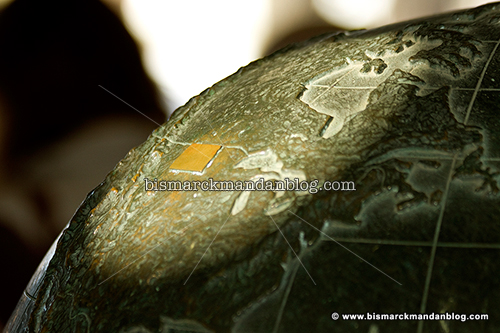 This is the circular beam of light which is cast by the sun thanks to a tube in the side of the memorial (see the post immediately below this one). At 11:00 it is centered on North Dakota, which is a raised and somewhat polished portion of brass on the globe in the monument's center.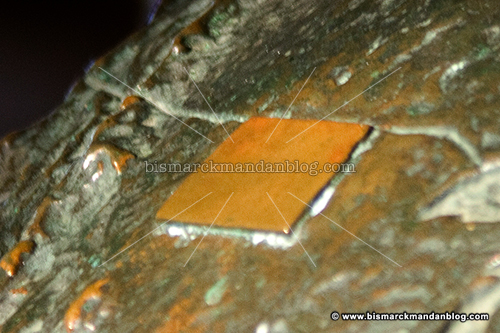 The globe itself has seen better days. The brass North Dakota is tarnished and needs to be polished & coated. There are also bird droppings on it, something I figured would be corrected before Veterans' Day arrived. I figured wrong. If a volunteer is needed, I'll put my name on the list.
This was a neat event, but let's not forget that today is about the nation's soldiers. Please read on to the post below this one for more on that. Thank every veteran and soldier you encounter today!
[ add comment ]
( 4 views ) |
permalink
|
Click a dot to rate this entry:





( 3 / 166 )
---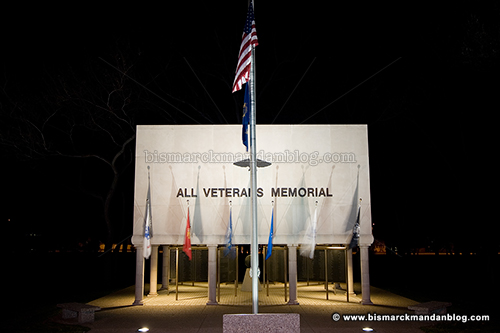 I'm sure many of you will recognize the All Veterans Memorial on the grounds of the North Dakota state capitol. With today being Veterans' Day, there will be a lot of visitors here. This memorial does something special on this day, although a cloudy day may hamper that a little. So far the forecast has been wrong and the skies are clear, so perhaps all can proceed as planned.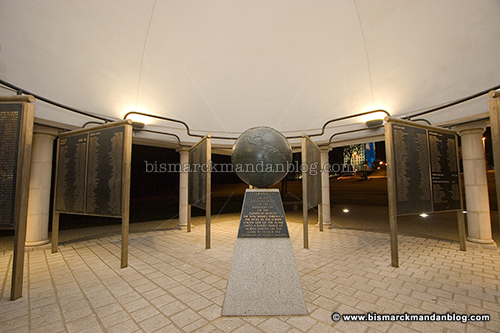 For anyone who doesn't know, the top of this memorial is only square on the outside; the inside is a spherical dome. That's important for many reasons, which are evident when you're there. At the center of the monument is a globe on a pedestal.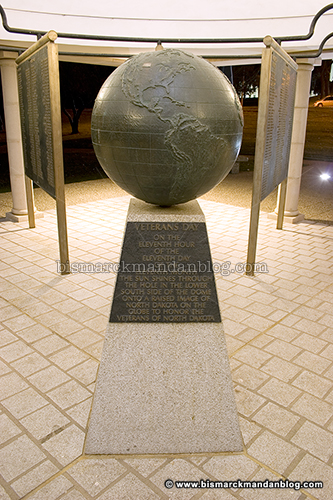 As the placard describes, something special happens here at 11 o'clock on the eleventh hour of the eleventh month every year, in commemoration of Veterans' Day.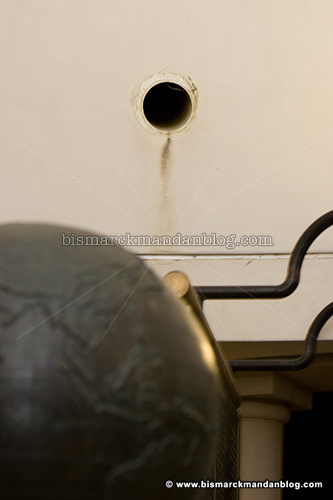 At precisely that time, the rays of the sun travel down this hole in the dome of the monument, beaming their way directly toward the globe at its center. I was kinda hoping that someone would be able to clean that stain off the wall where water sometimes drips through the tunnel.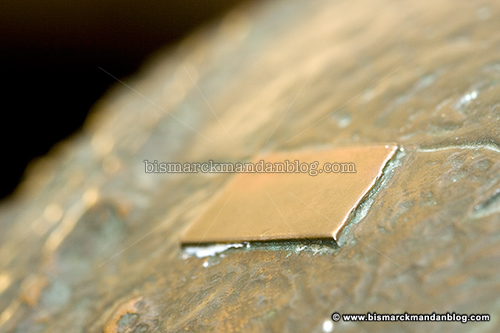 On the globe, North Dakota is raised and polished above the surrounding terrain. The light of the sun strikes it directly for a brief period of time every Veterans' Day at 11 am, lighting it up for those in attendance.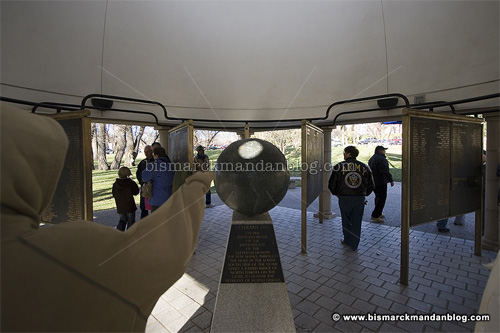 I'm not sure my schedule will allow me to attend today, so I thought I'd share some images of this phenomenon from years past. Judging by the number of people waiting to catch a glimpse of this once-a-year happening, I can see it's no secret.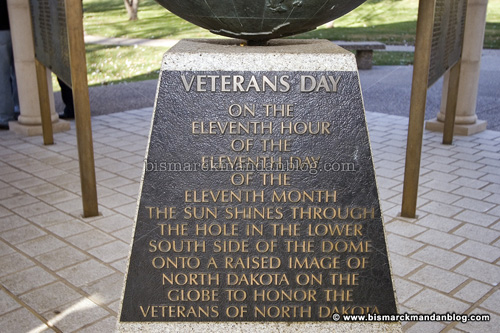 This is the base upon which the globe sits. Note that the inscription says "the eleventh hour of the eleventh day." That's significant because World War I ended at 11:00 on 11/11/1918.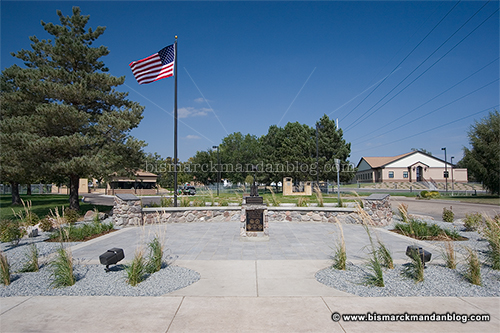 In addition to this memorial and the ones at each end of the new Memorial Bridge, there is also the Global War on Terror Memorial in west Bismarck. Sadly, names have been added to the roster here in 2010 as we continue to stand vigilant against terrorist adversaries.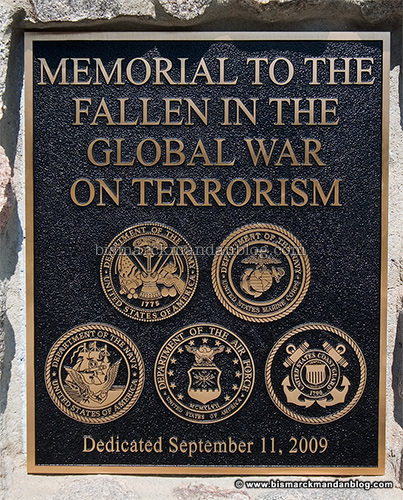 Dedicated on September 11th, this memorial specifically honors those who have sacrificed all in the war on global terrorism. While September 11th is of important significance at this memorial, so too is November 11th. In my opinion we can't have enough days honoring our soldiers. 365 per year seems about right.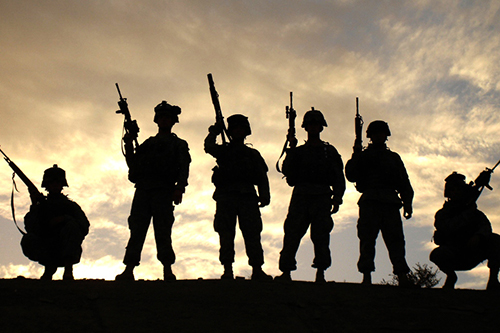 Today is about one thing: remembrance of the American soldier. Millions have served this great nation over the past couple hundred years and every one of them sacrificed a great deal, even if they didn't lose their life or suffer physical injury in battle. We should hold them in high regard and thank them for the freedoms we enjoy because of their commitment to duty. Regardless of whether the sun appears today these Memorials are always worth a visit. Then take some time to peruse the names on those metal placards and consider the men and women who protect this great nation.
I'd like to pass along my personal thanks to all veterans and their families, who sacrifice along with them. Closest to me are my friends Reed and Tony, although I've met many others and owe my freedom to millions of 'em. Military service is not something to be taken lightly, and neither is the sacrifice of a soldier's family. Today's a good day to take some time and express our thanks.
[ 1 comment ]
( 7 views ) |
permalink
|
Click a dot to rate this entry:





( 3.2 / 239 )
---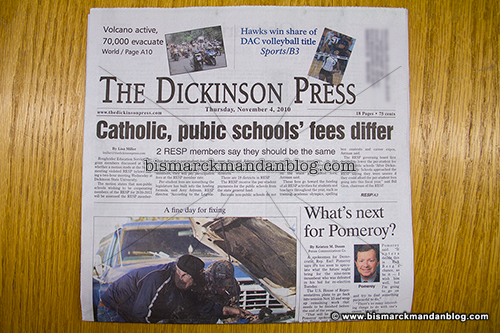 I know, you've probably seen this on Facebook. In case you thought it was a clever Photoshop trick, I can attest that it was a real headline in last Thursday's issue of the Dickinson Press. Oops. I'm not immune when it comes to typos, so I'm not posting this smugly. It's just one of those things I had to see for myself and, in doing so, share.
[ add comment ]
( 1 view ) |
permalink
|
Click a dot to rate this entry:





( 3.2 / 175 )
---
<<First
<Back
| 81 | 82 | 83 | 84 | 85 | 86 | 87 | 88 | 89 | 90 |
Next>
Last>>