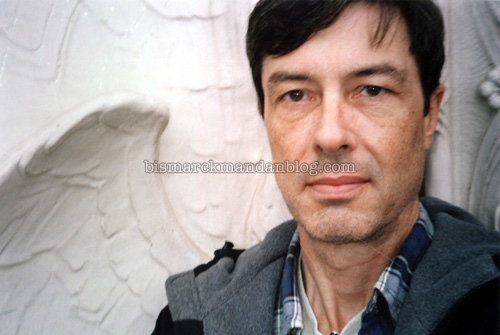 We North Dakotans like to think we're pretty level-headed folks, and for the most part we're right. Then you get the occasional goofballs like the woefully ignorant ND Peace Coalition, with their affiliations to rabid Communist Party members; Ryan Gustafson and his ilk calling us "the Taliban" because most of us oppose abortion; and this fella, who would probably vanish completely from history if not for some North Dakota bloggers picking up on his story.
This fella, Malachi Ritscher, lit himself on fire on a freeway ramp in Chicago this month in protest of the war in Iraq. Hardly a brilliant political statement, especially because nobody had any idea who he was or what he was doing. If it wasn't for an
online suicide note
, it's doubtful anyone would still have the slightest clue what was going on in this poor guy's deluded mind.
The scariest thing is that he could very well have been a world-famous assassin, if his self-written obituary was true:
"I have had one previous opportunity to serve my country in a meaningful way - at 8:05 one morning in 2002 I passed Donald Rumsfeld on Delaware Avenue and I was acutely aware that slashing his throat would spare the lives of thousands, if not hundreds of thousands, of innocent people. I had a knife clenched in my hand, and there were no bodyguards visible; to my deep shame I hesitated, and the moment was past."
North Dakotans have plenty of really scary characters in our midst. Take Cheryl Bergian, for instance. She was the Democrat candidate for Public Service Commissioner, running against Tony Clark. She's a big-time gay rights activist, most notably known for fighting to have the Ten Commandments removed from public view in Fargo. Did that ever come out during the campaign? No.
Ms. Bergian is one of two employees of the ND Human Rights Coalition, which basically is an atheist homosexual rights group. They also link to groups which oppose the war in Iraq, but once that war is over they can get back to championing sodomy and other sexual immorality while trying to remove God from public view. And this activist almost won a seat on the Public Service Commission! Can you imagine what kind of mayhem she could wreak on those evil utility companies from there?
Whether it's a hapless would-be assassin or a cleverly disguised activist politician, we've got all kinds of folks right here in North Dakota. We just need to be a little more self-aware, lest people like this actually stumble into power and start trying to implement the insanity they fight for when they're not running for office.
[ 5 comments ]
( 123 views ) |
permalink
|
Click a dot to rate this entry:





( 3 / 694 )
---
It looks like the Wizards are off to a decent start - the Civic Center was hopping pretty good Saturday night with good attendance. They didn't look to be in the best of form, but they were able to perform a buzzer-beater win over the Skyforce. With the talent pool they've got and Coach Joerger at the helm, I'm sure they're going to gel quickly.
One secret to the Wizards's success as a franchise is the way they get local businesses and fans involved in the games. There are plenty of little promos they run during time-outs and quarter breaks to keep the fans entertained. In an area the size of ours, with fans as fickle as ours, that sort of thing is necessary. The Wizards have done very well at it. I've got a short memory, but I'd credit Jane Link and Kim Mueller with developing really fun game-day attractions for the fans. The new crew looks to be continuing in the same fashion, so fans shouldn't be disappointed.
It's interesting to see how the minor league sports are received here in Bismarck-Mandan. Does anyone remember the Dakota Rattlers? Or the Bismarck Blaze / Roughriders? For some reason they never quite took off. Travel 200 miles east and baseball flourishes, while the basketball flops. But it's obvious that indoor football doesn't, and never has, belonged up here in a state where people would much rather enjoy the shorter summers outside.
People really seemed to be enjoying themselves as always at last night's game, and the numbers usually hang right in there if the team's season is going well. I spent a lot of time showing cute kids and that kind of thing on the big screen. We don't have a Kissing Cam promotion this year, so you're safe! I had made a 30-second animated whizbang to kick off the season, but we actually didn't have time to run it. That was kind of frustrating since I spent a while animating and remixing music for it, so I'm going to see if we can't get it going before the starting lineups at the next game. Otherwise I got to be part of the most fun in the place, as our video crew is a group of professionals from around the area that get together and do the Civic Center gigs as a way to hang out and have fun doing what we love.
Actually, the night could have been a real bummer for me: I left the dome lights on in my truck! Fortunately, Lee Timmerman spotted it when he got to the Civic Center. He came and told me and, since I was busy running camera, went out and shut 'em off for me. For some reason my truck's dome lights (there are many) drain my battery in almost no time.
Don't forget to check out the Wizards games this year - they're quite fun. The next home game is Tuesday, December 5th. You can check out their schedule and stats at
DakotaWizards.com
, which will redirect to their NBA Development League site.
[ add comment ]
( 5 views ) |
permalink
|
Click a dot to rate this entry:





( 3 / 593 )
---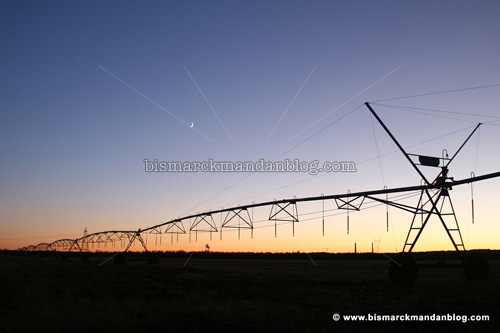 With the holiday comes the ability to move around a bit, and of course the trusty camera equipment came with as my wife and I did some
geocaching.
I was about to take her for a scenic loop around Burnt Creek Loop when I spotted this photo through the tree row. Hunting for photos like this is as fun as hunting for geocaches, and there are no instructions to follow!
For a while there I was doing the Thursday Night Sunset and got a lot of pleasant comments about it when talking to folks. Nowadays there have been so many cool sunsets, I've had a hard time confining them to just one day. Then came a really busy stretch with six major videos to be done on a timetable, so I haven't had much time for photography. I've got a bit of a breather here for a few days before my next big deadline, so...here you go!
[ add comment ]
( 5 views ) |
permalink
|
Click a dot to rate this entry:





( 2.9 / 627 )
---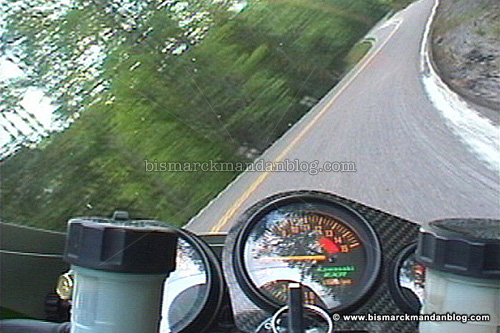 During a discussion with some other video graphic professionals, the subject of burnout recently came up. More specifically, how do we deal with burnout? My answers were simple: photography, my new hobby; writing again, which culminated in this blog; and triple-digit speeds while dragging knees on my motorcycles. This is a picture of the third; I fabricated an aluminum mount and bolted a video camera to one of my Kawasaki 750s to go blazing through the Smoky Mountains. Digging up this picture got me thinking how much I miss living in the mountains lately.
I'm a North Dakota native, but as a little kid I grew up deep in the Rocky Mountains. It's a whole different experience: the schools have ski teams, kids learn forest fire prevention in the classroom, field trips involve hiking and visiting ranger stations. I lived near a proving grounds for Smoke Jumpers, firefighters who literally parachute into the site of forest fires to begin combat. Once you've lived in the mountains, they're part of you for good.
One interesting point of view I got from moving back and forth from the Rockies to the North Dakota plains is that we have some beautiful, wide expanses here. When I lived in Big Sky, for example, I had the face of a mountain about 25 feet from my window. Moving back, I was thrilled to look out over the plains while cruising down I-94. But every time I make my way back west, I get the same thrill as those "purple mountain majesties" poke up above the fruited plain. We've got it pretty darn good in both places.
By the way, the video above was taken at Deals Gap, North Carolina. It's in the Smokies along the TN/NC border and is the most fabulous motorcycle road in the country. It's 11 miles long and boasts 318 corners! It's quite a workout. One does not want to fly off the road, either...it's an unfathomably long way down. Our internet motorcycle racers' club has annual gatherings there, which I haven't been able to attend in a while. That's okay, now I spend my time blazing around North Dakota with my camera gear strapped to my back. It's pretty inspiring to find all the neat places and scenery here in my own back yard, and report them to you here. That allows me to combine all three of my aforementioned "anti-burnout" activities into one great big one. I hope you enjoy the results.
[ add comment ]
( 3 views ) |
permalink
|
Click a dot to rate this entry:





( 3 / 529 )
---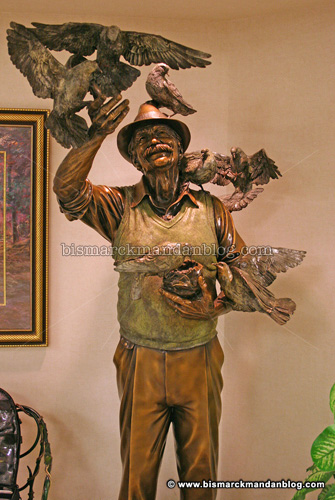 I've been working somewhat around the clock lately, so I have had to resort to finding fun photos that cross my path instead of hunting for them. That's okay, because this one was actually a request of sorts.
I've had a couple of posts of statues in the past and have had email requests for other ones around Bismarck. Okay, here you go. Guess where this statue is located? Obviously it's indoors, but it's in an area where a person is likely to have passed it at one time or another.
If you're really good, you'll know the name of the artist and the title of the statue. You'll actually be better than me because I think I forgot them. Maybe it'll come back to me, but it doesn't matter - it's your job to guess.
[ 5 comments ]
( 98 views ) |
permalink
|
Click a dot to rate this entry:





( 3.1 / 511 )
---
<<First
<Back
| 270 | 271 | 272 | 273 | 274 | 275 | 276 | 277 | 278 | 279 |
Next>
Last>>