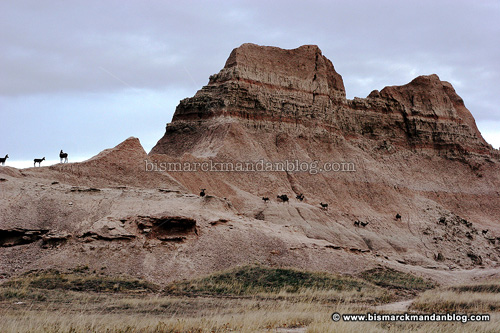 Whenever I see a scene like this, I can't help but exclaim, "Oh, deer!" Nobody ever finds it funny, though. This was taken from the work van near the entrance to the Badlands National Park in southern South Dakota. In reference to the headline for this post, I need to clarify that we slowed down for this particular picture.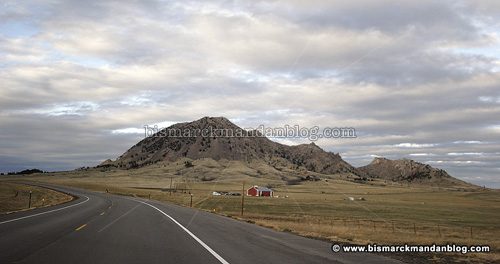 This one, however, was easily taken at 65mph. That's because Bear Butte is so enormous!
It's a state park site
and stands all by itself in the middle of the prairie. It can be seen from a long ways away, and stands out as if it were much taller. It's over 4,000 feet elevation, which I would guess is a little over 1,000 feet tall. At highway speed it's hard to make more specific estimations.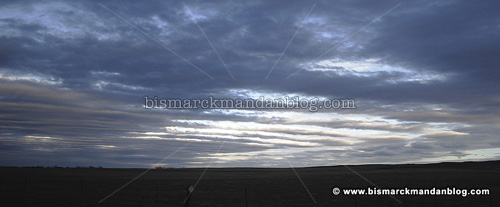 These were some wild clouds, almost forming a grid across the sky. My time in South Dakota involved temperatures in the sunny 70s, but the trip home was a cold, windy one. These clouds probably illustrate a pressure wave in the atmosphere as cold temps push their way southward. Thanks, Canada!
I grabbed a pile of tourism information for central and western South Dakota, and I plan to take my wife (and son, once he arrives) for a nice vacation through many of the areas I witnessed at highway speed this week. Sure, there's a lot of "tourist trap" stuff in the Black Hills, but it's pretty easy to see through that. Even in the middle of "nowhere" in rural states like the Dakotas, however, there are always breathtaking sights to see. Next time, when I'm not on a tight schedule, I'll be going a lot slower than 65 mph...with frequent stops.
[ add comment ]
( 5 views ) |
permalink
|
Click a dot to rate this entry:





( 3 / 727 )
---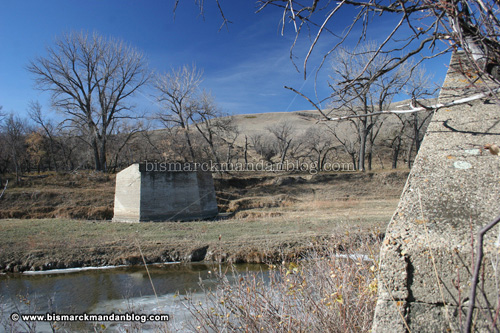 This is my best result from our Photo Club day at work this month. Our assignment: bridges. While I had the most distant one, the other guys bested me in creativity. That's okay, I had a little bit of adventure:
Beneath one of the bridges I photographed, quite a ways from this one, I found a bunch of electronic equipment. It was the kind of thing a DJ or band would use: racks, amps, pedals, wireless gear. It had been unceremoniously dumped from the bridge and was lying far below, smashed along the rocks.
I climbed down to the smashed remains of the equipment, found a piece with the sticker of a local company on it, and called the phone number it contained. They said they'd go to that bridge and check it out. I haven't heard back whether it's their gear, or something they sold to some other unlucky person. In any case, it's all a total loss and it will NOT be easy to carry up the wall of huge rocks to get it out of there.
So, there really IS a story behind every picture!
[ add comment ]
( 3 views ) |
permalink
|
Click a dot to rate this entry:





( 3 / 721 )
---
The one bumper sticker I've seen so far that has it right says "Abortion is NOT the Indian way." Yet many seem to have sold their souls to the Democrat party. The reservations seem to be the battle grounds for the abortion debate. As I type this, only 4-5% of the SD polls have closed...but so far the NOs are winning it for #6.
I don't get it. What if some white guy said it would be a good idea to abort more Indian babies? Then the outcry of "That's not the Indian Way" would be deafening. Would it be okay if he was a liberal Democrat? So far, I guess that's the case.
I even saw a twisted slogan on a sign earlier this week: "A woman's body is sacred. Vote NO on #6." Apparently since they use a word like "sacred" they must know what it means, right? Obviously not. What if that unborn baby they choose to abort is female? Is her body somehow excepted?
You can't go a few hundred feet without seeing a "NO on #6" sign here. They're nice signs, printed on nice paper...likely the best you can buy. Meanwhile, the signs for actual South Dakota and tribal elections are hand-painted, many on particle board. See something weird in that? I do.
Like I said, the polls are closed. Assuming there aren't any demands for recounts, flocks of white Democrats will leave South Dakota tomorrow, likely never to return. Maybe then the members of the Native Community who bought into their lies. Once they've served the purpose of pro-abortion liberals outside of South Dakota, they'll be left here on "the Res" to rot.
[ add comment ]
( 2 views ) |
permalink
|
Click a dot to rate this entry:





( 3 / 728 )
---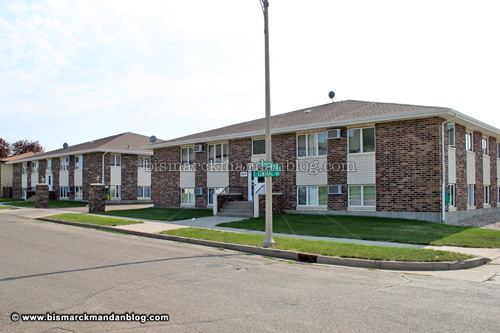 This inconspicuous little pair of buildings at the corner of Central Avenue and Constitution Drive has a distinctive quality: it's the "home" of both of North Dakota's US Senators. Or is it?
When I lived here, the nice lady who managed the property told me that these buildings are owned by "the Senator's brother." I originally understood that to mean Byron Dorgan's brother because he's the Senator that "lived" in my building, but further investigation at the County Records room showed me that the Conrad Brothers owned it. They filed a Quit Claim Deed in 2004 to form an LLC titled "GKC Apartments, LLC." I assume GKC stands for
Gaylord Kent Conrad
, which is Kent's real full name. So, apparently Senator Conrad has some ownership in these two buildings...and does his fellow Senator a favor by providing him a nominal North Dakota address as well.
Like I said, I used to live in one of these apartment buildings, and rather enjoyed my time there. One thing I never saw, however, is either of our esteemed Senators in the building. I'm not saying they were never there, but in the time I lived there I never saw them. I hardly think that this is where a United States Senator would live. That raises the question: are they really North Dakota residents, or just DINOs, Dakotans in Name Only?
In the building where I lived, mailbox #6 is reserved for "Sen. Byron and Kim Dorgan." I did a lot of laundry out in the hallway, and spent a lot of time running out to my garage and back while wrenching on the motorcycles. I would have recalled passing a United States Senator in the hallway, or perhaps seeing his wife doing a load of the whites in those dependable washers & dryers in the hallway. Sadly, I don't recall a single instance of either.
There is a mailbox in the adjoining building, reserved in for "Senator Kent Conrad & Lucy Calauitti." While I wasn't in the same building as Senator Conrad or Lucy, I never saw either of them near the buildings or in the enclosed parking lot, either. Perhaps I was just inattentive, I don't know.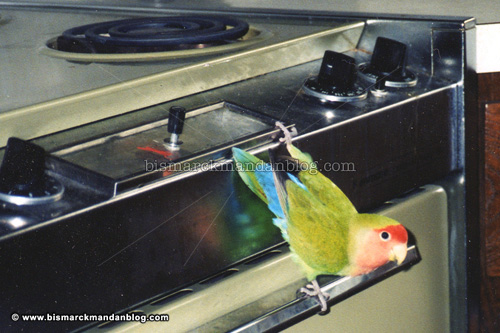 Scooter and I were wondering if perhaps the Senators had the same lovely olive green appliances etc. that the rest of us plebes had? I don't mean to engage in class warfare or anything...I just thought it might be an interesting. As you can see, Scooter was rather fond of my green stove, and if the bird of the house is happy, everyone's happy.
I've often thought of North Dakota's senatorial delegation as Dakotans In Name Only, regardless of where they claim to live.
When you examine the voting records of these Senators,
you see that:
- Senator Conrad voted the same as Ted Kennedy 96.4% of the time, John Kerry 87.5% of the time, and Chuck Schumer 87.9% of the time.

- Senatord Dorgan voted the same as Kennedy 92.9% of the time, Kerry 84.4% of the time, and Schumer 87.9% of the time.

- Americans for Democratic Action, a group that claims to be America's oldest liberal lobbying organization, rated Dorgan 95 out of 100 and Conrad 90 out of 100. Kennedy, Kerry, and Schumer all got 100s.

Maybe someone can shed some light on their actual residence. If these are just convenient places to "hang out" while back in ND on business, and not their residences, then I stand corrected. But would they list their wives' names on the mailbox of such a place? Doubtful. Rather, I'd think that they would leave their names off the mailboxes entirely for privacy. In this case I think it appears as a thinly veiled attempt to maintain North Dakota residency on paper while living it up in Washington...in the company, I remind you, of east coast liberals with whom they vote the vast majority of the time.
I'm not typically in the business of political blogging, but the US Senate is where the playing field is even for North Dakotans. If North Dakotans vote to continue sending a couple of east coast liberals out there to fight for our interests, we're doing our state a disservice. (I didn't vote for either of these two when I voted early last week - scroll down a few posts). The only time I ever see either of these two guys is when they fly back to scare the pants off of old people and farmers. I'd like to see them lose their bid for re-election, and see how long they live at the corner of Central Avenue and Constitution Drive.
[ 4 comments ]
( 115 views ) |
permalink
|
Click a dot to rate this entry:





( 3 / 540 )
---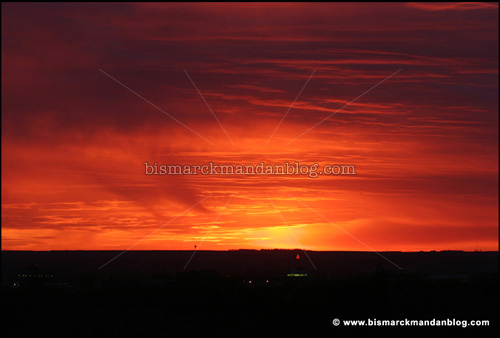 No, this isn't the "All Sunsets, All the Time" blog. In fact, if I'd known that the sky was going to be so spectacular tonight, I wouldn't have hiked myself silly for the sunset yesterday (see below)!
I left work late again tonight. Yeah, I know...it's a disorder. But as I left, I noticed that the gray sky was remarkably colorful to the west. In fact, I pulled over and took a couple of pictures from east of the "big hill" before coming into town. I was surprised that the color stayed in the sky so long...long enough, in fact, for me to go up to the top of Hillside Park. That's where I got these photos.
I took a bunch, but these are my favorite two. This is from the more vivid part of the sunset, before the light began to wane. As always, I'd like to stress that this is straight out of the camera. It was resized, but not retouched. I didn't brighten it, darken it, or add more color to it. This is God's work...ain't it something?
I think the spectacular sunsets of November come from the shallow angle of the sun in relation to the horizon. I don't know all the technical jargon, but that's my primitive understanding. Much of the color comes from the light bouncing off the distant horizon, hitting the clouds over us. Once it begins to pass completely past that distant horizon, the colors start to shrink away from us: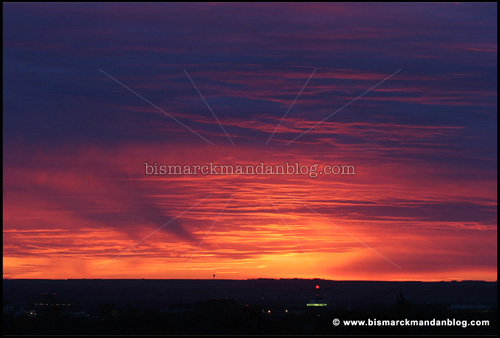 Here you can see some of the purple easing into the clouds as the reds retreat. I stood, shivering, atop the water tower and watched as the colors bled from the clouds (I know it's underground...I still call it a water tower). The harsh red light narrowed at the edge of the visible world, and it wasn't long before the sun was gone...no doubt giving a remarkable red sunset view to someone in the Mountain Time Zone. That's okay...I got mine.
[ add comment ]
( 2 views ) |
permalink
|
Click a dot to rate this entry:





( 2.9 / 505 )
---
<<First
<Back
| 273 | 274 | 275 | 276 | 277 | 278 | 279 | 280 | 281 | 282 |
Next>
Last>>