I don't watch much TV, but even the little bit I do watch made me sick of Earl Pomeroy's claims of Rick Berg wanting to "privatize Social Security." Especially since it's Pomeroy that wanted to do an even riskier thing back in the late 1990s!
I'm not the only one - RJ over at RegularGuyRant.com as done some great work in compiling news articles about Mr. Pomeroy's history with Social Security privatization. It paints an entirely different picture than what our hapless Congressman would have you believe.
Watch the video, then
enjoy the link to the Regular Guy Rant
for all the supporting documentation.
[ 2 comments ]
( 31 views ) |
permalink
|
Click a dot to rate this entry:





( 3 / 39 )
---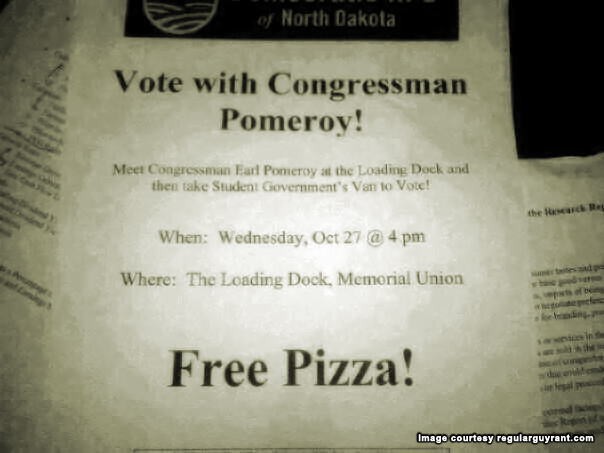 If you're politically minded, and these days we ALL should be, you need to regularly visit RJ's
Regular Guy Rant
blog site. Yesterday he posted information about two events in Grand Forks, one of Earl Pomeroy's last liberal strongholds. A flyer from one of them is shown in the photo above. Note the
new Dem-NPL "Obama-ish" logo
at the top, indicating that this event has to do with the Democrat Party.
PlainsDaily.com, a news website which you should also visit regularly, started to do some investigating. In addition to the possibility of vote-buying with pizza, these events appeared to be using college resources to give students a ride to the polling place.
This is specifically illegal
(read the PDF). Adding to the controversy is the fact that UND Student Government vans were apparently used. Is this appropriate use of state government property, since those are likely state vehicles owned by UND?
UND apparently agrees, because their General Counsel has put a stop to the program. According to the Plains Daily article,
"That program has been canceled because UND General Legal Counsel has determined that the program violated the North Dakota Century Code section 16.1-10-06.1."
The best quote of the whole debacle comes from RJ's post:
"Anyway, one of my friends at the college told me that the rally generated ten voters and at least one of them just rode the bus so he could vote against Earl."
Personally, I think this sort of thing needs to be investigated to see exactly which laws were broken and who's responsible. If the Dem-NPL Party organized a voting drive in which they were buying votes with pizza and providing free transportation in violation of state law, then they need to be dealt with punitively. But, since it's Democrats, the whole thing will probably receive "ho-hum" treatment from the ND media and simply vanish.
The big question is: will all the hijinks make a difference in Earl Pomeroy's struggle to remain a Washington insider Democrat lapdog? My gut says no. In the mean time, if you hear about a similar event taking place, make it known. It's illegal, and they're Democrats. The two go hand in hand.
[ add comment ]
( 1 view ) |
permalink
|
Click a dot to rate this entry:





( 3 / 338 )
---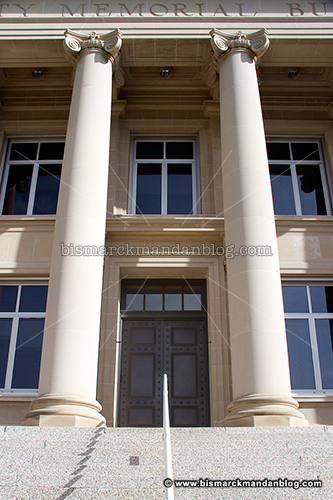 I've spent a lot of time around the capitol grounds since the late 1980s. It used to be a great evening hangout for high school and college kids; it's still one of the best places to play frisbee in town; and it's simply a nice place to walk or simply hang out. If you're like me, then you know what I'm talking about when I say the doors pictured above are probably the most popular doors in town.
If not, you may be wondering why I think so. Simple: this is probably the single most frequently used setting for portrait photography in all of Bismarck-Mandan! Sit out on the lawn some Saturday and have a picnic, and you'll likely see numerous wedding parties come and go to have their photos taken on the steps in front of these doors. You may also see family or senior portraits taken directly in front of them. They're rather noteworthy, and as such make a great photo background.
I have several friends who are portrait photographers, and they get a lot of demand for this location. There's nothing wrong with that; it's a great setting for your special photos! I just find it noteworthy and mildly amusing to watch the groups come and go as they take their turn in front of a popular local landmark.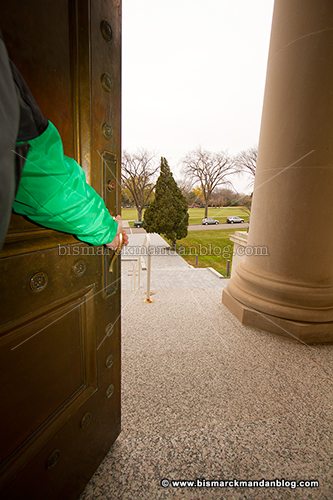 Thanks to Adam, who politely reminded me (see the comments) that yes, these doors are still open. I mistakenly assumed that, since the library entrance I use most is on the side of these steps, these doors no longer function. Of course, I had to go check them out myself. There's some pretty neat stuff on the other side of them, I found out! Check back in a day or two.
I usually enter the library by the circulation desk downstairs, but from now on, I'm going to make it a point to enter through these big, well-known doors!
[ 2 comments ]
( 26 views ) |
permalink
|
Click a dot to rate this entry:





( 3 / 355 )
---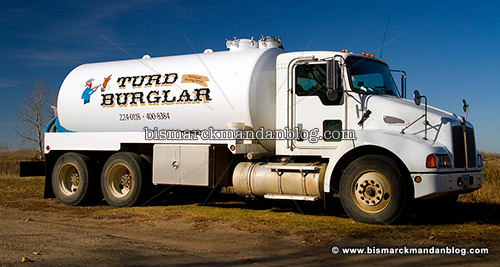 I left work early today, knocking off at 11 am and heading out with my cameras in the truck to see what I could see. While turning around to go back and get a different shot I spied this truck, and was able to meet its owner. Wait for the punchline...
Yes, I know, this is a rather unconventional name. I'm aware of the connotations. It's a little crude for my liking, but I'll make an exception in this case. Make note of the phone number, because if you have a septic system you may wish to choose this guy to service it...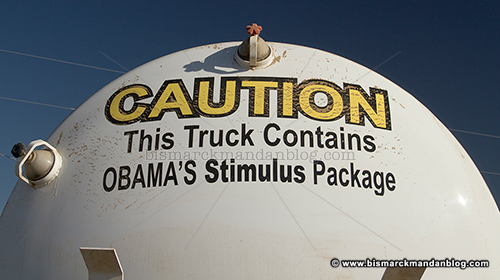 With a sense of humor like this and political orientation in line with most North Dakotans I know, I predict success for this small business. The back of this truck (the punchline I described earlier) is hilarious and say sin a few words everything you need to know about the North Dakota political environment.
As we send Byron Dorgan packing due to his surrender and look forward to converting Earl Pomeroy to civilian status at the ballot box in
two and a half weeks
a week and a half, we're going to need a legislative pumper truck to evacuate much of the damage they've caused or in which they've had a hand. See, this truck is good for so many metaphors when it comes to Washington, DC!
[ 3 comments ]
( 71 views ) |
permalink
|
Click a dot to rate this entry:





( 3.1 / 408 )
---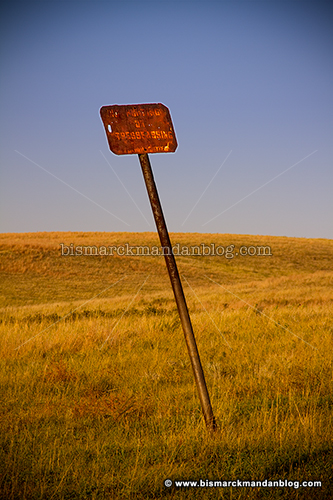 I wonder how long it will be until this rusty homemade sign will be sticking out of a snowbank? It resides along the dusty gravel road that is Highway 1806 north of Mandan. That's a fun road to wander on when you've got the time (and a camera). I made a trip up to Cross Ranch a while back to check out the foliage, but sadly all the leaves were already on the ground. It was a surprise because the leaves here in Bismarck-Mandan were only beginning to turn.
[ 1 comment ]
( 11 views ) |
permalink
|
Click a dot to rate this entry:





( 3 / 336 )
---
<<First
<Back
| 83 | 84 | 85 | 86 | 87 | 88 | 89 | 90 | 91 | 92 |
Next>
Last>>