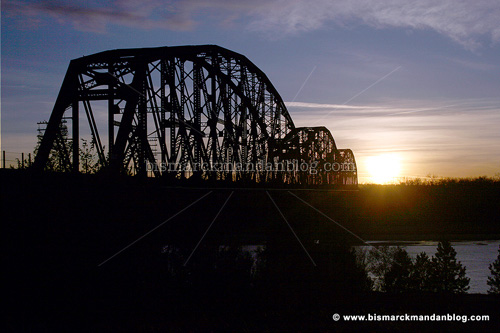 So, after spending all day hiking around a coal mine and filming from a 10 million pound crane (cool!), I decided that the cure for standing out in the cold and hiking all over was...yes, that's right: standing out in the cold and hiking all over! Bismarck, however, was ever so slightly warmer than the mine where I'd worked all day. The wind had toned down a little, too.
I had this grand idea about how the sun, since it now travels so low in the sky, would be perfectly framed if I stood at one end of the historic railroad bridge and it appeared at the other end. A combination of fatigue, sky conditions, and a reluctance to be a tresspasser changed my mind. But I did find a couple of really nice sunset photos from the bike path up on the hill.
[ add comment ]
( 4 views ) |
permalink
|
Click a dot to rate this entry:





( 3 / 625 )
---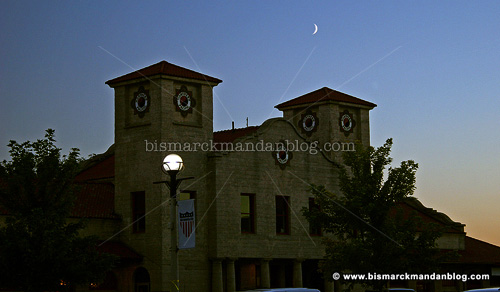 Obviously this picture wasn't taken this week; the phase of the moon and the leaves on the trees betray that. But it's one of those photos I've got "in the holster" for when I need them, and it came to mind tonight as I read an article by Tessa Sandstrom in the new issue of
the Dakota Beacon.
In her article, Ms. Sandstrom talks about the history of this building and its importance during Bismarck's railroad days. She's got some neat historic photos to accompany her research and a few neat odd facts to boot.
If you haven't picked up an issue of
the Dakota Beacon
yet, you don't know what you're missing. There are complementary copies available at many Bismarck locations, including an honor-system box in front of the Post Office on Rosser. I highly recommend that you read and subscribe to this magazine - I do! You won't be disappointed.
[ 2 comments ]
( 69 views ) |
permalink
|
Click a dot to rate this entry:





( 3.1 / 613 )
---
Apparently a few people thought my
Name that Fountain
post was kinda fun, so I'll throw this one at you. Perhaps I should use the word "identify" instead of "name" for this, as I'm sure they already have names. In any case, let's see how much time you spend ambling around Bismarck. It shouldn't be too hard for you to pick out this little item. Any takers?
[ 2 comments ]
( 53 views ) |
permalink
|
Click a dot to rate this entry:





( 3 / 532 )
---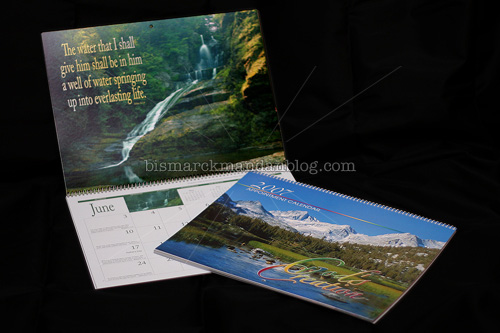 No, I'm not introducing any BMB swag just yet... but I am helping out for a good cause. There's a girl at our church who sells calendars for two purposes: she plays the violin, and as she gets older she needs a larger fiddle to play. The second cause is our church, as she gives a good portion of the money she earns to the church. This time it's for the building fund, as our church has outgrown its current location and is looking forward to being able to build.
I agree to help her sell calendars each year, and I figured this might be a way to help give a few of them a good home. These calendars have stunning photography (not mine) for each month and a Bible verse for each month and week as well. Not only are they useful chronologically, they're also handy spiritually. And they look really good, too. The pages are really thick and could be cut to hang once the month is up, if you find a photo or verse that really pleases you.
I have ten calendars left for the low price of six dollars each. Yep, that's right, $6. Then they're gone until next year. If you'd like one, please click on the "Contact Me" Link on the upper right corner of my blog. If you're reading this on a site that syndicates this blog, such as KXMB.com, you'll need to visit my site at
www.bismarckmandanblog.com
and find the link.
There are only ten of these left out of several boxes of 'em! They typically go pretty fast, so get in touch with me before the weekend.
[ 1 comment ]
( 10 views ) |
permalink
|
Click a dot to rate this entry:





( 3 / 552 )
---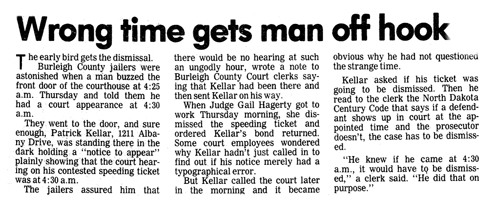 One of the things one does when he's forced to convert his office to a nursery (at least half of it, for the time being) is to condense things as much as possible. That means a lot of little trinkets I want to keep for sentimentality's sake are getting stuffed into my big ol' footlocker for safekeeping. Of course, you can't crack the lid on a chest like that without dipping in and sighing at old memories. This is one of those.
Patrick Kellar is a friend of mine from back in the 80s, although we haven't spoken a whole lot lately. He's a newspaper publisher in New Castle, Indiana now, having run newspapers in Valley City and Connersville, Indiana. But in 1987-88, he was my best friend. We worked at the Dan's in Arrowhead Plaza that summer, he had a cool little Opel GT. He's one guy who showed me that even a 17 year old kid can put his mind to something, see how it works, and just do it. He was good at auto-mech and bodywork, savvy in politics, well-read... my kinda guy, and probably my youngest role model.
Whoops! See what looking into a box full of memories does to a guy? Back to the story. Pat had been cited for going 45 in a 35 zone on River Road, right at the point of the sign where the speed limits change. As you can imagine, he was quite put out by this. So, we set our minds to seeing how we could get out of it. We found ourselves at the law library in the legal wing of the State Capitol, looking every which way at the ND State Century Code as it pertains to traffic law. We were certain we could find some little snippet to exonerate Pat, or at least allow him to wriggle free of this citation. Nothing doing.
Then the Clerk of County Court handed Pat a Get Out of Jail Free card in the form of his summons. As you can read in the image above, Mr. Patrick Kellar had been summoned to court at 4:30 AM instead of PM! If there's anything he remembered from the time spent up at the capitol, it's that there is in fact that elusive snippet of Century Code waiting to be wielded in his favor. As it turns out, he found an entry that allows for a traffic case to be dismissed if the prosecution does not show up. Obviously the City Attorney wasn't present at 4:30 in the morning; heck, he had to ring the doorbell of the courthouse repeatedly until a jailer came down! But once he did find someone, he had all the ammunition he needed. He got the name of the jailers he talked to and went home to go to bed.
Patrick could best tell the rest of the story in detail, but I do remember the Clerk of Court trying to get him to appear when he called them to request a dismissal. He politely declined, quoted the law and cited his meeting with the representatives of the Burleigh County Sheriff's Department. The case was, in fact, dropped, and once the article you see above hit the wires, he was even getting calls from radio talk shows. He had to decline an on-air interview in some big city because it was time for him to put on his apron and bow tie and get up to Dan's, bagging groceries. Ah, what a situation.
I don't know if the law's been changed; perhaps one of my curious readers will look into it. Of course, it's only valid for traffic offenses, not criminal ones. If you're considering trying such an escape from a ticket, just remember: you need a summons with a typo first. Somehow I doubt the Burleigh County Clerk of Court staff will let another one slip through.
[ 3 comments ]
( 72 views ) |
permalink
|
Click a dot to rate this entry:





( 3 / 431 )
---
<<First
<Back
| 275 | 276 | 277 | 278 | 279 | 280 | 281 | 282 | 283 | 284 |
Next>
Last>>