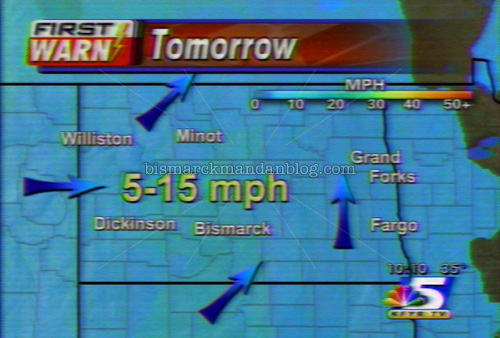 My friend Lance says that some things are funny simply because they're repeated often enough. That's certainly the case in our house with the phrase "I made those arrows."
I got the idea for this impromptu post because I heard *ahem* from my wife in the living room a couple of times during Kevin's weather. Being a video guy, I've naturally got my editing/graphics machine hooked to my entertainment center in the other room...so I grabbed an example.
The story behind these arrows is that...well, I made them. Whoopee, right? There are actually a few things still airing on KFYR that I made before I left there three years ago. It's just that I annoy my wife with these. Accuweather had just shown up to install their brand new top-of-the line weather system, the Galileo. KFYR has two of them now, by the way. Anyway, the Accuweather guy was dismayed to find out that wind arrows were missing from among all the graphics in the machine. Kevin and I had already made sure that all the "First Warn" stuff had been made, so I dashed into my office and belted out some quick & simple arrows. The rest is history.
Now that I think of it, the Accuweather guy took the CD with those arrows on it, probably to use for future Galileo installs. Funny, I never saw a royalty check...
[ add comment ]
( 3 views ) |
permalink
|
Click a dot to rate this entry:





( 3.1 / 476 )
---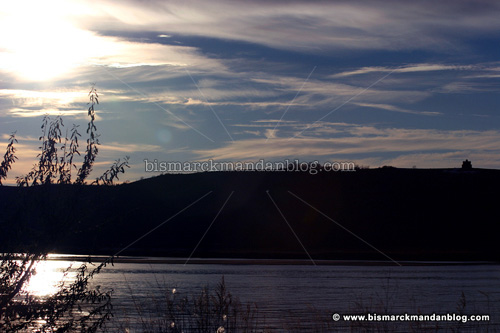 One of the characteristics of a North Dakota autumn is the variation in the sun. Not only does it cause temperature swings during this time of year, but it also puts on many faces. Gone are the evenly lit afternoons of the summer, replaced with long, stark shadows even on the clearest of days. Today we were shown a nice range of color, too!
I had sauntered down to Fox Island to get some river shots, which I may post down the road...but then the sky caught my eye and I snapped this one. It was nice to have clear skies, having had nothing but clouds for the Orionid meteor shower this weekend. But the sky wasn't done with color just yet...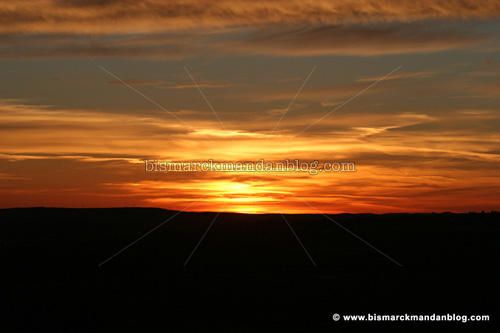 I had grabbed a bag of tacos and headed to my secret sunset spot high atop a hill north of Bismarck, when the sky began to change colors. Before long, those blues had turned to vivid reds. I got a few like this while shoveling tacos into my head. This is actually the MANDAN hill on the east side of town, as zoomed in from quite a ways away. In fact, KNDR's tower is dead-center in the photo, but is only clearly visible in the full size version.
The temps may be a little low for my liking, but I'll take those dramatic autumn skies. Soon they'll be replaced with the dreary gray of winter, and it'll be interesting to see what we shutterbugs do then!
[ add comment ]
( 3 views ) |
permalink
|
Click a dot to rate this entry:





( 2.9 / 470 )
---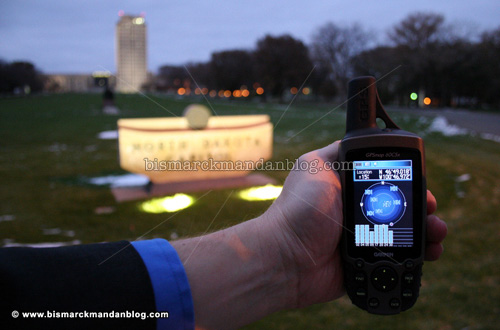 Yep, my wife and I have a new hobby. It's called Geocaching, and it's a blast...in a nerdy sort of way. It goes a little something like this:
You go to
the Geocaching website
and find a cache near your location. Then you grab your trusty GPS receiver and head out to find the cache. But for many of the caches, that's just the start.
Many of the hunts on the site are "multi" caches, involving multiple stages. For instance, you may find a cache at the first set of coordinates that contains a clue for the second location. It may be a "virtual" cache, which means you need to look for visual clues at the coordinates and use them to find the next location. In any case, it's fun.
Once you've found a cache, there's a written log inside each one as well as some miscellaneous trinket items. It's customary to leave something of your own and perhaps take something from the cache as well. There are little items called "Travel Bugs" that you take and place in the next cache you find. Then you go back to
geocaching.com
and mark the cache as found, report on the bug if you found or placed one, and discuss the cache. You can also report a missing or damaged cache and read comments by other people who've found it.
I've always wanted a nice GPS unit and this was a major reason why. Even better, it's something my wife and I can enjoy together. There's a guy with the handle "Agent 6" who has written some really entertaining caches involving North Dakota history. We've done a couple of them and they're really neat...especially if you love this area like I do.
So yeah, Jason...you were right. One of those caches led us up to Grant Marsh's gravestone. For the rest of you, who might not know what Geocaching is, I hope I've been an enlightenment. I also hope to have convinced you to try it for yourself. And just in case the photo above makes you wonder if I always go geocaching at night, wearing a suit...no. Neither. It was just a good opportunity for the photo.
[ 2 comments ]
( 75 views ) |
permalink
|
Click a dot to rate this entry:





( 2.9 / 471 )
---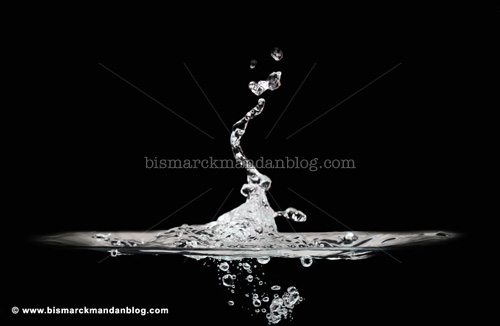 If someone asked me what we'd be doing on Thursday, I wouldn't have said we were going to go to Walmart and buy an aquarium. I wouldn't have said I'd spend a good chunk of my afternoon in a dark studio, sitting in a reasonably comfy chair and clicking the remote shutter release while a friend splashed water in the tank. But that's what we did...it was pretty cool. It'll be even cooler to see what the artist does with these splashes!
It's those little bits of unusual activity that make life, and work, fun. I once got paid very well by ESPN to just sit on the SportsCenter set while they aimed the lights and set the cameras, drinking free Powerade and Red Bull. Or sitting in an isolated room, trying to capture the right sound of someone's feet being dragged. The hydraulics and air-wrench sound you hear at the end of the Northwest Tire commercials? That was in my garage. I bet I did two dozen takes of that sound!
No matter what the job, there are always cool little deviations from the routine that help break the monotony. If you ever have one of those fleeting moments where you think, "I can't believe I'm getting paid for this!" go ahead and savor them a little. It makes up for the boring days that are bound to come along in any job.
[ 2 comments ]
( 59 views ) |
permalink
|
Click a dot to rate this entry:





( 3 / 481 )
---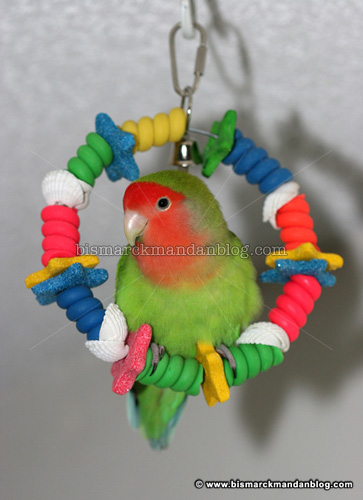 This is a happy belated birthday to our fluffy little friend, Scooter. He was hatched on October 16th, nine years ago! He was hand fed for a while and weaned at the Bird House...when he and his brothers and sisters came to the store, they let me pick the first one of the batch! I picked him, waited for him to get old enough, and brought him home in a little paper transporter box tucked into my jacket. The rest is history.
Over nine years, this little guy has become an irreplacable part of our home. He's been with me longer than I've owned the house; longer than I've been a Christian; longer than I've known my wife; longer than I've held my current job. He's always been there when I've been sick or unhappy. He's got more personality than you'd think a tiny little bird could hold. After some time to adjust, he's become quite a cuddle buddy for Stacy, too!
The experts who write all the lovebird books say that lovebirds can't talk. They should meet Scooter. He can say a few words very well, lots of words that only I can understand, and he knows what he hears. If I stay in bed on the weekend I can hear him practicing his words. He'll say things more and more slowly, with the pitch of his voice getting lower, until he nails it. Then he gets so excited he goes right back to tweeting! I've read in multiple places that birds in the parrot family have a comprehension of a two or three year old. In his case I'd believe it.
Don't misunderstand...having a bird is a lot of work; they require attention similar to a small child as well. You can't just put them in a cage and treat them as an ornament; it'll kill them. While lovebirds do not have to be kept in pairs, they do need interaction and stimulation such as new toys frequently, changing their surroundings a bit...things to keep them from getting bored. We also are very aware of open doors and/or windows (as in, there aren't any) and any other hazards. Air fresheners and scented candles are toxic within minutes, so we don't have any. Teflon pans, when overheated, will kill a bird in minutes as well. So we are constantly vigilant that nothing happens to our little guy, just as we would a child. With wings. Imagine the trouble they can get into if unsupervised!
Tonight we'll celebrate with him by bringing home a sesame-seed bun from his favorite fast food restaurant. We'll get in a good game of peek-a-boo, some of his favorite paper to shred, and then just skritch the feathers on the back of his neck until he falls asleep. A bird couldn't ask for a better day...we should all be so easy to please.
[ add comment ]
( 16 views ) |
permalink
|
Click a dot to rate this entry:





( 3 / 473 )
---
<<First
<Back
| 276 | 277 | 278 | 279 | 280 | 281 | 282 | 283 | 284 | 285 |
Next>
Last>>