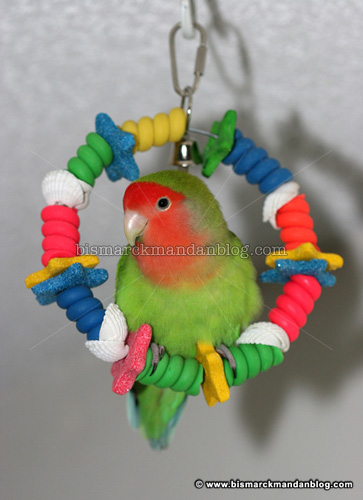 This is a happy belated birthday to our fluffy little friend, Scooter. He was hatched on October 16th, nine years ago! He was hand fed for a while and weaned at the Bird House...when he and his brothers and sisters came to the store, they let me pick the first one of the batch! I picked him, waited for him to get old enough, and brought him home in a little paper transporter box tucked into my jacket. The rest is history.
Over nine years, this little guy has become an irreplacable part of our home. He's been with me longer than I've owned the house; longer than I've been a Christian; longer than I've known my wife; longer than I've held my current job. He's always been there when I've been sick or unhappy. He's got more personality than you'd think a tiny little bird could hold. After some time to adjust, he's become quite a cuddle buddy for Stacy, too!
The experts who write all the lovebird books say that lovebirds can't talk. They should meet Scooter. He can say a few words very well, lots of words that only I can understand, and he knows what he hears. If I stay in bed on the weekend I can hear him practicing his words. He'll say things more and more slowly, with the pitch of his voice getting lower, until he nails it. Then he gets so excited he goes right back to tweeting! I've read in multiple places that birds in the parrot family have a comprehension of a two or three year old. In his case I'd believe it.
Don't misunderstand...having a bird is a lot of work; they require attention similar to a small child as well. You can't just put them in a cage and treat them as an ornament; it'll kill them. While lovebirds do not have to be kept in pairs, they do need interaction and stimulation such as new toys frequently, changing their surroundings a bit...things to keep them from getting bored. We also are very aware of open doors and/or windows (as in, there aren't any) and any other hazards. Air fresheners and scented candles are toxic within minutes, so we don't have any. Teflon pans, when overheated, will kill a bird in minutes as well. So we are constantly vigilant that nothing happens to our little guy, just as we would a child. With wings. Imagine the trouble they can get into if unsupervised!
Tonight we'll celebrate with him by bringing home a sesame-seed bun from his favorite fast food restaurant. We'll get in a good game of peek-a-boo, some of his favorite paper to shred, and then just skritch the feathers on the back of his neck until he falls asleep. A bird couldn't ask for a better day...we should all be so easy to please.
[ add comment ]
( 16 views ) |
permalink
|
Click a dot to rate this entry:





( 3 / 473 )
---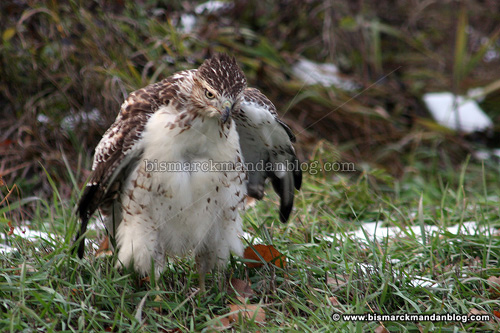 I was on my way from work to pick up a Green Mill pizza last night when...what? Yes, as a matter of fact I *do* take the long way. Okay, let me start over. I was on my way from my office east of Bismarck to the Green Mill by way of the Briardale area, or thereabouts. The sky looked like it was particularly suited for a shot of the blockhouses from Fox Island, so I began to work my way back there when I saw this: a hawk getting ready for dinner.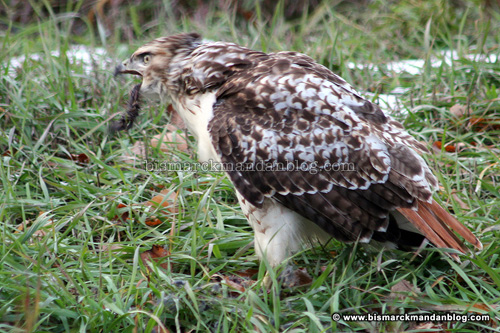 I'm not sure what the unfortunate furry creature was, other than dinner. This hawk had caught it just outside of its burrow and made short work of it. It didn't take long for the razor sharp beak or talons to slice this meal into hastily gobbled strips. Either this was a particularly tasty meal, or a particularly hungry hawk, because he was afraid neither of my truck nor myself approaching on foot. He was already fewer than twenty feet from the road, and it wasn't a high traffic area, so he felt comfortable sticking around to finish his meal.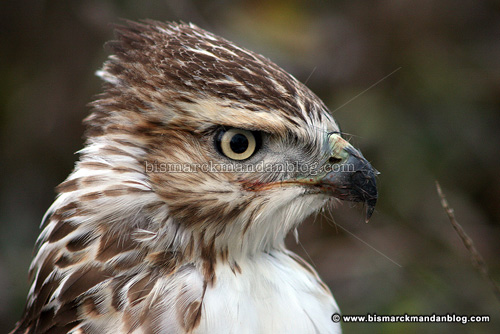 I could say that I have a way with birds...but I doubt that's true for hawks. Every time I get near one and get my camera ready, they bolt. I've chased great blue herons, pelicans, and hawks over the year and a half since I bought my camera...and only had marginal success. This gracious hawk gave me my big break as he let me approach. I slowly worked my way closer...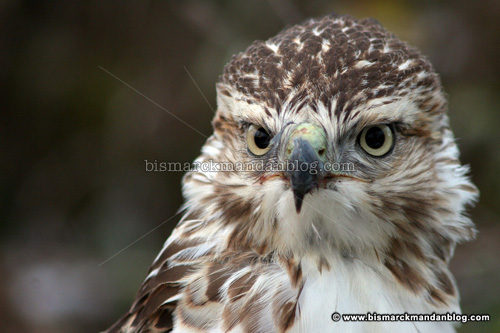 and closer...enough to see that he had some ketchup or something around his beak...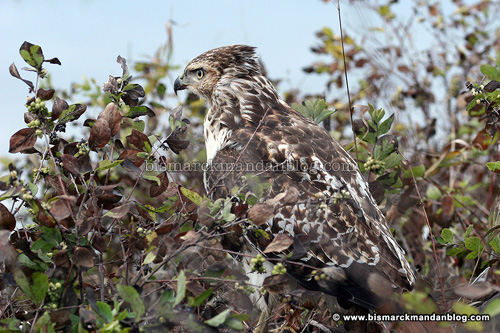 and that was about enough. He'd finished his dinner and I was about six feet away. We sat and looked at each other for several minutes before we'd both had enough. I stood, he hopped over into the bushes along the river, and we parted ways...he across the river by flight, me to the Green Mill by big knobby tires.
Now, if I can just get him to give a reference to the pelicans and herons for me...
[ 2 comments ]
( 47 views ) |
permalink
|
Click a dot to rate this entry:





( 3 / 483 )
---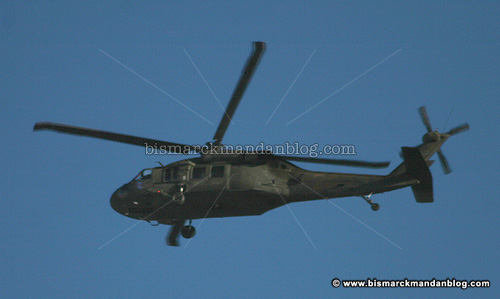 I was out looking for pheasants this afternoon and saw a different kind of bird overhead. One of the local Blackhawk helicopters was performing maneuvers, so I stopped to observe. When they drop in fast, they're really cool to watch!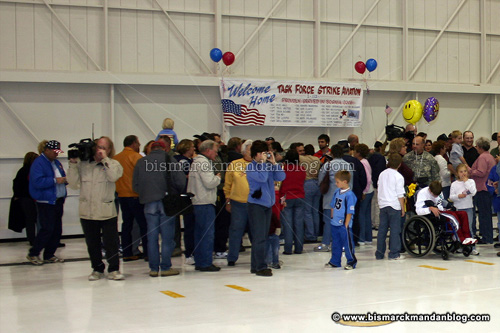 What this reminded me of, though, is that some of our local soldiers are home. They came in on Friday after a tour of duty in Bosnia! It was such a blessing to see them return, get handshakes from Governor Hoeven and hugs & kisses from loved ones. I was there to meet my friend Reed, with whom I've been causing mayhem since the *ahem* 80s, and the rest of his unit. There were lots of people there to greet them. See that crazy looking guy with the video camera on the left? That's "Racer" Brown from KFYR. If you ever see him, tell him I told you to ask him about his nickname.
It's such a great thing to know someone who serves their country by putting their life on the line! Some are like my friend Reed, who have been serving since high school, knowing that things like a year away from his wife and family might be required of him. Others are like my friend Alex, who signed up last year with the knowledge that he'd likely see combat in someplace hot and sandy. Then there are the husbands and wives who sacrifice too, staying behind while their loved ones go overseas to serve. I can't even imagine what that takes. Thanks, guys... I just don't know how else to say it. Thanks.
[ add comment ]
( 3 views ) |
permalink
|
Click a dot to rate this entry:





( 3.1 / 463 )
---
Well...sorta. This video was the scene of the MotoGP World Championship race from this past weekend. My favorite GP rider and fellow American, Nicky Hayden, held the points lead in the world championship going into this weekend. Then tragedy struck. What you see in the video above is his teammate having a brain-fart and t-boning his bike from behind, taking him out of the race and costing him the points lead in the championship. With only one race remaining this year, it'll take a perfect weekend for Nicky and a bad weekend for his legendary rival for the Championship title to go to Nick.
This happened to me in 2003. No, it wasn't in any sort of championship, and I wasn't the points leader. In fact, it was in practice! Anyone who knows my motorcycle roadracing history knows that I only crash during practice sessions. Don't ask me why.
In my case, I was being foolish and racing a bit during practice. I was dicing with a guy and we had just passed a small group of guys in turn 4 at Brainerd, I got the inside line and shot past another rider in the short straight before turn 5. I blew past a slower guy and spooked him, I guess, because he veered over in front of the guy I was racing with. That knocked him off his bike, which proceeded to fly down the track without him. I was just leaning over onto my knee in turn 5 when *WHAM* I was struck in the side by the pilotless bike! Kinda like what happened to Nicky...I'm just not sure who to blame.
I had some minor internal injuries and a lot of bruises, but was able to race the next day. Likewise, there are no reports of injuries with Nicky, so he'll be able to race the final round this year -- and win it, I hope! I'll be cheering for you, Nicky.
So I know what it feels to be slammed by another motorcycle in mid-corner, but I can't imagine how bad it feels to lose the points lead because of your own teammate's stupidity. The anguish of that would be far worse than any bruises could inflict.
[ add comment ]
( 3 views ) |
permalink
|
Click a dot to rate this entry:





( 3 / 634 )
---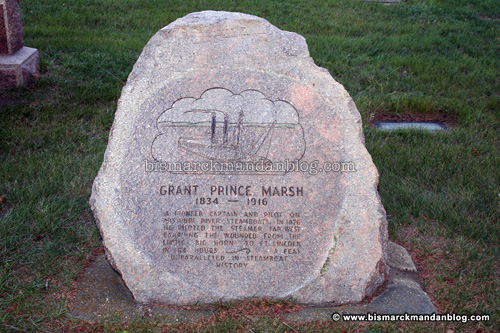 This is the monument marking the grave of Grant Marsh. You may recognize his name from the bridge over the Missouri River on I-94. He was a ferry boat captain back in the 1800s, and has accomplished some noteworthy feats. One of them is outlined on this marker.
I want to be more specific about this particular marker, but I can't. Why? I'll let you know in a post I plan to write this weekend when I have more time. It's quite entertaining, especially if you're a geek.
[ 1 comment ]
( 30 views ) |
permalink
|
Click a dot to rate this entry:





( 3 / 333 )
---
<<First
<Back
| 277 | 278 | 279 | 280 | 281 | 282 | 283 | 284 | 285 | 286 |
Next>
Last>>