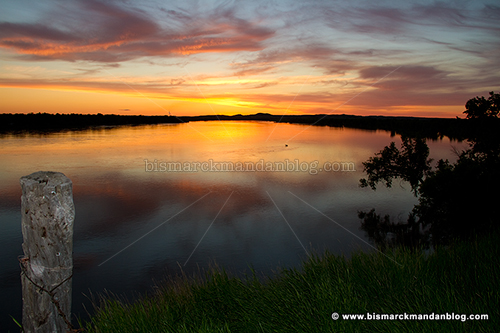 Three months ago I visited Double Ditch to assess the impact of Missouri River flooding on the view. It was astounding; any trace of sandbars had vanished beneath a wide expanse of water. Now that access to the site is no longer prohibited, I was a little curious about what it looked like: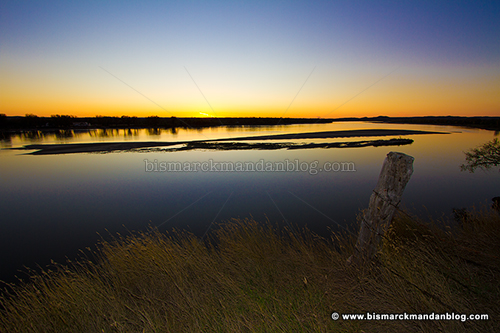 As you can see, we now have plenty of sandbar. In fact, there are plenty of other places along the Missouri that now have plenty of sand. Welcome to the new normal!
One other thing that's noteworthy, and hard to discern from these photos because they're framed so differently, is how much farther south the sun sets in mid-September compared to June. On the longest day of the year, just four days after the top photo was taken, the sun sets much farther north. As winter creeps closer and the days grow shorter, however, the sun's track moves southward and peaks lower in the southern sky during midday. It may be interesting to return to Double Ditch on the shortest day of the year and see where it intersects the horizon; if I do so, you'll see it here.
[ add comment ]
( 10 views ) |
permalink
|
Click a dot to rate this entry:





( 3.1 / 176 )
---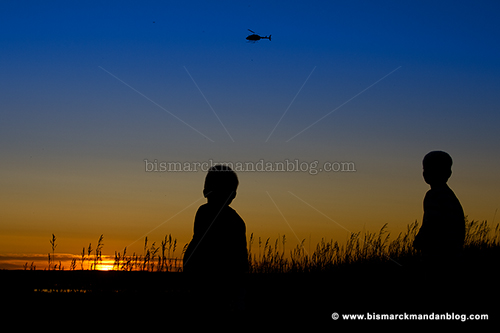 Boys love machines, period...it doesn't matter how old. Airplanes and helicopters are particularly cool, which is why I've always taken the time to give my little fellas plenty of exposure to aircraft. In fact, we may be taking them to the skies for a joyride this week... and Daddy is planning a video gig with plenty of helicopter work! Doesn't that all sound fun?
[ add comment ]
( 11 views ) |
permalink
|
Click a dot to rate this entry:





( 3.1 / 180 )
---

If you're into photography and have not joined the Bis-Man Photo club yet, you're really missing out. This weekend marks the group's first ever photo show at the Veteran's Memorial Public Library right here in Bismarck! The show takes place in Meeting Room A (which I believe is downstairs) and the members would appreciate your vote for your favorite photo. Bob's Photo has generously donated some prizes for the BMP members whose photos receives the most votes!
Sadly, I'm unable to participate this year, but this is only one of many events that the group holds throughout the year. There are monthly "Coffee & Cameras" meetings, organization of the Bismarck-Mandan portion of the Worldwide Photo Walk coming up in October, lighting demonstrations, and more. I hope to lead an astrophotography night sometime down the road, if time ever allows.
You can find out more about the club at
BisManPhoto.com
. In order to support the operation of the website we do chip in a small annual membership fee, but it's more than worth it. If you'd just like to see a sampling of photography from talented local enthusiasts, then make your way to the VMPL this weekend!
[ add comment ]
( 21 views ) |
permalink
|
Click a dot to rate this entry:





( 3.2 / 151 )
---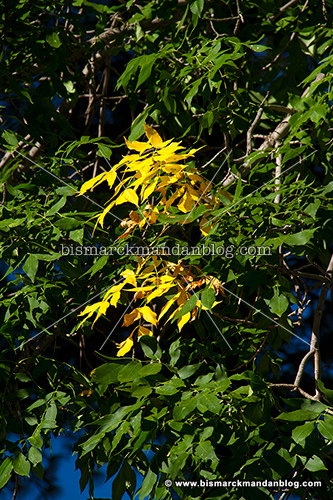 This little cluster of nonconformists stands out now, but leaves are starting to change color all over the place. Fall's right around the corner, and photographers like myself try to make the best of it. Last year the leaves didn't bother with color; they simply fell off the trees, and the snow fell. Let's hope we get to at least enjoy a typical autumn this year!
[ add comment ]
( 23 views ) |
permalink
|
Click a dot to rate this entry:





( 3.2 / 112 )
---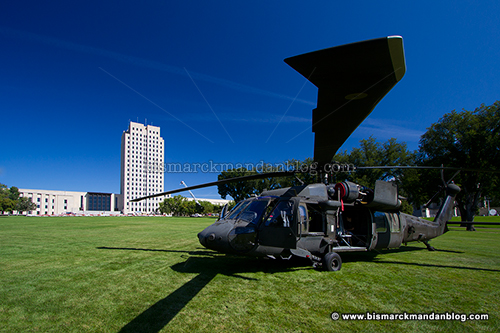 I spent the afternoon at the commemorative ceremony at the capitol Sunday. It was an appropriate memorial of the terrorist attack on our nation (not just a "tragic event" as some say) and focused on honoring our nation as well as those who have died in its service. Here's a brief photo narrative of the day: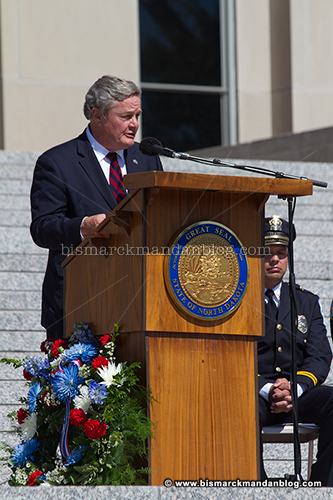 Governor Jack Dalrymple and his wife Betsy hosted the event.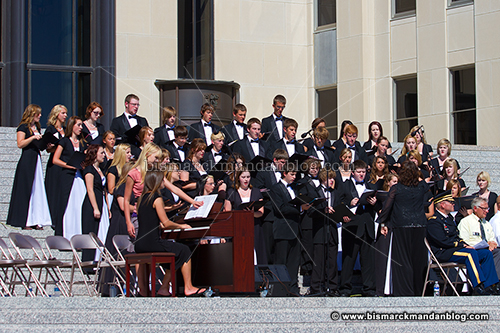 The Mandan High School Concert Choir provided stirring music, with my friend Becca at the piano.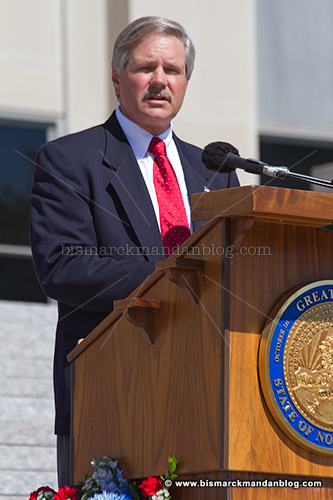 US Senator John Hoeven gave his remarks.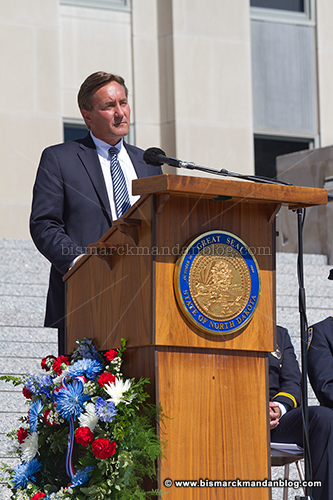 US Congressman Rick Berg also spoke.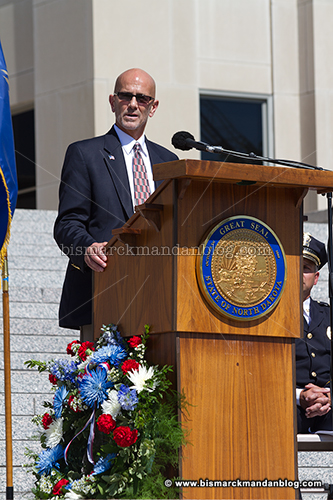 Bismarck City Commissioner Mike Seminary represented the City of Bismarck.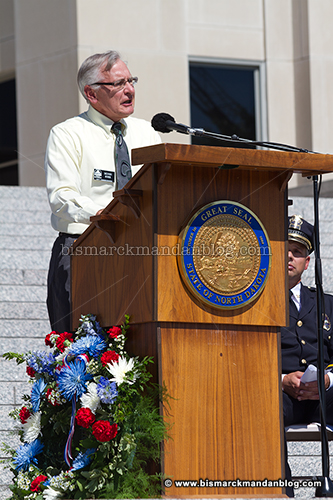 Mandan City Commissioner Dennis Rohr. Of course, I'll always know him as Chief.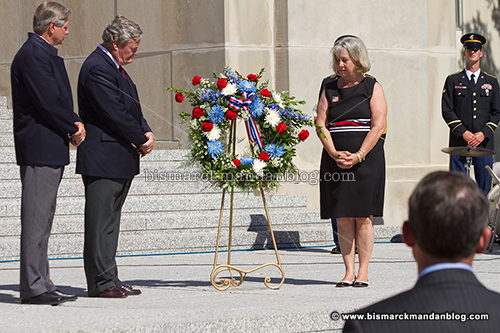 The Governor and First Lady stand with Senator Hoeven during the presentation of a wreath to commemorate the day. Lt. Governor Drew Wrigley is looking on in the foreground.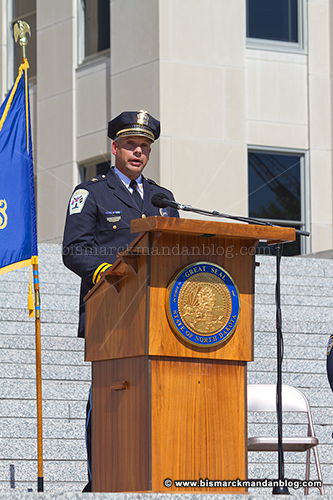 Bismarck Police Chief Keith Witt spoke on behalf of first responders.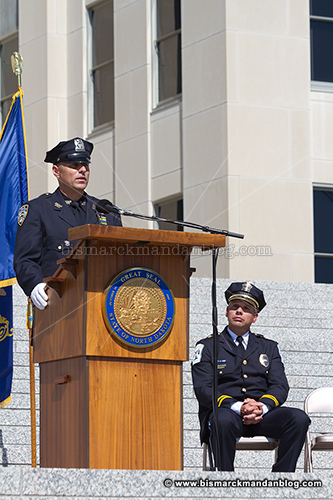 Lincoln Police Officer Marcel Sim gave an account of that day,
when he was working at Ground Zero for the NYPD.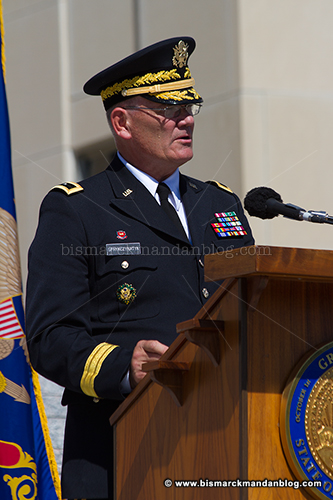 Maj. General Spry has thousands of soldiers fighting not only the Global War on Terrorism
but also natural disasters here at home.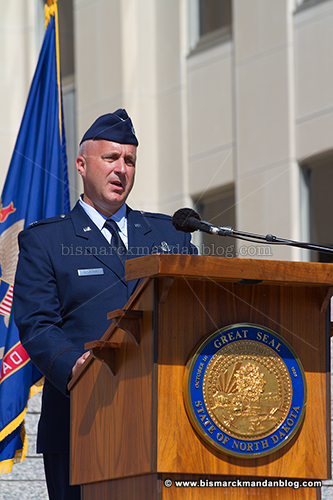 Lt. Colonel Dean Eckmann described going to battle stations and flying CAP sorties
over Washington DC that day with the NDNG Happy Hooligans.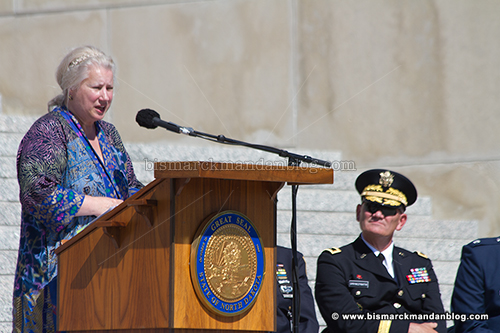 Jenette Nelson spoke of the loss of her daughter and how her memory lives on.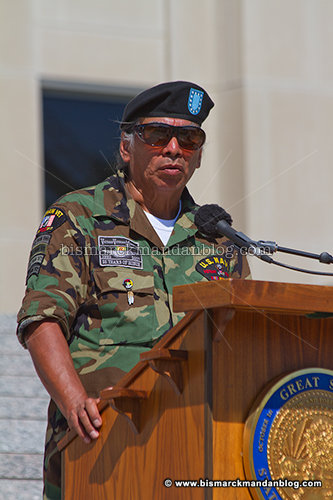 Paul Goodiron gave perhaps the most stirring speech of the day, honoring not only those who serve
but also the families who serve with them and endure their loss.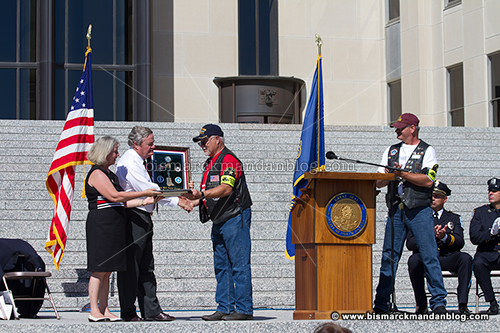 The Patriot Guard Riders had a presentation of their own to the office of the Governor.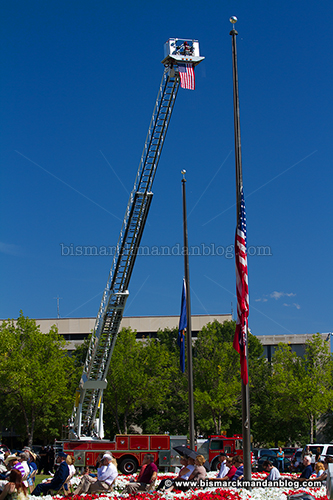 First responders from fire, ambulance, and local law enforcement were in attendance to commemorate the day as well. I got to hang out with one of my favorite law enforcement friends and take photos.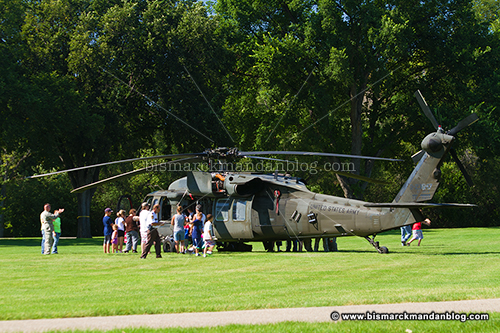 One popular part of the day was a Blackhawk helicopter on the capitol mall, available for all to see.
Its crew were on hand to answer questions and explain the operation of the aircraft.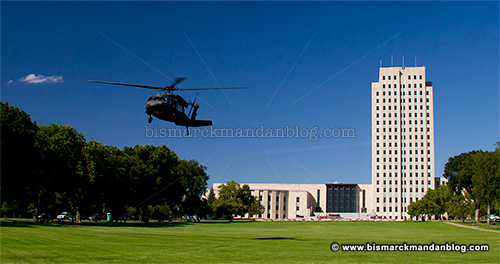 Then it was time to go home, tribute given and memories shared.
[ 1 comment ]
( 44 views ) |
permalink
|
Click a dot to rate this entry:





( 3.2 / 203 )
---
<<First
<Back
| 51 | 52 | 53 | 54 | 55 | 56 | 57 | 58 | 59 | 60 |
Next>
Last>>