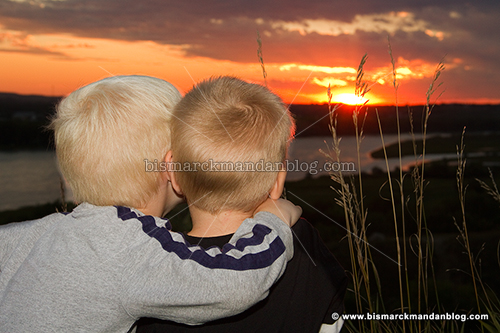 Several hundred miles, at least one seventeen hour work day, and not a whole lot of rest this week. Thank God it's Friday. Actually it's going to be a very busy but rewarding weekend around here. Aren't they all?
Have a great weekend!
[ add comment ]
( 1 view ) |
permalink
|
Click a dot to rate this entry:





( 3.2 / 289 )
---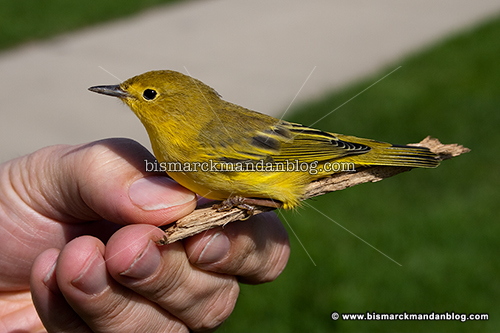 On my way to Fargo for a couple of days working at Microsoft's beautiful high-tech headquarters, I made a quick stop at one of our state's handy rest areas. On my way back out to the truck I noticed this little Yellow Warbler fluttering by the window next to the door. He quickly dropped down to and perched on the sill.
He looked a little scared and disoriented so I, as a bird whisperer, decided to befriend him. I grabbed a little stick and put it by his feet so he had a better place to perch. After all, a little bird's feet are not meant to sit on a flat metal surface; they need something around which to curl. He seemed pretty content with that, although a little out of sorts.
I talked to him a little bit and showed him to the other guys on the crew. He hung out with us for a minute or so, even hopping on a friend's shoulder for a second, before regaining his composure and flying away. I figure he must have bonked into the window and rung his bell a little bit. In any case, it was nice to hang out with him briefly until he was ready to get back to being a bird.
[ 2 comments ]
( 18 views ) |
permalink
|
Click a dot to rate this entry:





( 3.1 / 332 )
---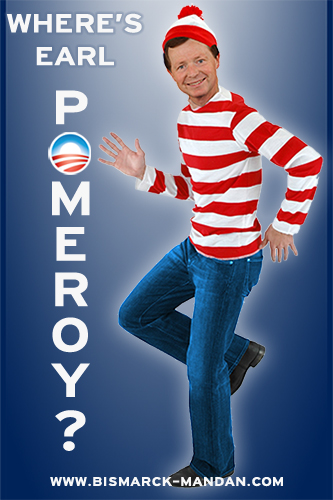 I love the way Adam Jones and the gang at the North Dakota Republican Party have been injecting humor into this year's political races. Here's a real gem, from today's press release:
HAVE YOU SEEN REP. EARL POMEROY? Neither have we.

After voting with Nancy Pelosi 97 percent of the time and serving as the decisive vote for Obamacare, Earl thinks he can hide his record-by not showing up to talk to voters. The North Dakota Republican Party is therefore today announcing a contest to find him.

Participants who can tape a video clip of Pomeroy at a public forum or town hall will win an exclusive "Where's Earl?" T-shirt. Eligible entries must show Pomeroy at a town hall event or public forum answering questions about healthcare or the stimulus. The video must be of an event occurring between today, September 13, 2010 and Election Day. Contestants can submit their video to contest@ndgop.org.

Pomeroy has held zero town halls over the Congressional recess for the second year in a row, and his campaign website has shown no upcoming events for over a month. Needless to say, this makes his false accusation that Rick Berg is ducking debates and hiding from voters especially rich in irony.

Pomeroy may think he can hide from voters. We're betting he's wrong. Help us prove it, and submit your video today!
Of course, this all stems from the fact that you haven't been able to attend a town hall meeting or other public gathering where Earl Pomeroy is available to constituents since early in the debate over the government's illegal takeover of the health care system. Here's another example of the hypocrisy:
Visit
Earl Pomeroy's campaign website
and you'll see this:
There is nothing I enjoy more about campaigning than getting around North Dakota to meet with the folks that I represent.
But the fact remains that he is NOT getting around North Dakota and NOT meeting with the "folks" that he represents! I called his office asking if there would be anything coming up where a citizen could address his Congressman. The answer: Nope.
So, if you're looking to win a free t-shirt, maybe you'd have better luck with the Powerball (not that I condone gambling). Chances of Earl Pomeroy appearing in public AND taking questions about federal spending and Obamacare are probably less than getting struck by lightning while cashing your Publisher's Clearing House check!
[ add comment ]
( 2 views ) |
permalink
|
Click a dot to rate this entry:





( 3.1 / 241 )
---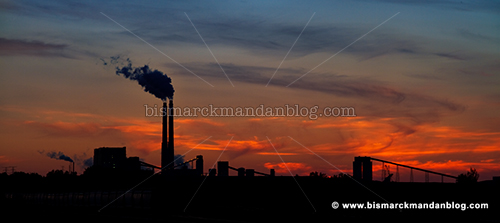 This gorgeous sunset is the result of me standing on top of my wife's truck to capture a shot of one of the crown jewels of North Dakota's energy industry. This is Coal Creek Station, which is the facility responsible for
DryFining™ technology
.
The people working here got an idea for making lignite coal burn better by removing moisture. By the time they got their process worked out a little bit, they were also able to remove a significant amount of impurities and pollutants from the coal as well. They're now in the process of licensing this sort of technology all over the world!
The whole thing started with some of that North Dakota ingenuity we all hear about, where guys just grab whatever is handy and start building something. What started out as blowing air through a barrel is now a process which can improve coal-fired power plant performance by leaps and bounds.
It also makes for a nice sunset photo!
[ 1 comment ]
( 13 views ) |
permalink
|
Click a dot to rate this entry:





( 3.1 / 246 )
---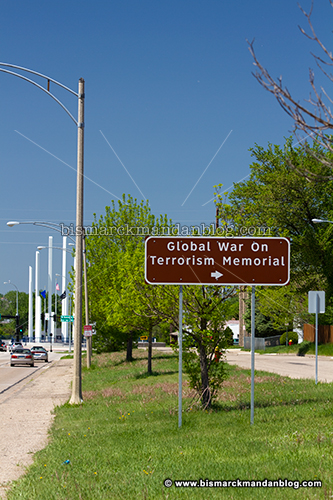 By now you're likely to have seen the signs declaring the location of the state's Global War On Terrorism memorial. It's just off Memorial Highway, adjacent to the entrance of the Fraine Barracks complex (named after late Brigadier General John H. Fraine). In fact, it's just a stone's throw away from the Liberty Memorial Bridge.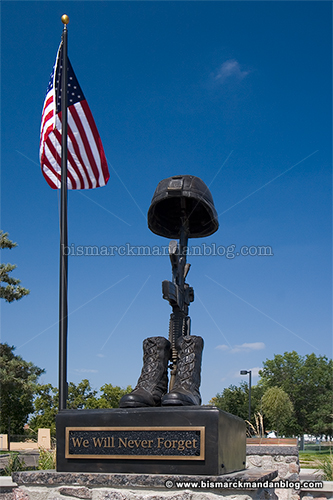 This beautiful memorial stands prominently to help ensure that we remember what's at stake in this 21st century war. It's a memorial to North Dakota military personnel who perished during the Global War on Terrorism. In fact, it was dedicated this very day last year.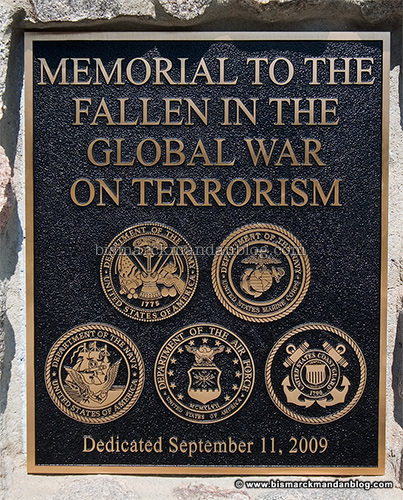 I was especially pleased to see the term "GLOBAL WAR ON TERRORISM" on this monument because so many pusillanimous liberal multi-culturalist apologists, in their suicidal quest to love our enemies and hate our nation and its allies, have abhorred this term since its inception. Our current President, for example, has ordered that the term not be used in the federal government. North Dakotans, however, see it for what it is.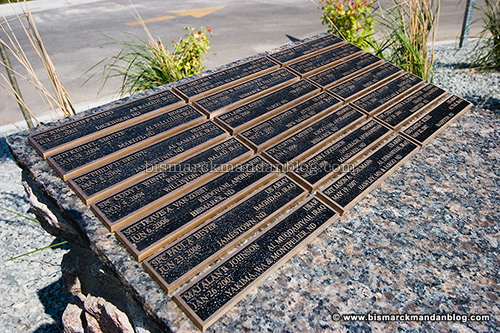 All gave some. Some gave all. Some names are about to be added here...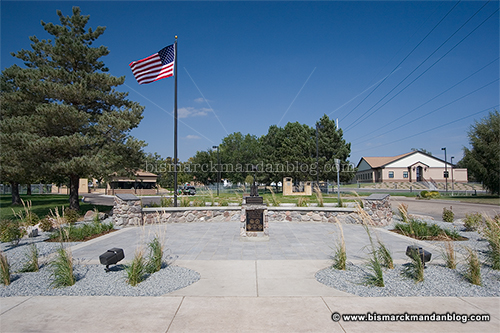 At 2pm today there will be a service honoring three more fallen North Dakota soldiers. The Patriot Guard Riders will be in attendance. Sadly I cannot be among them today as I have a freelance job scheduled all day. Afterward I'll still try to find time to stop by and ponder their sacrifice. You may wish to spend a little time this September 11th to do the same.
[ 3 comments ]
( 28 views ) |
permalink
|
Click a dot to rate this entry:





( 3.2 / 269 )
---
<<First
<Back
| 87 | 88 | 89 | 90 | 91 | 92 | 93 | 94 | 95 | 96 |
Next>
Last>>