Earl Pomeroy casts deciding vote to adjourn the House instead of passing a budget, extending tax cuts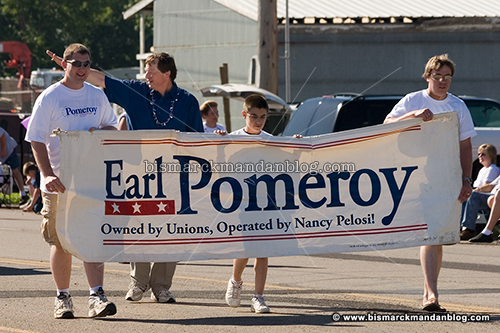 "I'm Earl Pomeroy, and I serve the Democrat Party - NOT North Dakota!"
Despite his recent ads where he tries to seek credit for voting with President Bush on the unfunded Medicare Prescription Drug entitlement, Earl Pomeroy is no friend of George W. Bush (and, as it turns out, hard-working North Dakotans).
Here's the roll call of the votes to adjourn
the session instead of passing such things as a budget, any of the 20 or so appropriations bills floating around Congress, or extending the Bush tax cuts (which are so popular that they were trying to call them the Obama tax cuts when there was a possibility of them passing).
Notice that if Earl Pomeroy had voted in a way corresponding to his latest ad campaign, this would not have passed. At the end of the day, you can always count on Earl to be a good Democrat lap dog and vote the Pelosi way.
By the way, despite the credit that Earl seeks for supporting President Bush, you may want to listen to this audio of Earl I grabbed from 2008 at the Dem-NPL convention in Grand Forks:
Let's not forget that time a few years back when Earl Pomeroy called President Bush a clown, when he didn't realize he was on camera:
So...I guess we can discern the following about Earl Pomeroy:
- when he thinks nobody is watching, President Bush is a clown;
- when he has an arena full of Democrat cheerleaders, President Bush perpetuated a "man-made, self-inflicted disaster" upon our nation;
- when his political career is on the line, Earl Pomeroy feigns support for President Bush hoping we'll be fooled by his lies.
Sorry, Earl...we're not buying it. Your days of acting one way in Washington and portraying yourself another way back here in North Dakota are OVER. Get used to civilian life, sir...it's only weeks away.
[ add comment ]
( 2 views ) |
permalink
|
Click a dot to rate this entry:





( 3 / 288 )
---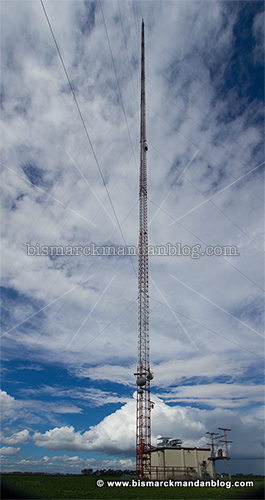 While on the notorious Cold War Mancation™ we made a brief stop at one of North Dakota's largest landmarks: the KVLY TV tower near Blanchard. If you know what you are looking for, you can actually see this tower from Interstate 94. You can also see its counterpart, the KXJB TV tower, which is relatively nearby and only three feet shorter.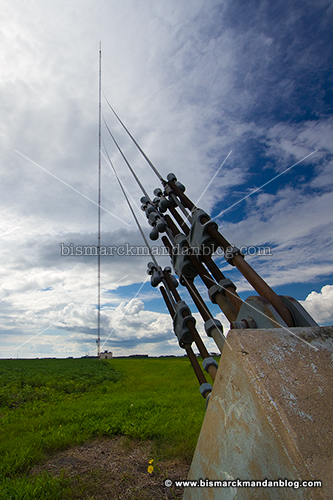 I am no longer employed by the company that owns and/or operates these towers, but I do get to work with them from time to time. It's been years since I've been inside the big reinforced building that houses the transmitter for this beast. In fact, I had to find a new way to get here since the old gravel road is currently flooded. The last time I was here, there was a crew working hard to make some adjustments or repairs to the main transmitter and get it back online. At least they didn't have to climb the tower!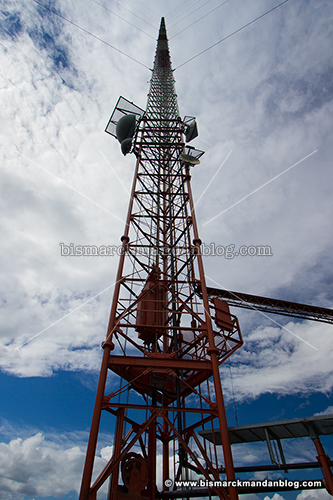 This beast stands 2,063 feet tall. It has been the tallest manmade object in the world for years. At one time I believe a tower in Europe took the title, but sadly it was unable to bear the load and collapsed. The title then reverted to KVLY's tower until the recent construction of the "
Burj Khalifa
" in Dubai. One could be nitpicky and point out that it's the tallest manmade object in North America, or even
in the free world.
By the way, there's a tiny elevator about the size of a phone booth that goes up the center of this tower's triangular structure...but not all the way. At some point, you've got to get out and climb. No thanks, I'll just enjoy the view from below!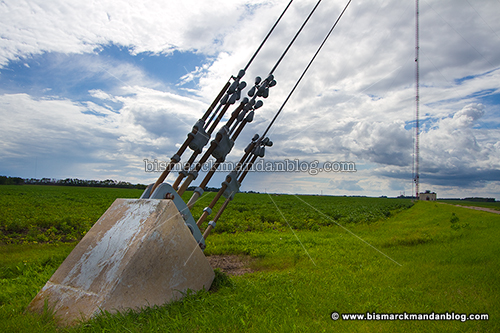 I could give you all kinds of amazing stats about the miles of supporting guy wires or million pounds of steel, but I think
KVLY's own website does a great job of that
. While this tower gets all the glory, it is noteworthy to point out that the second tower, built by former rival and current sister station in the Valley News Live family, is merely three feet shorter. Not only does North Dakota hve the tallest manmade object outside of the oppressive Middle East, it's got two of 'em.
[ add comment ]
( 2 views ) |
permalink
|
Click a dot to rate this entry:





( 3.1 / 281 )
---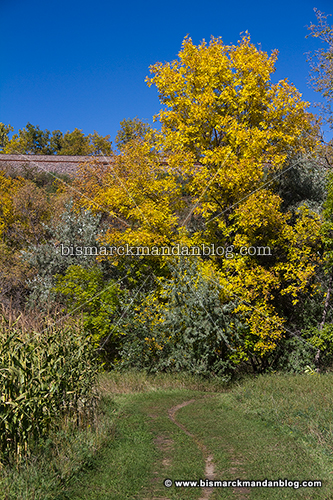 I had the luxury of a photo walk with my beloved wife this Saturday, and of course our choice was the Lewis & Clark walking trail on the Mandan side of the river. There is a trailhead at either end, and we chose to begin from the one in the Captain Leach area.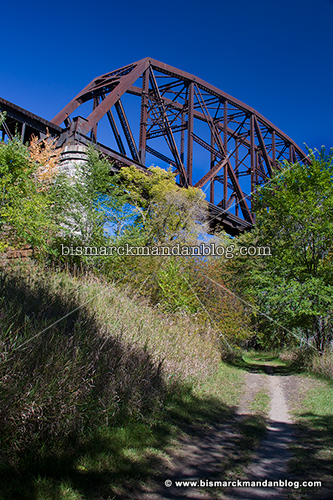 This end of the trail goes under the historic Northern Pacific and Grant Marsh bridges as it dips toward the bank of the river. There's a good variety of foliage to be found along each of the trail's two forks.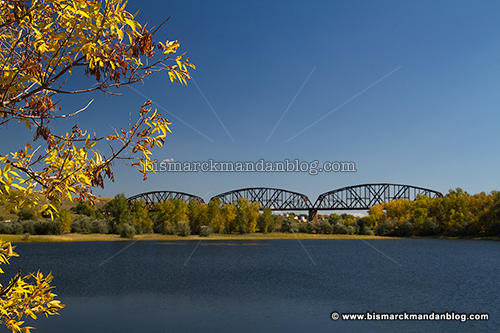 Of course, there are plenty of routes along the river that will provide scenic vistas. One can head north or south on 1804 or 1806, for instance. A nice drive up River Road and back around by Papa's Pumpkin Patch could provide some breathtaking scenery and colors. Whatever your route, you'd better take it soon! It'll be over before you anticipate.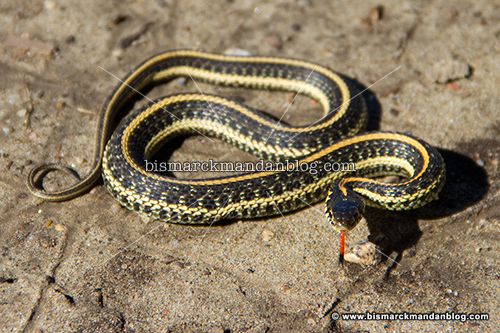 Oh yeah...watch out for wildlife. This little guy was really mad at me. Some creatures just really don't want to have their photo taken, I guess! He struck at me a couple of times, but thanks to the wonder of telephoto lenses I wasn't close enough to hurt him. Nevertheless he felt cornered, and nobody likes that.
[ add comment ]
( 5 views ) |
permalink
|
Click a dot to rate this entry:





( 3.2 / 260 )
---

"But I would not have you to be ignorant, brethren, concerning them which are asleep, that ye sorrow not, even as others which have no hope." I Thessalonians 4:13
(Originally posted in 2009)
Today marks the anniversary of the loss of my friend, Kirk Eckelberry. Anyone who knew him is well aware of the lives he touched as a Christian husband, local attorney, soccer coach at Shiloh, or just as a friend or neighbor. Kirk and I hadn't seen each other much since we were kids, but in 1999 we had reconnected and loved blazing around on our big Kawasaki Ninjas and camping out at the races. Sadly, I only had the one summer with my friend.
I've always skilfully put up walls in my heart regarding loss, especially in this situation. It wasn't the first time; my friend Norm Kukert died on his motorcycle right in front of me; my friend Brad Doll died on his motorcycle right before I arrived on the scene (I still have my collectible Scott Russell t-shirt with the tear from lifting Brad's bike into the truck). One race weekend, when I had a really bad feeling about things and packed up my gear without ever getting on the track and headed home, one of our racers was killed in a high speed turn two accident. A young motorcycle racer tells himself things like "It'll never happen to me." For many reasons, which I still don't understand, Kirk's death really pierced my heart.
I found out about his crash while getting my scripts ready for the ten o'clock news at KFYR-TV one night. I was stunned...that's not the way to find out your friend has been killed. We were looking forward to going racing together the next spring and had experienced a really fun summer of riding. Also, I wasn't a Christian at that time and was really fond of having a friend who was saved. I could see the peace and joy he had, and it was starting to sink in exactly why and how he could have those things. And suddenly he was gone.
Many of us, including Kirk's brother and myself, rode in a group of motorcycles at Kirk's funeral. I'm sure he would have enjoyed that. I have no doubt that he's in unspeakable joy up in heaven with his savior; the sadness I've felt has always been for those of us who miss him, most of all his family. That kind of pain and sorrow is the thing that I've shut out, bottled up, whatever sort of cliche' you want to apply. This time around, however, despite my best efforts to skirt around the anniversary of the day, I was able to come away with a sense of joy and love I never expected.
Kirk's family poured a lot of time and effort into me when I was a kid. When they had youth group events at their house or church, I was always welcome. It seemed as though I could smell pizza at the Eckelberry home from my house several blocks away! Many times i would come over and not even hang out much with the Eckelberry boys, but talk with Ma about my need to be "born again" or my need for a savior. Those things didn't sink in at the time, but they laid the groundwork for me to realize the truth down the road.
It was actually Jesus himself who said that we need to be "born again" in John 3:7 ("Marvel not that I said unto thee, Ye must be born again."). Here I thought the term was just clever branding on the part of some Christian movement. Nope...the entire reason I'd been going to church all my life, the Lord Jesus Christ, is the one who said it. That's pretty high authority...after all, if we don't believe in what Jesus himself said, why go to church in the first place?
The constant witness and the visible joy of my friends spoke to my heart, and there was a point down the road where I accepted Jesus as my savior, I became "born again", I got "saved"...whatever term you wish to ascribe to it. I am now a Christian in every sense of the word. I wish I could have told Kirk in person, but I know that some day in heaven I'll get the opportunity to do just that.
The reason I can now write this with such joy and with an unburdened heart is that I was able to find and call Kirk's mom, "Mrs. Eckelberry" to me, and finally tell her how I miss Kirk. More importantly, I was able to thank her for caring enough for me to spend the time witnessing to me, inviting me in for pizza or to church, and always making me feel welcome. I was able to tell her that her kindness and the influence of her son Kirk were the pivotal influence in my life, that now I'm a Christian husband and daddy. That kid who had no regard for his eternal destination or relationship with the God that created him is a Christian man, active in a great church and trying to serve God every day. That's fruit to their account, and the blessings they gave me were hopefully returned by letting her know what a wonderful difference she made in the salvation of that boy.
Sure, it's still painful to miss Kirk and all the fun we had planned. I especially think of his wife and two little kids, especially when I go out riding these days. Rather than focusing on the loss of my friend, however, I can now think of the joy that his brief re-entry into my life has brought. Someday in heaven we'll all share in unspeakable joy, and the pain of this life will be a distant memory.
I was listening to a sermon by Charles Stanley the other day, talking about the legacy we'll leave behind. My salvation is part of the legacy of Kirk and his family. I'm not alone; there were many people who got up at Kirk's funeral to describe their memories of him. One in particular that stood up was a woman who only met him once. She was in a very bad place, financially and otherwise, but Kirk helped her. He did so in a kind and loving way, and his influence on her was great enough that she came to stand in front of all those people and relate her experience with Kirk Eckelberry. Many people remember Kirk like that.
From now on I'm going to remember the joy of being friends with Kirk and his family, to be grateful for my soul's salvation through their investment in me, and the knowledge that someday I'll see him again in the presence of our Lord.
[ 5 comments ]
( 99 views ) |
permalink
|
Click a dot to rate this entry:





( 3 / 459 )
---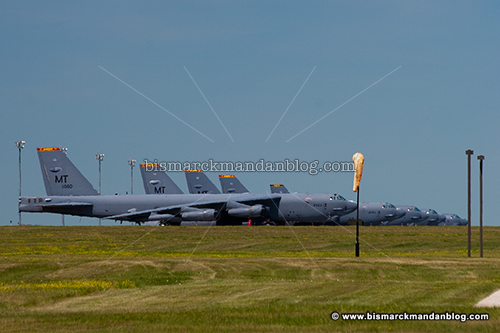 No, I didn't find myself on the tarmac looking at the flight line on our Cold War Mancation™...this photo is from another time. We did, however, wrap up the Mancation with a stop in Minot. I wanted to make it to the vicinity of MAFB and gaze over/through the fence, but it was getting late. There is, however, one place along the highway en route to the Air Force base that was worth visiting.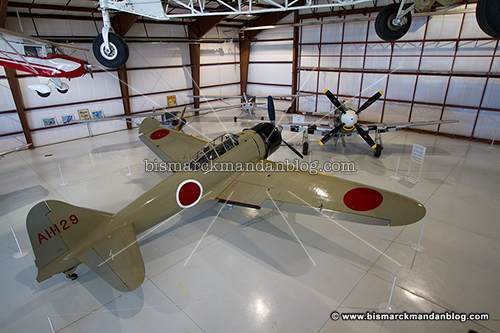 This is a view from inside the Dakota Territory Air Museum just north of Minot, appropriately adjacent to the airport. On our trip we ended up arriving a little too late to get in, so I brought my toddlers up later. What you're looking at is one of the few flying Japanese "Zero" aircraft, named "The Last Samurai."
Read more about it by clicking here.
This thing is an amazing work of art and detail. It's a carrier model, with wing tips that fold up to allow greater aircraft capacity on the carrier.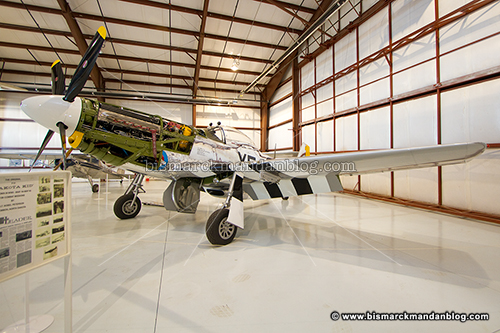 Facing off against the Zero is this brilliant restoration, a P-51 Mustang. On the day when we arrived, the engine and other tasty bits were exposed for all to see. It's interesting how a tool of warfare can be so striking and beautiful. I'm not the kind of guy who gets all wound up about old cars and stuff, but this machine is just downright breathtaking.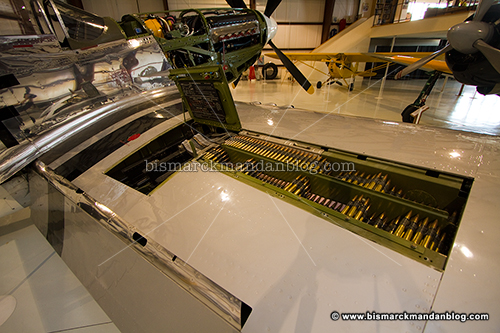 Also breathtaking are the dual .50 caliber Browning wing guns! We were lucky in that the panels covering the aircraft's armament were open as well. I'm pretty sure there are plenty of problems whose best solution is a belt-fed .50 cal!
This is where we wrapped up the Cold War Mancation™. We put our noses to the glass a little bit and pointed the truck back toward Bismarck-Mandan. These pics aren't from that exact visit, but hopefully you get the idea. There are plenty of other really cool photos from this road trip, including some other striking landmarks, that I'll be trickling out as time allows.
By the way, you really need to visit the Dakota Territory Air Museum. It's not just a hangar full of planes; it's three buildings of history and more! I've got lots of pics that I took with my toddlers that I'll post down the road as well.
One other thing: I believe the Minot Air Force Base is hosting their
biennial Northern Neighbors Day
air show & more this summer! Stay tuned for more...
[ add comment ]
( 4 views ) |
permalink
|
Click a dot to rate this entry:





( 3 / 341 )
---
<<First
<Back
| 86 | 87 | 88 | 89 | 90 | 91 | 92 | 93 | 94 | 95 |
Next>
Last>>