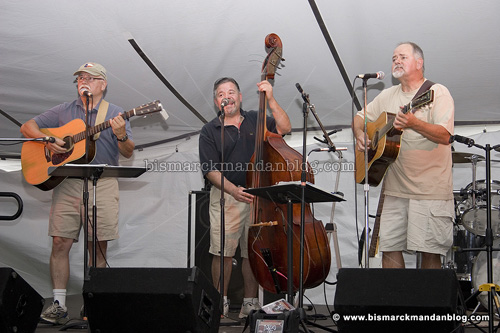 This weekend I was able to visit Buckstop Junction for
Applefest
, a benefit for the Bismarck Cancer Center. While I had a freelance gig occupying my Saturday, I braved the wind on Sunday to watch my friends
Tucker'd Out
play their mix of bluegrass, folk, and other tunes. It was fantastic; I haven't seen these guys play live since a practice jam sesion in Lynn's basement.
I've referred to these guys previously as
JPL
, but they took on the Tucker'd Out moniker when they started playing some serious gigs. The band is comprised of brothers John and Lynn, and bass player Jeff ("Petey" ). Thus the "JPL" origins. Petey, Lynn, and I have worked together since...well, almost 20 years, technically...since the start of my NBC days. They're part of the KVLY crew, and we've worked together on freelance jobs all over from ESPN to FOX Sports Net. I got to meet John for the first time this weekend as well.
Thanks to the guys for playing two of my all-time favorite songs, and calling me out by my TV nickname (which I am not giving away, sorry!):
"The Dutchman" is a song I can't listen to with a dry eye. It's a sweet song about an old man whose grip on reality is fading due to dementia, and his loving wife Margaret who is ever by his side. It's just a plain lovely song. Lyrics are copyrighted material, so I'll post a link to the writer's page
here.
I'm no Bob Dylan fan, but the song
Lay Down Your Weary Tune
is another truly beautiful song that pops into my head whenever I behold a broad landscape and the beauty of God's creation. Please click on the link above and read the lyrics; you'll see what I'm talking about.
As with many of the songs I hear them play, I've never heard the original versions of these two favorites. I don't want to. With a simple guitar, acoustic bass, and mandolin, these guys give such a warm treatment to every song they play that I don't ever want to hear these songs by anyone else. It's simply not necessary. Songs like "If I Had a Boat" (one of my other favorites) seem to be written for these guys, anyway.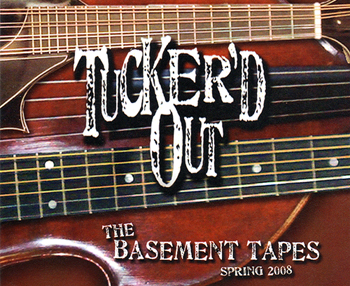 I was able to score a copy of the new album, "The Basement Tapes - Spring 2008" this weekend as well. Thanks, guys! I already have some new favorites, such as "One Drop of Rain." It's a love song talking about drops coming together, forming a river of love. You can listen to this one
on the band's MySpace page
.
One side note: their albums are recorded, mixed, and mastered by KVLY farm news anchor and meteorologist
Mick Kjar
. They sound as well as any studio recording I've ever heard. What is it about those farm news guys? Al Gustin is another one who's multi-talented, with woodworking and other skills to go with his award-winning journalism. I guess it takes a certain type of fella to fill those morning ag news shoes!
For any of you who find themselves in the Fargo-Moorhead area, look ahead on that page to see if Tucker'd Out is playing while you're there. Check out the songs on their MySpace page, and score a copy of their CD if you're able. Say hi from me, and ignore any stories they might tell about me!
[ 1 comment ]
( 9 views ) |
permalink
|
Click a dot to rate this entry:





( 2.9 / 310 )
---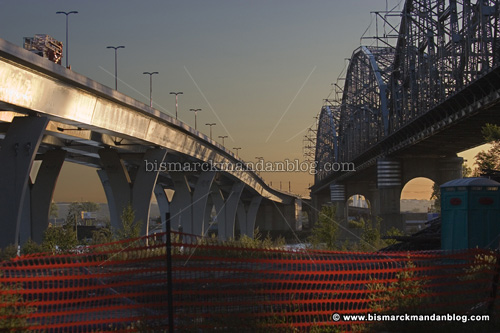 What's that, you say? MORE evidence? Yeah, funny...I took pictures to prove it! Check out the nice, smooth arc of the new Memorial Bridge in the photo above. Pretty sweet, eh?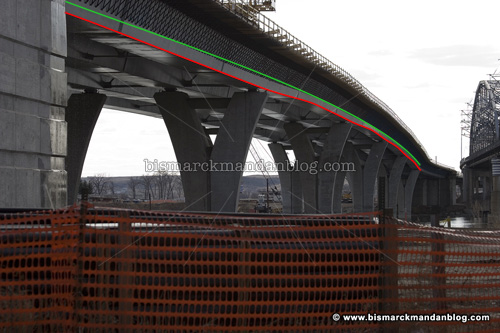 A while back, I posted the above photo while pointing out that the beams looked
awfuly wavy.
Well, after I'd pulled to the side of the road after
being the last civilian to drive across the old Memorial Bridge
, I talked to Mike Kopp from the DOT. He pointed out that the bridge beams were designed with that upward bow in them to absorb the weight of the concrete and steel composing the bridge deck to be built on them. Oops.
Don't let me build your bridge, folks. It might look a little saggy in between columns if I did...unless I learned my lesson in this case and remember
why
those beams need to look "wavy" at the start.
[ 1 comment ]
( 28 views ) |
permalink
|
Click a dot to rate this entry:





( 3 / 216 )
---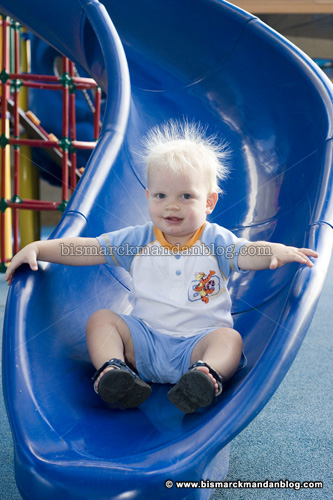 Here's a renewable fuel for you: the charge of static electricity generated by sliding a toddler butt down one of the many plastic slides adorning the playgrounds of our beloved cities! Yeah, I tried it...adults get zapped, too. I'm just glad I don't have my 19-inch mohawk, like back in my adrenaline junkie days. That's a lot of hair to have standing up, although I suppose it's cheaper than hair gel.
If you never got to play with a
Van_de_Graff_generator
in science class as a kid, just go down the slide somewhere! Make sure it's one of the newer plastic ones, though.
Little PJ never seems daunted by the static charge he gets from going down the slide. Since I often catch him at the bottom, I appreciate those old metal slides from my youth! I might have to take a can of Static Guard with him next time we hit the playground.
[ add comment ]
( 3 views ) |
permalink
|
Click a dot to rate this entry:





( 3 / 243 )
---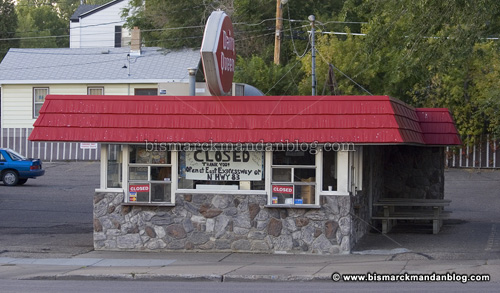 Every year, certain Dairy Queen restaurants in Bismarck close for the winter. This year is no exception. Some years in the past, the only perennial DQ in our area was in Mandan. Not so these days; there's also the one on east Expressway Avenue, next door to my beloved Taco del Mar.
First the leaves along River Road start to yellow, and now this! I'll cling tenaciously to the summer/fall blend as long as I can, but when I sense it's gone, I'll charge full bore toward Christmas! And I won't have far to drive to get my Dilly Bars!
[ 1 comment ]
( 11 views ) |
permalink
|
Click a dot to rate this entry:





( 3 / 213 )
---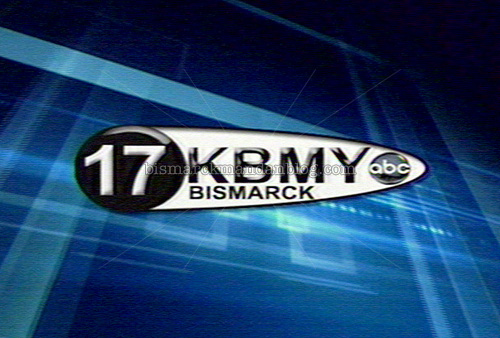 I got my start in broadcasting at a little "you-fer" (UHF station) that you might know...KBMY, channel 17 here in Bismarck. It's got a rocky history, and that history now comes from approximately 200 miles away.
KBMY is owned by WDAY TV in Fargo. When they went on the air in Bismarck and Minot in the 80's, there was even a news staff in Bismarck. Sadly, the news department was short lived. While there are benefits to not having to babysit a bunch of journalism majors
(that's an inside joke aimed at a couple of friends who'll find it funny - NOT at the KBMY news staff)
, I'd have to say that it's far better for a TV station to have local news. I don't know what those days were like for "the Beemer" because I joined just after the news staff was let go.
KBMY was located atop the Kirkwood Office Tower when I worked there. What a cool building! If you've never been in there, give it a try. The circular hallways are fun, especially on a minibike. Whoops...forget I said that.
Having the head honchos and bean counters of WDAY residing 200 miles away did make for a relaxed atmosphere for a control room monkey at the Beemer, but it was frustrating trying to get any upgrades (or even working equipment sometimes). Much of the control room gear was older than me, and some of it looked pretty familiar the last time I saw it in 2007.
I left KBMY to live at a ski resort in 1989 and 1990, getting paid to snowboard three days a week and, well, snowboarding on my four days off too. At that point I was already sending job applications to my future home at KFYR-TV.
A few years ago, KBMY moved in with a new roommate: KNDX, the local FOX affiliate. They were both operated out of the same building, with separate control rooms. It's not an uncommon arrangement in television these days; KVLY runs KXJB the same way in Fargo. But the scuttlebutt among us "rehabilitated television" type fellas is that the arrangement with FOX recently changed as well. Actually, it went the way of KBMY's news department.
I was reminded by
this KXMB article
that KBMY is now run out of Fargo by WDAY. It's interesting how the arrangement developed: Prairie Public Television (KBME) was first with a digital transmitter as well as a digital microwave transmission line to deliver programming between Bismarck and Fargo. Why wouldn't they?
Our tax dollars pay for it.
Just ask Conrad, Pomeroy, and Dorgan,
who just brought Prairie Public another three hundred grand in pork.
KXMB combined resources with Prairie Public for digital transmission. I suppose it works out pretty well with them being across the street for each other; KXMB just has to get their DTV signal to Prairie Public, who can then send it out to the transmitter site to be broadcast. Digital transmission IS cool, you can broadcast multiple channels and multiple streams!
Anyway, that arrangement sets KXMB up to be the perfect folks to manage the Beemer. WDAY can hop onto Prairie Public's microwave link to Bismarck, it can be handed over to KXMB by KBME, then sent by analog link out to KBMY's old liquid-cooled UHF transmitter. All WDAY's bean counters need is someone to sell local ads and maintain the few remaining electronic items. And that's my theory on how it goes. At the next Friday A&B Pizza lunch where we TV guys gather, I'll have to ask if I'm correct in my technical assumptions.
It's too bad that KBMY never really got off the ground. I will admit that the Bismarck-Mandan of the 1980s was probably too small for three competing news departments, and TV viewers are creatures of habit anyway. But I will always cherish my fond memories of my time at the Beemer. It was my gateway into television, which led me to the career in multimedia that I enjoy now. Two of my lifelong best friends are guys I met at KBMY. They actually followed me over to KFYR before we all split off into the non-broadcast world. The Beemer, however, lives on...it just electronically commutes 200 miles to work each day.
(this post was edited to point out that my "journalism majors" comment was a specific inside joke.)
[ 5 comments ]
( 60 views ) |
permalink
|
Click a dot to rate this entry:





( 3 / 255 )
---
<<First
<Back
| 175 | 176 | 177 | 178 | 179 | 180 | 181 | 182 | 183 | 184 |
Next>
Last>>