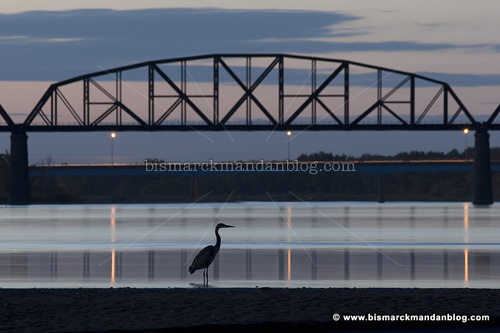 After a long day of organizing photos and walking around
Papa's Pumpkin Patch
with my wife and PJ, I let them take care of stuff like baths and took off to the sandbar with my camera. I wanted to see two things: what that pile of rocks under the bridge is, and what the new beam is that's sticking out of the west end of the new bridge.
That's when my attention was drawn to the silhouette of one of my favorite, most elusive subjects: the Great Blue Heron. This one was reasonably cooperative, although I never did get too close to him. It turned out that was just fine, as I wanted to include the railroad bridge and the river in the shot. I set up my tripod and was able to take this exposure. What's cool about the herons is that if they perceive a possible threat, they stand still to assess the situation. I clapped my hands to make this bird freeze in his tracks, then took the shot. This bird sat still for the
eight seconds
needed to capture the moment! Even zoomed into the full size picture, the water is blurred but the bird is not. What a cooperative subject! In fact, if you look at the Grant Marsh bridge in the background, you'll see streaks of lights made by cars driving over the bridge while the camera's shutter sits open.
By the way, the piles of rocks are so they can make a platform out into the water for a track-driven crane to move. Apparently the ones on the barges just aren't going to cut it. And the beam sticking out of the west end of the new bridge? It's a beam. Not that it was a mystery to start with, but it's hard to get a decent look at it while driving over the old bridge. Two questions answered, one awesome (and unexpected) photo to boot. Chalk up one more successful journey in the Bismarck-Mandan area!
[ 3 comments ]
( 55 views ) |
permalink
|
Click a dot to rate this entry:





( 2.9 / 408 )
---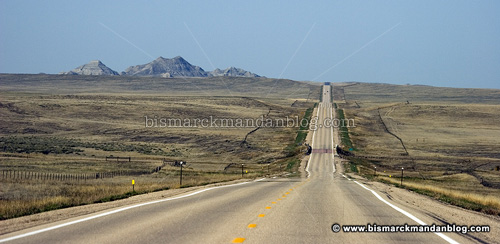 I was working out of state this past week and, on my way back home, got to enjoy Highway 85 through South Dakota. Wow. I don't do a whole lot of traveling that would introduce me to a long, straight shot through sparsely inhabited territory. At times one can see miles ahead, with the straight ribbon of road visible all the way to the horizon.
I made good time but, since the rest of the crew was with me, I was unable to stop and take any pictures. We were all in a hurry to get home after a long week. I'll have to make a special trip for that. It sure is good to be back in North Dakota though!
[ 2 comments ]
( 37 views ) |
permalink
|
Click a dot to rate this entry:





( 3 / 252 )
---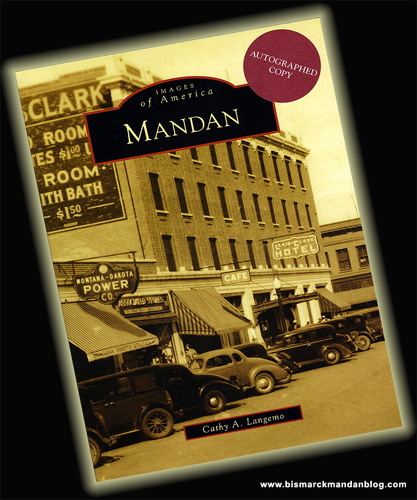 This past weekend I ventured over to see the fine folks at the Huntington used book store. The reason: author Cathy Langemo was signing copies of her new book,
Mandan
, part of Acadia Publishing's "Images of America" series. I got mine...did you get yours?
I really enjoyed Ms. Langemo's book "Bismarck, North Dakota" and even found some photos in there of a personally relevant nature. For instance, a picture of our church building from circa 1912 is contained therein. It was quite a treat, since I was in the process of researching our church's history for an anniversary celebration. I also spotted a somewhat modern shot of the Federal Building on 3rd & Broadway, adjacent to my old home at KFYR-TV. My friend Jamie Dunnigan's car is parked in that shot. In addition, the book is filled with a lot of interesting facts and photos.
I haven't yet had the time to give the Mandan book a thorough read. It's a very busy week for me, and I don't want to give it a superficial glance. I haven't read past the Introduction, but that part alone is full of a lot of interesting local history. I highly recommend these books.
You can find these at your local B&N, but I'd rather suggest that you visit the Huntington store on east Main Street in Mandan instead. If there's another book signing somewhere, of course I suggest attending. I sure will, and hopefully I'll remember to bring my Bismarck book to have it autographed!
[ 1 comment ]
( 27 views ) |
permalink
|
Click a dot to rate this entry:





( 3 / 275 )
---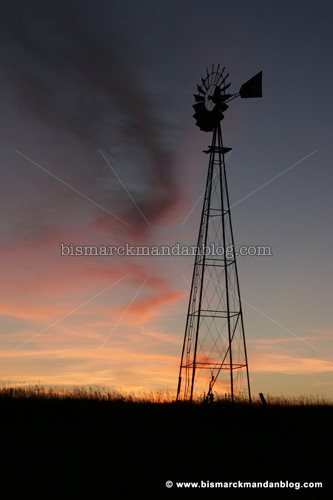 When I had more time on my hands, I used to do a regular Thursday Night Sunset series. Lately it's been more of a target of opportunity, as I haven't been able to set time aside for as many photo adventures. This was from one of my favorite windmills this weekend.
I wasn't sure what I was going to do for sunset, and then time got away from me. This was one of my "old standby" locations, and I dashed to it just in time to capture the last bits of color from the waning sunset.
I just love old farmsteads, old wellheads, and old windmills. This weekend at the downtown street fair I ran into my junior high art teacher, Mr. Paukert, who I haven't seen since 1982 or so. As it turns out, he has an eye for the same sort of North Dakota features, and was selling his work. I was glad to see him and to be reminded that I'm not the only one with a soft spot for the sights of North Dakota.
[ 1 comment ]
( 14 views ) |
permalink
|
Click a dot to rate this entry:





( 3 / 260 )
---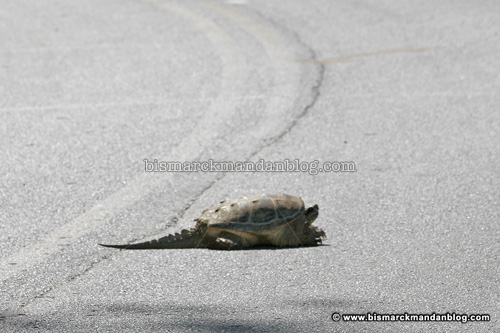 After hanging out at the Huntington used book store in Mandan, my little boy and I took the long way to the downtown street fair. While turning the corner where Tavis Road meets Burleigh Avenue, I noticed a big lump of something in the road. I thought my eyes were deceiving me, but they weren't: it was a big, angry snapping turtle, just sitting in the middle of the road!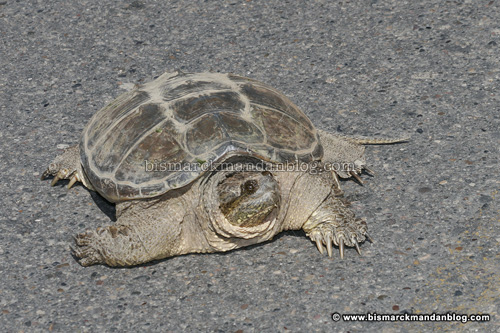 People tend to fly through this corner well in excess of the speed limit, so my first concern was to avoid this snapper getting plastered all over the road (and sending someone's car to the wheel alignment shop!). I had a set of leather work gloves in the truck, but there's no way I was going to try to pick him up. His claws were nearly an inch long, and he was already ticked. I used a stick to try to prod him along, but he'd only spin and snap at me.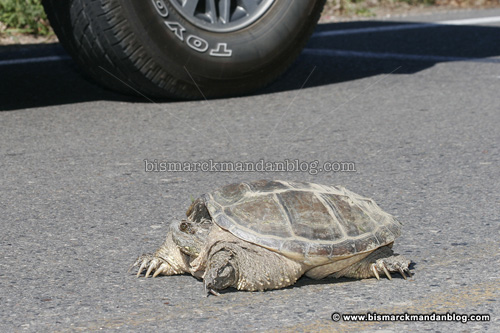 I spent a little while waving traffic around him, as cars were barreling down on him pretty fast until they saw some idiot in the road waving his arms. PJ fell asleep in the truck, so he missed out on the excitement.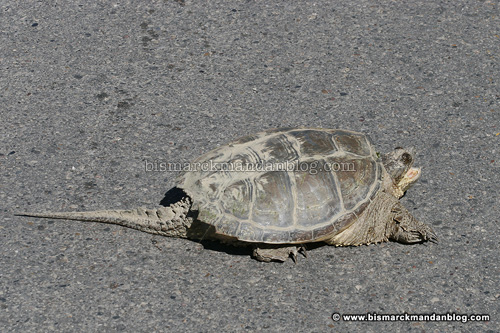 Did I mention he was angry? I bet he had a few close calls before I showed up, because I wasn't about to stand there taunting him. I don't know if you've ever seen how fast a properly motivated turtle can move on pavement, but I have. They can actually be extremely fast! When they've got a beak on 'em like this guy, they're best not teased.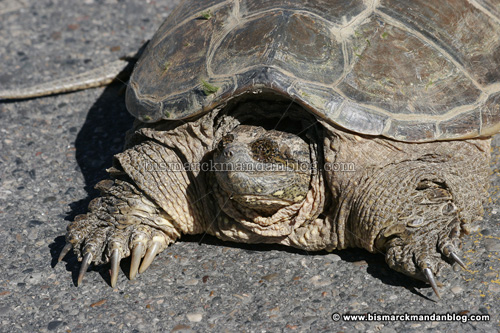 Check out those claws! Like I said, even lifting him up from behind with leather gloves seemed a pretty stupid idea, because I'm pretty sure it's impossible to grab that shell and be out of the claws' range at the same time. I was tempted to try, but I'm trying to quit being such a frequent Emergency Room visitor.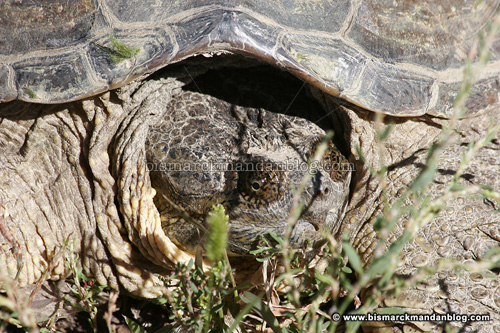 A couple came by and grabbed a windshield ice scraper out of their trunk, the kind that's around three feet long with a scraper on one end and a broom on the other. The guy was able to shuffleboard the turtle into the ditch, which didn't help the snapper's temperament any. But at least he was out of immediate danger, assuming he didn't climb back onto the road. We pushed him into the weeds a bit further, so that he was closer to the water than the road.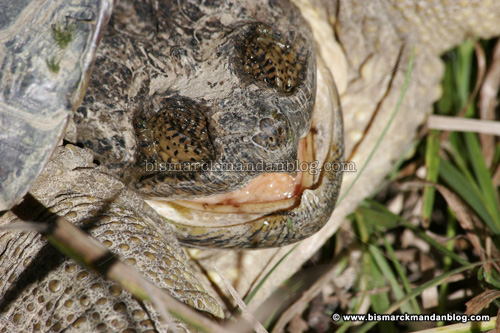 Once it was all over, I told the turtle a joke and we laughed ourselves silly, as you can see from his smile. Okay, that's not exactly it. In this picture he was tired of being prodded, so he rolled his eyelids shut and hissed at us. Figuring that were were fortunate to have everyone escape without being hit by a car, bitten, or scratched silly, the good samaritan and I went back to our respective vehicles and left the turtle to sort things out for himself.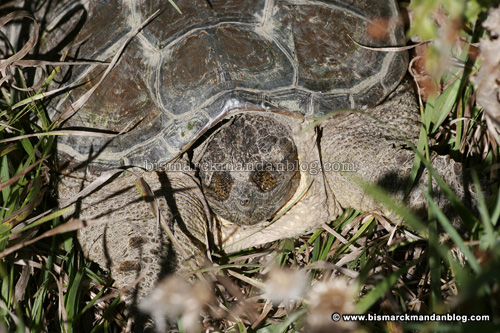 Parting shot. Nestled securely in the weeds next to the backwater, this turtle hunkered down and waited for the pesky humans to leave. Satisfied that we'd done the right thing, leave is exactly what we did.
It seems like I can't go anywhere without something interesting happening, and this Saturday was no different. I'm blessed to have a life where every day throws me an unusual event to write about. Thankfully I never go anywhere with my camera, so I have pictures to back it up!
[ 3 comments ]
( 51 views ) |
permalink
|
Click a dot to rate this entry:





( 3 / 254 )
---
<<First
<Back
| 221 | 222 | 223 | 224 | 225 | 226 | 227 | 228 | 229 | 230 |
Next>
Last>>