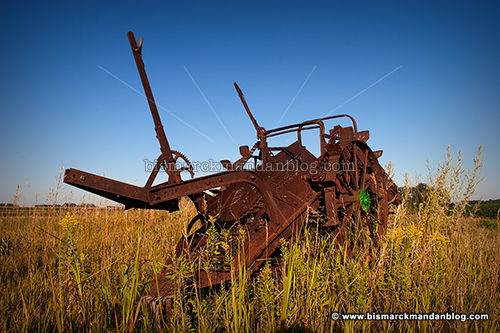 Just think...at one time this fella probably sat in a showroom or on a lot with a shiny coat of paint, just waiting to get out in the field and dig in (pun intented). Now it's more of an ornament, but a testament to labor done. I'm not sure about the green hub on the axle, though.
[ add comment ]
( 2 views ) |
permalink
|
Click a dot to rate this entry:





( 3.1 / 303 )
---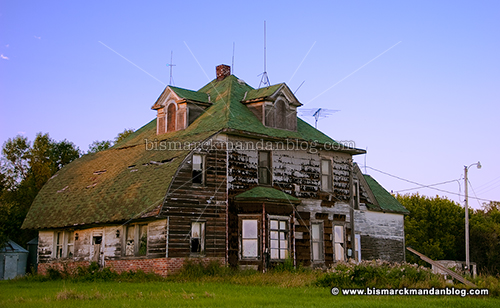 Half barn, half house? The very distinctive shape (shapes?) of this house had me jamming on the breaks and whipping around for a quick photo. The part of the house on the left looks like a barn, yet the front makes it look like it collided with a house at some point. The peaks of the roof are like an architectural cherry on top.
This building sits stoically along the road to Fort Ransom, boarded up and tucked into the trees. Spotting such a Fallen Farm building was like stumbling on a hidden photographic treasure!
[ 1 comment ]
( 16 views ) |
permalink
|
Click a dot to rate this entry:





( 3.1 / 309 )
---
This is the first year that I've been able to enjoy a State Parks vehicle pass in my truck. Don't ask me why it's taken this long...I can't explain it. In any case, I've got one now, and plan on putting it to good use yet this year! For instance, this recent bolt up to the blockhouses at Fort Abraham Lincoln. I got there just in time to catch the fleeting sunset.
Some of the tourists there looked amused as I rolled up in the Monster Truck™, grabbed my tripod and camera bag, and ran out into the middle of the forts to get the right angle. Later, as I was wrapping up, a couple walked by and asked how the sunset turned out. Thankfully, as you can see for yourself, it turned out just fine.
[ add comment ]
( 2 views ) |
permalink
|
Click a dot to rate this entry:





( 3.1 / 338 )
---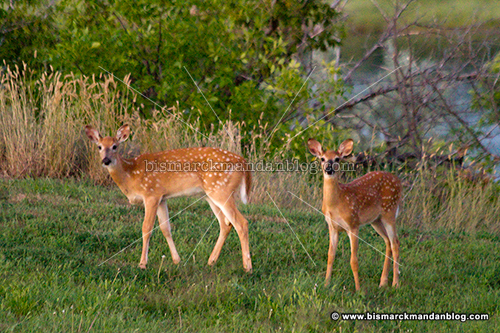 I took a ride on the Fort Lincoln Trolley this weekend with my lovely bride, and the trolley operator told us about a pair of twin fawns that have been spotted (pun intended) around the tracks from time to time. I was out at Fort Lincoln since then and saw them for myself around dusk, playing around and walking with their mom. They didn't seem to be alarmed by my presence and gave me plenty of opportunities to photograph them before bounding off into the trees.
[ add comment ]
( 1 view ) |
permalink
|
Click a dot to rate this entry:





( 3 / 377 )
---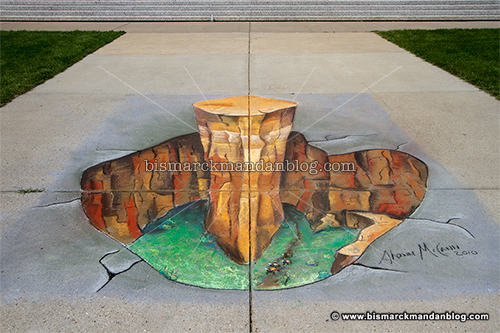 This is the magnum opus that created such a buzz during this year's Capital A'fair: a 3D chalk drawing by Shawn McCann. His illusion took many hours of work and thankfully didn't encounter any rain this year!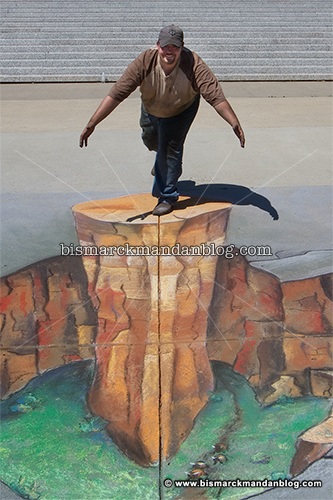 The effect of this chalk-drawn illusion becomes far more dramatic when an element of realism is introduced. In this case, we're talking about the artist himself. Once we have a real person perched atop the faux protrusion of the drawing, the effect is complete.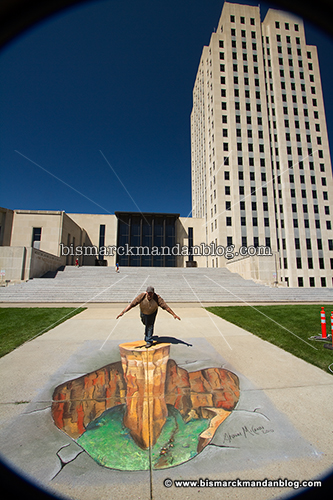 Pretty cool, huh? This is the effect Shawn was shooting for. It looks really neat with the capitol in the shot for added perspective. Some days I'm really happy I have such a wide angle lens, and this is one of them.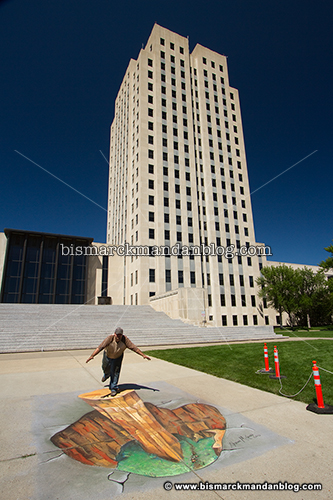 As Shawn will point out, this is drawn to work from a very specific perspective. While this is a really neat angle to fit the capitol into the shot, it blows the illusion because of the way things are drawn.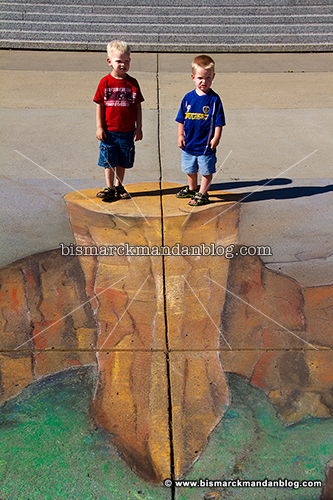 Update: I took my boys to take part in the fun this afternoon (for about four minutes, given the blazing heat) and the chalk is weathering fast. In the afternoon the sun casts a shadow across this piece, so I stuck with a tight shot. Around noon would be better. You probably have another day or so to check it out, even less if the rumors of rain I hear are true!
[ 1 comment ]
( 18 views ) |
permalink
|
Click a dot to rate this entry:





( 3.2 / 260 )
---
<<First
<Back
| 91 | 92 | 93 | 94 | 95 | 96 | 97 | 98 | 99 | 100 |
Next>
Last>>