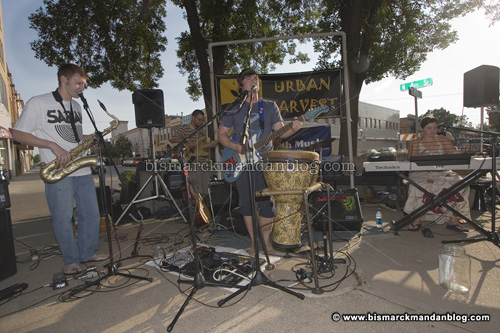 Tonight I took my boy and strolled him around the downtown area, as it was Urban Harvest night and our pal Luke Graner was performing. We met up with some other friends and enjoyed the evening's show. In addition to some of our old favorites, we got to hear a new tune or two as well. There's a ton of stuff for a seven month old boy to see, too. I snarfed some A&B pizza, he had some grape Pedialyte, and we brought home a bag of popcorn from the Walrus.
While at the line at the Walrus counter, I had the opportunity to thank Randy. I had the opportunity to tell Randy and his folks how the Walrus is special to my wife and me. Our first date was at the Walrus; I got food from the Walrus for our picnic when I proposed to my wife at Pioneer Park; on our wedding day, we went straight from the church to the Walrus in our wedding garb; and the Walrus has been our anniversary spot as well! They serve all kinda of good stuff at Urban Harvest as well.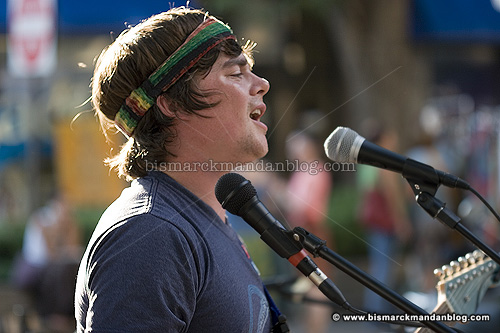 Luke and friends (and sister) played for a while, then handed things off to Fat Dad. A fun time was had by all, and little PJ and I decided to walk the downtown area for a while before going home. Urban Harvest is quaint but not my cup of tea, since it's a little too hippie-ish for my tastes. It's interesting to get a glimpse of the fantasy world of the peaceniks though, and it's a harmless little weekly festival. There's good food and live music, and it was great to be out on a night like tonight. My boy saw a lot of friends and a lot of new things, and I try to never miss a chance to see Luke perform.
[ 5 comments ]
( 76 views ) |
permalink
|
Click a dot to rate this entry:





( 3 / 272 )
---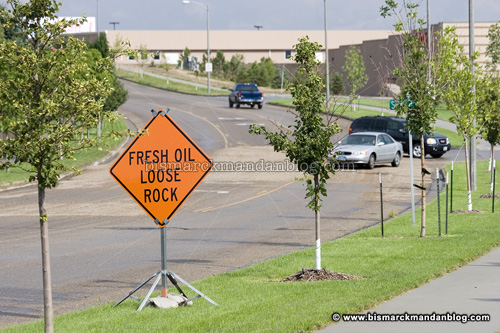 It's a motorcyclist's - or nice car owner's - least favorite time of year: chip seal season. While I still consider it a dubious approach toward street maintenance, Bismarck and Mandan insist on coating the streets with gravel, spread over an adhesive layer of tar, on all city roads. Doing so means a portion of the summer where we must dodge patches of loose gravel on the roadways, at least until they come by to sweep up the excess.
Last year I made a passioned plea to the Bismarck City Commission to re-examine their policies regarding chip seal application. In the 90's I had a nasty encounter with this stuff, spread SIX INCHES deep, in a corner that was not only unlit, but at the crest of a hill as well. I still bear nasty scars from that instance, and even some ground-down bones as well. I was leading a group of riders who all had passengers, but thankfully they saw me hit the gravel and were just that little bit more prepared for it. I was also the only one decked out in safety apparel, although falling on chip seal is like falling on a meat grinder! Thankfully, we had a nurse, a doctor, and a surgical technician among us that night...it was quite nasty.
Back to the point. After last year's City Commission meeting, I was approached by Keith Hunke. For those of you who don't know, he's from the Public Works department. He was interested in what I had to say and agreed with the Commissioners that a better job of signage could be done. I think he's kept his word; I've seen plenty of signs this year, and they look brand new. I also understand that it's not always possible to mark every patch of chip seal from every possible approach. With that in mind, I'm throwing Keith and the Commission a big thumbs-up for the effort to make our streets safer during this construction period.
[ 5 comments ]
( 51 views ) |
permalink
|
Click a dot to rate this entry:





( 2.9 / 257 )
---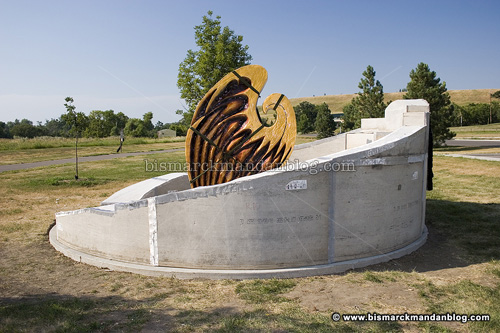 In the spirit of the
Thunderbirds eyesore
and the
big shiny white whatchamacallit
along River Road, it looks we've got another monstrosity being assembled in Pioneer Park. Either someone's a really good grant writer, or we have some skewed priorities in the Parks & Recreation department. The good news: we've reached the end of the path, unless they decided to work their way southward in the future!
I know it's probably a matter of personal taste, although I haven't encountered anyone who likes the giant blue monstrosity down by the Grant Marsh bridge. Some may argue that you can't put a price tag on cultural "enrichment" but it looks like somebody found a way. The question is, who's paying the bill? If we've got money for this kind of thing, perhaps we could work on lighting or other more usable projects along the path.
[ 3 comments ]
( 71 views ) |
permalink
|
Click a dot to rate this entry:





( 3 / 254 )
---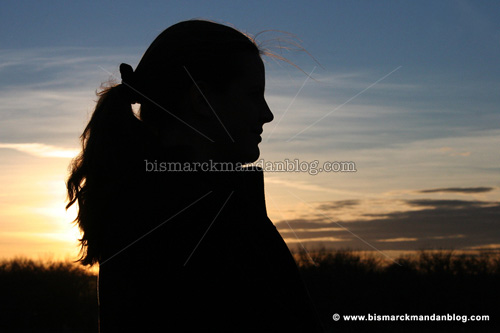 Whoso findeth a wife findeth a good thing, and obtaineth favour of the LORD.
--Proverbs 18:22
Yes, today is my second anniversary with the most wonderful girl in the world, my beloved Stacy! That would make her a candidate for sainthood in many circles. She's very giving in allowing me to run around the countryside with my camera so much, and enriches my life in ways I can't even begin to describe. She's now the mommy of our handsome little boy, and Baby Number Two is on his way! I'm the most blessed guy I know. I LOVE MY WIFE!
[ 3 comments ]
( 59 views ) |
permalink
|
Click a dot to rate this entry:





( 3.1 / 247 )
---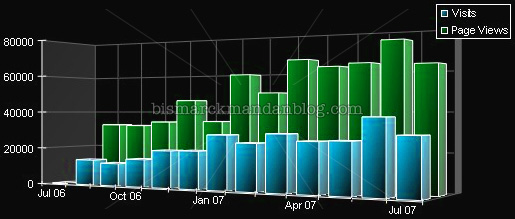 The nice weather in July (presumably) resulted in a slight dip in the old statistics for Bismarck-Mandan Blog. This month my site saw 63,243 pages viewed from 29,339 unique visits. That's down a pretty good tick from June, where I saw 75,106 pages viewed during 37,670 unique visits. While I'm not in this for the hit counts (or the money...HA!), it's always interesting to track the numbers.
One thing that has always stood out is that I receive 800 to 1200 visitors to this site per day, consistently. Yet I'll get 2 or 3 ratings on the posts. I can track very specific statistics, such as who comes to the site via a search engine (and what their search phrase was), where they're from...a lot of interesting yet unidentifying information. Many of my readers are former North Dakotans looking back home, as I get swarmed from all over the USA. It's pretty cool, really. But the votes at the bottom of each post take a while to rack up. I'm sure I get a lot of new readers over time, so occasionally I explain the dots at the bottom of each post:

This is a 5-point rating system. If you like the post, click on the dot to the far right. If you think I'm out of my ever-lovin' mind, click on the dot on the far right. Just kidding. The dot on the left is worth 1 point, the one on the right worth 5, and I leave it to you to discern the values of the remaining three.
Each time a user clicks a dot it's added to the tally, the number on the right. The average rating is on the left. In the graphic above, 4 users have responded with an average rating of 3.8.
[ 4 comments ]
( 24 views ) |
permalink
|
Click a dot to rate this entry:





( 3 / 280 )
---
<<First
<Back
| 227 | 228 | 229 | 230 | 231 | 232 | 233 | 234 | 235 | 236 |
Next>
Last>>