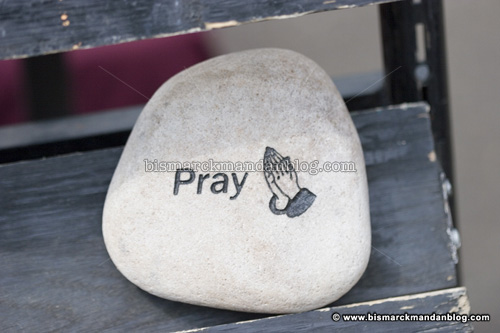 I wanna rock. This booth had a number of different inscriptions in a variety of rocks...of course I found this one the most intriguing.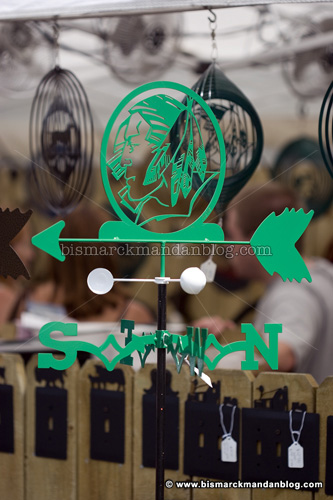 "Hostile and abusive" weather vane. Probably won't be seen atop any NCAA buildings in the near future, although it would be tempting to send them one.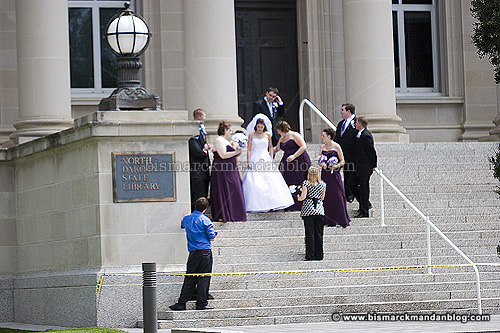 Of all the days to have your wedding photo taken at the capitol! I wonder how far this wedding party had to walk in their fancy duds...parking was limited due to the successful attendance.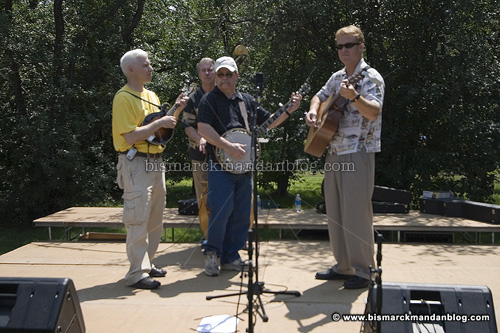 Missouri River Boys. dot com. Gospel and Bluegrass music for all to enjoy. They were also giving out fliers for the 2nd annual Bismarck Bluegrass Festival to be held at Sleepy Hollow Park on August 17th and 18th! I'm sure their website has more details.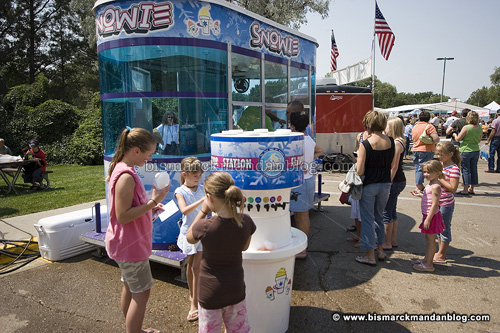 Flavor your own snow cone...YES! And they were huge, too. I made mine half green apple, half grape.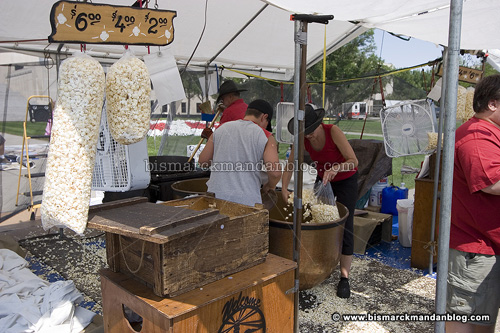 It wouldn't be anything near a Fair if it didn't have kettlecorn. I'm not a fan, but my wife brought home a big bag. Note all the fans they have hanging...I bet it's HOT next to those kettles!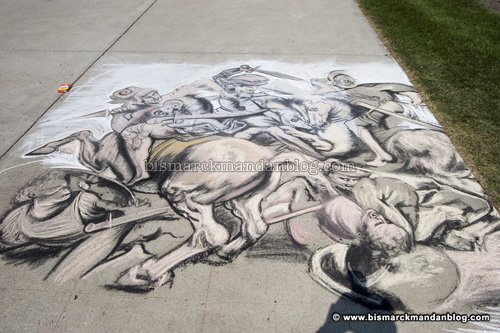 Sidewalk art. This was an amazingly intricate design, although the whole theme made me think of airbrushing on the side of a Dodge van with bubble windows back in the 1970s.
Well, that's a sample of what I saw at the Capitol A'Fair on Saturday. It still runs until 4pm Sunday, weather permitting. As I check the radar right now, that might be a stretch. Hopefully they are able to have a full day of fun today to follow up the great time yesterday.
[ add comment ]
( 2 views ) |
permalink
|
Click a dot to rate this entry:





( 3 / 211 )
---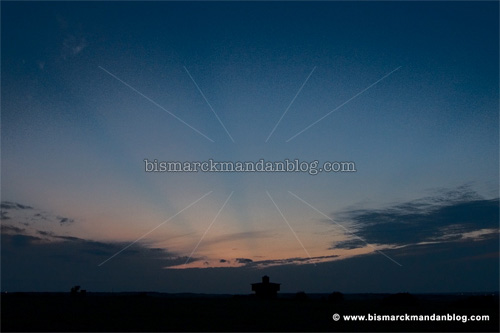 Friday night I ran to Fort Lincoln with a friend to see what the skies might do at sunset. The answer: pretty much nothing. Well, it was worth a try! On the walk back from the northeast blockhouse, I did see some rays streaking across the sky, so I grabbed this quick shot. Otherwise the night was a bust, photographically speaking, but it gave me a chance to go piloting around Mandan. Both of us are former Mandan residents from long ago, so it was fun to swap stories and remark how much the city has changed.
This is the first time all year I've gone to Fort Lincoln and actually been able to drive up the hill to the blockhouses! I was beginning to think they never unlock the gates to the road going up the hill. By the way, they've cut in a bunch of trails leading into the park. They're suitable for mountain biking and hiking, and will not be paved. I have to take my bike down there and explore them yet this year!
[ add comment ]
( 2 views ) |
permalink
|
Click a dot to rate this entry:





( 3 / 216 )
---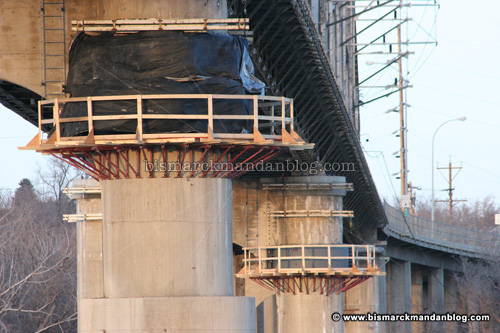 All this talk of bridge safety these days reminds me of some photos I took for
a post about the Memorial Bridge a while back
. While repairs were underway for a couple of the piers, I spotted this nasty business along the west end of the bridge: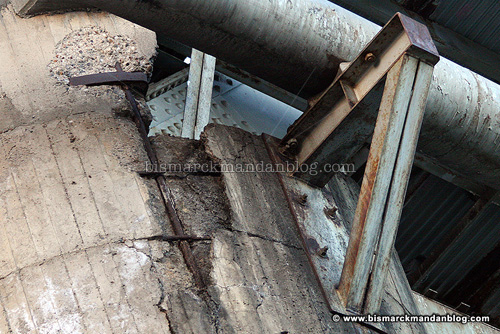 This is the stuff that they were NOT fixing. I don't know if this has been addressed since Lunda fenced off the area surrounding the bridge, but it makes me nervous every time I take my family across it. Sure, they fixed the rubbelized parts of the piers over the river, but even a cursory inspection of the rest of the bridge gave me some pretty scary photos.
The new bridge is expected to open in late 2009 if I remember correctly...hopefully they're taking care of the old bridge in the mean time!
[ 1 comment ]
( 20 views ) |
permalink
|
Click a dot to rate this entry:





( 3 / 239 )
---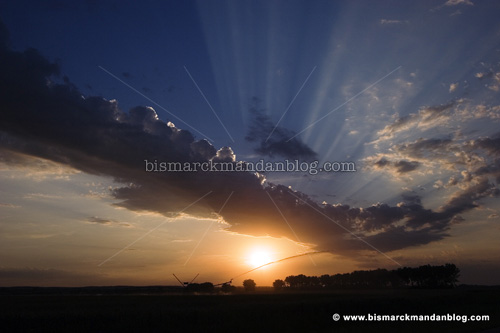 All the junk in the air these days can be credited with three things: headaches for some, allergies for others, and fantastic evening skies. I'll take the latter, although I've been stuck with all three this week. I've been taking my family out in the evenings this week, finding nice picturesque places to throw down a blanket and hang out with some Spyro Gyra playing on the iPod. In a way it brings back memories from the 80's: playing frisbee on the sandbar at sunset with the guys from gymnastics, fusion jazz coming from the boom box, followed by a fifty dollar tab at A&W. Those were the days.
Last night's sky was no disappointment, as you can see. This irrigation rig sits along the north end of River Road, where they ruined one of the area's most fun intersections. I captured the water in any number of positions, but I like the ones where it's intersecting the sun the best.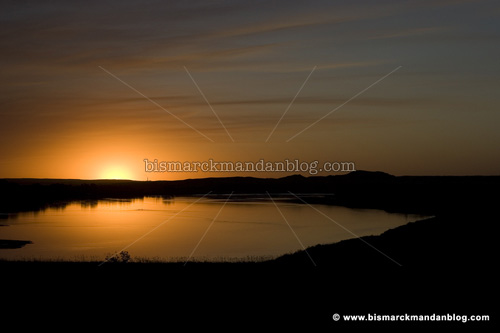 I found a new place or reflection Wednesday night...no, not for personal introspection, but for sunset reflection off a wide part of the Missouri River. I've got some more ideas too...of course, places like this are like a prime fishing hole: best kept secret! :)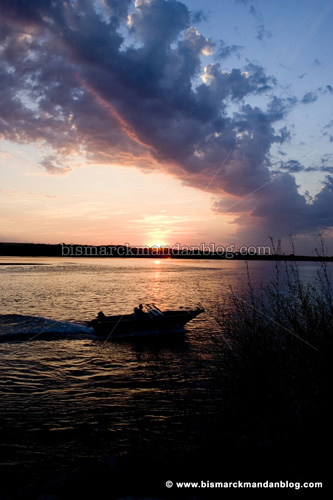 My little seven month old boy loved watching the boats go by. We stopped at the corner along the Misty Waters inlet for a little bit, and he was enthralled by the boat traffic that came past. We don't have a boat right now, but I figure it'll be a must when he gets a little older. My parents don't swim and never owned a boat, but I swim like a fish and am SCUBA certified. I've already taken little PJ to the pool, and he likes the water as well. I can't wait for him to get bigger!
All this talk of sunsets and reminders of times past brings me to the fact that summer is waning. It's already August, folks! Who would have thought that this summer would fly by so quickly? Don't put off those summer plans any longer; there isn't much summer left.
[ add comment ]
( 2 views ) |
permalink
|
Click a dot to rate this entry:





( 3 / 291 )
---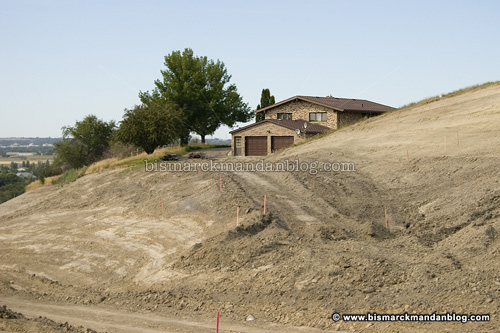 Road construction always comes with a degree of inconvenience, but I think this one takes the cake. Highway 1804 is being widened out to the University of Mary, and the hill needs to be carved up a bit to accomodate the wider road. That carving has casualties.
I hope this family comes out of this with a nicer driveway than they had prior to the construction!
[ add comment ]
( 2 views ) |
permalink
|
Click a dot to rate this entry:





( 3.1 / 280 )
---
<<First
<Back
| 228 | 229 | 230 | 231 | 232 | 233 | 234 | 235 | 236 | 237 |
Next>
Last>>