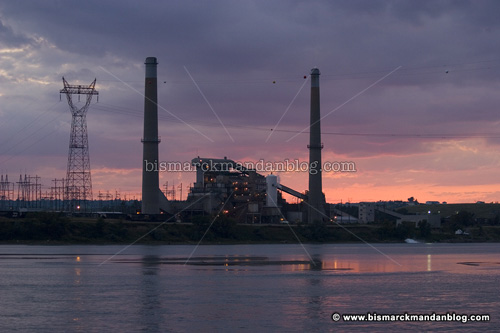 My little boy and I were out in the truck the other night and pulled up to the Burnt Creek boat dock. The sun had already set, but it was still casting color to our sky, and it was a suitable backdrop for MDU's power plant north of Mandan.
Remember the stereotypical image of stacks belching forth acrid black smoke? Those days are long gone, thanks to pollution control measures. In fact, the only thing you're likely to see from today's power plants is steam...which makes sense, because that's all a power plant really is: a steam factory. Once they've made the steam, they force it through the turbines of some very large generators, but the process of the plant is the liquefaction and ignition of coal in order to heat water into steam. As cleanly and as safely as possible, I might add.
[ add comment ]
( 7 views ) |
permalink
|
Click a dot to rate this entry:





( 2.9 / 502 )
---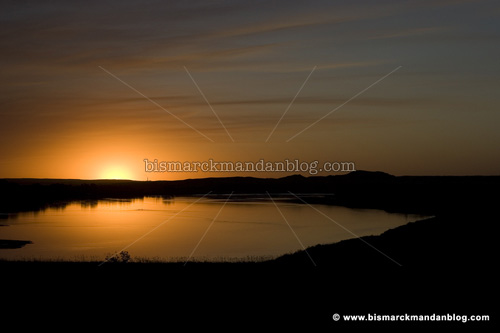 Some nights you just can't beat the cliffs of Double Ditch Indian Village for great shots of the river at sunset. This was one of them. I never tire of this view, but I really want to go to the bottom of the cliffs for a sunset. It seems I just can't get myself out there in time, because the only foot path down to the river is on the south end of the park. By the time I get out there, I haven't the time to hoof it to the water and thread my way north. Oh well, someday...
[ 1 comment ]
( 31 views ) |
permalink
|
Click a dot to rate this entry:





( 3 / 387 )
---

While out poking around south of Mandan the other night, I was astounded by this huge mushroom cloud east of the Bismarck-Mandan area. With cloud tops in the 60,000 foot range and a span that looked as big as the county, it was a formidable sight to see. I sure was glad I wasn't on the business end of such a cloud! Thankfully nobody was hurt or killed by this storm, although it did quite a bit of crop and property damage.
[ add comment ]
( 5 views ) |
permalink
|
Click a dot to rate this entry:





( 3 / 374 )
---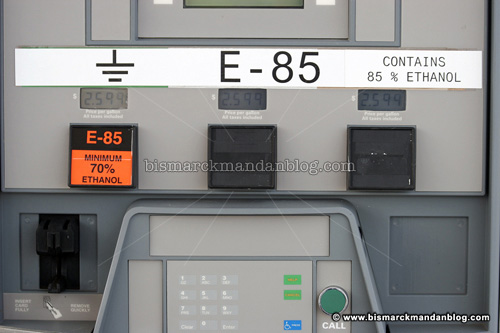 The ethanol craze is driving up the price of corn. As a result, more farmers grow corn. That means fewer acres of other crops are planted, driving the prices of those grains up as well. Not only is the cost of feed increased, so is the cost of other food products. Ranchers and dairy farmers have to raise their prices to make up for their increased production costs. So all our food prices go up.
I have a hard time believing the farmer or rancher is going to come out successful in the long run, and it's obvious the consumer is getting robbed. So who's making money? Simple: the people collecting the government subsidies on ethanol blended fuels.
In ND, E85 can contain as little as 70% ethanol. Check the text on that orange button on the E85 pump. That means an E85 producer can hedge 15% of the ethanol in the fuel he makes and collect a 50 cent per gallon subsidy on 15% more product! What a racket, eh?
Why do you suppose they give it 15% leeway? Perhaps it's because the ethanol evaporates and/or absorbs water. That's why they can't transport it using pipelines. So if it will absorb water in a pipeline, what do you suppose it's going to do in the underground tanks at the gas stations?
What about putting a
hygroscopic fuel
in your gas tank? Do you feel like replacing a $500 fuel pump in your General Motors Flexfuel vehicle every winter when the water absorbed by the ethanol freezes up and takes out the impellers of your fuel pump? Since 1995, GM has integrated the fuel pump with the gas gauge sending unit in its vehicles. Trust me, I had to replace one. I couldn't believe the $670 bill! Look forward to more of those if you're going to start making ethanol ice cubes in your gas tank.
Let's not forget that E85 is a thermodynamic loser as well. That means you get less energy out of gallon of E85 compared to a gallon of gasolene. Simply put: your car doesn't have much power, your mileage goes down, and you save ZERO in the long run. But you get to feel better (until you crunch the numbers) and some fatcat gets to collect a government subsidy. E85 is a joke, plain and simple. Anyone who tells you otherwise has a purely financial interest in doing so.
For a previous post on E85's poor thermodynamic output, click on "related link" below or
click here if you're reading this on a site that syndicates BismarckMandanBlog.com
.
[ 8 comments ]
( 109 views ) |
permalink
|
related link
|
Click a dot to rate this entry:





( 3 / 393 )
---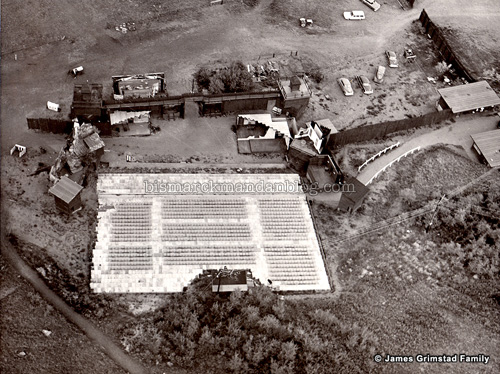 You can't find any remnants of it now, but there was at one time a large ampitheater set up south of Mandan. Many of us are too young to remember it, but I've got photographic proof! I can't say exactly when this was built, although Fort Abraham Lincoln is celebrating its 100th anniversary this year.
This photo comes from a friend's collection. His dad spent most of his time in the air and, like myself, never went anywhere without his camera. He's amassed a treasure of North Dakota history, which I've been entrusted to share with you. You'll be as astonished as I was.
The last time I was up at Fort Lincoln State Park, one of the young guys working for the park was able to show us where the ampitheater used to reside. It was a pleasant surprise to find out about it, and also to find a guy in his 20s who knows about it.
By the way, the executive director of the Fort Abraham Lincoln Foundation is
pro-abortion ND state legislator Tracy Potter, who thinks the ND law outlawing abortion is "terribly embarrassing."
I suppose now I'll be accused of "attacking" Mr. Potter because I've quoted his deplorable political beliefs, but that's what liberals do: set themselves up in foundations, institutions, or bureaucracies, then cry "attack!" whenever someone points out what they believe.
Here's a bit of advice for Mr. Potter: instead of trying to advance liberal social agendas in the state legislature, focus on Fort Lincoln and lean on 'em to keep the blockhouse gates open until dark (as the sign says) for local photographers to enjoy them at sunset! Only once this year have I driven out to Fort Lincoln before dark and found the gates unlocked. Now THAT is "terribly embarrassing."
[ add comment ]
( 5 views ) |
permalink
|
Click a dot to rate this entry:





( 3.1 / 367 )
---
<<First
<Back
| 224 | 225 | 226 | 227 | 228 | 229 | 230 | 231 | 232 | 233 |
Next>
Last>>