This is a 5-point rating system. If you like the post, click on the dot to the far right. If you think I'm out of my ever-lovin' mind, click on the dot on the far right. Just kidding. The dot on the left is worth 1 point, the one on the right worth 5, and I leave it to you to discern the values of the remaining three.
Each time a user clicks a dot it's added to the tally, the number on the right. The average rating is on the left. In the graphic above, 4 users have responded with an average rating of 3.8.
Have fun. The old Chicago adage "vote early, vote often!" doesn't apply here.
[ 2 comments ]
( 21 views ) |
permalink
|
Click a dot to rate this entry:





( 2.9 / 502 )
---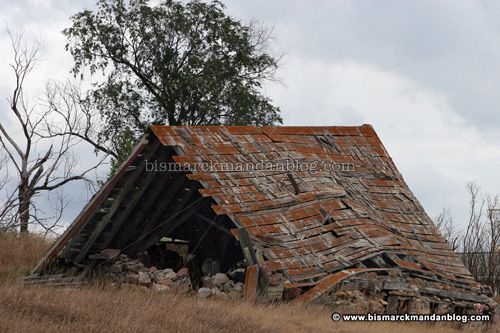 I can't decide whether I think this building was a barn or a home. I'm a city kid and can't be trusted to make those determinations when it comes to farm buildings, especially dilapidated ones such as this.
As I point out in every one of these posts I affectionately title "Fallen Farm," I really have a love of the old rural buildings (and remnants thereof) that dot the North Dakota landscape. It's always interesting to pause and wonder who lived and worked in them. Wonder why they were abandoned. Imagine what they looked like when first constructed and/or inhabited.
If you want an indicator of how life in rural America has changed since the times of the Homestead Act, just look at the number of fallen farms. I'm not passing judgement on whether it's better or worse; it's simply a nostalgic look back at the area's not-so-distant past... even for a city kid.
[ add comment ]
( 3 views ) |
permalink
|
Click a dot to rate this entry:





( 3 / 478 )
---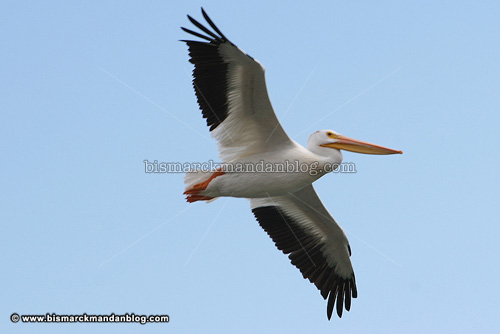 No, not a John Grisham novel...a brief blog post featuring a couple of bird photos from this afternoon! Taking a break from some frustrating yard work, I found myself poking around near some water where these guys were hanging out. Thankfully some of them were also circling overhead, providing some practice with moving subjects for this amateur photographer.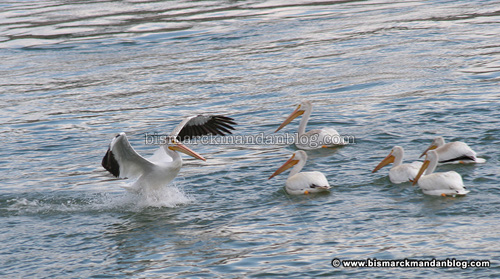 I just ate a fish THIS BIG!
That's about the best caption I could come up with for this picture of one of the gang gliding in to join the rest. It was a much more graceful landing than
the one I caught out near Crystal Springs a while back!
[ add comment ]
( 3 views ) |
permalink
|
Click a dot to rate this entry:





( 3 / 464 )
---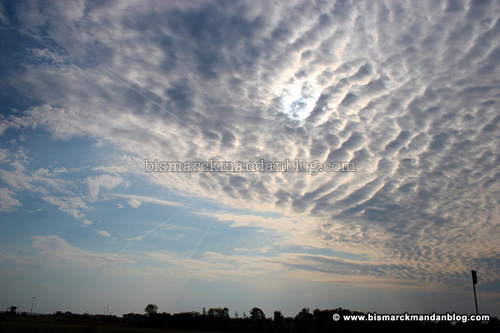 There I was, out at the Game and Fish OWLS site east of Bismarck, when I looked up. What a neat formation of clouds! I thought I'd share them with you.
This post reminds me of the Thursday Night Sunset run of posts I did a while back. Then I ran into the difficulty of catching every Thursday night sunset...or perhaps a particular Thursday sky would be quite lame. Now I just go for quality, not regularity.
[ add comment ]
( 3 views ) |
permalink
|
Click a dot to rate this entry:





( 3.1 / 482 )
---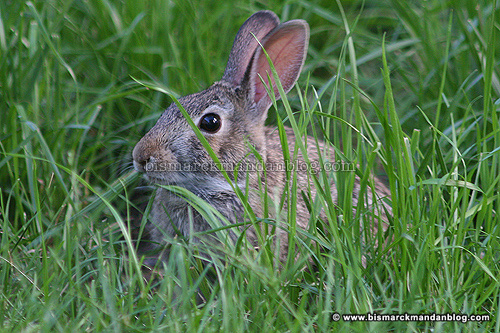 When you find bunnies hiding in your grass, it's definitely time to mow it. Can I qualify for CRP within city limits? Actually, the lawn did get mowed tonight. My bunny will have to hide in a neighbor's yard now, or perhaps in my wife's beautiful flower beds. I caught him in there the other evening, actually.
I'm one of those guys who takes 15 minutes after mowing the lawn to give the mower a beat-down maintenance session: make sure the blade and deck are clean, give it a head-to-toe cleaning, spray the blade with WD-40 or something so it doesn't rust, and an all-over inspection. That's also a good time to make sure that no bolts have worked their way loose or anything as well. It may sound a little overboard, but I bet my mower lasts for 20 years. Especially the engine - it's a Honda ;-)
[ add comment ]
( 3 views ) |
permalink
|
Click a dot to rate this entry:





( 3.1 / 435 )
---
<<First
<Back
| 292 | 293 | 294 | 295 | 296 | 297 | 298 | 299 | 300 | 301 |
Next>
Last>>