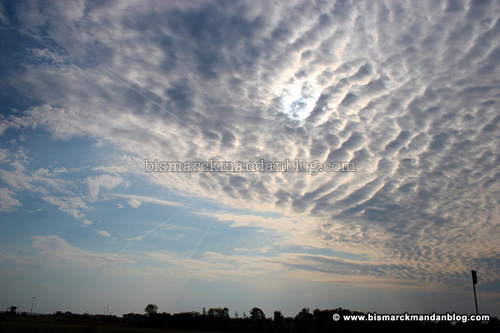 There I was, out at the Game and Fish OWLS site east of Bismarck, when I looked up. What a neat formation of clouds! I thought I'd share them with you.
This post reminds me of the Thursday Night Sunset run of posts I did a while back. Then I ran into the difficulty of catching every Thursday night sunset...or perhaps a particular Thursday sky would be quite lame. Now I just go for quality, not regularity.
[ add comment ]
( 3 views ) |
permalink
|
Click a dot to rate this entry:





( 3.1 / 482 )
---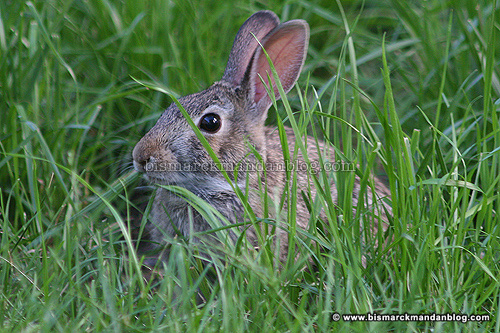 When you find bunnies hiding in your grass, it's definitely time to mow it. Can I qualify for CRP within city limits? Actually, the lawn did get mowed tonight. My bunny will have to hide in a neighbor's yard now, or perhaps in my wife's beautiful flower beds. I caught him in there the other evening, actually.
I'm one of those guys who takes 15 minutes after mowing the lawn to give the mower a beat-down maintenance session: make sure the blade and deck are clean, give it a head-to-toe cleaning, spray the blade with WD-40 or something so it doesn't rust, and an all-over inspection. That's also a good time to make sure that no bolts have worked their way loose or anything as well. It may sound a little overboard, but I bet my mower lasts for 20 years. Especially the engine - it's a Honda ;-)
[ add comment ]
( 3 views ) |
permalink
|
Click a dot to rate this entry:





( 3.1 / 435 )
---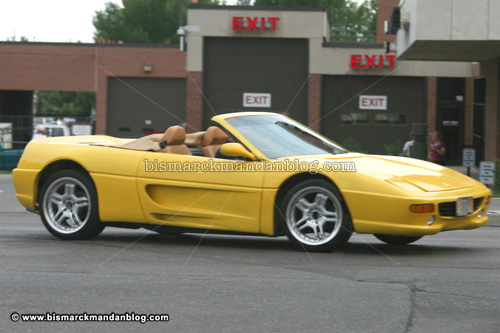 I love Ferrari automobiles. Cars as a general rule are pretty lame and boring, but not those fancy Italian machines. So when a guy is out taking pictures and spots a bright yellow 355 Spyder sitting there, that's an event. Not only are such cars a little rare in western North Dakota, that yellow is very eye-catching.
Of course, even driving around in the truck with my open camera bag on the passenger seat can't prepare me for every picture. There was a time in Sibley Park where I glanced over to see an owl taking off with a snake in its claws...there just wasn't time to get the camera steady before he'd flown off. The same situation happened with this Italian machine.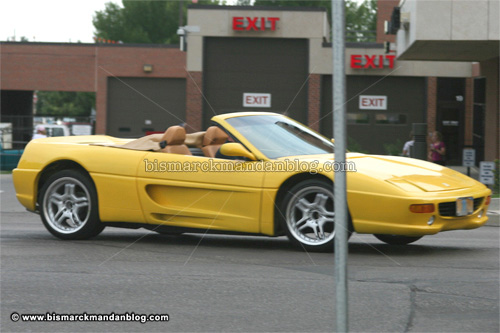 This is the picture I actually got. Street signs are quite useful but tend to get in the way whenever a guy tries taking pictures downtown. No worries...it's removable quickly and easily. But with all the buzz about Photoshopped pictures in the mainstream media these days, I like to be open about mine. There's a great sense of satisfaction in getting a unique photograph, and I'd hate to have any speculation about whether any of mine are real. There are plenty of sites you can go to for doctored photographs...this is not one of them.
[ add comment ]
( 2 views ) |
permalink
|
Click a dot to rate this entry:





( 3 / 394 )
---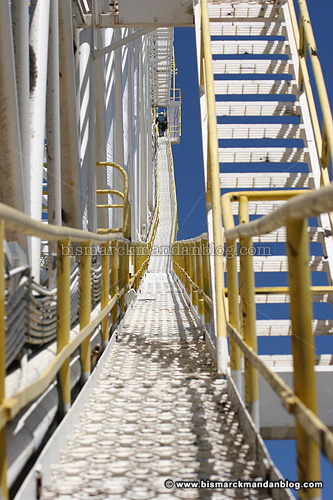 So I found myself standing at the bottom of the boom of a BIG dragline crane yesterday. While a piece of equipment on board was being serviced, the gentleman up those steps is inspecting specific sections on the boom. This is a regular safety procedure, and I guess he figured this would also be a good use of the momentary downtime. I was *almost* crazy enough to say I'd follow him. The problem with those grated steps isn't going up them, it's coming down. They're hard to see if you're not used to them, and it's hard not to focus on the ground below. And this picture may not convey it, but that is a very steep upward angle. Yikes!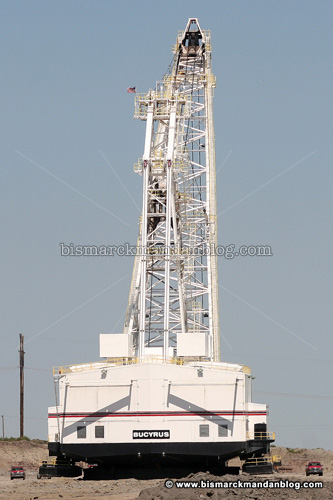 See how steep that is? And it's enormous, too. The house of the crane itself is about three or four times the size of my house. It certainly dwarfs the Suburbans parked on either side, doesn't it? I also took some shots from the top of the back end of the housing, but pictures just do NOT do justice to the scale of this thing. And it isn't even the biggest one in the state, to my knowledge.
[ add comment ]
( 3 views ) |
permalink
|
Click a dot to rate this entry:





( 3.1 / 443 )
---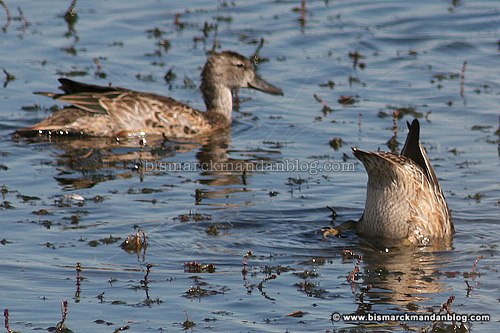 I caught these two hanging out in a little wetland on some reclaimed mining land. I don't think they need to fear being hunted here, so they really weren't as skittish as most ducks I've tried to photograph. They just kept rooting around while I stood by. Of all the sights of North Dakota's wildlife, ducks feeding with their tail pointing straight up has got to be one of the funniest. If they were in sand instead of water, you could say the one on the right is a Democrat!
[ add comment ]
( 3 views ) |
permalink
|
Click a dot to rate this entry:





( 3 / 388 )
---
<<First
<Back
| 292 | 293 | 294 | 295 | 296 | 297 | 298 | 299 | 300 | 301 |
Next>
Last>>