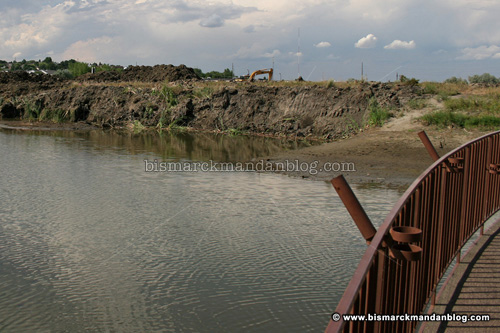 I was surprised to find some major excavation going on at the OWLS site east of Bismarck today. To say "OWLS site" is like saying "PIN number" because OWLS stands for Outdoor Wildlife Learning Site. So if that's one of your pet peeves, too bad. There are other OWLS in the area, by the way. One of them is on west Century Avenue.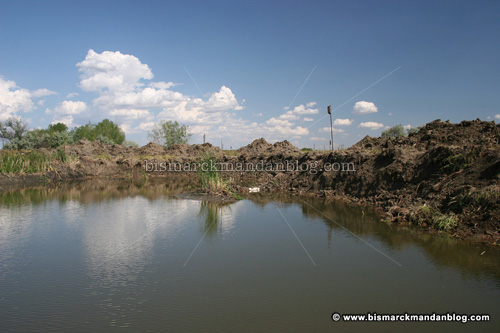 They're obviously trying to make the channel of the manmade lake deeper. Now is probably the best time to do it, but I sure hope it's able to fill up before the fall migration season. Lakes like this are a waypoint for migrating bird species as well as photographers. Right now the OWLS lake, which is fed by a natural stream running along the east edge of Bismarck, is in dire need of more water.
The floating bridge I was standing on for these photos is drooping badly, and areas I never thought would be exposed to the air are poking well above the watermark. I don't know what that does to the wildlife, but it can't be fun. Hopefully we'll get enough rain to stock it up again soon!
[ add comment ]
( 3 views ) |
permalink
|
Click a dot to rate this entry:





( 3 / 434 )
---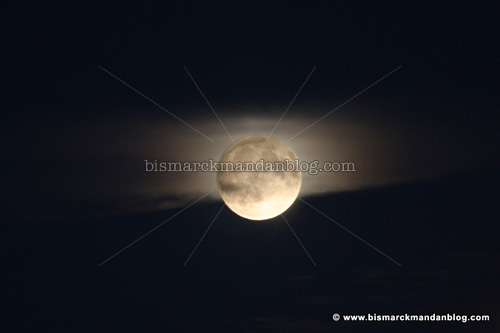 Sure...it's already Wednesday. What can I say, I've been busy! This is how the moon looked when I pulled into Taco Bell to grab some late night munchies. The clouds were trying to obscure it but that wasn't likely to happen.
This is actually a composite of two photos I took at the time. It's impossible to get the detail of the moon if I leave the iris open enough to get the light scattering through the clouds; doing that makes the moon a giant gold circle. So I took one with the iris open, one with it closed a bit more. I then composited the two together to show you what Monday night's moon looked like.
I don't mind Photoshopping a picture here and there; nearly every exposure can benefit from a little bit of color correction. So-called photography "purists" turn their noses up at digital photography and the use of Photoshop altogether... yet those same people will "push" an exposure in the darkroom to get similar results. I don't see the difference. If I was able to shove the information into the camera, there's no integrity in making sure I get the exposure and color the way I want it.
Compositing, however, is something about which I believe all photographers should be up front and honest. In this case it hardly matters, but I still insist anyway. That way if I ever pull off an amazing photo and there's any question as to its authenticity, I don't have a history of trying to pass off Photoshopped work as authentic. This ain't Reuters! Oh darn...I hope that didn't put an end to doing contract work for 'em. In any case, if someone puts out doctored photos, they deserve to be called on it. That's especially true of a news service, not just some guy spouting opinions on a site that only gets a couple thousand hits a day!
[ add comment ]
( 2 views ) |
permalink
|
Click a dot to rate this entry:





( 3 / 405 )
---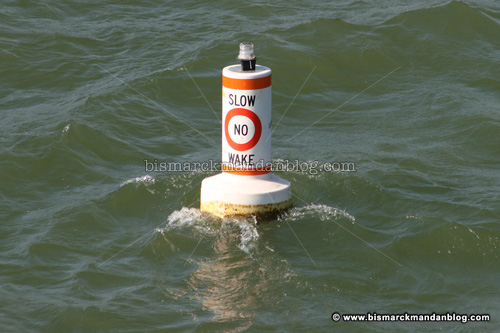 Now that construction of the new Liberty Memorial Bridge has begun, these buoys line the area north of the existing bridge and south of the construction zone. Boaters and PWC riders are asked to slow down through these areas.
It's good to see construction of the new bridge underway; when they first tried to get this project off the ground, nobody answered the bidding process. I'm told it was a combination of volatile steel prices, concrete availability, and crew availability. Not only were raw materials in high demand with prices changing rapidly; all the crews were busy in the gulf coast region, repairing hurricane damage. Finally a builder came through, and we're proceeding.
[ add comment ]
( 3 views ) |
permalink
|
Click a dot to rate this entry:





( 3 / 422 )
---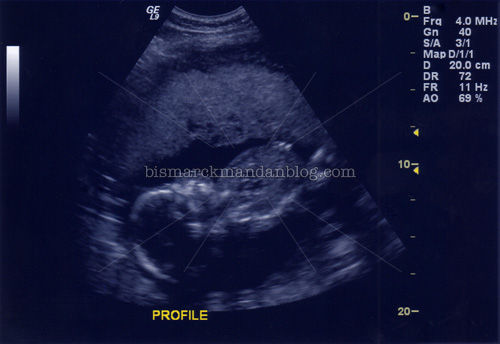 Yep, that's right...a little future motorcycle racer! My wife disagrees with me on that point, but we are in agreement that we're having a boy. We had our first ultrasound appointment today, which verified that. I guess the nurses she works with lost a wager of some sort... too bad, ladies! My doctor was right, by the way. He works with my wife, so his guess had nothing to do with being my doc.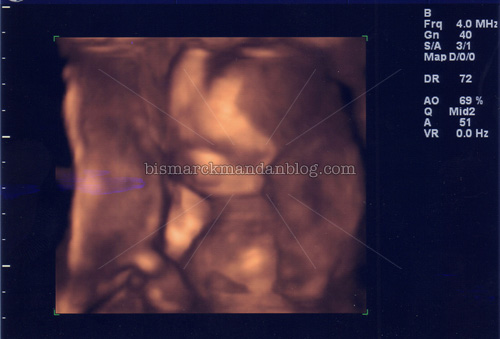 It's amazing what they can do with ultrasound these days, like this 3D image. I sure hope the baby gets my wife's looks! We got to check out all kinds of stuff, from the heart to the spine to the cute little toes. I'm no ultrasound tech, but all looked pretty well to me!
For those of you who don't know: I've always been afraid of having kids, ever since I was one myself. The reason for that is that I'm adopted. I don't have a family history to draw upon, and that worries me simply because I'm a worrier. Add to that the fact that I like to have all the bases covered - and in this case, I can't - and you have a formula for nervousness. The cure? Fervent prayer!
Naturally, Stacy is all lit up like a mother-to-be should be. Her excitement is enough to dwarf any fears I might have. While a baby means drastic change, and I don't care much for drastic change, I might as well use the momentum from adjusting to marriage and just keep the adjustments coming. If you've got any parental advice, I'd love to hear it.
[ 3 comments ]
( 68 views ) |
permalink
|
Click a dot to rate this entry:





( 3 / 447 )
---
This friend of ours was instrumental in our wedding, helping make all the flower arrangements and things like that. She's such a sweet girl. We're praying for you...we can't imagine how terrible this must feel.
[ 1 comment ]
( 32 views ) |
permalink
|
Click a dot to rate this entry:





( 3 / 520 )
---
<<First
<Back
| 295 | 296 | 297 | 298 | 299 | 300 | 301 | 302 | 303 | 304 |
Next>
Last>>