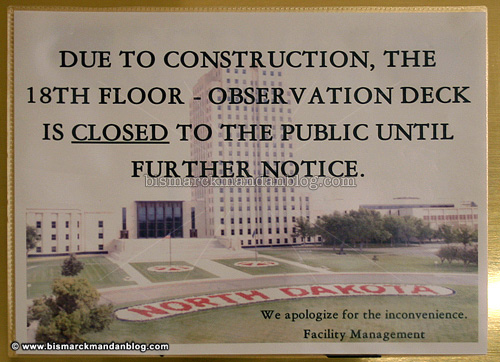 If you're one of those who, like me, enjoy the 18th floor of the North Dakota State Capitol, you're going to have to find something to replace it for a while. The observation floor is closed until further notice, likely for a year.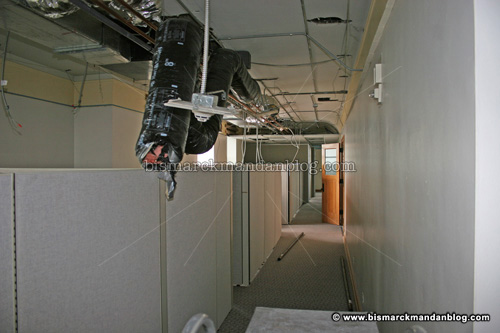 I was surprised to see these signs a few weeks ago, so what do ya do in such a situation? You ask someone "in the know." I'm not talking about someone at the info desk or any other Capitol employee. No, I'm referring to someone who's actually doing the job. So, I poked around upstairs where all the carpet, electrical, and cubicle work was going on. I ran into a nice guy who explained that, once they got the sprinkler system going, the 18th floor is going to be used for intermediate offices while the floors below it are being remodeled.
While the 17th floor is undergoing its updates, the employees from there will be on the 18th. Then they'll move back down a floor and the people from the 16th will move up two floors for a while. And, as far as this guy was aware, that was going to be the case for floors 15-17 only. I just hope that they get done soon so we can go up to the observation floor again as soon as possible.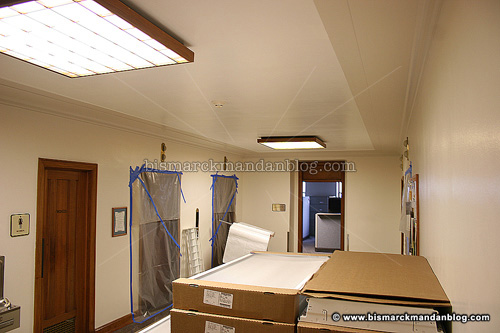 The floors below are stacked with construction materials already, at least they were when I took these pictures. I'm going to miss the ol' 18th floor for a while. It's fun to get good cloud pictures from there, look at the historic photos they have posted up there, or even just count the sunroofs in the parking lots below. It's also good exercise, as I take the stairs instead of the elevator.
If you were planning a trip to the top of the Capitol any time soon, don't bother! Go to the Heritage Center or the State Library instead. When it opens again, you'll see more pictures here.
[ add comment ]
( 2 views ) |
permalink
|
Click a dot to rate this entry:





( 3 / 467 )
---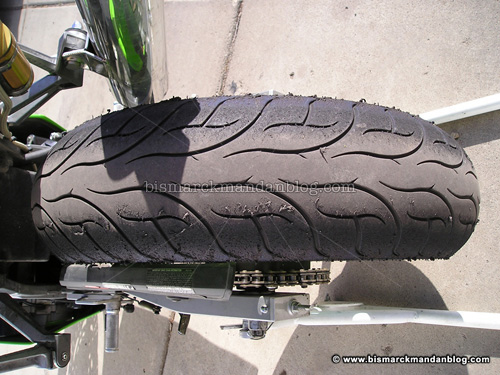 I forgot I had even taken this picture, I found it this weekend. This is what a tire looks after a race. One would think that it's in awful condition, but that's actually how they're supposed to look. Race tires are vastly different than street tires.
One's first impression of a "race tire" might be that it's super sticky. Not at first; in fact, race tires are harder than street tires until they get hot due to high speed and extreme cornering. It's unlikely you'll ever see a race tire get hot enough on the street to look like this one, especially on North Dakota roads. I've gotten street tires close, but that's a different matter.
The rubber balled up on the edges is also normal; it's the balled-up gummy rubber on the edges that helps with traction at extreme lean, when I'm dragging my knee on the ground. The track surface at the edge of the racing line will typically have lots of little flung rubber balls on it.
Once these tires do get up to temperature on the track, though, they're sticky like you wouldn't believe. One time at Brainerd I crashed in the super tight corner nicknamed the "Bus Stop," because that's where everybody gets off at one time or another. While we pushed my bike through the gravel trap to transport it back to the pits, gravel rocks the size of quarters were stuck to the tire like sprinkles on a donut. Now THAT is a sticky tire!
I know this post didn't really have a local theme to it, but I've really been pining for the track lately. Having a baby on the way really has me doubtful about returning to racing in the future, although I'm just about bursting with the need to turn some hard laps!
[ add comment ]
( 2 views ) |
permalink
|
Click a dot to rate this entry:





( 3 / 457 )
---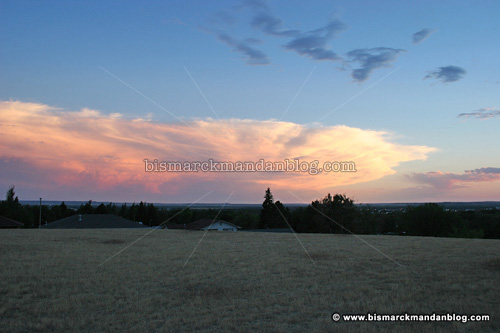 The sunset on Friday night didn't look like it was shaping up to be anything particularly spectacular, but then I noticed that the real show was going on in the southern sky. This enormous cloud formation had not only dramatic lines but also a brilliant array of color from the setting sun.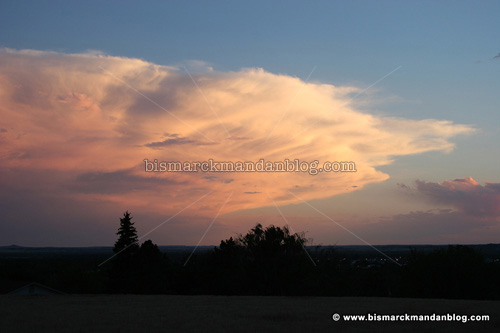 This cloud faced the sun with a huge upswept front, catching a big chunk of the spectrum from top to bottom. As we watched from Hillside Park, it slowly faded from pink to blue as the sun crept beyond the horizon.
What's neat about clouds like this is that they tend to get their color after the sun has appeared to set to those of us on the ground. With that in mind, you can enjoy a beautiful sunset, then turn to any really tall clouds in the area and take in all the colors they catch from 20,000 to 30,000 feet. Their colorful show doesn't begin until the sun reaches the horizon from their point of view. It's like two shows for the price of one...except they're free already.
[ 1 comment ]
( 14 views ) |
permalink
|
Click a dot to rate this entry:





( 3 / 447 )
---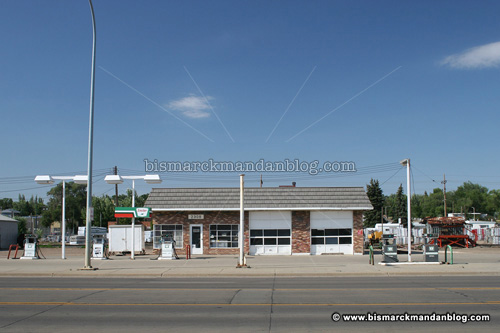 This former Sinclair station fades into obscurity along east Main Avenue in Bismarck. While it's not really in prime real estate now, this station had a long history. And, after paying six bucks a gallon for race fuel the other day, I miss it more than ever.
I bet that local motorheads all miss Perman's for a variety of reasons, the most recent of which is the fact that they sold VP race fuel right at the pump. A guy could whip into the station with a trailer of bikes and gas 'em up right there, fill the spare cans, and put normal gas into the truck as well. And it was at a very nice price...of course, even regular street gas was priced pretty low the last time I was able to fill up at Perman's.
Nowadays the options for race fuel are more expensive, and a guy can't do it himself. I don't know of many other store operators that would be willing to allocate one of their tanks to VP, Power 110, or the Turbo Blue that I use. The next nearest that comes to mind is in Brainerd, right outside the track.
I have a friend / former coworker who's an old motorhead from way back... I suppose I can say the 1960's if I don't mention his name. He remembers the station from a long time back as well. While I don't have the long chain of memories of the place, I share his sentiment in missing an establishment that provided a service for us performance-minded types that few would.
Say...if there are any Wannenbergs reading this post... does it give you any ideas? Please?
[ add comment ]
( 2 views ) |
permalink
|
Click a dot to rate this entry:





( 3.1 / 456 )
---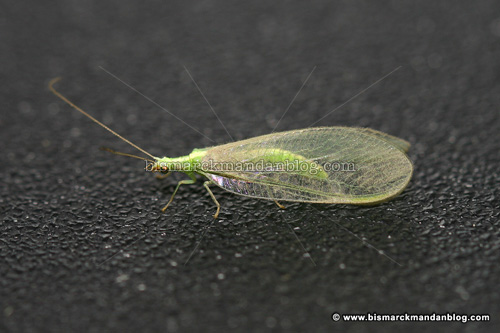 This character makes it look easy, anyway. The critter you're looking at is a lacewing, found near gardens and other habitable locations. If you see these flying about, be happy! They eliminate lots of common pests and are considered a beneficial insect. You can even buy lacewing eggs for use in your flowerbeds and gardens.
It's appropriate that this little guy sat on my motorcycle seat. I wonder if he knows he's Kawasaki green? Perhaps he just thinks that motorcycles are Lacewing Green.
[ add comment ]
( 3 views ) |
permalink
|
Click a dot to rate this entry:





( 3 / 447 )
---
<<First
<Back
| 294 | 295 | 296 | 297 | 298 | 299 | 300 | 301 | 302 | 303 |
Next>
Last>>