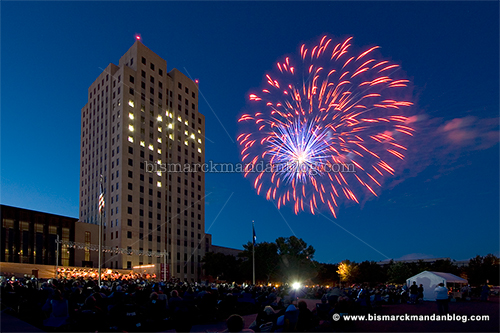 Despite my fancy new camera and the desire to wield it, I made a pledge as Independence Day weekend approached:
I'd leave it at home
. This was no small matter, since I'm accustomed to taking a camera with me nearly everywhere I go. The photo above is from 2009, when it won a spot in the Governor's Photo Contest and appeared in the 2010 North Dakota Travel Guide. It was photo number 43,000 through my Canon 20D, which is now around 57,000 exposures old.
Actually, the conditions on that evening in 2009 have never been matched: the sky was a beautiful blue, not totally dark, yet the fireworks blazed on. Photographically speaking it was perfect light, something that comes along very infrequently. Still, I'd love the opportunity to shoot this gig with my new camera. There are, however, more important things at hand.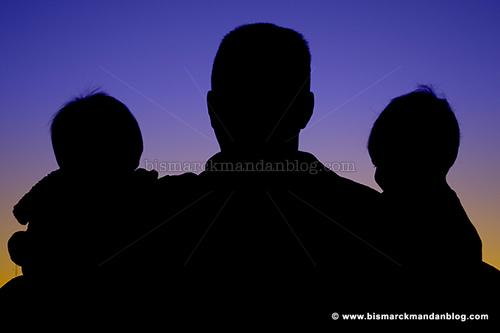 I take the job of being Daddy very seriously. My boys are now both old enough to enjoy the fireworks display, although they still hold their ears. No diaper bags, long stroller rides, or other "baby stuff" - I have two little men in my house. Those men rely on Daddy to show 'em the ropes, and I'm up to the task.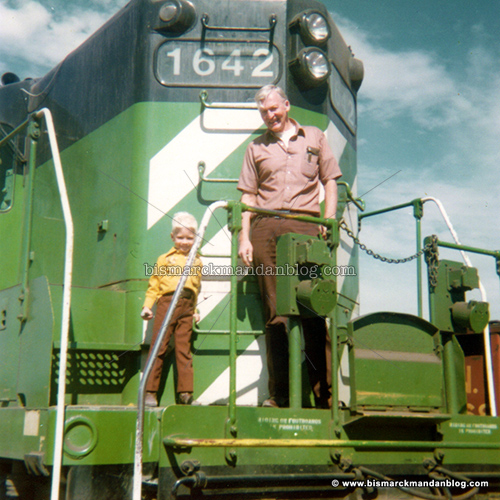 My dad's idea of fulfilling his responsibility as a father involved working himself harder than his body could bear in order to provide for his family. He succeeded in both. As a boy I remember noticing that Dad worked. A LOT. I'm sure it was what he thought was best for us, to work hard and provide. There were times where I had some special one-on-one memories with my dad, but one still stands out most prominently in my memory: the day he took me to a railyard and got me a ride on a real train. That's not my dad in the photo above...that's the engineer that drove us around the yard.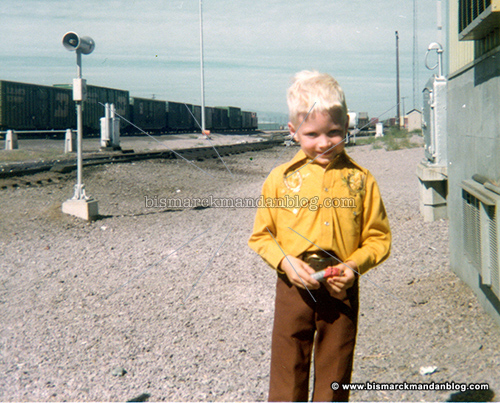 I found these photos by accident yesterday, but they were a perfectly timed reminder of how special such a time like this can be. I knock myself out trying to find fun and unusual places to take my boys, even at their young ages, to give them memories such as the one I had. I've vowed not to be too busy with work or selfish things because I know how much having even
one
such memory with my Daddy meant to me. I hadn't even realized that he took a camera with and took photos, something I never recalled him doing. What a discovery!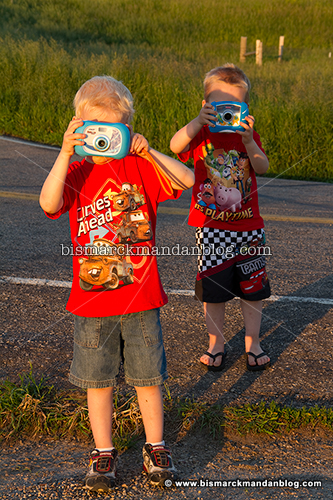 These precious little men aren't just looking for Daddy to teach them about stuff like trucks, trains, or cameras... they're counting on me to teach them about life. Rule Number One about being Daddy is making sure that family comes first. It's a tough one, since I was single until my mid-thirties, but I work hard at it. If a guy's got any character at all, how can he not strive to put Mommy and the kiddos before himself? Besides, I'd trade a hundred prize-winning photos for ones like the shot above. They're watching me through their little viewfinders every single day, and as I learn what's really important in life I intend to show them, and to lead by example.
[ 3 comments ]
( 39 views ) |
permalink
|
Click a dot to rate this entry:





( 3.1 / 208 )
---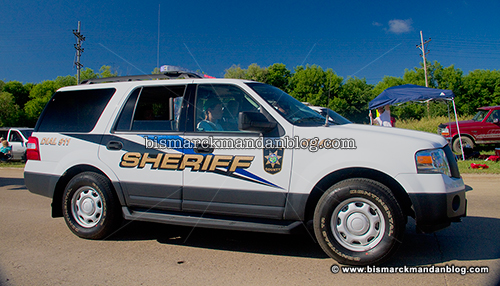 I like this scheme a LOT better than the silver.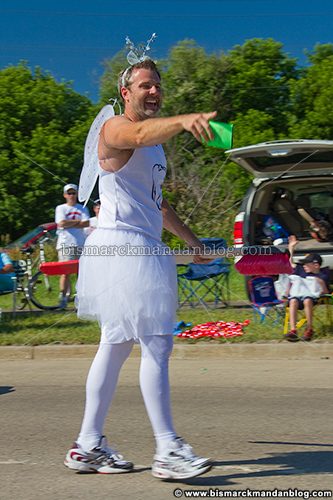 Someone at Prairie Rose Dentists has quite a sense of humor!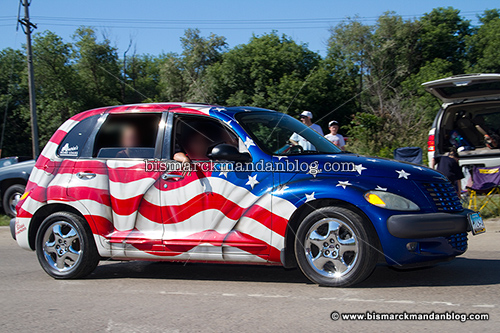 According to liberal journalists, a flag-painted vehicle is just fine unless you're Sarah Palin.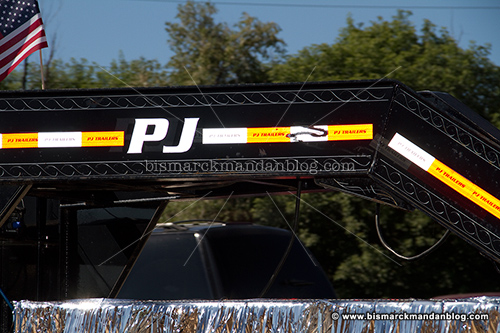 My little boy PJ likes this trailer.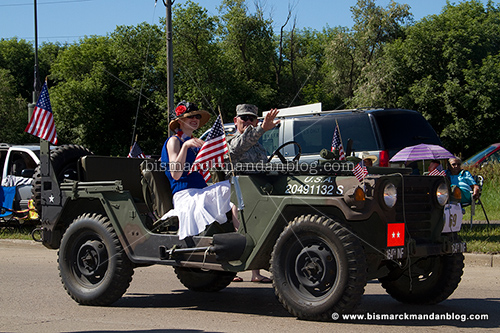 General and Mrs. Spry.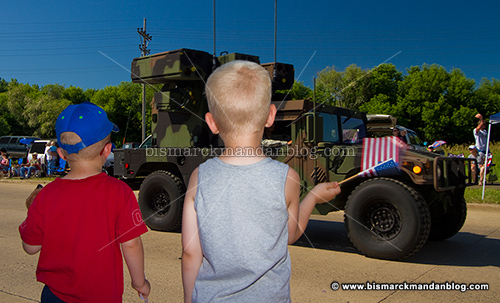 My little boys understand that soldiers protect & defend our nation.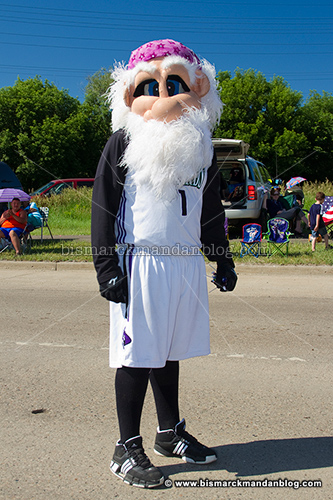 Dunkie. His posture indicates that this is his last year in the Bizzo.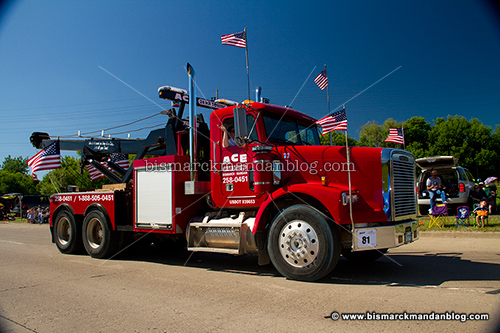 The biggest tow truck my boys have ever seen. Take that, Mater!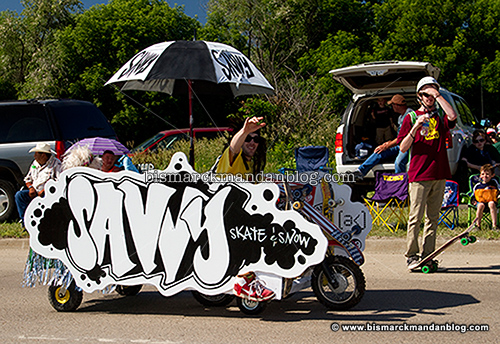 Savvy Skate & Snow shows some construction ingenuity.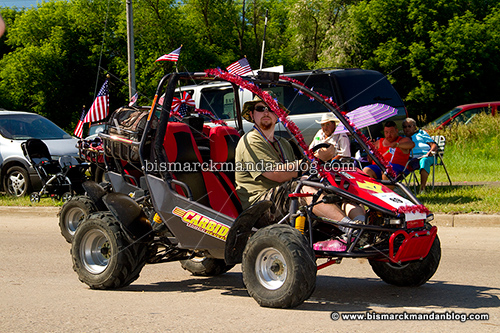 Okay, these are cool...we've come a long way since the Honda Odyssey!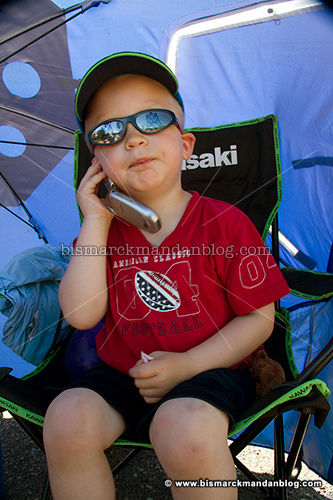 Giving Grandma a brief sitrep.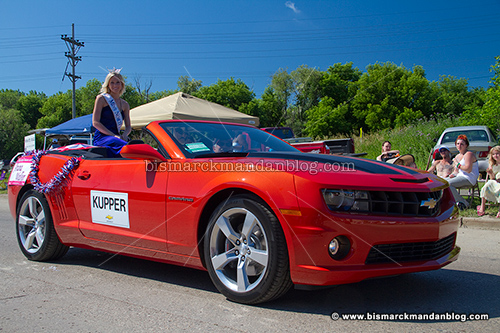 Miss North Dakota, Arianna Walker. I've been friends with her dad for 20 years.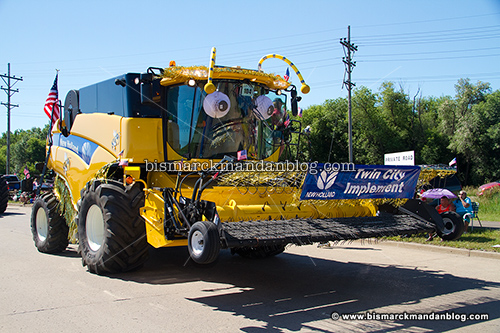 Why do you put googly eyes on a combine? So you know where you stand with it...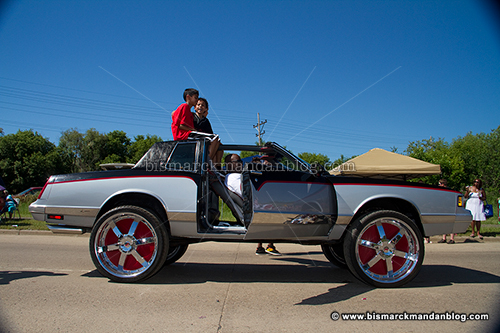 Your boyhood Hot Wheels collection comes to life.
I was surprised at how short this year's parade seemed, but I'm glad it took place. We typically only stay for a little while because we need to limit exposure to the sun, so we were caught off guard when the end of the parade passed us. It would be interesting to compare the number of entries this year compared to years past. Nevertheless, a 500 year flood won't prevent Bismarck-Mandan from celebrating Independence Day!
[ add comment ]
( 32 views ) |
permalink
|
Click a dot to rate this entry:





( 3 / 192 )
---
Classic: So how do those letters and numbers appear in the capitol windows every July 4th, Christmas, and New Year's Day?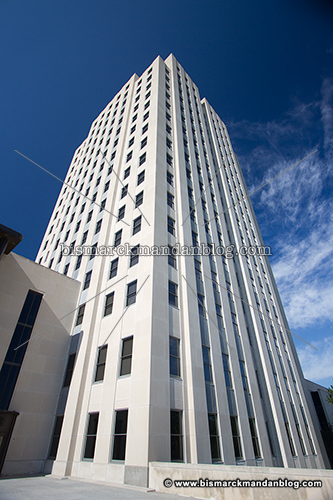 Monday night some of these windows will be lit up with "4TH" as part of the Independence Day celebration on the front steps of the capitol. Every year the celebration features the music of the Bismarck-Mandan Symphony Orchestra and finishes with a dramatic fireworks finale. Have you ever found yourself wondering how those numbers or colored Christmas tree shapes appear in the capitol building's windows every July and December?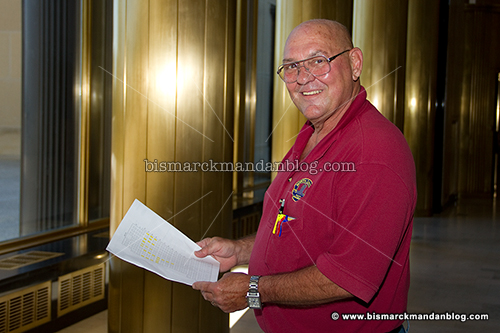 That's where Bill comes in. He works for the Facility Management Division up at the state capitol, and it's Bill and his crew who oversee the window shade pulling (and opening) to make sure it's done right.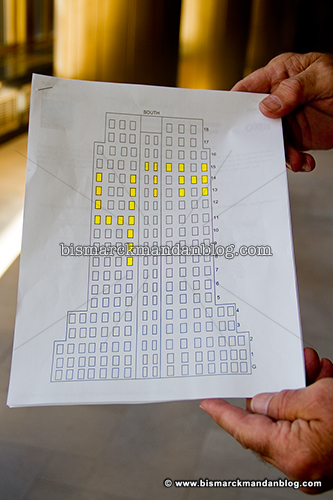 While Bill can pretty much do this by habit now, he does have an interesting aid: a diagram of the capitol with the relevant squares (the ones to be lit) highlighted. Facility Management and Bill were kind enough to let me tag along for this year's window shade operation.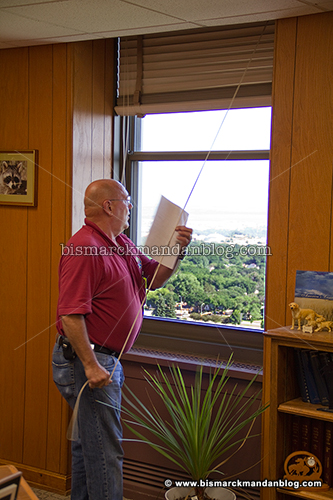 Bill has his custodial crew of around thirty people close all the shades on the front of the capitol as well as the east and west sides. The idea is to have the sides completely blacked out for the celebration, with the "4TH" visible only on the front. Once the crew closed all the shades on those three sides, Bill and I roamed the necessary floors and pulled open the shades forming the text.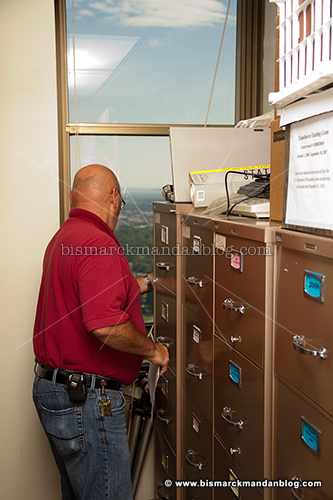 Some windows are in spacious offices, and some are in pretty tight spots such as narrow supply rooms. Some are in such tough spots that I got to lend my lanky arms to Bill's aid in order to snag & pull the cord. Because of that, I can lay claim to part of the 4 and (I think) the H!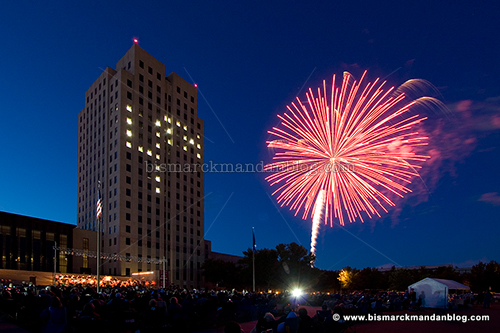 The whole process took about a half hour, and I don't think I held up Bill at all. This was an easy one; the letters were small and compact, and only one side is lit. During Christmas there is the complication of colored shades and two sides to do. For New Year's there are four sides of the building to do. Also, for displays that are left up for more than one night, it's important to stay on top of things to make sure the right shades are up and down and lights left on.
I originally posted on this last year and wrote an article for the Dakota Beacon as well. Later on the local TV stations picked up on the story, probably around Christmas time when the windows were decorated again. It's one of those little things that makes Bismarck-Mandan special!
[ 1 comment ]
( 46 views ) |
permalink
|
Click a dot to rate this entry:





( 3.2 / 433 )
---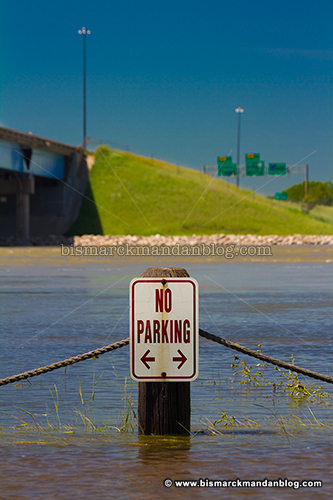 The other day I hopped on one of my motorcycles for a short ride, and I happened upon the area near the Grant Marsh Bridge. There were a few photogenic things to capture in the area, and a motorcycle doesn't take up much space, so I was able to pull over briefly without interrupting traffic on River Road or crossing any barricades.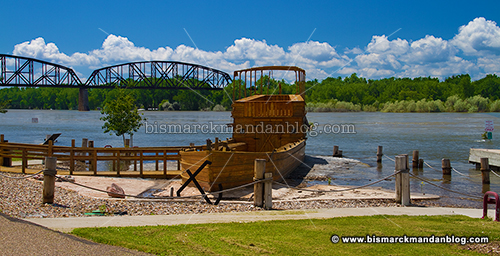 This keelboat seems to have been built in just the right spot for a 500-year flood event. The water comes right up to it, but even at such record levels it doesn't actually flood out the boat. It's almost as if it was designed for a day like today.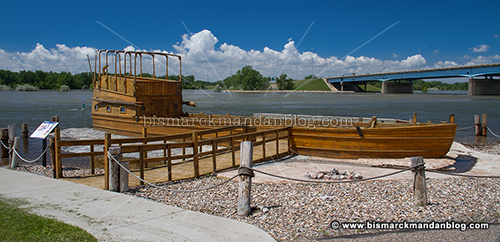 Even the walkway is dry, despite flooded land all around. Too bad the area is blocked off, this would actually be a nice little tourist-y spot for all the gapers that have been driving 20 miles an hour up and down River Road for the past few weeks!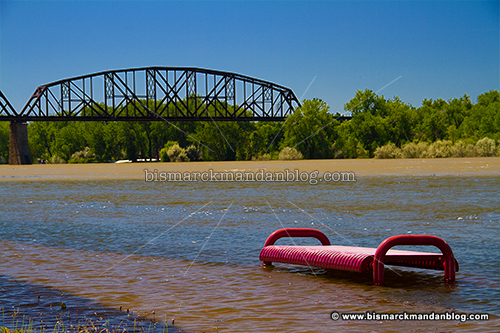 Here's a good vantage point for the flood, if you've got waders on...or perhaps clothing and shoes you don't mind getting wet. Which reminds me, my buddy and former coworker Mark Armstrong got the same idea I did, because I saw him there just after I went north to Pioneer Park and turned around to head back south into town. He was busy with his camcorder, so I didn't stop to interrupt. Here's the video he was shooting:
Great minds think alike...and so do ours!
[ add comment ]
( 19 views ) |
permalink
|
Click a dot to rate this entry:





( 3.1 / 248 )
---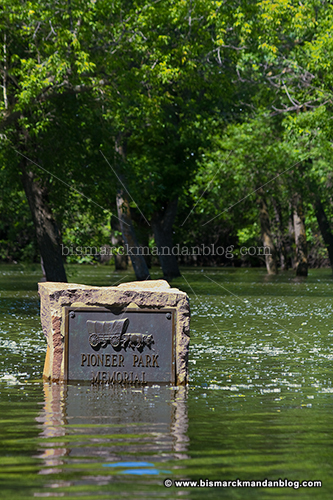 One of the most dramatic and accessible (sorta) sites for local residents to gauge the impact of the Missouri River flooding has got to be Pioneer Park. It's easy to get a point of reference as far as how high the water is, it's right along the road, and it's a feature that most residents have probably seen quite often before and since the flooding began.
Picnic tables have been relocated as they've become somewhat bouyant, getting hung up on other park features. The volleyball nets look more like tennis nets right now, and who knows what the sand in the courts will look like when the water recedes?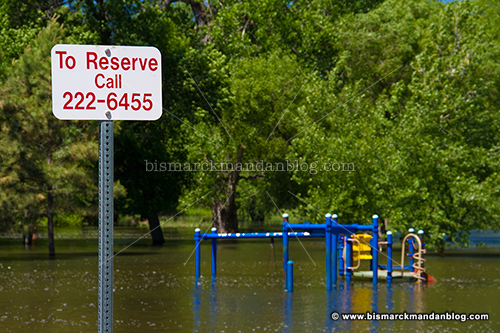 Don't forget to call and make your reservation! Actually, I think the mosquitoes have this place booked solid for the next couple of months. It's actually a CLOUD of bugs down there right now, and I've got the bites to prove it. In addition to water damage, Bismarck-Mandan is going to have a lot of insect control to perform with all this water. Those plans have already begun.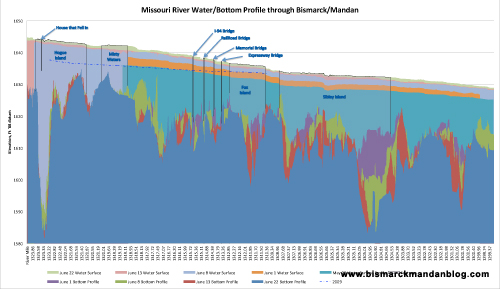 The
state Water Commission has released a recent river profile
and it has some very interesting results. Some areas have been dug deeper, some have been filled in, and overall the river is, as I've heard it described, "active." Just what the Missouri River looks like, including the channel, banks, and sandbars (or lack thereof), will be very interesting once the waters recede. I don't know of anyone making any solid predictions on that right now.
Let's just hope we get through this without further loss of property and that we can begin the recovery process. Minot has it even worse than we do, but one remarkable statistic throughout all of this North Dakota flooding is that we have not lost one single life to the disaster. That's got to be the best news so far.
[ add comment ]
( 16 views ) |
permalink
|
Click a dot to rate this entry:





( 3.1 / 168 )
---
<<First
<Back
| 58 | 59 | 60 | 61 | 62 | 63 | 64 | 65 | 66 | 67 |
Next>
Last>>