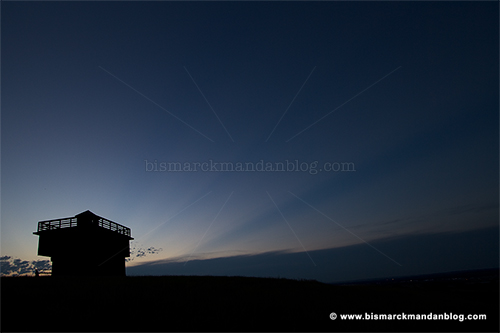 I like hiking up to the blockhouses at sunset. I don't like hiking back in the dark so much. I got a great view of the evening sky in between, though! I got there too late to capture the sunrise, and there were clouds moving in from the northwest AGAIN...but there were some shadowy rays tracing off into the darkness as I began to head down the hill, so I did not come back empty-handed.
[ add comment ]
( 2 views ) |
permalink
|
Click a dot to rate this entry:





( 3 / 326 )
---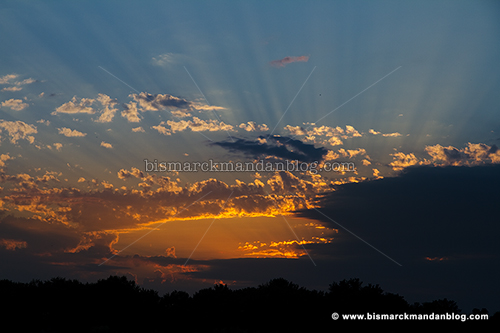 I need some wildlife video for a project I'm working on, so I worked my way down toward Fox Island to see what I could find. Along the way I couldn't help but notice this beautiful sight in the sky, with awesome streaking rays of sunlight radiating overhead. I was able to catch it before a huge, looming cloud obscured the whole thing. Then I got some really nice HD video of a very cooperative deer before heading home.
[ add comment ]
( 4 views ) |
permalink
|
Click a dot to rate this entry:





( 3.1 / 281 )
---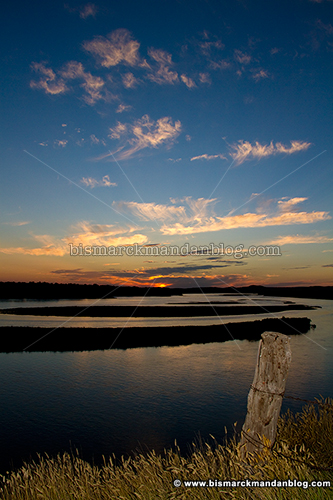 My last-minute dash to Menards accomplished its purpose, but put me a little behind the sun. As I rolled into Double Ditch I had to scramble to catch the end of the fleeting sunset. The sky above was so perfectly blue that I didn't actually fret too much about missing what was happening on the horizon. A few wispy clouds speckled the sky, and the weather was perfect.
[ add comment ]
( 4 views ) |
permalink
|
Click a dot to rate this entry:





( 3 / 248 )
---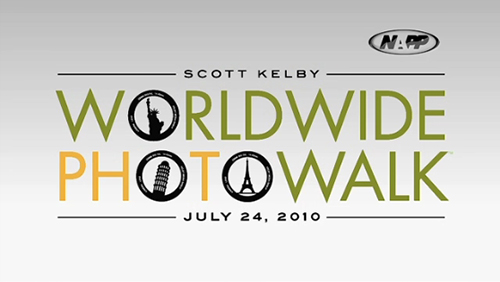 This weekend I was able to participate in the Bismarck-Mandan section of the third annual Worldwide PhotoWalk. I didn't get an official count, but there were close to thirty participants from as far away as Jamestown. It was a blast, and the Bismarck walk was coordinated by Brian Matthews of BisManPhoto.com. There were a lot of really amazing photos posted, far better than mine I think. But what the heck, here are my favorite photos so far: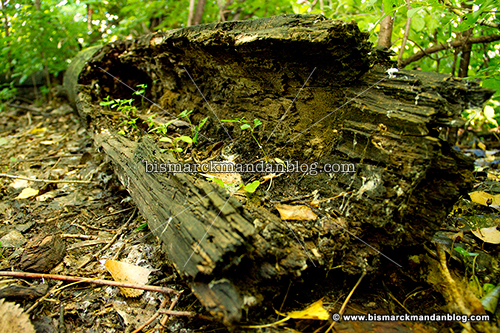 This old log has some new beginnings contained therein. I was shooting handheld so I didn't get to stop my aperture down to get the depth of field that I wanted. I still like the way it turned out.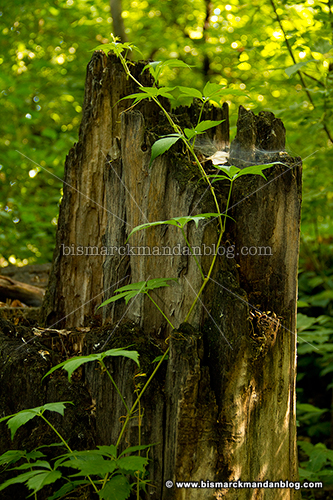 More new beginnings as this plant climbed up the rotting remains of an old stump, with the bud at the top catching a beam of sunlight from the early morning sun.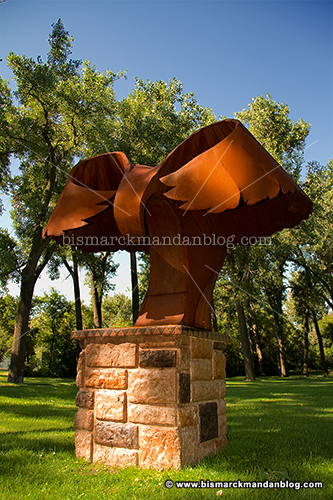 Another of the many statues which adorn the stretch from Sertoma Park to Pioneer Park (and a few points between). I like the range of colors in this one. It was in the shadow of the trees so I had to crank my fill flash and get creative in how I bounced it to eliminate those pesky shadows.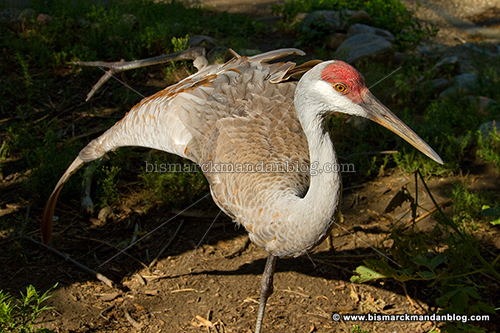 This cranky Sandhill Crane was soon mollified after I let him peck my monopod a few times and began talking to him. As a bird lover I have a way with 'em, and soon he was fluffing up his feathers and even showing off his wing for me!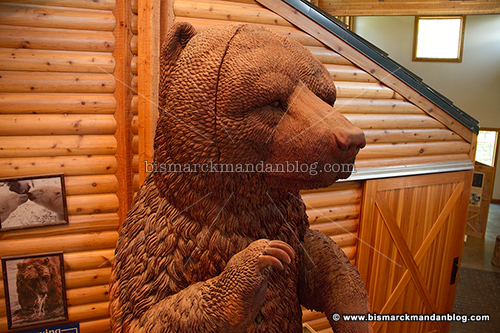 I'm old enough to remember the actual Clyde. This statue in his honor towers over the inside of one of the Zoo's buildings (I think it's called the Discovery Center). I extended my monopod as far as I could, propped it on my shoulder to get it up to the level of the statue, and used my remote to trigger the shot. Note that he must have a wicked migraine, as the wood has developed a big crack in it.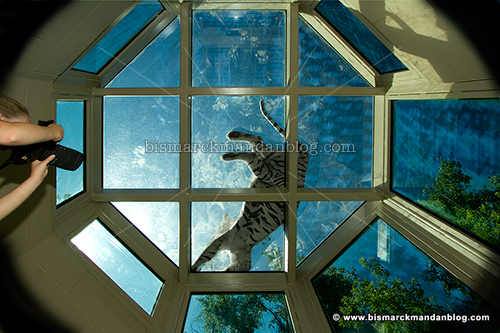 We had two hours to walk and started outside the Dakota Zoo entrance an hour before it opened, so naturally most of us ended up at the big cat exhibits for our last few minutes! I chose to lay on my back with my widest (10mm) lens and point straight upward at this cat. Then one of the girls on the walk poked her head in to get some shots of her own, and she was just the ingredient my composition was missing.
As I said, I think the other participants blew my shots away. You can venture over to BisManPhoto.com to check them out. Sign up for an account and wait a little while until you're approved. New members are screened manually to avoid spammers. Once you're on, you can participate. Hopefully you'll be intrigued enough to join us on future photo walks!
[ add comment ]
( 3 views ) |
permalink
|
Click a dot to rate this entry:





( 3.3 / 243 )
---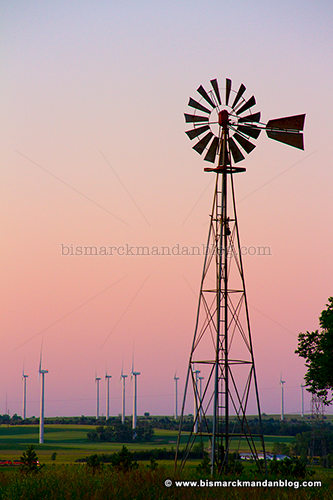 Been feeling under the weather this week, so not a lot of words this time. Just a nice photo of old vs. new. I will point out that neither of these windmills will reliably power Byron Dorgan's electric cars. At least the old one in the foreground isn't subsidized by our tax dollars...
[ 3 comments ]
( 29 views ) |
permalink
|
Click a dot to rate this entry:





( 3 / 259 )
---
<<First
<Back
| 93 | 94 | 95 | 96 | 97 | 98 | 99 | 100 | 101 | 102 |
Next>
Last>>