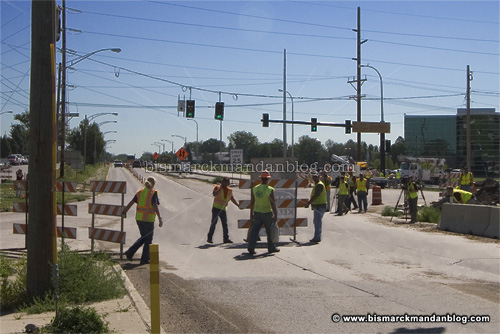 That's right. As a big proponent of motorcycling in North Dakota, I'm pretty happy to say that a motorcycle closed the books on "civilian" travel over our beloved bridge. If I may digress for a moment, I'd like to point out that this bridge was scary/fun back on a motorcycle back when it had the metal deck! Not only could a rider look straight below and see the water, but the gridwork made motorcycle tires "swim" back and forth in a manner most discomforting at first. Digression aside, those fine folks in the picture above were blocking off public traffic on this bridge forever. Maybe they sensed that I am a former DOT employee, maybe they were just being polite...in any case, they allowed me to park my motorcycle off to the side and wait to be the last guy across.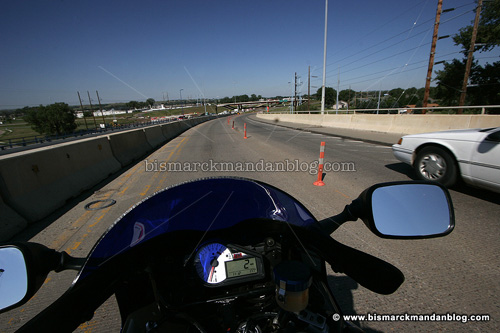 Someone in a white Ford Thunderbird actually got in behind me after I took off across the bridge from the Bismarck side. At that point I thought I'd missed my chance to be the last person across the bridge, and resigned myself to simply being the last
motorcycle
across. But an idea struck as I reached the Mandan side: turn around. Not only did I want to take more pictures, but I had to get back to work! I'm very busy and didn't have a very long lunch break. So, when I got to the Mandan side, I did a quick U-turn and headed back. That made me the last motorcycle
and
last vehicle to cross.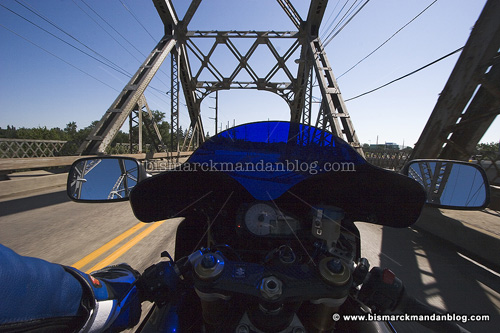 This is what it looks like to have the Memorial Bridge all to yourself...that is, if you're on a customized Suzuki with a camera hanging around your neck. This will live on as my last view of the bridge I've known all my life, even when I was living in Montana as a kid and looked forward to the "humming bridge" when we'd come to Bismarck to visit family.
My sources tell me that someone called KFYR-TV after their newscast to complain that
he
was the last guy across. That would have to have been either the person behind me in the white car, or the last person to come across from the Mandan side (before I did my u-turn). In any case, nobody came across from the Bismarck side after the white car and I, and nobody came across from the Mandan side after I did. I know because I sat at the red light on the east end of the bridge for what seemed forever, since I was wearing leather riding gear and was very hot. Nobody came up behind me. Sorry, whoever you are...the reports are accurate.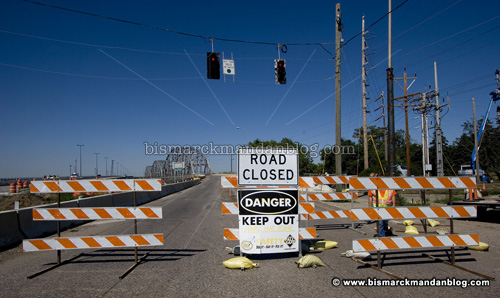 Farewell, beloved bridge. I'm glad I got to say goodbye.
Just as I got to drive on the Expressway Bridge shortly after it opened (I had my permit, my mom let me drive) I got to ride on this bridge right before it closed. I know, it's odd to be so sentimental about local landmarks...but what can I say? I love Bismarck-Mandan. I always have. That's why I started this website in the first place. I'm just thankful that I have a camera and can run around after things like this. It's cool to document Bismarck-Mandan history and provide a viewpoint for the record.
By the way, I noted again today that
Brad Feldman
seems to have the same sort of sentimentality for our town. I really like his Around Town segments on KX news, as well as his knack for local information. I could tell from the tone of his report on the bridge closing on tonight's news. It's cool to see someone who has a love of their community and what's going on here. Hopefully people who read my ramblings here will catch that sentimentality, then things like this bridge closing will seem a little more significant.
[ 3 comments ]
( 115 views ) |
permalink
|
Click a dot to rate this entry:





( 3.1 / 346 )
---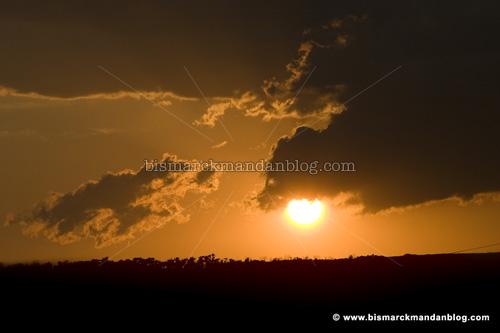 This was the scene as I headed out tonight, looking for some overdue sunset photos. At this point we were barely over a week since
the last supercell flew past Bismarck
, as documented in an earlier post. But oh, another one was on its way.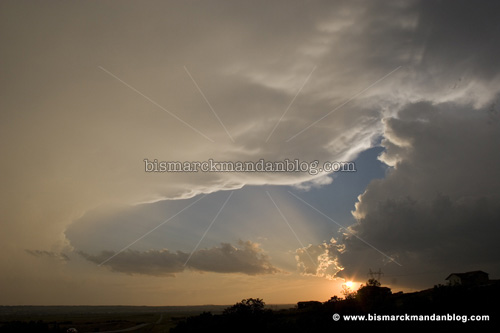 While running around with my boy this evening, I noticed a few key ingredients for some meteorological action: heat, humidity, and odd clouds, as shown above. As I ventured out in my truck, I noticed quite a few other people parked along the way, cameras in hand. I bet they got some great shots, but alas...none of them had my favorite vantage point!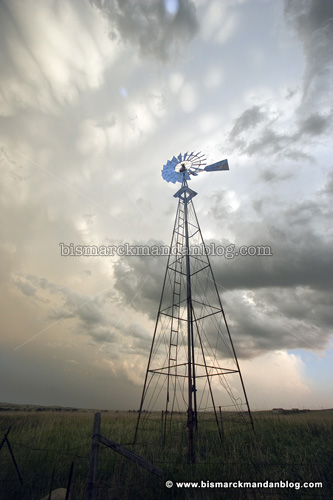 I ventured up to one of my favorite windmills to get a shot of the weird, marshmallow-like clouds that were hovering overhead. By this point already I could see that some damage was looming on the northern horizon.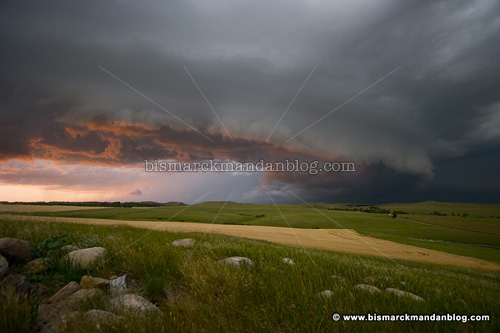 Here you can see the last remnants of the evening's sunset on the left, and the pure nastiness that was brewing on the right. This was a textbook supercell, just like last Saturday's, and it was on the move. Quickly. If you look closely you can see the headlights of a truck heading south in an effort to flee the storm. As they passed me, I realized two things: the storm was bearing down on me incredibly quickly, and I was a LONG ways from my truck.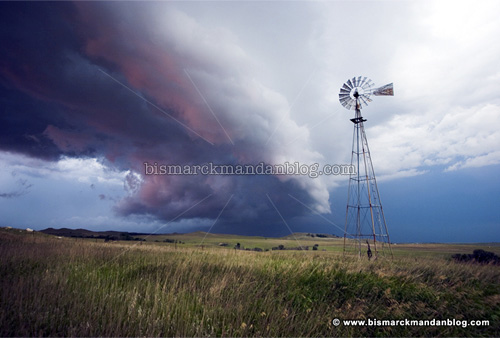 So there I found myself: on a hill, beneath a tall metal object, with a nasty storm overtaking me faster than I could ever hope to run. I'm sure after my post on homosexuality, there are plenty of people who would have liked to see some lightning enter this story, but such is not the case. This storm came so fast, I literally RAN, with my camera still on the tripod, toward the truck. I was past the rusty windmill when I heard a nasty, metallic sound. I whipped around to see that the wind had spun the head of the windmill around, and that's when the blast of cold wind hit me. It almost knocked me off my feet, but I have to admit the cold air felt good. So of course I took some pictures. Oh, come on...you would, too!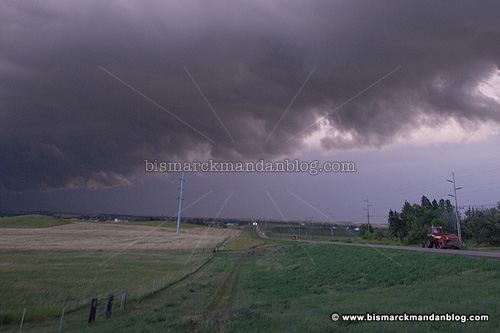 Then I REALLY dashed for the truck. I ran several different events in track back in high school, but none were this frantic. By this time the wind was almost pushing me over, and the rain was starting. I dashed to the truck, did a hasty
Rockford
after what seemed like an eighth-mile in reverse, then booked it back to town. I stopped along Highway 1804 to take this shot, then hurried back home. By this point I was seeing horizontal rotation on the leading edge of the storm, and some funnels dancing along the edge as well. By this point, however, it was obvious that the storm would miss Bismarck.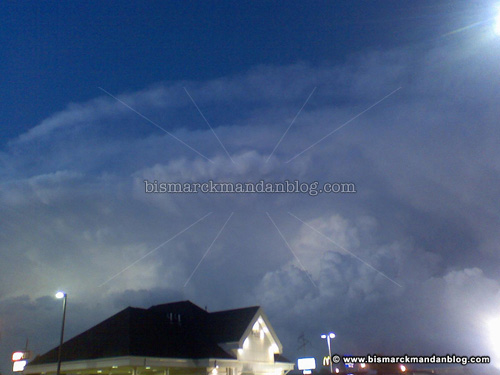 As I post this, I got this PIX message on my cellphone of the tail end of the clouds. Looks like quite a system! Once again I got an eyeful of a major storm development, a few pictures to boot, and managed not to catch a lightning bolt or a hailstone. People have told me that North Dakota thunderstorms are among the most beautiful of sights, and after tonight I think I'd have to agree.
[ 1 comment ]
( 25 views ) |
permalink
|
Click a dot to rate this entry:





( 2.9 / 378 )
---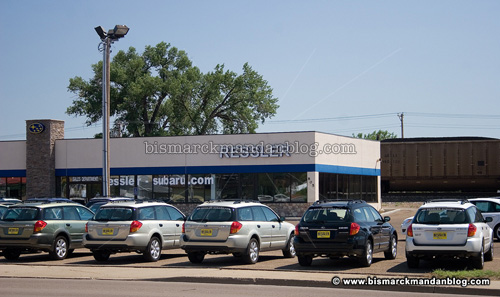 I'll have to recommend that if you're looking for a new vehicle, look elsewhere than in Mandan. This weekend a queer* pride event was held north of Bismarck at Eagle Park. I did a Google search to see what was up with this "Pride Fest", which is right by a friend's house, and found this sponsorship announcement for a past event: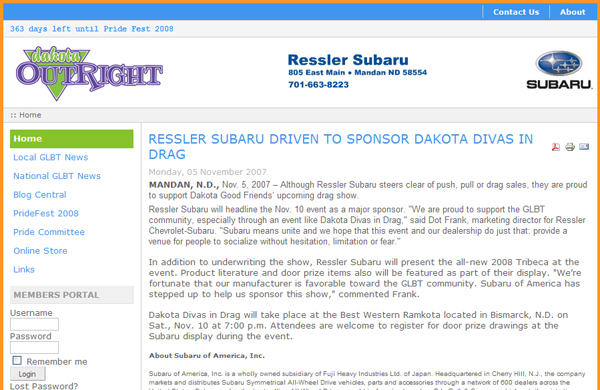 According to this page on one of the queer* activist websites,
Ressler Subaru will headline the Nov. 10 event as a major sponsor. "We are proud to support the GLBT community, especially through an event like Dakota Divas in Drag," said Dot Frank, marketing director for Ressler Chevrolet-Subaru. "Subaru means unite and we hope that this event and our dealership do just that: provide a venue for people to socialize without hesitation, limitation or fear."

In addition to underwriting the show, Ressler Subaru will present the all-new 2008 Tribeca at the event. Product literature and door prize items also will be featured as part of their display. "We're fortunate that our manufacturer is favorable toward the GLBT community. Subaru of America has stepped up to help us sponsor this show," commented Frank.
For that reason I recommend two things: First, that you not buy a vehicle from Ressler Chevrolet or Ressler Subaru. Second, I recommend against purchasing a Subaru altogether. These two companies are working together to actively promote sin in our community. If they're so proud of themselves, I challenge Dave Ressler to order these plates for the vehicles on his lot: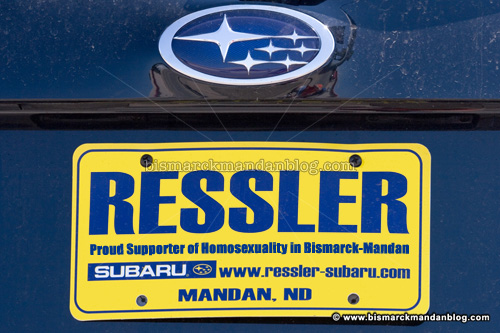 Put this on the front and back of every new Subaru on the lot, and see how sales do. Homosexuality is a sin; the Bible clearly states so, and I suspect that the vast majority of this community would agree. Look how many Christian churches there are in Bismarck and Mandan. Regardless of their other denominational differences, most of them still claim to have their basis in the Bible. God's word is
very
clear that homosexuality is an
abomination
to God.
Update: according to the April 2008 issue of City Magazine, the Ressler Chevrolet and Subaru dealerships were purchased by Bob Kupper, who's also General Manager of the dealerships.
Here's where I want to clarify something about homosexuality and sin. Homosexuality is
not
the only abomination the Bible talks about. There are others that all of us are probably guilty of at one time or another: lying, pride, mischief, theft, adultery...things that are not so disgusting to man in their physical manifestation, but are on equal footing with homosexuality in God's eyes. Sin is sin,
period
. Lest any Christians out there start thinking they're any better than the queers*, they'd better read their Bibles more closely. The Bible says that "All have sinned, and come short of the glory of God." (Romans 3:23)...so don't anyone start getting self-righteous.
Having said that, you don't have Liars' Pride weekend, Adulterers Cruises on the riverboat, or any Thieves' Rights parades going on, do you? The whole "Gay Pride" isn't just about sin, it's about people defining themselves by, and reveling in, their sin. Look at Romans 1:22-32, for instance:
Professing themselves to be wise, they became fools,
And changed the glory of the uncorruptible God into an image made like to corruptible man, and to birds, and fourfooted beasts, and creeping things.
Wherefore God also gave them up to uncleanness through the lusts of their own hearts, to dishonour their own bodies between themselves:
Who changed the truth of God into a lie, and worshipped and served the creature more than the Creator, who is blessed for ever. Amen.
For this cause God gave them up unto vile affections: for even their women did change the natural use into that which is against nature:
And likewise also the men, leaving the natural use of the woman, burned in their lust one toward another; men with men working that which is unseemly, and receiving in themselves that recompence of their error which was meet.
And even as they did not like to retain God in their knowledge, God gave them over to a reprobate mind, to do those things which are not convenient;
Being filled with all unrighteousness, fornication, wickedness, covetousness, maliciousness; full of envy, murder, debate, deceit, malignity; whisperers,
Backbiters, haters of God, despiteful, proud, boasters, inventors of evil things, disobedient to parents,
Without understanding, covenantbreakers, without natural affection, implacable, unmerciful:
Who knowing the judgment of God, that they which commit such things are worthy of death, not only do the same, but have pleasure in them that do them.
I can already sense the term "hate speech" coming up, and the lefties emailing me telling me how I'm so angry and hateful. No, this post isn't about anger or hate; it's not about me thinking I or any other Christian are better than any of the queers*. It's about showing the truth about God's word. You guys wanna have a "Pride Fest" and champion your sin, that's your right. But don't get all worked up when someone shows you out of the Bible that you're dead wrong. My hope would be that these folks would read the Bible, see that they (like me, you, or any other person) need to be born again and turn from their sin. I'd love to see them get saved and meet 'em in heaven some day. How hateful is that?
*Don't get on my case for using the term "queer", either...until TV shows like "Queer as Folk" or "Queer Eye..." get new titles, or the Pride Fest folks stop calling their ride on the Lewis & Clark Riverboat the "Fruit Float." I'm using their own terminology. And it is queer, after all.
[ 6 comments ]
( 173 views ) |
permalink
|
Click a dot to rate this entry:





( 3.1 / 425 )
---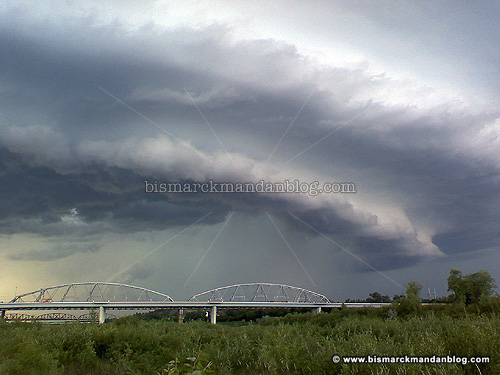 A week ago I was walking on a sandbar with my lovely wife; it was a date night, provided by some friends who not only invited us to leave our little boys with their family, but also provided a gift card for the Texas Roadhouse. It was in return for some computer work I'd done for them a while back, but I feel like I was dramatically overpaid by their hospitality. We're really grateful; it's not often we get a chance to break away and just have some sweetheart time! We also had some excitement, as you can see from the image above.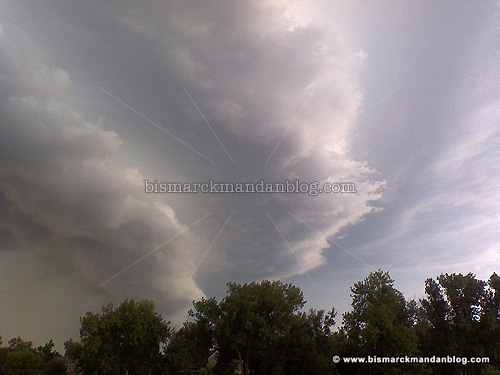 No, it wouldn't be a bona fide "date night" if I'd brought my camera with...but she did buy me this fancy cell phone with a keyboard and a pretty darn nice camera on it, so I put it to use as the ominous looking clouds came our way. We cut our romantic walk short, made our way back to the truck in case hailstones started falling, and were surprised to be met with only a few light sprinkles. Folks on the east end of town, including a few friends of ours, were not so lucky.
I took a little video with my phone, too. The quality isn't very good, but it shows what was bearing down on us as we walked along the path from the sandbar to Sertoma Park:
If you don't see play and volume controls, roll over the bottom of the picture with your mouse and they should appear. There's a five second title at the beginning, so don't think it's not playing...just give it a few seconds and the video will begin.
After we got back to our truck and watched what to us was a "non-event" pass over our heads, we went to TCBY and got some treats, then parked on the east end of town to eat and watch a glorious double rainbow form. Then we found ourselves unable to be away from the boys any longer and went to pick them up. Ah, family life.
[ 1 comment ]
( 23 views ) |
permalink
|
Click a dot to rate this entry:





( 3 / 314 )
---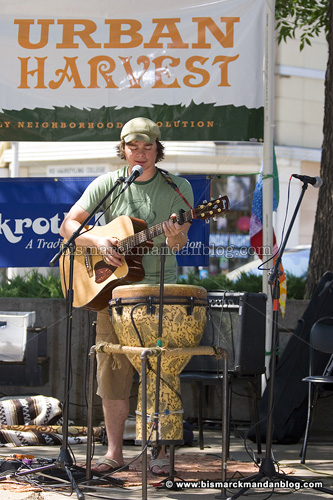 Luke Graner, my favorite local performer, provided 4th & Broadway with some tunes today at noon. I was fortunate enough to be able to take some time from my day to hang out and enjoy the music while trying to gnaw through one of those big brownie ice cream sandwiches!
I post an occasional "Luke Graner love fest" on here because he's my friend, co-worker, and he helped me with my animated Flash banner at the top of this site. Oh yeah, I've loved his music going all the way back to the Curious Yello days. Today Luke played some of my favorites, and I was able to show my appreciation by grabbing some pictures.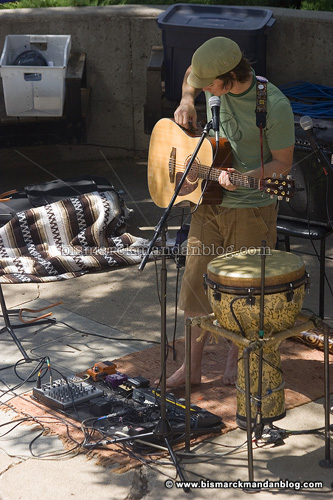 I met a nice lady at Wells Fargo who let me take some photos from their corner office, just above the area where the bands play. Notice how Luke plays barefoot; he uses a Boomerang digital loop recorder to lay down tracks of drum, guitar, vocals, or whatever...then sing and play along with the loops he's just recorded. That way this "one man band" can consist of backing vocals and multiple instruments. That in itself is pretty cool to hear, but I think it's also a good lesson of how a song is composed. You can sit and watch Luke build a song from the ground up, sing his heart out, then slowly pick the song back apart as he stops the loops one by one. It's very educational to a non-musician.
This was the one event that could draw me to the Urban Harvest. I just don't get anything from the whole "hippie vibe" I suppose; I'm not into the jewelry or new age stuff, and I think buying tie-dye items that someone else made is so contrary to the idea of tie-dyeing in the first place. Hey, I think I just stumbled upon something that a true "hippie" might agree with!
[ add comment ]
( 4 views ) |
permalink
|
Click a dot to rate this entry:





( 3 / 378 )
---
<<First
<Back
| 182 | 183 | 184 | 185 | 186 | 187 | 188 | 189 | 190 | 191 |
Next>
Last>>