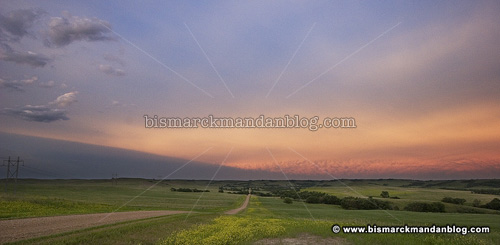 Yet another storm promising nasty hail, wind, and heavy rain split in two and circumvented the capital city. I kid friends who work at the refinery and the power plant north of Mandan, saying that whatever they put into the atmosphere must be working!
I headed north with my camera and a friend who's in town for the week, and spotted these cool clouds to the east. They were the type of weird rolling clouds known for hail, but failed to drop any on us. That's good, actually. One of the clouds to the northwest was casting a shadow on them, as you can see on the left side of the photo. It made for a pretty unique sliver of time, caught on my camera sensor.
It's hard to do the scene justice with only 500 pixels from left to right, so you can
click here for a larger version
.
[ 3 comments ]
( 34 views ) |
permalink
|
Click a dot to rate this entry:





( 3.1 / 226 )
---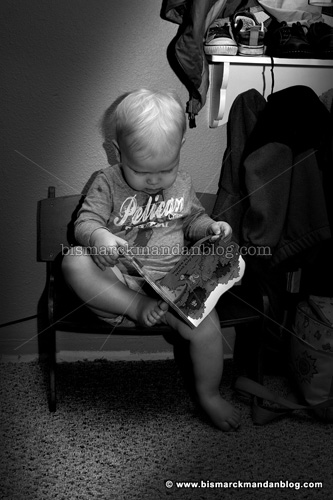 We got good news in our house tonight. Our 18-month old had undergone some testing to determine whether or not he was at risk for
Neurofibromatosis
, a genetic disorder that involves tumors on the nervous system. It can be hereditary or simply a mutation. We were tipped off by some light blotches on his skin, called "cafe au lait" spots, which are
linked to neurofibromatosis.
The test results came back negative today. Praise the Lord! More prayers answered.
I'm adopted and was born in the 60's, so even before I ever imagined myself married I worried about the potential of passing some sort of mystery ailment along to my kids. I had no real medical history, and (aside from breaking bones and incurring concussions in various extreme sports) have always been healthy. I inherited the characteristics of my biological parents which were listed in the "history" on record with the adoption agency: tall, thin, blond hair with blue eyes, and striking good looks. Okay, maybe I added the last one. But there was no history of heart, cancer, or mental development problems in either parent's history. But was there something I might not know about? There was a time when I worried about that.
Through this particular ordeal, however, in which we awaited test results, I have to say that neither my wife nor I were stressed. It is for that reason that I can't be overwhelmed with relief, and neither can my wife; we were not distraught in the first place. There are plenty of reasons why.
When we were expecting, we prayed. Our prayer was that there wouldn't be any hereditary surprise from my unknown past. Prayer answered...we have a wonderful little boy. A few months after he was born, our poor little fella developed pneumonia. God saw him through that VERY quickly. Then there was the time I walked into his bedroom at night and couldn't detect breathing from my cold little son, and had to try very hard to wake him. The doctors put him on a sleep monitor with little electrodes which we called "his wires" for several weeks. Despite several false alarms from the machine in the middle of the night, our little guy little was perfectly fine.
After bonking his head (not very hard) he was doing this thing where his eyes would retain focus, but he'd bob his head a bit. We were scared that he had a concussion or worse, so we took him in. Prayers in the ER were answered: no problems, and he quit doing it shortly thereafter. I'm sure I've probably forgotten some things too, unfortunately, but I think you get the point.
Then there's our little 7 month old. We haven't had anything scary with him, really...at least not since he was "in the tummy." My wife was diagnosed early on with a severe case of
Placenta Previa
, a complication where the placenta forms and attaches below the baby. The problem there is that as the baby grows, its weight presses down on the placenta and can cause a host of severe problems. My wife would have to go on bed rest for months, we'd lose her income and need a caregiver, and there would still be a risk for mom and baby.
We (and many friends and family) prayed relentlessly for a miracle, although the doctors said such a severe situation would not reverse itself. They were wrong. At a followup appointment, tests showed that the condition was completely absent. My wife had a textbook pregnancy, short labor, and perfect delivery of another wonderful little boy! Prayer answered BIG TIME.
(I was just reminded that both times we went to the hospital in labor, we were still under the impression that the baby was breeched. Our first one was a flipper, but had eventually "insisted in standing on his own two feet," as I put it. Yet in the case of each boy, we found out that they had flipped head down at the last minute and were ready for delivery. Even more prayers answered. We need to keep a journal!)
I love to quote Psalm 66:16 when witnessing or talking about the Bible, but in this case I will give verses 17 through 20 too:
Come and hear, all ye that fear God, and I will declare what he hath done for my soul.
I cried unto him with my mouth, and he was extolled with my tongue.
If I regard iniquity in my heart, the Lord will not hear me:
But verily God hath heard me; he hath attended to the voice of my prayer.
Blessed be God, which hath not turned away my prayer, nor his mercy from me.
What it comes down to is this: after the way that God has shown himself faithful time and time again in the lives of my boys, I have no excuse for doubting him when trouble comes along. I'm a pretty thick-skulled guy, and often have a hard time letting God get a message through, but the way He has answered pretty much every single prayer I've uttered in the life of my boys is undeniable. Yes, I'm quite happy that we got a good result from this test. I can't say I'm surprised. I certainly can't say that it relieved any overwhelming fear or anxiety. As the Bible says in Philippians 4:6-7,
Be careful for nothing; but in every thing by prayer and supplication with thanksgiving let your requests be made known unto God.
And the peace of God, which passeth all understanding, shall keep your hearts and minds through Christ Jesus.
I just thank God for giving me the faith to trust in Him through what could be a scary ordeal, especially for a guy who worried about just such a situation for most of his adult life. I've felt that peace that passeth all understanding. I
will
declare what he has done for me and my beautiful family. Amen.
[ 3 comments ]
( 34 views ) |
permalink
|
Click a dot to rate this entry:





( 3 / 245 )
---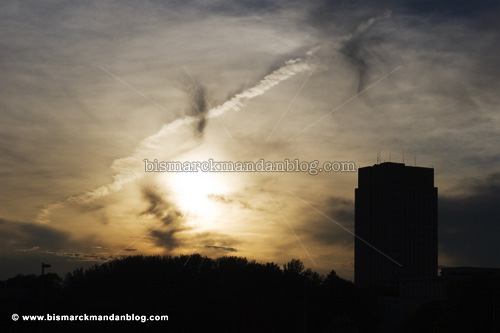 I didn't see much more sunset than this, as thick clouds rolled in along the horizon. That left me no alternative but to go get some wings with a friend from Reno. Some days I think that it's too cliche' to take photos of the capitol, since I've done so much of it, but then there comes a unique opportunity like this one from last night.
[ add comment ]
( 5 views ) |
permalink
|
Click a dot to rate this entry:





( 3 / 257 )
---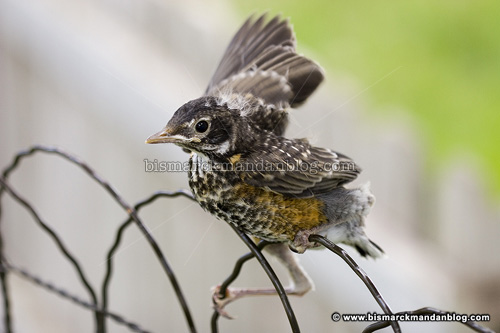 It is with great joy that I discovered an empty nest when I came home from work today. The four baby robins that were nesting above one of my motion sensor lights are out and about! In fact, I don't know if they even return to the nest at this point. They're all feet, have dull colors as natural camouflage, and are still being tutored on flying and pecking for their own food...but they're out of the nest.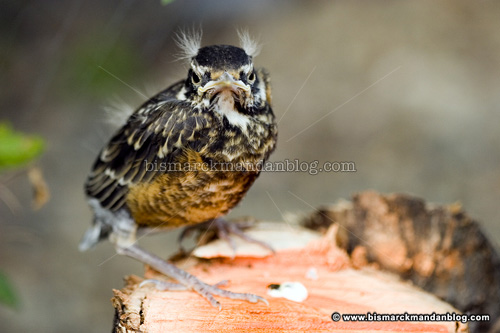 They still have those little white tufts of downy feathers and that downward tilt to their beak that makes them resemble grumpy old men! I spotted two of these little birdies but haven't walked around enough to find the other two. We have so many trees here that I might never find them. I was going to mow the lawn tomorrow, but get to put that off so I don't mistakenly find one with the mower.
Well, the nesting part of this story was a huge success. I'm glad I climbed up and took photos of their parents feeding them when I did; that time came and went pretty quickly! As a parent myself, I know just how that goes. At the moment we're transferring videotapes of our little boys to DVD and it's amazing to watch videos of PJ from only a year and a half ago, when he was a newborn. I don't even want to think of what it'll be like when our two boys leave the nest! I'm told that time is coming faster than we think.
[ add comment ]
( 3 views ) |
permalink
|
Click a dot to rate this entry:





( 3 / 262 )
---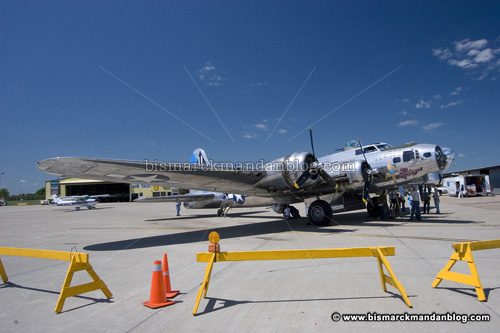 I took some time this week to visit the B-17 bomber that was parked near Executive Air for the better part of the work week. It's cool to see such a piece of history, especially since it's a piece of technology and military hardware at the same time. As usual, I took a lot of photos...but, in an unusual move, I'm actually going to post a large number of them right away instead of saying I'll do it later! Have a great weekend.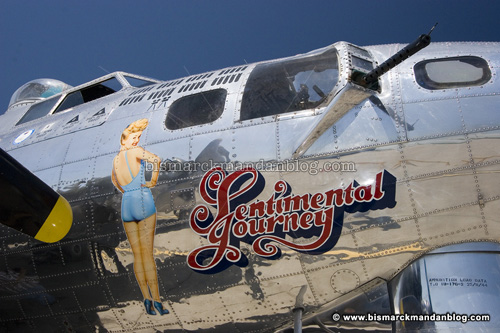 It wouldn't be a truly nostalgic WW2 era plane without some 1930's - shaped woman painted on the side. I couldn't help but think of the old 1980s video game "B-17 Bomber" on the Mattel Intellivision game console. A friend of mine had that game and the expensive Speech Synthesis module, which allowed many of its games to "talk. B-17 Bomber was one such game. Thanks to the Internet, you can listen to the introductory sound from that game by clicking
here
(mp3 format).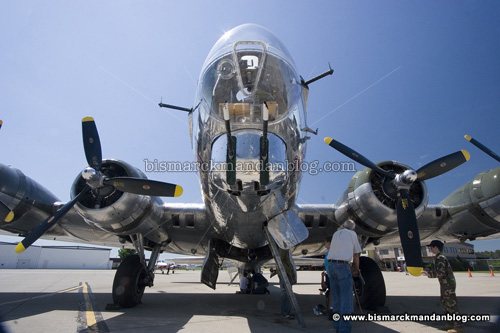 What a big machine, don't you think? When the news of possible hail or a tornado came in last night, this plane was moved into the BP hangar on site. It barely fit; it had to be rolled in by hand, with four guys on each wheel to move its weight, and its gun almost touched the hangar doors once closed. There were "little planes" tucked under each wing as well, but the mighty Flying Fortress fit. Say that three times fast.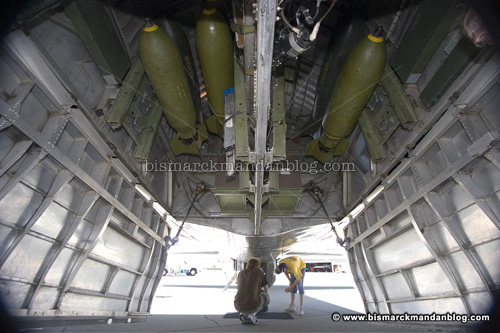 Payload. One of the types of bombs dropped by these planes was called a Thunderbug. That's just one of the fun nicknames that military folks came up with for various hardware and ordinance, and it shows they have a sense of humor. These obviously aren't real, otherwise I'd be trying to strap one onto my motorcycle for use on a tailgater! Now let's take a walk through this majestic aircraft...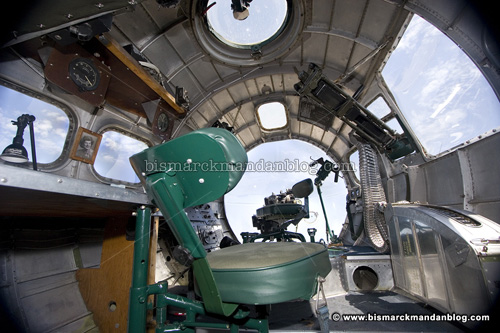 This is the forward gun turret. Note the picture of someone's lady on the left side wall. This would be a pretty crazy place to be when the fighting got hectic! I can't even imagine. I think the fella who did the calculations for the bomb trajectories was located up here as well as the forward gunners.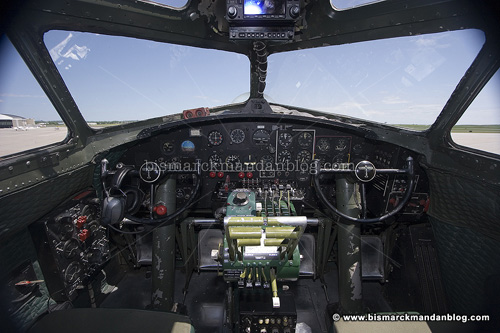 This is the cockpit, one of the few places with windows that don't have a gun sticking out of them. It must be a challenge to taxi a "tail-dragger" aircraft like this one...in fact, a friend of mine was near an accident at Oshkosh a few years ago where a little plane cut in front of a big plane on the tarmac. The propeller of the big plane sliced right through the little one. Messy. The pilots of planes like this have to zig-zag when they taxi so they can look out the side windows; the front windows point at the sky until they take off.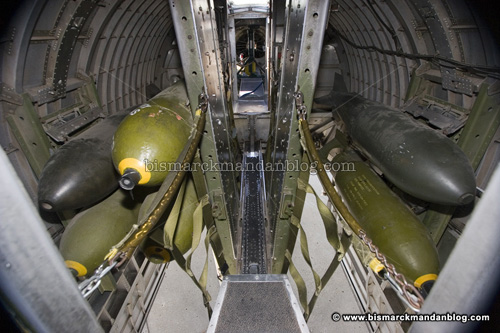 The bomb bay with doors open. That rail down the middle is the "walkway" for the plane's crew. It's about six inches wide. I had fun sneaking through there with my camera bag! It would be best to be skinny to be on a B-17 crew. I had that part covered, but then I decided to lug my gear with me.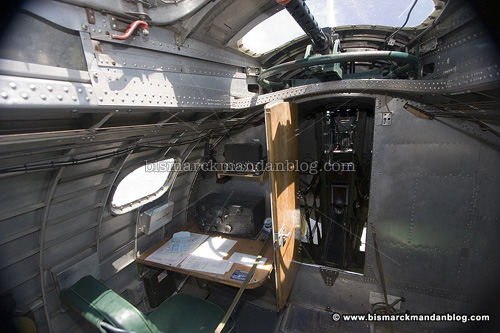 This is where the radio operator sat, and there are a couple of jump seats as well. It's pretty amazing to see how many crew positions are actually on this aircraft. I may have to hunt down a book about these guys...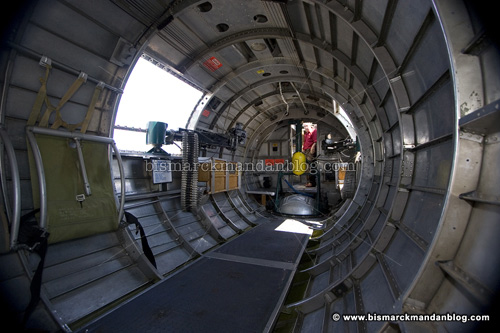 I would have thought there'd be more bomb space and less crew space, but I really don't know much about aircraft. Here you can see side guns as well as bunks for crew members, who I suppose rotated resting periods. This photo is somewhat out of sequence as it was taken from the rear of the aircraft, facing forward.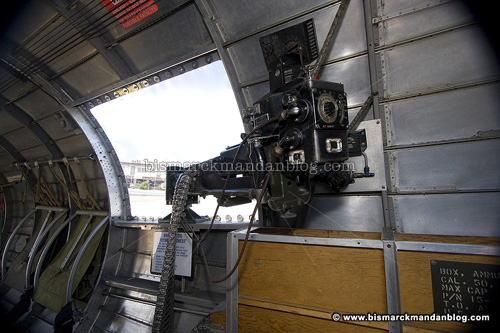 Firepower. The guys manning these guns were responsible for keeping this aircraft safe from enemy fighters. To do so requires some big guns, and there are big guns all over the B-17.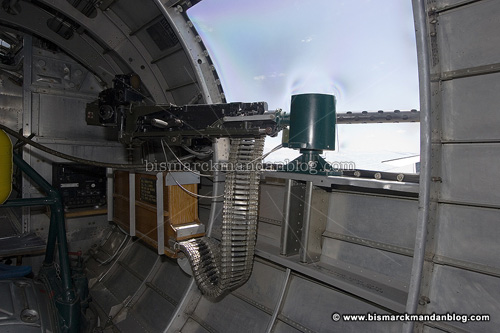 For $425 or so, you can take a ride on this plane, and even sit up in the nose turret. For $425, I think they should make these guns operational. Now that would be worth running to an ATM!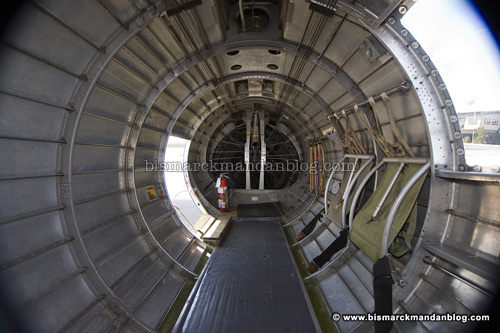 The aforementioned bunks. At the end of the fuselage is where the rear landing gear is stowed, and of course another gun position.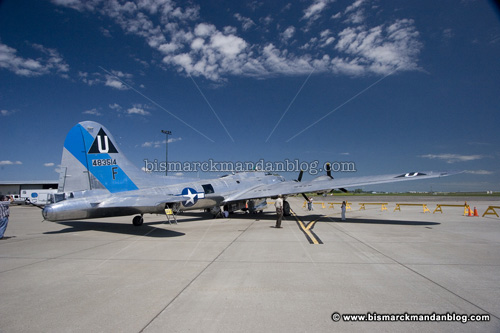 Thus endeth the tour. This was truly an amazing way to spend my lunch hour. It's one thing to leisurely poke around this aircraft, looking at the old technology and trying to grasp a bit of history. It would have been another world entirely to dodge German or Japanese AA fire, fend off enemy fighters from a gun turret, and hopefully make it to the intended target and back safely. Oh yeah, and deliver the bomb payload on target. The people who fight for our country are incredible, but I think of World War Two stories and am in total awe.
The plane will have left Bismarck by now, and I'm glad I had the opportunity to see it before it departed. I'm told there will be a B-17 bomber at the Jamestown air show this year, but I'm not sure if it's this one. I also don't know if a curious blogger would get the chance to climb around on it with his camera! This may have been my only opportunity to see a piece of aviation history. Thankfully I was able to seize it.
[ 1 comment ]
( 18 views ) |
permalink
|
Click a dot to rate this entry:





( 2.9 / 302 )
---
<<First
<Back
| 187 | 188 | 189 | 190 | 191 | 192 | 193 | 194 | 195 | 196 |
Next>
Last>>