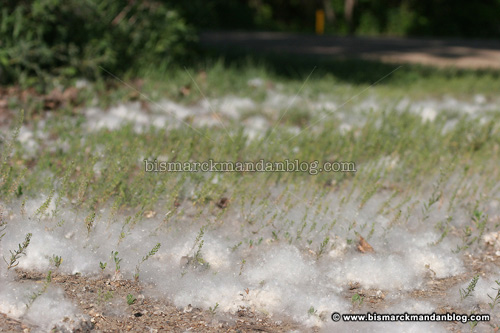 That's right...someone woke up the cottonwood trees. These trees provide us with lots of pretty green and cool shade but they also shower us with that nasty cotton. It's snowing in June now, as the cotton flies and piles up all over the place.
For those of us with seasonal (or year-long, really) allergies, this cotton is not a welcome sight. I've actually had a couple of pieces fly up into my motorcycle helmet...yuck!
It's also time to watch the cooling fins on your air conditioner and keep them free of cotton debris. That stuff will plug up the fins quite quickly. In years past I've used a porous foam wrap on my AC unit but I don't have any for this year.
On that note, it's time to go find a Claritin tab or something.
[ add comment ]
( 2 views ) |
permalink
|
Click a dot to rate this entry:





( 3 / 521 )
---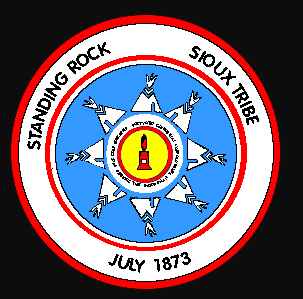 The "hostile and abusive" nickname "Sioux" has been spotted again, in what would seem to be the most unlikely of places. As we've been told ad nauseum by opponents of the UND Fighting Sioux nickname, the term "Sioux" is a derogatory one given them by rival tribes and oppressive Europeans. So why have they adopted it? They even proclaim it on their website.
Here's a quote from their website:
" The Standing Rock Sioux Tribe stands by its right to self-government as a sovereign nation, which includes taking a government-to-government stance with the states and federal government entities."
Okay, so why do THEY call themselves "Sioux" then? They're obviously sovereign; they proudly declare that right. So quit calling yourselves "Sioux" and you've got nothing to complain about.
You want to talk about a quick and easy way to defuse this situation, this is it. First of all, the name "Sioux" obviously is too hurtful to be used to describe the tribe and should be discontinued immediately. Then, once that long-overdue change has been adopted by the tribes, they can cease worrying about the UND "Fighting Sioux" nickname; it will no longer apply to them. Let the healing begin.
This whole issue is a bunch of nonsense by a belligerent few with a chip on their shoulder, taking on a life of its own by the actions of a bunch of politically correct crusaders within the NCAA. Level heads must prevail.
That said, I direct you to this
open letter to the NCAA by UND President Charles Kupchella
, brought to my attention by my friend Shari. It sheds a lot of light on the situation.
So far UND has shown the only prudence in this situation. I hear on the radio that the NCAA doesn't even talk directly to UND, simply issuing press releases to announce its decisions. I've also heard that Ron His-Horse-Is-Thunder, who on occasion claims to be a descendent of Sitting Bull, has dismissed members of tribal government who have declared support for the UND "Fighting Sioux" moniker. That type of behavior, in my humble opinion, constitutes both "hostile" and "abusive" in every sense of the words.
[ add comment ]
( 2 views ) |
permalink
|
Click a dot to rate this entry:





( 3 / 86 )
---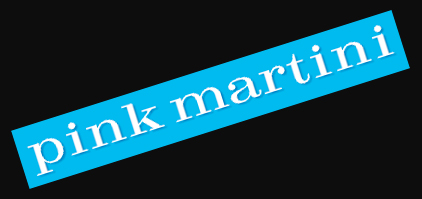 Saturday night wasn't a great night to be playing outdoors, but it was a perfect night to be enjoying the warmth of Pink Martini, who played with the Bismarck-Mandan Symphony at the Belle Mehus auditorium!
I couldn't provide a picture because I obey the wishes of the Symphony and Pink Martini, who don't want people taking pictures during their performance. Besides, you really need to see them in person. Trust me on this.
The place was packed, as it should be with such a talented group of musicians performing. The first part of the show was a treat of four selections by the Symphony orchestra, conducted by Dennis Gowen. He's been the guest conductor of the Symphony since the departure of Tom Wellin. I liked working with Tom (I used to do most of their TV advertising) but I really love Dennis' style. He's very conversational and warm, often asking the audience a trivia question or telling dry jokes. If you're a University of Mary student, you also know him as a member of the faculty there.
Pink Martini are a group based out of Portland, Oregon, although the musicians come from very diverse backgrounds and locations. They too have a wonderful way of interacting with the audience, who clearly loved their performance last night. There were several standing ovations.
The group gave us a swinging, smiling encore, and the crowd stood cheering to draw them to a second, but then the house lights came up. They hung around to autograph CDs and meet the audience, and the Bistro volunteered to keep their kitchen open extra late and served a special menu of dessert and stuff for the patrons.
This evening was a special treat because my wife and I won our seats (and a bunch of other Pink Martini stuff) at the New Year's Gala hosted by the Symphony six months ago. They gave me fantastic seats, first row behind the railing on the balcony, although I doubt a bad seat exists at the Belle. I appreciate the legroom, I've torn my knee in half twice, kneecap and all...sometimes being jammed into a seat for too long can be quite agonizing.
I did see a few familiar faces in the orchestra and on the balcony: Susan Wefald, who serves on the state Public Service Commission and plays violin; Tom Weigel, my friend's dad who owns Weigel Funeral home and plays bass; Signe Snortland, who was my anthropology teacher in college and plays viola; Pat Pins, my speech coach from high school (and one of my favorite liberals); Loren Grey from Clear Channel radio with her husband, who owns the Kirkwood Ace Hardware; and a few others. One downside to being in the balcony is we don't really get to look around the audience below to see if any of our friends are there.
If you've never seen Pink Martini, you may have to wait next year, as I was told at church there isn't a Sunday show today. The girl who mentioned it was supposed to usher, but she didn't know any details. But I'm sure they'll be back next year - they were really happy to perform for us (and with our talented Symphony) again this year!
To visit Pink Martini's website:
pinkmartini.com
To visit the Bismarck-Mandan Symphony's website:
www.bismarckmandansymphony.org
[ add comment ]
( 2 views ) |
permalink
|
Click a dot to rate this entry:





( 3 / 497 )
---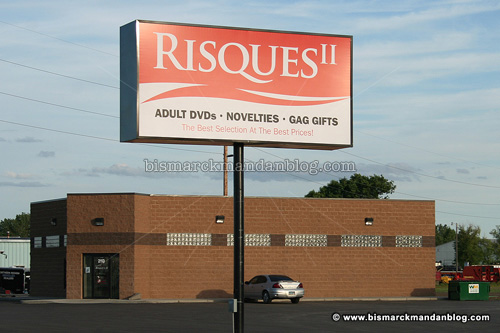 The headline says it all. There's a fancy new brick building on the west end of the Strip in Mandan - oh goody, another "bookstore."
First off, I thought all the pornography freaks were just getting their jollies on the Internet...you mean someone actually drives to a store for this garbage? Apparently so...brick buildings aren't cheap.
Second, is this a new building for the old bookstore, or an expansion...I don't know. Another thing I don't know is the name of the one on Main Street. Everyone always referred to it as "the Mandan bookstore," and THAT is the problem.
What do people think of when they think of Mandan businesses? The "bookstore" and the "tuck-a-bucks," ie the Silver Dollar and Tree City bars. There are other businesses on the strip, of course, but that just doesn't quite seem like Mandan for some reason because you don't actually drive "into" town. So Mandan needs a perception update.
Don't get me wrong - there are other big construction projects happening in Mandan, although they all seem to be along the Strip. There's the new Harley shop, built a few years ago. Dusty and Annette have just opened their grand new Open Road Honda building, and it's amazing. There's a new McDonald's greasing up on the intersection of Memorial Highway and 3rd. Riverwood RV has expanded into an enormous facility on the west end of the strip. Wheels, Wings, and Hobbies has relocated from a side road to Memorial Highway and built enormous indoor and outdoor tracks for their customers to race on. Things are happening. Venture into town and you find the
Pizza Ranch
, which is a fantastic restaurant - but do you ever hear much about it?
So why do I have to bring this up? Because I don't think Mandan's getting a fair shake. I'm not saying it's easy to get the word out...but I'm saying it's ESSENTIAL to get the word out. Don't let people continue to associate the name Mandan with pornography stores and stripper bars. Let people know what's going on!
Look, people have no problem driving to the bars in Mandan. I doubt they'd have any problem driving to any GOOD businesses there too, if properly encouraged. Take dining for example. How many times have you wanted to go out to eat, then sat there trying to sort through the local restaurants in your head, forgetting most of them? Mandan falls through that crack a lot, and unless they get REALLY aggressive about it, they're just going to continue being a little town across the river from an ever-growing Bismarck.
On an aside...Mandan residents pay the highest property taxes in North Dakota, far higher than many residents in states on all three sides of ND. Why? There isn't a sufficient revenue from businesses, for one. Bring them in, and let them share the tax burden with the citizens.
[ 3 comments ]
( 68 views ) |
permalink
|
Click a dot to rate this entry:





( 3 / 489 )
---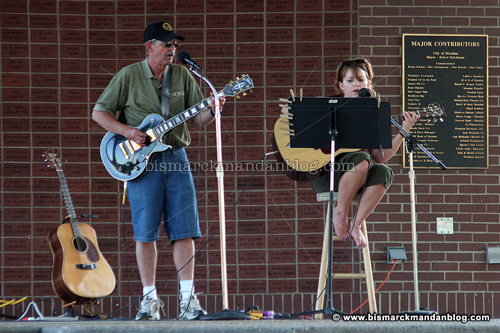 Last night the bandshell in Mandan was home to the sounds of Bill and Sarah Franke. Mr. Franke, as most of us know him, was the choir director at Mandan High for many years, and his daughter Sarah is a graphic artist in the Bis-Man area.
Last night they treated us to a wide variety of music and a nice relaxed good time. The picnic tables were full so I wish I'd done like most people and brought a folding chair or something! If you weren't there, you really missed out.
But that is no excuse for missing the rest of the Mandan summer bandshell concert series!
Click here to see the rest of the lineup, running from June 5th to August 17th.
[ add comment ]
( 3 views ) |
permalink
|
Click a dot to rate this entry:





( 3 / 556 )
---
<<First
<Back
| 308 | 309 | 310 | 311 | 312 | 313 | 314 | 315 | 316 | 317 |
Next>
Last>>