Bismarck-Mandan at night is comfy like a warm blanket. Even in town one can look up and see the stars dotting the night sky. Places like the Fox Island boat dock, the state Capitol grounds, the indian village overlooking Pioneer Park...they all take on a different feel after the sun goes down. And I love it.
I've always been a night guy. Bismarck and Mandan are great places to be at night; the atmosphere, the sounds and the quiet all at the same time... they all call out to me. I've been enchanted with our fair cities after dark since my early teens, when I got busted for a curfew violation while riding my bike along the river in southeast Mandan. I remember watching the northern lights in the northwest from the Tom O' Leary clubhouse while the morning sun peeked over the eastern horizon. I've spent decades poking around this town at night, and that love will never fade away.
I'm done waxing poetic now - more about tonight's runaround. My wife and I had bumped into a cute young couple up at the indian village lookout. The guy had spread a trail of rose petals from the parking lot to one of the benches looking out at the river, and there were roses all around. They'd gone out to dinner and he proposed there at that park bench. They were absolutely glowing! He ships out tomorrow as part of a military deployment, to come back in a month, then on a big tour. Thankfully we were there to take their pictures for them and wish them our heartfelt congratulations. We got some nice sunset pics as well!
So...back to tonight's ride. It was a good night to be out and about. By the time I was ready to come home, I noticed something peculiar: a loaded coal train was stopped facing eastbound, blocking 3rd and 5th streets. There were police cars stationed on either side of it at the 5th street crossing. At first I thought someone got hit by the train, but nobody was inspecting the front diesel locomotive, so that seemed unlikely. Then a little birdy told me that a wheel failed on the train, although he didn't know whether it was on a locomotive or one of the cars. Nothing seemed to be derailed, at least not in the stretch that I saw. One thing I did notice, though, was that the whole area smelled like brakes! Can you imagine what's involved in slamming a loaded coal train to a stop as fast as you can? It smelled like hot brakes for blocks!
I saw the fire chief scream by with his lights and siren going and figured he was on his way to the front of the train. Nope...he kept right on going! Since I was going that way as well, I tooled along and figured I'd see what he was up to sometime down the road. As I turned down Airport Road, I was right. The smell of smoke hit me as I rounded the corner, even before I saw exactly what was going on. There were sheriff's deputies (maybe all the city cops were busy) and fire trucks next to a burning building on Sweet Avenue, across from Cal's Car Clinic. I'm not sure which building it was, but I wasn't about to approach the scene. I've done some law enforcement work in the distant past and hated all the gapers getting in the way. Thus I'm determined not to be one of them. A guy can usually get as much info from a block or two away as they can by trying to get in the way.
On that note, I figured it was time to head home. Another successful meditative night ride, capped off with some excitement.
Edit: I talked to Ivan over at Racer Performance Center today while buying some race gas and he said that someone stepped out of the Elbow Room bar and onto the tracks. So I'm not sure exactly what happened. Local news outlets haven't said.
[ add comment ]
( 3 views ) |
permalink
|
Click a dot to rate this entry:





( 2.9 / 520 )
---
Personally, I'd like local guys. The crews working in my neighborhood have all been...well, how do you say it? Not from around here. There ya go. They yell to each other in Spanish all day, not that that's a crime. But if you're not from around here, what are the odds that your work has anything but a "taillight warranty?"
I'm not biased against having a bunch of Mexicans (general term, I know) roof my house if they know what they're doing and work hard. I don't want to be one of those victims who got a crappy job and have to deal with the aftermath. I can't afford it. Most insurance companies seem reluctant to recommend anyone either, at least State Farm won't do that for me. They're obviously afraid of the same thing.
I don't know roofing, but I could tell the difference between the guys who did my next door neighbor's house and the ones working up the street this week. Both crews worked fast...but the guy nailing shingles next door had the exact same 5-nail cadence for each shingle. I watched him and he nailed every single shingle (say that three times fast) in the same places, looking to me like he knew what he was doing. The guys up the street were pretty much spraying nails into the shingles. That seems like a difference even a layman can detect.
So what do I do? Accuse me of whatever you want, but I want a LOCAL guy doing my roof. A guy I might know personally, or who I might bump into later and say hi to, or who I can call in six months and say "you know, I think I have a leak somewhere..." I don't want to have to track my guy down in Ecuador or something. Am I racist? No...I'm just a cautious consumer in a town that's seen a lot of shoddy roofing business in the past few years. And I have every right to be cautious with my money.
[ add comment ]
( 3 views ) |
permalink
|
Click a dot to rate this entry:





( 3 / 502 )
---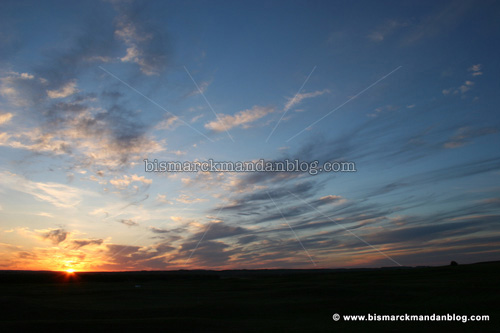 The TNS, as the kids call it, has been on somewhat of a haitus lately because I've been so tied up with the home remodeling project. With a little bit of breathing room now, as the project approaches completion, my wife and I took a trip north of town to a nice little hill where we saw these sweeping clouds. Ah, it feels good to be outside for a change!
[ add comment ]
( 3 views ) |
permalink
|
Click a dot to rate this entry:





( 3 / 491 )
---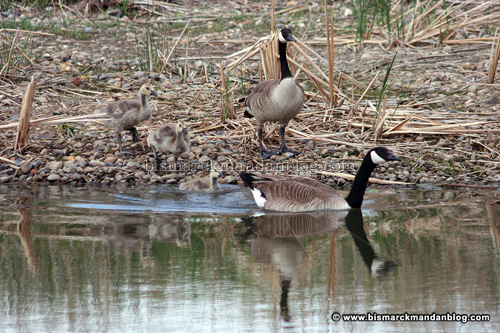 Those baby geese have gotten pretty big already! This family hang out at the Game & Fish Outdoor Wildlife Learning Site (OWLS) east of Bismarck. There are plenty of fish and turtles in the lake, birds everywhere, and I didn't spot a single wood tick so far.
There were a couple of families out fishing from the bridge - it's a catch & release lake - and the site is getting its annual facelift. There are walking paths and informational signage all over the site. It's a great place to take your kids or to just go for a walk. Bring insect repellent though!
[ add comment ]
( 3 views ) |
permalink
|
Click a dot to rate this entry:





( 3 / 442 )
---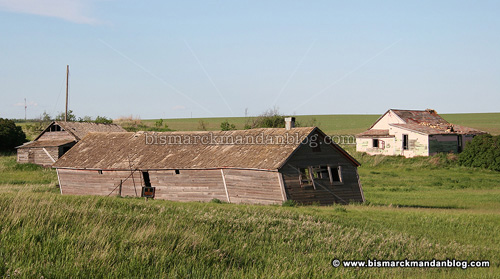 This row of buildings sits right off County Road 138 in Morton County, just west of the MWWS water tower that went up a few years ago. The land it's on is farmed but the buildings look as if they've been untouched for quite a long time. I have a habit of staying clear of them for reasons such as trespassing and critters...besides, in this case I need to stay back to fit all three buildings into the frame!
There's something about these dilapidated old farm buildings, or what's left of many of them, that has a somber charm unique to North Dakota. That's why I need to photograph falling farmsteads whenever I see them.
[ add comment ]
( 5 views ) |
permalink
|
Click a dot to rate this entry:





( 3 / 652 )
---
<<First
<Back
| 310 | 311 | 312 | 313 | 314 | 315 | 316 | 317 | 318 | 319 |
Next>
Last>>