I've got a really big chip on my shoulder, and my arms, and my legs, and my helmet, and a few other places about this issue. The issue is called "chip seal," and it's an extreme hazard to motorcyclists.
I took photos today to illustrate my story, which transpired last night. I was out for a leisurely cruise on the big bike when I came around the corner at the south end of Sertoma park...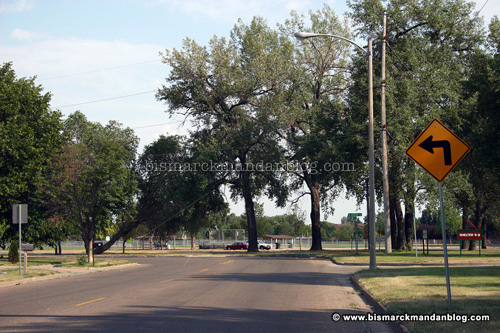 Note the absence of any signs indicating that trouble might be lurking around the bend. Note how far from the actual corner the streetlight is placed. A motorcyclist would have no apparent need to think that anything is amiss in this corner...would they?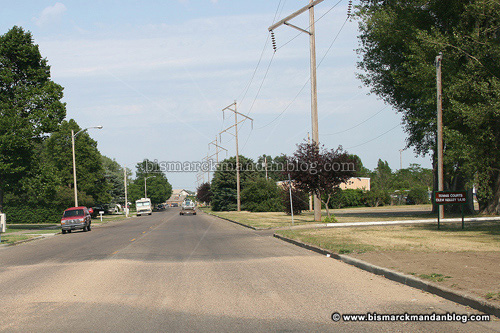 Here's what greeted me at the exit of the corner. I will be the first to admit that the photo is underwhelming. It's just not possible to convey a patch of gravel like this, especially not in a picture 500 pixels wide. But put a motorcycle on it, especially one that is leaned over coming out of a corner, and it's like throwing a guy on a sea of marbles and giving him a good shove. Imagine how much fun that can be...especially with all those curbs around!
I was seriously injured in an accident due to a similar situation: chip seal gravel spread several inches thick on the crest of a hill, in a corner, where there was no illumination from streetlights. I was the first rider in a group, the only one without a passenger. I hit the gravel leaned over into the corner and almost saved it, but the bike went out from under me. I won't give you a description of my injuries, because they're pretty nasty. I've got photos and horrible scars to prove it. If I had not been wearing my helmet I would certainly have died...I slid straight toward a curb, hitting it hard enough to take a chip out of the concrete. I was able to push away from the bike at the last instant, thankfully. The gravel rolled up the sleeve of my riding jacket, allowing lots of damage to my arm. It also sliced right through my pants, and that was even worse. The rest I'll leave up to the imagination. Thankfully we had a doctor, and RN, and a surgical technician there that night...I think God was really taking care of us that evening.
So, along comes the City of Bismarck, spreading gravel in dark corners with no signage. They own thousands of dollars worth of big orange signs saying "FRESH OIL - LOOSE ROCK" but only put them up in well lit areas around downtown. They won't put them where real danger exists. A couple of years ago I saw a crew chip-sealing Fox Island Road, including the tight unlit corner at the end. I saw the foreman sitting in his truck, rolled up on my motorcycle, and asked if they were going to be putting signs up at either end. I explained that the gravel is dangerous to motorcyclists who can't see it that easily in the dark. He gave me some smart-ass answer and just stared at me with a stupid grin. These are the people entrusted with our safety, and I guess the signs stay on the truck.
This is an annual thing, obviously. Those of us with a lot of motorcycling experience know that mid-June means surprises are even more likely around every corner in town. How many new riders know that? They stand to learn a very important, possibly painful, lesson that motorcyclists must always be twice as vigilant as your average cage (I'm sorry, car) driver out there.
With all the rich folks riding Harley-Davidsons™ these days, it'd be interesting to see some high-priced attorney lay down his Hog on some unmarked gravel, then heal up just enough to sue the living pants off the city. I'm not a fan of liability litigation, but I've been making noise on this matter for over ten years. Nobody's listening. So if you're a motorcyclist and are reading this, be warned: the City of Bismarck, in its negligence and carelessness, is setting the traps for you. Pay extra attention when you're riding out there.
[ 1 comment ]
( 54 views ) |
permalink
|
Click a dot to rate this entry:





( 3 / 672 )
---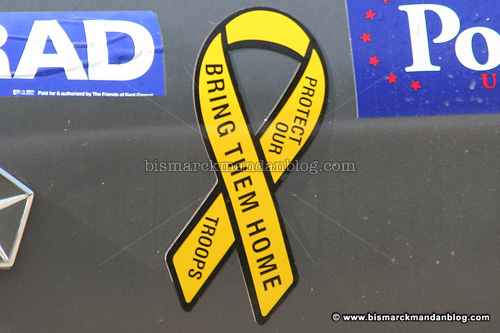 An elderly die-hard Democrat in my neighborhood is sporting this yellow magnet on his car among his Dorgan, Pomeroy, and ND Peace Coalition stickers. It's no wonder to see this sort of thing from the ND Peace Coalition; after all, they're pretty misguided.
Their website indicates that they believe such moral gems as
"...one person's terrorist being another person's freedom fighter"
or
"Terrorism ranges from crackpots or right-wing conspirators such as a mailbox pipe bomber to Timothy McVeigh, the Oklahoma City bomber, to anthrax postal terrorists to hijackers crashing airplanes into skyscrapers, all the way to actions by governments who employ large numbers of troops and weapons."
Of course, you won't find any mention of ecoterrorists anywhere in there, only right-wing crackpots. For instance, when I worked for ski patrol at a ski resort in the Rocky Mountains, we had to inspect our ski lift towers for sabotage from people like this. Loggers had to inspect trees for large nails, put there to make saw blades explode in the faces of loggers trying to support their families, before cutting. But those aren't crackpots, I guess. Would the peacenik clowns trying to sabotage a ND missile silo last week fall into that category? Of course not...they're part of the agenda.
Think of the cowardly silliness in this magnet. Protect our troops by bringing them home? What kind of creampuffs do these idiots think our soldiers are? We aren't sending the Girl Scouts overseas...we're sending some of the most courageous Americans on our behalf.
I'll use Alex, a young man from our church, as an example. He's in basic training right now. He enlisted because he wants to serve and protect his country and its citizens. When he announced his decision, he didn't say "but I sure hope they keep me somewhere out of danger." None of the men and women of the Armed Forces did...they volunteer to face danger of all kinds so we don't have to. I think they'd be offended and insulted if you told them we were bringing them back to US soil so they wouldn't be in danger.
I'm proud of people like Alex who, while our country faces casualties in war overseas, volunteers because he wants to help and loves our country enough to risk his life for it. I don't see any of these peaceniks risking their lives for anything...they just sit back and enjoy the freedoms that people with real courage earn for them. Deranged, yes...but it's their right.
[ add comment ]
( 3 views ) |
permalink
|
Click a dot to rate this entry:





( 3.1 / 661 )
---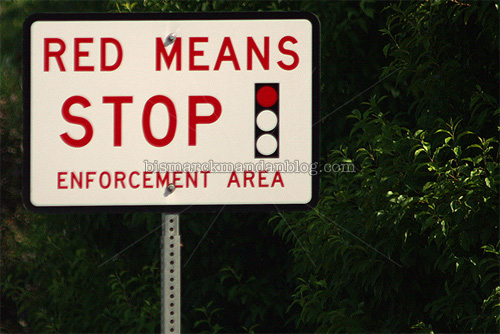 As noted in a previous post titled
"We don't know what it is, but it's up ahead"
I noted one of the funnier roadside signs I've seen in Bismarck. My travels to Fargo-Moorhead showed me another, however.
This sign speaks volumes about Fargo drivers. They seem to think that a yellow traffic light means "accelerate" and red means "REALLY accelerate!" So they have a sign like this one as a reminder.
[ add comment ]
( 4 views ) |
permalink
|
Click a dot to rate this entry:





( 2.9 / 725 )
---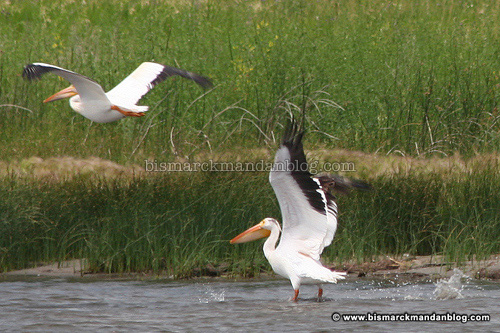 As I drove through the "Prairie Pothole" region east of Bismarck, I noticed that the water levels in a lot of these tiny lakes are VERY low. We need rain badly. I also saw a lot of these big white fellas. They were apparently in a pretty good mood, too, because normally I haven't been able to get near them with my camera. I've tried at a number of wildlife refuge areas around North Dakota.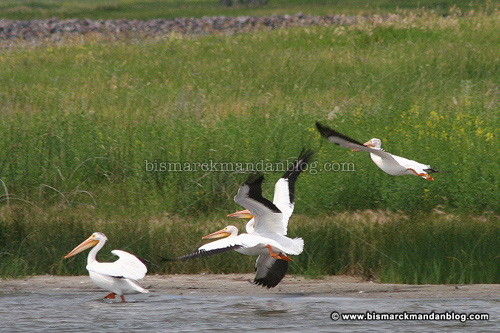 Pelicans are neat looking birds, and large ones too. These guys were hanging out in a lake just east of Medina. Monday was a pretty nice day, sunny and lightly breezy...perfect for swimming and flying, I guess. While the birds kept a reasonably safe distance, they weren't as shy or skittish as the ones I've encountered in the past. Still, I pushed my telephoto lens to the limit to get these shots of them.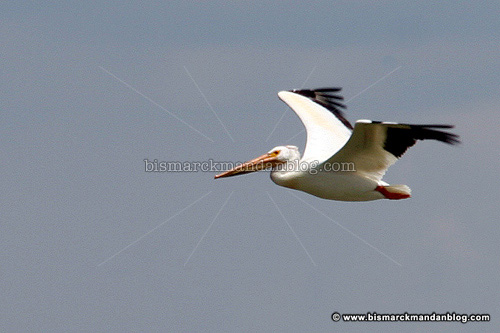 Something so big can still look pretty graceful, can't it? Notice how his feet are tucked in behind him...he's got retractable landing gear! My little lovebird, Scooter, does the same thing when he flies. It's pretty cool to see. This pelican circled around quite a bit, gliding and flapping those enormous wings. He looked very graceful...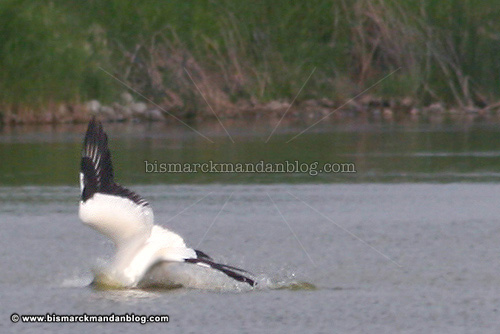 Until he augered in on the landing. That would be me if I were a pelican...as soon as a camera comes along, I eat it trying to land in calm water. "I meant to do that," as Pee Wee Herman would say. Oh well, I still think he's a remarkable creature. He was able to compose himself and glide proudly along, preening his feathers as he bobbed around in the water. And I hopped in the truck with a smile on my face, ready to continue back home to Bismarck.
[ add comment ]
( 7 views ) |
permalink
|
Click a dot to rate this entry:





( 2.9 / 629 )
---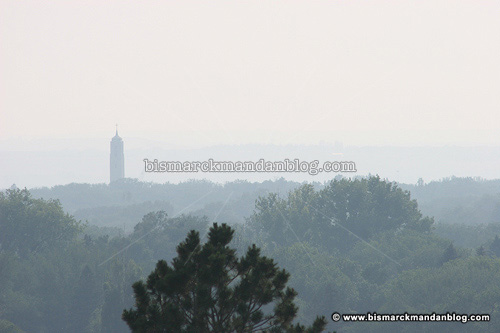 Al Gore would say it's the percentage of gas-guzzling trucks and SUVs driven by North Dakotans, but it's actually those darn Canadians. You see, this isn't smog...it's Metric smoke from the fires burning in northern Saskatchewan. The natural wind currents bring it down across the upper Midwest region of the United States, which means we're now in the smoking section for a while. If you've had headaches the past couple of days like I have, this is likely the reason why. People with allergies and asthma are going to have a fun ride.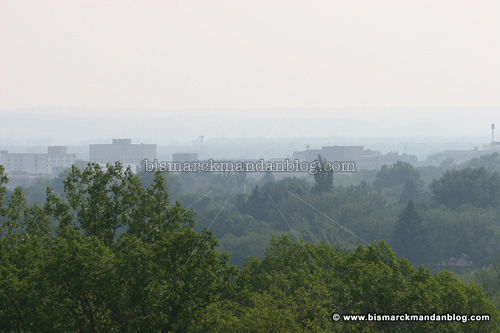 Apparently
the Canadians have their own version of FEMA
as they're not seeing a whole lot of response in the area and are crying out for more help. It can't be a lot of fun to fight a raging forest fire on the border of the Northern Territories, so I bet they've got their hands full.
In the meantime, it's going to be a bit hazy as long as the wind brings the smoke in our direction. It makes for some neat sunsets but the haze brings more problems than anything else.
[ add comment ]
( 4 views ) |
permalink
|
Click a dot to rate this entry:





( 3.1 / 642 )
---
<<First
<Back
| 304 | 305 | 306 | 307 | 308 | 309 | 310 | 311 | 312 | 313 |
Next>
Last>>