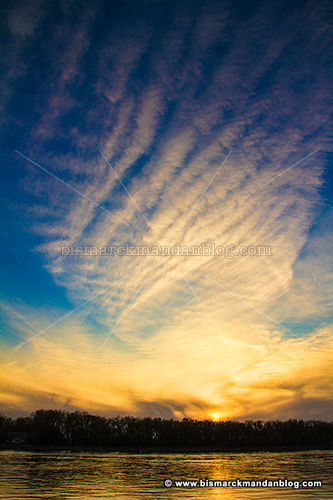 Sticking with the Double Ditch theme for another day, I thought I'd share a nice picturesque sunset from beneath the cliffs. I had taken my little towheads down to the bottom of the walking trail to stand along the shore and throw rocks in the water, which they gladly did for as long as I'd allow before going home for story time and bedtime. On the way back I noticed that the sky had some really cool ripples and that the color of the sky was very striking, so we stopped for a second to take it in before heading home for baths, stories, stuffed animals, and blankies.
[ add comment ]
( 2 views ) |
permalink
|
Click a dot to rate this entry:





( 3 / 81 )
---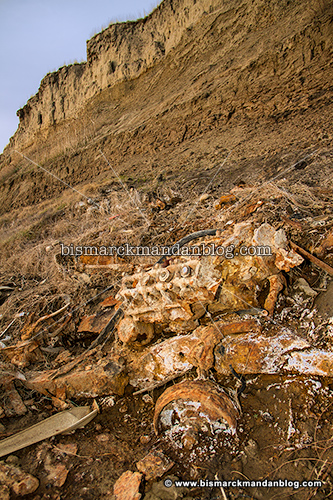 While poking around the river with my little boys a few nights ago, we found this ancient (by their standards) wreckage poking out of the dirt beneath the cliffs of Double Ditch. What kind of car this might be is indistinguishable to all but the most trained eye. It appears as though it has not only been here a long time, but was also likely buried for an extended period as well. I surmise that the dirt covering it was scoured away by the massive flows of the swelling Missouri River last year.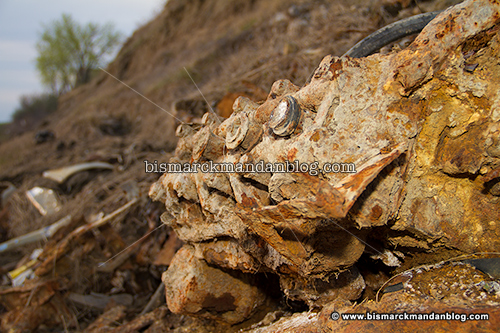 Plenty of dirt remains caked into the recesses of the engine and what remains of the frame and drivetrain of this artifact of automotive archeology. It just goes to show that nature will eventually reclaim what we leave behind.
I don't know why people of the last century seemed to think it was a valid idea to pitch their cars into the drink, but it seems that there are a lot of old cars from the 40s through 60s rusting away quietly along the river in various places. Thankfully this practice doesn't seem to happen often any more. As for the relics that do occasionally appear along the river banks and from beneath the river's surface, they're just another noteworthy and even somewhat familiar part of life along the Big Muddy.
[ add comment ]
( 1 view ) |
permalink
|
Click a dot to rate this entry:





( 3.1 / 105 )
---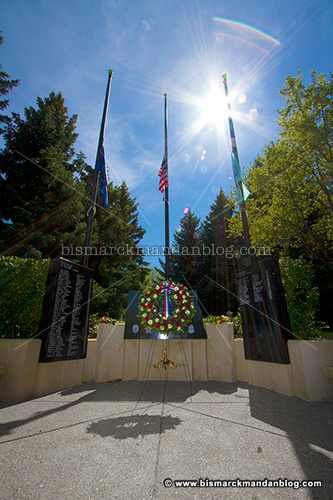 Yesterday marked the date of the Peace Officers Memorial ceremony here in North Dakota. It's held annually at the monument on the capitol grounds in honor of law enforcement officers who have perished in the line of duty. Most years it is a solemn look back at distant history...this year it was a reflection on the tragic losses of two officers within the past year. I can't say anything that hasn't already been said, so I'm just going to share a few photos and let them do the speaking.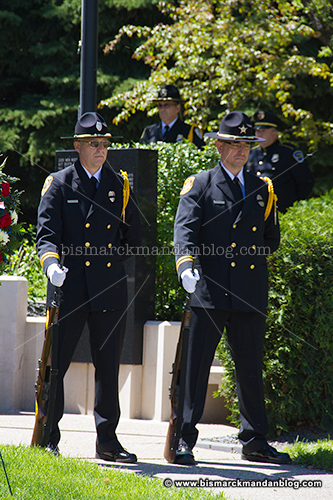 Standing at attention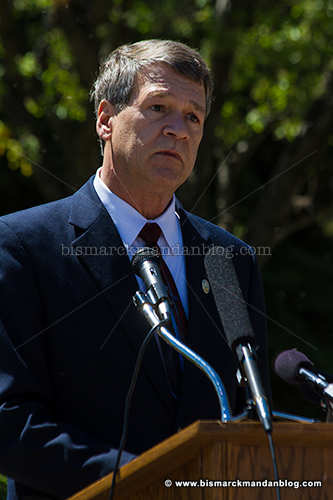 Heartfelt thanks and condolences by Attorney General Stenehjem and others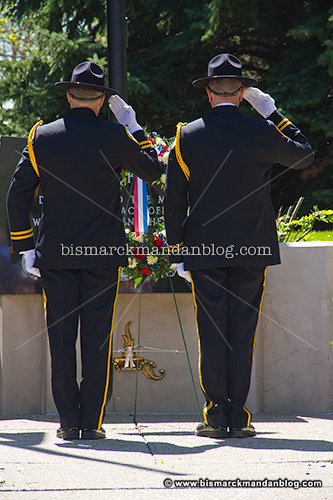 Wreath presentation before the memorial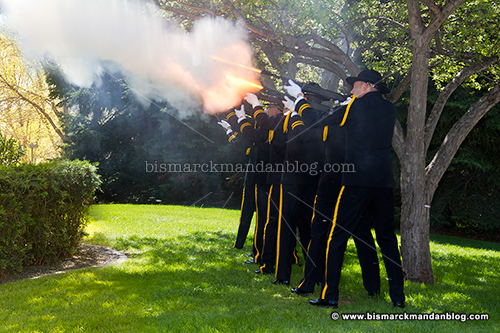 21 gun salute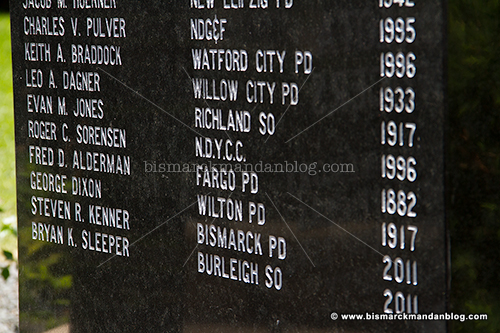 Two names added
I'll gladly admit that I'm a tireless cheerleader for law enforcement personnel here and all across our great nation. Some of them give it all in the line of duty, and this memorial honors that sacrifice. The national memorial ceremony is next week, and since there are two North Dakota families traveling to attend that ceremony, the North Dakota commemoration was moved to this week. Next week is Law Enforcement Week here in North Dakota and all across the USA, so please take any opportunity you get to thank them for their service on our behalf.
[ add comment ]
( 5 views ) |
permalink
|
Click a dot to rate this entry:





( 3 / 152 )
---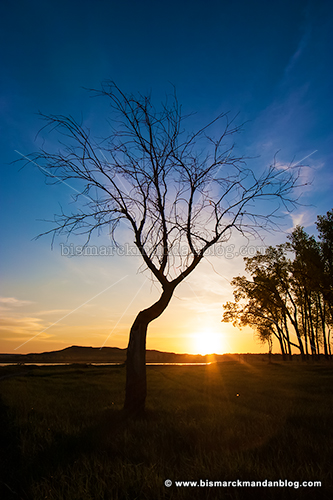 Poking around by the river bottoms a while back brought me to the right place at the right time, which I think is the most important component of a good photo. The sky was cooperating, the tree held a good pose, and it was just a fantastic moment to be out exploring with my camera.
After all the gloomy skies we've had lately, I'm ready for some sunshine...how about you?
[ add comment ]
( 5 views ) |
permalink
|
Click a dot to rate this entry:





( 3 / 88 )
---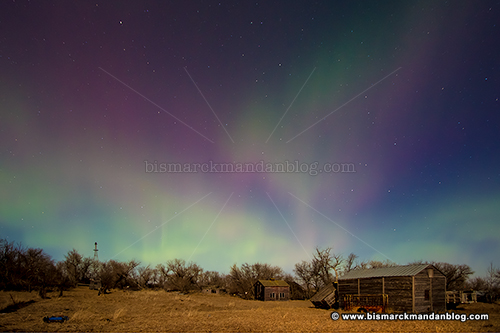 The skies have been relatively quiet for a while now, and I'm getting anxious for another chance to go out and capture the night sky in all its glory. There was an opportunity to get the moon at a very close proximity as it traversed the horizon, but clouds and wind shot that down all weekend. I was perusing some of the year's previous shots while updating my shot log and got one from this old abandoned farmstead during one of the last major solar storms.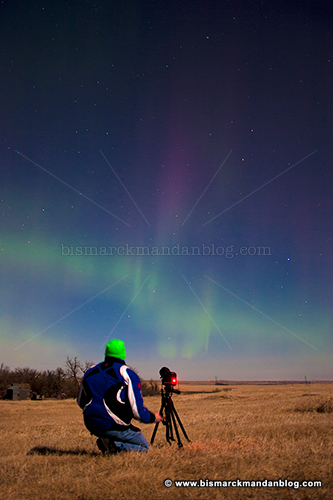 A couple of pals and I worked that location for all it was worth, since it offered such an amazing assortment of foreground objects at which to point our cameras. Tractors, windmills, old buildings, stripped cars...you name it, we had it. That includes a skunk which decided to make an appearance at one point, but it scampered back into hiding when it realized it had company.
All of my best Northern Lights and other astrophotography shots can be viewed by clicking on the "
Skies and Stars
" category on the lower right panel of this page or by simply
clicking here
.
[ add comment ]
( 5 views ) |
permalink
|
Click a dot to rate this entry:





( 3 / 92 )
---
<<First
<Back
| 29 | 30 | 31 | 32 | 33 | 34 | 35 | 36 | 37 | 38 |
Next>
Last>>