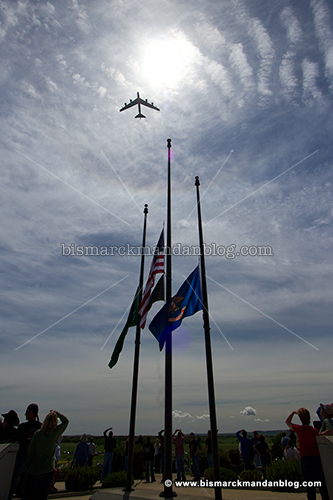 I was able to attend the Memorial Day services at the Veterans' Memorial Cemetery south of Mandan today. It's always moving to take a special day to honor those who serve on our behalf, although naturally we should be so mindful all year long.
I have a lot of photos of course, and they'll likely trickle in over the next several days. Due to time constraints I'm going to simply post some observations.
Governor Hoeven received enthusiastic applause and even cheers. Senator Conrad and Representative Pomeroy received courteous applause, each time after a short pause. It was as if people were waiting for someone else to start. Someone's horn playing "Dixie" went off as Congressman Pomeroy came to the podium, which I thought was inappropriate. The Standing Rock color guard performed a drum circle after the official ceremony ended. Someone started playing music over the speakers, two of which are near the memorial where the drum circle was performing. I unplugged the one nearest me; these men deserve our respect.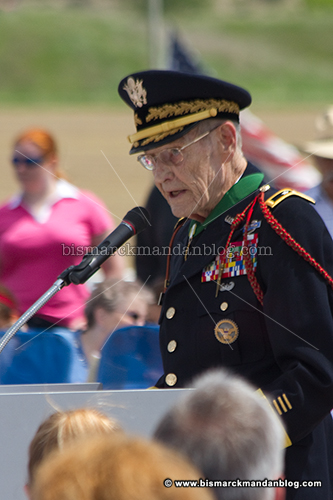 The most moving words I heard were from today's amazing keynote speaker, Major General (Retired) C. Emerson Murry: "To be born free is an accident. To live free is a responsibility. To die free is an absolute obligation."
The day itself was wonderful weather-wise, a refreshing break from the cloudy and cool Memorial Days of the recent past. There was an overwhelming turnout, of course, which is typical for our area. The spirit of the place was very respectful and truly part of what makes America great.
On a photography note, I also got to play around a little with the video function of my new camera. I'll post those results too, as time allows. Time has not allowed much lately, as I've been busier at home and work than any May I can remember in a long, long time.
[ 1 comment ]
( 16 views ) |
permalink
|
Click a dot to rate this entry:





( 3 / 300 )
---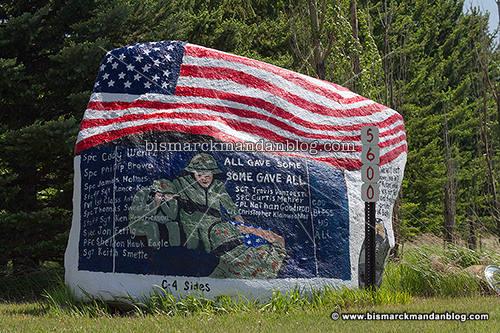 This enormous rock, about five feet tall and parked in a very remote location outside of Bismarck, has more patriotism than the American left. The owner of the land on which it sits, I presume, has adorned it with an American flag, the names of some North Dakota soldiers killed in the global war on terrorism, and the following quote from our President:
"We will not waver; we will not falter; and we will not fail. Peace and freedom will prevail." George W Bush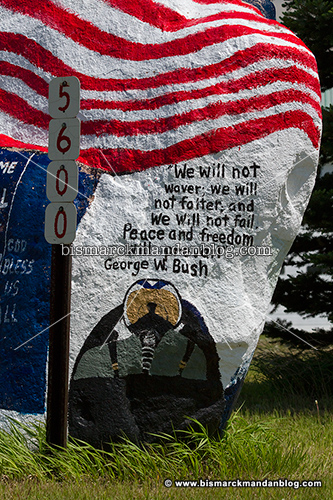 It's just a shame that very few people will ever see this rock; I stumbled upon it by accident while out getting the truck dirty. Can you imagine the heartfelt pride in our soldiers the artist must have felt as they painted this tribute to their sacrifice? It's very moving and I had to tell you about it. At the bottom of this post I'll give you directions on how to find it; it's not that hard, really.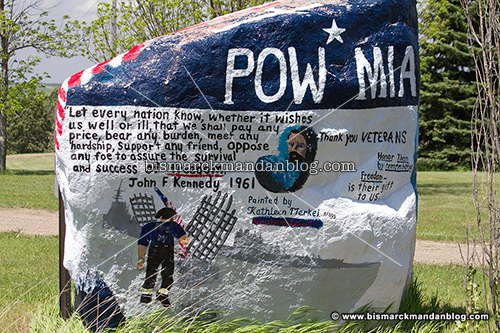 On the other hand, this reminded me of the cowardly Earl Pomeroy, the hapless US Representative from our fair state. While I and several hundred other motorcyclists stood guard outside the funeral of a fallen soldier, he came by to attend the funeral and offer waves and salutes. This happened
less than 24 hours
after he voted
against
House Resolution 861
, titled "Declaring that the United States will prevail in the Global War on Terror, the struggle to protect freedom from the terrorist adversary."
This is so typical of the liberal Democrat mantra of "I support the troops, but I don't support the mission." Have you seen the text of the resolution that Earl voted against? If not, click the link above. But first let me point out that this resolution
was
a show of support: it didn't promise funding, it didn't have any policy riders in it, it was simply a declaration that Americans are doing a good work and that they'll succeed. Earl disagreed.
Here's some of the text. I left out all the "whereas" clauses because, while they're part of the text, they are not the meat of the resolution:
Now, therefore, be it Resolved, That the House of Representatives--

(1) honors all those Americans who have taken an active part in the Global War on Terror, whether as first responders protecting the homeland, as servicemembers overseas, as diplomats and intelligence officers, or in other roles;

(2) honors the sacrifices of the United States Armed Forces and of partners in the Coalition, and of the Iraqis and Afghans who fight alongside them, especially those who have fallen or been wounded in the struggle, and honors as well the sacrifices of their families and of others who risk their lives to help defend freedom;

(3) declares that it is not in the national security interest of the United States to set an arbitrary date for the withdrawal or redeployment of United States Armed Forces from Iraq;

(4) declares that the United States is committed to the completion of the mission to create a sovereign, free, secure, and united Iraq;

(5) congratulates Prime Minister Nuri Al-Maliki and the Iraqi people on the courage they have shown by participating, in increasing millions, in the elections of 2005 and on the formation of the first government under Iraq's new constitution;

(6) calls upon the nations of the world to promote global peace and security by standing with the United States and other Coalition partners to support the efforts of the Iraqi and Afghan people to live in freedom; and

(7) declares that the United States will prevail in the Global War on Terror, the noble struggle to protect freedom from the terrorist adversary.
What was so objectionable to cowardly Earl that he couldn't vote YEA on this? Did he object to a "Whereas" in there somewhere? The only one that should count is this one:
Whereas the United States and Coalition servicemembers and civilians and the members of the Iraqi security forces and those assisting them who have made the ultimate sacrifice or been wounded in Iraq have done so nobly, in the cause of freedom;
That clause alone is worthy of a YEA vote. Instead, spineless Earl the Pearl voted along with such notorious wackbags as Nancy Pelosi and Charles Rangel, one of the guys who keeps saying our soldiers are too dumb or poor to choose other career options. Then he has the nerve to show up at the funeral of a fallen soldier the very next day, putting on his North Dakota face on the flight back, and presumes (correctly) that it will go largely unnoticed.
"Representatives" like Earl Pomeroy do not represent North Dakota or the majority of Americans. Some of them, like our beloved Representative, are backstabbers when it comes to our soldiers at home. They make all the right somber appearances here in North Dakota, then run back off to Washington to be who they really are. I'm glad people like the person who painted this rock are up to the task of supporting our fighting men and women worldwide. If I was a member of Travis Van Zoest's family the day of the funeral, I'd have denied the two-faced Earl Pomeroy entry into the ceremony...at least until he explained to the hundreds of
real
patriots outside why he voted the way he did.
The official roll call of the vote can be found here.
Pomeroy's name, quite appropriately, appears right next to that of Nancy Pelosi.
The full text of House Resolution 861 can be found here.
I know right now the struggling Earl Pomeroy is running
TV ads claiming he's such a friend of the veterans
. If that's the case, perhaps he'd like to answer a simple question: Why couldn't he break Democrat party ranks even
ONCE
and cast a symbolic vote in favor of soldiers representing North Dakota and the USA as a whole?
To visit this rock, something that might be especially appropriate this Memorial Day, simply take Expressway north from where it intersects with Century Avenue. When you reach 57th Avenue, take a right and head east. It's at the end of the road a short while later with a little cul de sac where you can park and/or turn around. Here's a little map I put together:

View Bismarck-Mandan Blog in a larger map
On a side note, I'm messing around a little bit with Google Maps and may post some favorite photo spots (or simply points of interest around Bismarck-Mandan) from my GPS as time allows. Happy Memorial Day! Please thank as many soldiers, veterans, and their families as you can this weekend (and all year 'round). Stand with them in support for their mission; your United States Congressman chose not to do so.
[ 6 comments ]
( 33 views ) |
permalink
|
Click a dot to rate this entry:





( 3.1 / 331 )
---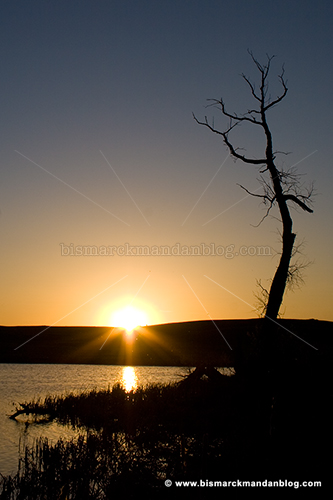 Finally, some nice sunset weather has set in - although the weekend is still forecast to be cloudy and/or cold. I did, however, get the opportunity to go out and play at sunset with my camera a few days ago and nab this gorgeous sunset photo just outside of town. As usual, my faithful Canon 20D brought back some beautiful pictures. But this may be one of my last sunset photos with it.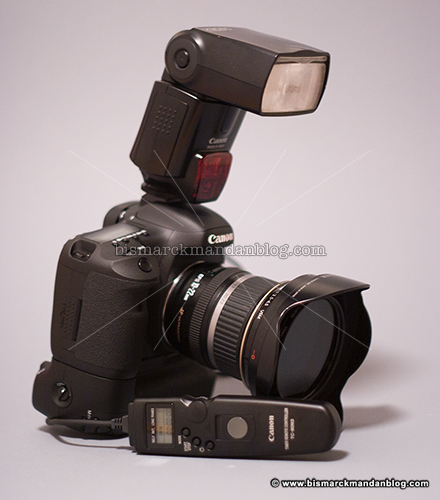 Remember my posting a while back about test-driving a Canon 7D digital camera? Well, that has resulted in the purchase of a new "big dog" which I've kitted out pretty nicely. I'm especially well set for astrophotography; however, I seem to have single-handedly extinguished all sunspots from the sun (and a lot of aurora activity with it) when I decided to get into digital photography. Hopefully that comes back soon.
So I've got a new primary imaging tool. Does that mean I'm abandoning my faithful Canon 20D, a camera which has provided me with over 55,000 photos and not once given me any hassles or failed? Nope. Instead, it means I now roam the countryside with TWO cameras. I look forward to seeing what kind of images I can bring home now.
[ 1 comment ]
( 23 views ) |
permalink
|
Click a dot to rate this entry:





( 3 / 296 )
---
Thanks to the guys at /film for pointing this out
, because it's actually a pretty cool little "viral marketing" campaign for an upcoming movie. This one just happens to feature North Dakota. It all started with this movie teaser trailer:
At the end of the trailer there's a flicker of film leader that someone took still images of to get the words "SCARIEST THING I EVER SAW." From there they decided to visit the website "
scariestthingieversaw.com
." On that website was a simulator for a PDP-11, an old mainframe computer like the ones I used to get in trouble on in the 80s. It displayed a timer, and once the timer counted down certain features were enabled. One of those was to print these two images: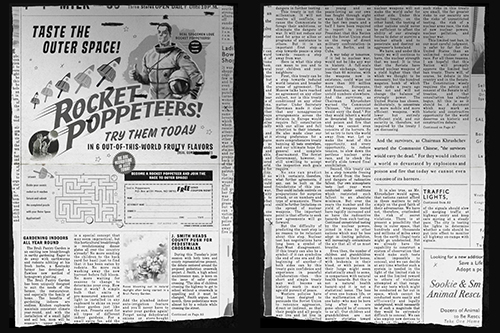 Click to view/download: Image 1 - Image 2
When you print them out, they appear to be newspaper pages from the 1940s that have some hidden features. One of the not-so-hidden features is an ad for Rocket Poppeteers, a popsicle-like treat. JJ Abrams is known to put fictitious foods in his movies and mention them by name, but this one's getting some prominent treatment. (Yes, there's a
rocketpoppeteers.com
website, but it doesn't do anything...yet.) The ad contains a form to mail in to "Become a Rocket Poppeteer and Join the Race to Outer Space!" Where do you send it? Minot, North Dakota.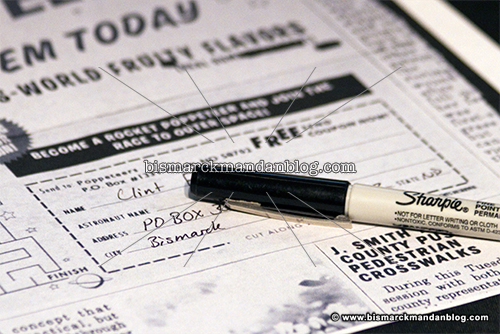 Naturally, being the curious sort, I filled out one of these forms to see what might happen. So far, nothing has been mailed back to me.
No MIBs have showed up at my house
, even ones posing as census workers. If that changes, I'll let you know.
Why does Minot tie into this? Well, the teaser trailer seems to center around Area 51 and UFOs & aliens. UFO believers have reports of UFO activity around United States nuclear weapons facilities going back for decades, so it makes sense that the movie would include a reference to North Dakota...a somewhat remote, maybe even mysterious to some, place with lots of nukes. The X-Files featured an episode where a UFO was hidden in a hollowed-out nuclear missile silo in North Dakota, so why not take the idea to feature film?
Being familiar with central North Dakota, the presence of Air Force bases and nuclear weapons in our great state, and the whole UFO conspiracy theory subculture to a degree, I got a kick out of this viral campaign. While I'm not one of the UFO conspiracy theorists, I find them entertaining to watch. It'll be interesting to see where and how far this movie takes this campaign and how heavily it features our great state.
[ 1 comment ]
( 28 views ) |
permalink
|
Click a dot to rate this entry:





( 3 / 327 )
---
"No one more sincerely wishes the spread of information among mankind than I do, and none has greater confidence in its effect towards supporting free and good government."
--Thomas Jefferson
"...information becomes a distraction, a form of entertainment, rather than a tool of empowerment, rather than a means of emancipation. So all of this is not only putting pressure on you; it's putting new pressure on our country and our democracy."
--Barack Hussein Obama
[ 4 comments ]
( 45 views ) |
permalink
|
Click a dot to rate this entry:





( 3 / 291 )
---
<<First
<Back
| 101 | 102 | 103 | 104 | 105 | 106 | 107 | 108 | 109 | 110 |
Next>
Last>>