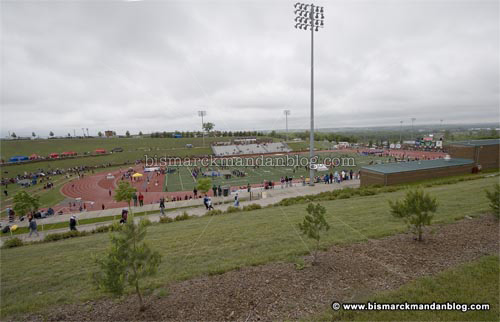 One normally thinks of track & field as a warm weather activity. Not this weekend, folks! My fingers were getting pretty stiff just taking the picture. The east end of the Bowl was lined with ez-ups where people were trying to warm up, but there were tons of fans on hand.
Like many sports, I didn't discover how much fun they were until late in high school. Nevertheless, I did do pretty darn well at the 800, 1600, 3200, and 3200 relay my senior year. In Mandan we would start our season by running laps around the hallway surrounding the gym, then the distance runners would run laps around the city. I miss those days. Having torn my knee in half (twice) in various motorcycle and mountain bike accidents, I don't do long distance running anymore. I still can, but it's best to keep the "wear and tear due to mileage" down, if you know what I mean.
[ add comment ]
( 5 views ) |
permalink
|
Click a dot to rate this entry:





( 3.1 / 465 )
---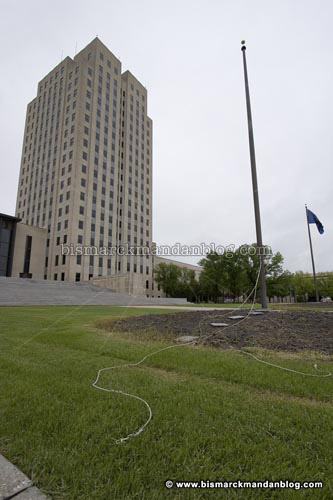 Memorial Day Weekend has to be the worst. While driving past the capitol, I couldn't help but notice the absence of the United States Flag. Closer inspection showed that the line running up the flag pole was no longer attached to the top, and was instead lying on the grass below. There was no sign of the flag anywhere, so I guess the problem had been discovered.
But where do you get a guy to do flagpole repair on a holiday weekend? Good question. If I had a cherry picker I'd rig something up, but that would probably result in my arrest. I would hope that someone would go to whatever lengths necessary to get Old Glory back where it belongs, especially in time for Memorial Day. You've got 48 hours, folks...let's make it happen!
By the way, it didn't look to me like the flag pole had been sabotaged or vandalized. My guess was that the recent high winds probably broke something up top that was near failure and finally broke. Maybe the North Dakota Peace Coalition was trying to run a white flag up the pole and broke it! I don't know. In any case, I just hope they get it fixed. It's really embarassing to have the flag missing from the state capitol during the Memorial Day holiday.
[ 1 comment ]
( 42 views ) |
permalink
|
Click a dot to rate this entry:





( 2.8 / 477 )
---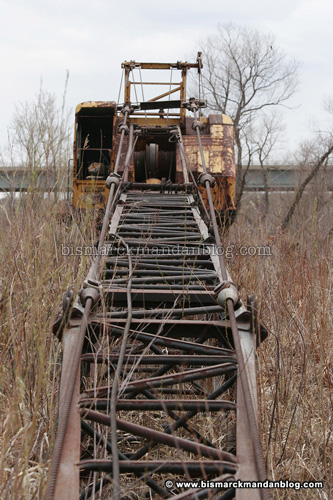 A little song reference for you there. While I was out taking photos of large birds and the May cover photo of the Dakota Beacon (and collecting ticks) I came upon this wreckage. It's visible from the Expressway Bridge as well as Fox Island Road, and looks pretty old. I doubt it had anything to do with the construction of the bridge, but perhaps it was at one time involved in the rock wall built to control flooding. In any case, it's rotting away silently in the grass along the Missouri River. Whoever owns it should probably take the batteries out and other caustic pollutants, but it looks like it's become part of the habitat otherwise.
[ 3 comments ]
( 31 views ) |
permalink
|
Click a dot to rate this entry:





( 3 / 476 )
---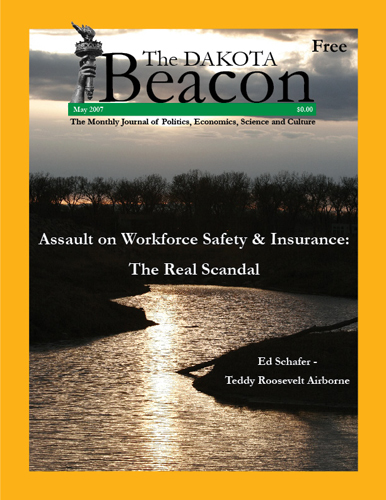 It's that time again: a fresh, new Dakota Beacon is available across North Dakota! Available at Barnes & Noble, many convenience store counters, and dispensers around the city, the Dakota Beacon features local Bismarck-Mandan authors as well as contributors from our region. I particularly like the cover photos as of late :-)
I have a LOT of readers who are former North Dakota residents, and there's a section in the Beacon for you. In fact, it's often my favorite section: R. Schmid's "Looking Back from the Left Coast" features tidbits from around North Dakota, many of which you won't find anywhere else. How does he do it? I don't know, but he sure has his ear to the ground. Local news outlets could learn a lot from Mr. Schmid!
Another of my favorites is the back cover automotive stories by local car buff and former North Dakota governor, Ed Schafer. This month he highlights former President Theodore Roosevelt's 1910 flight in a Wright Model B airplane. Last month talked about a special edition Chevrolet designed solely to win NASCAR races! That was, of course, back when they actually raced real "stock" cars in NASCAR.
A third series that I look forward to is Tessa Sandstrom's articles highlighting local landmark buildings. It would be a blast to perform the research she puts into these articles, but it's also a joy to read the results of her work. She doesn't have an article this month, but I suspect that's because of the exhaustive coverage of the WSI scandal. I expect her to reappear in the June issue of the Beacon.
My mom originally discovered the Beacon and gave me a copy with her recommendation to give it a read. I was hooked immediately and subscribed shortly thereafter. In fact, this week I'm renewing my subscription for another year.
I didn't find subscription information on the website at
www.dakotabeacon.com
, so I'll post it here. The cost is $20 for three free introductory issues and a one year subscription (twelve issues). Inquiries can be sent to:
Email: editor at dakotabeacon.com
Mail: PO Box 2544, Bismarck ND 58502
[ 3 comments ]
( 72 views ) |
permalink
|
Click a dot to rate this entry:





( 3 / 346 )
---

I've become a little nervous in regard to severe weather these days. The reason: I just had new siding and shingles put on my house, and so has my next door neighbor! That's just asking for a good pounding from those nasty North Dakota hail stones. Thankfully, all we got last night was a nice soaking rain.
After I got off work Monday, I noticed these clouds boiling up east of town. When clouds get that big, you know something's brewing. When they start travelling northwest in North Dakota, that means there's REALLY something on the way. It was, in the form of a long stretch of thunderstorm activity reaching from South Dakota nearly to Canada. There were even a few tornado and hail photos on Kevin's weather last night from the Beulah area. Check them out on KFYR's
Sky Spies page.
I had just spread fertilizer/weed killer on my lawn, so hopefully this will help me rescue what's left of it after last year's scorching summer!
[ 1 comment ]
( 26 views ) |
permalink
|
Click a dot to rate this entry:





( 3.1 / 332 )
---
<<First
<Back
| 239 | 240 | 241 | 242 | 243 | 244 | 245 | 246 | 247 | 248 |
Next>
Last>>