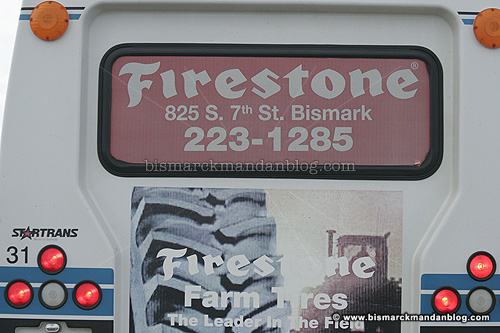 There's a TON of construction going on out there these days, much of it along my daily route. So what does one do while stuck at a standstill because some dork wants to turn left in the middle of a construction zone? Pull out the camera and take a photo of the misspelling of "Bismarck" in the window of the
Bis-Man Transit
bus in front of me, of course!
I'm pretty sure Bis-Man Transit doesn't make the window stickers, and neither do most of their advertisers. With that in mind, I'm sure that both BMT and Firestone employees know how to spell Bismarck. As far as the ad agency or printer who made this decal...well, they need to go back to school!
This sign has been on the bus for a long time, as its Firestone Red has faded to a faint communist pink. I wonder if anyone's told Firestone that their ad has Bismarck spelled wrong, and that they should get their advertising account credited for the blunder? I mean, if I was paying for someone to drive around town with my business name on their bus, I wouldn't want to be associated with spelling my own city wrong. What if someone thinks it's my fault and doesn't visit my business as a result? It's a stretch, but people are wacky that way. I would want my money back, or at least some free ads (with the spelling corrected, of course).
[ 2 comments ]
( 24 views ) |
permalink
|
Click a dot to rate this entry:





( 3 / 315 )
---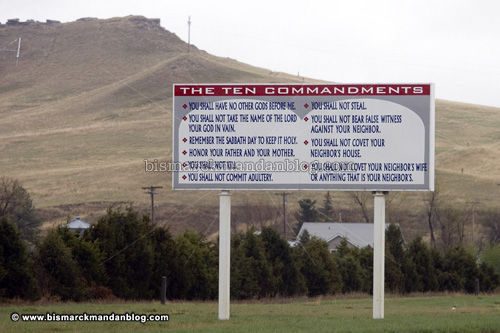 Although I've only had a few opportunities to pass through Alexander, for some reason it remains one of my favorite small towns in North Dakota. Working for the state DOT I've often been able to stay in small towns and go walkabout to explore what they have to offer. In fact, my experiences working around the state for the DOT's Planning Division are what gave me my love of North Dakota in the first place...how's that for a formative experience?
One of my favorite qualities of Alexander these days is the Ten Commandments sign posted on the edge of town. I don't know who posted it, and I don't know whose property it's on. I just know that I like it. My travels for work had me working a rare Saturday gig this weekend, and also sent me up Highway 85. Thus I had the chance to pull over for a second and get a photo of this sign. I think more communities should have one of these!
On a side note, the western part of the state got a LOT of rain yesterday. I was disappointed to hear that Bismarck did not get the same. As we worked our way through western North Dakota and northward, the rain even threatened our visibility at times...and the North Unit of the TR Park was fogged in! That's an unusual Badlands photo. I only got one shot due to time constraints, and didn't even get out of the car. But it still turned out pretty cool.
[ 3 comments ]
( 61 views ) |
permalink
|
Click a dot to rate this entry:





( 3 / 384 )
---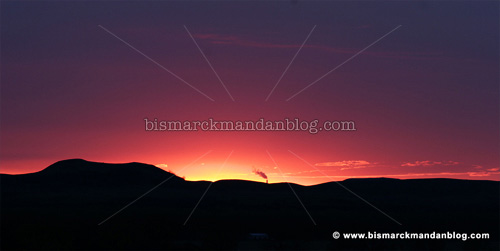 The sunset from Double Ditch on Friday night actually wasn't very remarkable. As my family and I prepared to leave, however, we caught a hint of pink in the clouds to the east. The sun was up to something on the horizon, past the clouds that were obscuring our view! I turned north instead of south, to see if we could get a good view, when I noticed this sunset on the western horizon.
These are bluffs just north of Double ditch, with a little bit of a stack from Center to give perspective. I saw the color start to develop just over the horizon, set the tripod and got the camera ready, and then the deep, brilliant reds began to show. We took PJ out for his first sunset with mommy and daddy Friday night, and the skies did not disappoint us! We just had to work a little harder to see it.
[ 1 comment ]
( 17 views ) |
permalink
|
Click a dot to rate this entry:





( 3 / 241 )
---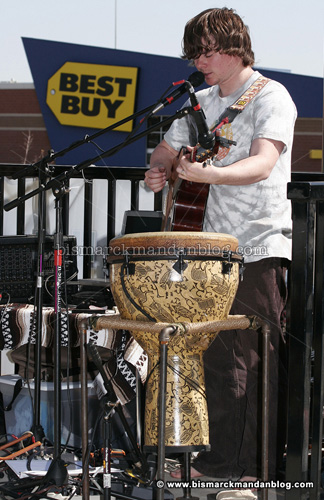 Weather permitting, of course - Luke Graner will perform at 5:30 on Friday, May 4th at Bismarck State College. While I haven't found many specific details about the day, I did find that this is part of a "Rock the Lawn" day at BSC, starting at 11:00 am. If you're a college student with a light Friday class load or a hippie who lives in a van down by the river, you've got a place to spend an afternoon listening to various performers!
I just checked the forecast for tomorrow, and am hoping it's wrong:
FRIDAY...MOSTLY CLOUDY WITH A 50 PERCENT CHANCE OF SHOWERS.  BREEZY. 
HIGHS IN THE MID 60S. SOUTH WINDS 15 TO 25 MPH SHIFTING TO THE
SOUTHEAST 10 TO 15 MPH LATE IN THE AFTERNOON.
By the way, I know Luke has a pretty good local following...y'all should check out the Friday edition of the Bismarck Tribune, because he'll be featured in the Dakota section.
I had to use this picture of Luke because the Best Buy sign makes him look so corporate. He was invited to play at the new Starbuck's on west Century Avenue last week, and will have regular Tuesday performances at Starbuck's (I'm not sure which location) this summer. Corporate Sellout Tour? I don't think so. More like a talented one-man band using every venue he can get to share the music. Now if they'd just hurry up and start selling that Orange Cream Frapuccino...
[ 1 comment ]
( 20 views ) |
permalink
|
Click a dot to rate this entry:





( 2.8 / 408 )
---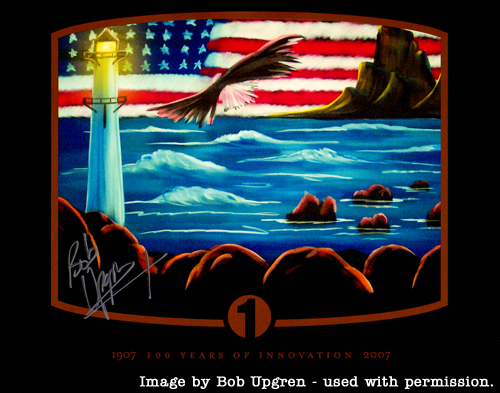 I don't remember ever hearing a speaker quite like the man I heard today. I had the opportunity to videotape an appearance of
Bob Upgren
at the Belle Mehus this afternoon, and was really moved by his presentation. Apparently I must live under a rock, because a lot of people knew of him when I was still in the dark. Bob incorporates chalk drawing into his presentation, which is simply phenomenal.
I'd describe Mr. Upgren as more of an inspirational speaker than a motivational one; his message today had a lot more meat to it than anything I've heard from other speakers. It was especially relevant because he's from here, which in my book goes a long way. His message of serving others as a means to success rings true; I wish more people would consider this. It's the kind of wisdom we all need a dose of now and then.
I'm not a basketball fan, but those of you who are would probably remember Bob as a standout basketball star (All American, in fact) and from his
Cross Training
Christian basketball camps. I can see how his enthusiasm would be an asset on the court!
It's hard to believe I didn't know about Bob Upgren despite my love of Bismarck-Mandan and all things local. It just goes to show that our small cities are bigger than we think, and that there are plenty of cool things to learn and exceptional people to meet right here at home. If you get the chance to see Bob Upgren speak, take it!
[ 3 comments ]
( 84 views ) |
permalink
|
Click a dot to rate this entry:





( 3 / 286 )
---
<<First
<Back
| 242 | 243 | 244 | 245 | 246 | 247 | 248 | 249 | 250 | 251 |
Next>
Last>>