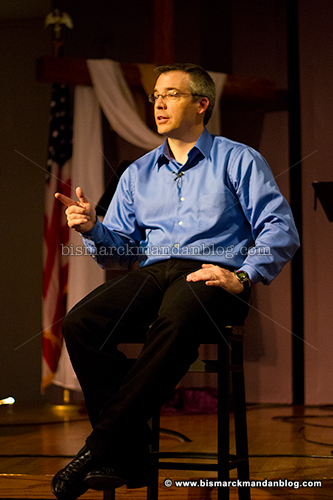 I was thrilled when I heard that
Rick Green
was coming to
New Song Church
last weekend, because I'm a huge fan of his work with
Wallbuilders
. This was an afternoon presentation on the Constitution and the Christianity of the founders of our nation, and the information presented was extremely eye-opening and educational.
If you haven't visted the
Wallbuilders website
, you simply must do so. And even better is the daily half-hour
Wallbuilders Live podcast
. With a tagline like "The intersection of faith and politics" this show is enlightening and puts current issues in the context of the country's founding documents and the faith of those responsible for them.
There was plenty of Q&A which ranged from current affairs and the upcoming elections to the original intent of the founders and some very interesting technical "nuts & bolts" about the Constitution (including some common misconceptions), the role of the courts, and the powers of the branches of the federal government. If this sounds like dry stuff to you, you're mistaken.
I found out about this at the last minute or I'd have posted more about it earlier, giving people time to call New Song and RSVP to attend. The cost was $10 and pizza was provided (yum). The next time Rick comes to town, I'll make sure to help New Song promote his visit and encourage you to come! In the mean time, check out
Rick's website
and
the Wallbuilders Live podcast
.
[ add comment ]
( 23 views ) |
permalink
|
Click a dot to rate this entry:





( 3.1 / 173 )
---
BOMBSHELL: United Airlines announces termination of Bismarck air service (Hint: this was posted on April 1st)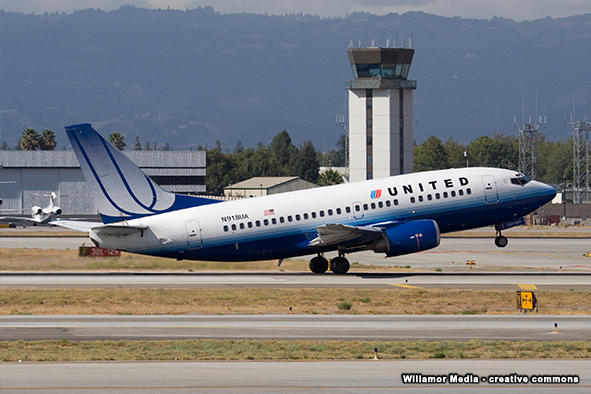 In a shocking move that will send central North Dakota air travelers scrambling for replacement travel plans, United Airlines announced today that they will be terminating their airline service to/from Bismarck Airport. While air travel to and from the Bismarck-Mandan area has picked up sharply, the reason for this rapid departure is simple: Bismarck's decision to subsidize United's competition. Delta Airlines has not yet returned inquiries for comment.
In February of this year, the Bismarck City Commission offered $200,000 in what amount to "break-even guarantees" to Frontier Airlines, a low-cost air carrier, in order to lure them to Bismarck as an additional provider. The Bismarck Tribune reports that in addition to the $200,000 guarantee the airline has also been offered "$50,000 in free marketing of its services for one year and certain fees will be waived at the airport." It reports that the incentives have been given to "other
new
air carriers."
(emphasis added)
Al Flaweigh, spokesman for United Airlines, put it plainly: "United Airlines has been faithfully providing air service without interruption to the Bismarck Airport for years. Now the city is going to foot the bill for our competitors to come in and inevitably take business away from United.
We struggle to make a profit in this area, and now the City of Bismarck has conspired to pay our competition to make it harder to do business here? We don't need this. Rather than struggle to swim upstream against the flow of money from the City of Bismarck and the Bismarck-Mandan Chamber, we will simply devote our resources to a market that's more friendly to open competition and won't pay other airlines to lure away potential United customers."
The issue is actually a constitutional one. According to constitutional scholar Reed DeLaw, Article X Section 18 of the state constitution is clear: "...neither the state nor any political subdivision thereof shall otherwise loan or give its credit or make donations to or in aid of any individual, association or corporation". This apparently hasn't presented an obstacle to the City of Bismarck, however.
A noteworthy analogy is the case of a "mom & pop" store in the Kirkwood Mall. Suppose that suddenly store owners Mom & Pop McGillicuddy open the Bismarck Tribune one day and find out that the City of Bismarck is going to promise Corporation X $200,000 in guarantees to move into the mall right next door to McGillicuddy's, give them free advertising, and discount their rent and utilities. Suddenly, Mom and Pop not only have a new competitor in town, but their own tax dollars (and those of their family, friends, neighbors...) are being
given
to that very same competition.
DeLaw simplified it even further: "Should Ruby Tuesday's invite Chili's to build next door, help them do it, write them a check every month, and call it 'economic development'? They could bypass the tax 'middleman' and do what the City Commission would already be requiring them to do indirectly."
Ironically, Frontier Airlines pulled out of Fargo in 2010 after only two years of being "touted as a low-cost carrier that would bring down fares at Fargo's Hector International Airport" (Associated Press, 2/5/10). Flaweigh surmised, "Once that happens in Bismarck, maybe the City of Bismarck will consider offering United a 'break-even guarantee' and some other concessions as they are currently offering our competitors. They can call it a 'no-harm, no foul' I suppose, or even an '
April Fools
' if you will."
Read that last line again.
[ add comment ]
( 18 views ) |
permalink
|
Click a dot to rate this entry:





( 3 / 182 )
---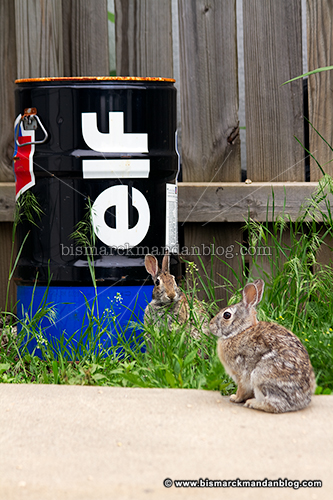 I've always been of the opinion that an empty (or mostly-empty) fuel tank or can is a far greater hazard than a full one, so it was time to set this fuel can outside the Garage Majal. I can't say with any certainty that it's responsible for the bunnies hanging out nearby, but it probably can't hurt.
This stuff smells so AMAZING in the tank or after it exits your exhaust pipe, I've always described it as high speed perfume. Spendy, too - I got this drum from the factory Kawasaki team but I don't know how to import it. I'm of the understanding that at the time it was about several times as expensive as pump gas or even the Turbo Blue race fuel I buy here in town at Racer Performance Center. I guess the local rabbits have distinguished noses!
As you can tell from the lush green foliage, this photo was from a couple of years ago and I just ran across it while looking for something else. I was able to get the can back in the garage before any little hasenpfeffers were able to huff or siphon it. Sadly, I no longer have need for race fuel, although I wouldn't mind roadracing again someday... *sigh*
[ add comment ]
( 11 views ) |
permalink
|
Click a dot to rate this entry:





( 2.9 / 239 )
---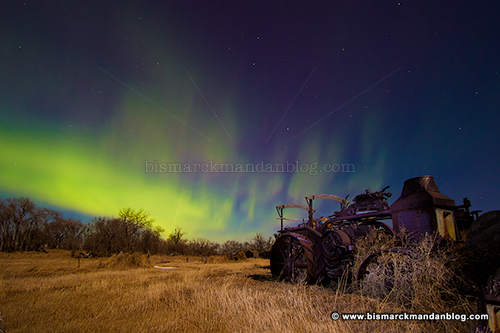 With permission, I was able to roam an amazing old farmstead for the last huge solar blast, shooting time lapses and stills until nearly four in the morning. I didn't even get to explore every corner of the yard, but I did get an amazing variety of shots...even though I've never seen the place in the daylight to scout it out! For instance, the shot above shows a stoic Rumely Oil Pull kerosene-burning tractor...facing south, it appears oblivious to the amazing lightshow taking place behind it.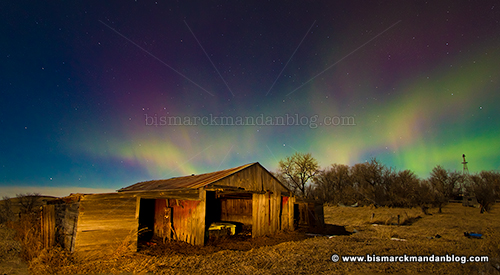 This rustic garage is home to a few noteworthy artifacts, the most obvious being the 1971-1973 Mercury Cougar peeking around the corner at me. Once again, with the rainbow colored sheets of light shooting across the northern sky, this is a bad time to be stuck on blocks inside the garage.
I'll continue to roll out Northern Lights photos from time to time, but hopefully I'll be able to acquire even more in the near future! We're approaching the peak of the solar maximum, so I expect this to be a very interesting summer. With any luck we'll have plenty of opportunities for photos like these!
[ add comment ]
( 11 views ) |
permalink
|
Click a dot to rate this entry:





( 3 / 220 )
---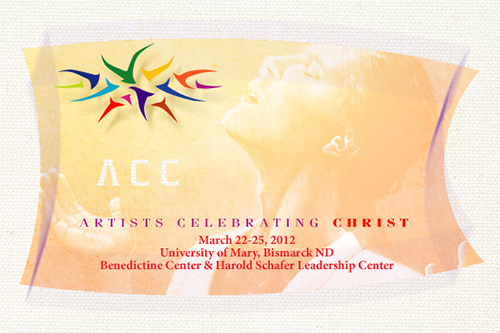 If you'd like to see a moving collection of Christian artwork, this weekend provides ample opportunity. The ACC (Artists Celebrating Christ) Art Show is already open to the public at the University of Mary. This annual event has featured local and regional artists (including yours truly, at times) for several years now. I took the opportunity to peruse the galleries last night and was really impressed. My boys found some items that really caught their little eyes, too.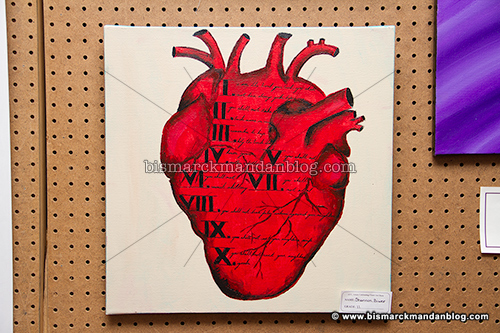 Art students and classes from area schools are encouraged to participate and have provided ample entries as well. This was one of my favorites, a work by a talented 11th grader which immediately brought to mind a couple of verses:
"Thy word have I hid in mine heart, that I might not sin against thee."


(Psalm 119:11)


and

"Forasmuch as ye are manifestly declared to be the epistle of Christ ministered by us, written not with ink, but with the Spirit of the living God; not in tables of stone, but in fleshy tables of the heart."
(Second Corinthians 3:3)
The show is open from 9am to 9pm this Friday and Saturday as well as from noon to 4pm on Sunday. There are other demonstrations and activities as well, which you can find by
clicking here for the full show schedule
.
[ add comment ]
( 10 views ) |
permalink
|
Click a dot to rate this entry:





( 3.1 / 215 )
---
<<First
<Back
| 33 | 34 | 35 | 36 | 37 | 38 | 39 | 40 | 41 | 42 |
Next>
Last>>