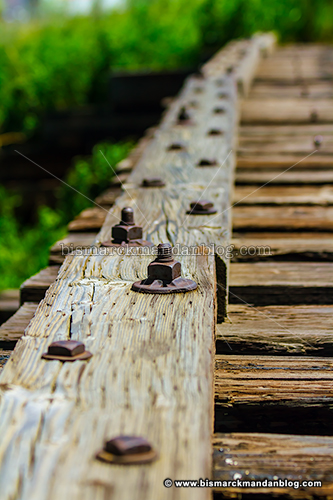 This long stretch of rusty fasteners caught my eye while poking around on another of Bismarck-Mandan's best kept secrets: a bridge to nowhere.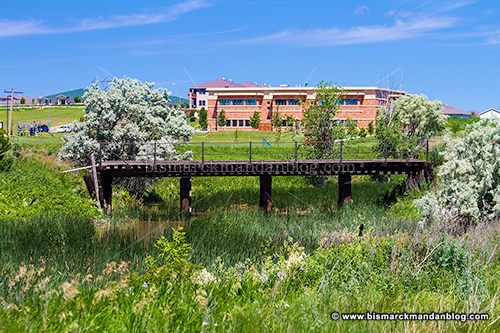 This bridge sits along the walking/bike path by Hay Creek on the east end of town. Apparently it used to carry rail traffic but there are no longer any train tracks leading to it from either end. The rails have been removed from the bridge and so have any structures connecting it to anything, but someone has propped long boards up to provide pedestrian access to it for the brave.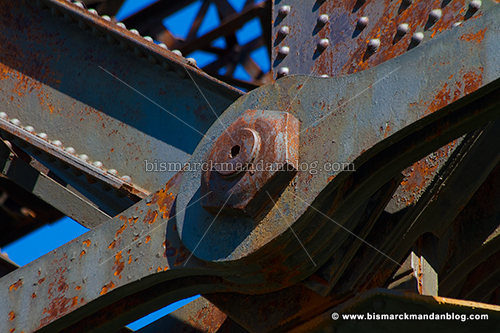 One other rusty nut that I have in my photo collection is this one on the old Northern Pacific railroad bridge across the Missouri. While taking photos of the flood last year I looked up and saw this, and I figured it was a neat photo to grab for later. Here it goes.
I've got some other interesting fastener photos around here somewhere, perhaps I'll cobble together some for a future post.
[ add comment ]
( 4 views ) |
permalink
|
Click a dot to rate this entry:





( 2.9 / 174 )
---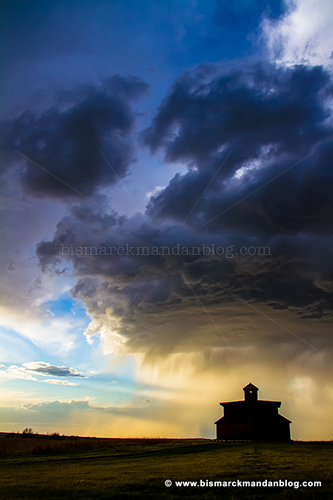 I took my boys out to Fort Lincoln to poke around with our cameras and watch the weather roll by. Rolling by is exactly what it did, missing the park entirely. The clouds did plenty of rumbling as they drifted past. My guys thought it was pretty cool that we could see rain and wondered if it was going to hit our house as it started to dump south of Bismarck. It was getting close to bedtime, so we headed back to find out.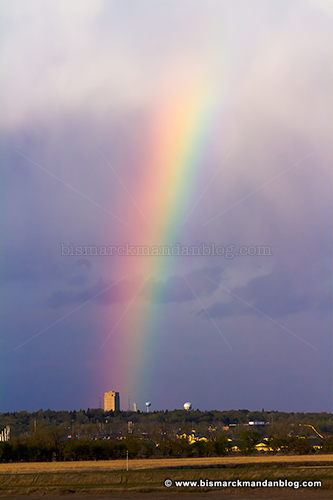 Along the way we spotted a rainbow, something that hadn't yet manifested while we were atop the hill. We stopped for a quick photo op and then headed back to town. Yep, our house got rained on. We had just enough time for a snack and some bedtime stories, then it was off to bed for them. I'm about to hit the pillow myself.
[ add comment ]
( 5 views ) |
permalink
|
Click a dot to rate this entry:





( 2.9 / 158 )
---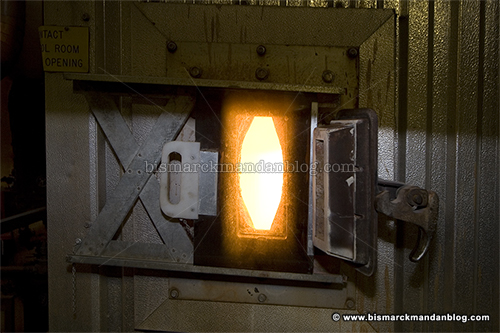 This is a view that few people get to see. The glowing red on the other side of that smoked glass is a vortex of 1,000 degrees Fahrenheit reaching over two hundred feet high. It burns powdered coal which has been cleaned and dried, making it a very efficient and clean source of power. And it's right here in North Dakota. You could put the state capitol building inside this boiler!
When you hear about "clean coal technology" you should note that North Dakota is pretty much the epicenter of innovation. At this particular power plant, by the way, over $200 million has been spent over the past thirty years on development of environmental technology. New processes have been brainstormed here that are of interest to power generation companies all over the world!
By the way, April 22nd is called "Earth Day" by some. This day was so named in order to fight global cooling back in 1970. That should tell you right there how much credibility the global
cooling
warming
climate change movement has. Add to the mix the fact that
it falls on Lenin's birthday
and mounting evidence that the "environmentalism" movement is merely a home for displaced socialists, and it all starts to make sense. After all...no matter what manifestation of global weather crisis is used to incite panic, the ONLY purported solution has always been global socialism.
Back to the photo. The power coming from plants like this powers homes, businesses, hospitals, schools...you name it. It provides life-saving heat in the winter and cooling in the summer. It powers information technology, life support systems, manufacturing, and who knows what else. Yet there are those deranged individuals who wish to vilify the energy industry and treat such technical innovation with disdain. They're truly detached from reality and I welcome them to relocate to a third world country if they find nobility in primitive living.
Incidentally, the Bible talks of people who worship creation rather than the Creator in Romans chapter 1. This is nothing new. Actually, the people pushing this climate agenda wouldn't be pushing it at all if the solution wasn't global socialism. That's why I choose to have a
Festivus
of sorts, one that recognizes the value of the technology and innovation that makes this country great. I'm not the one who brainstormed this answer to Earth Day, but I am certainly on board. Happy Industrial Revolution Day and/or Romans Chapter 1 Day!
[ add comment ]
( 10 views ) |
permalink
|
Click a dot to rate this entry:





( 2.9 / 352 )
---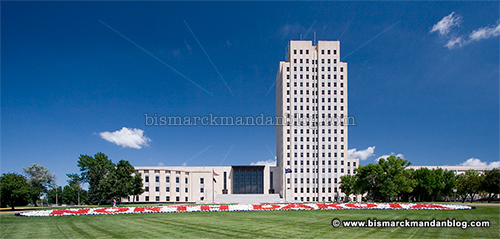 It's probably quite easy to discern from reading this blog that I'm quite enamored of North Dakota's capitol building. I photograph it often, my little boys love to visit its halls and peer down from the observation deck windows, and of course there are the holiday adornments in its windows at various times of the year. Pretty cool, I must say...even if I'm a little bit biased.
Minnesota Republican representative Matt Dean, however, thinks otherwise.
According to this article
, he had plenty to say about our state's headquarters:
"Has anyone seen North Dakota's Capitol? It's like State Farm calling: 'We want our building back.' ...It's embarassing."
Ahem. Not only is our capitol distinctive but it's also quite reserved and pragmatic in its design. It's no opulent palace or apotheosis of government overspending...and we like it fine. Besides, according to that Forum article, Minnesotans need to
"repair [their capitol's] crumbling outside walls, its outdated electrical system and interior that is falling apart"
...it sounds like
they
are the ones who need to be embarrassed about
their
capitol!
Unlike Minnesota's, our capitol building is in fine shape...with current electrical (and ample backup generation) as well as free wireless internet tip-to-toe and a cafeteria with an AWESOME taco bar on Wednesdays, it seems far more habitable than its neighbor to the east.
Perhaps if Minnesota wasn't known for
being the nation's biggest welfare state
- with nearly forty percent of its state budget going to entitlement programs in 2009, for example - and put more money into infrastructure than they do into printing entitlement checks, they could afford to keep their state capitol building from crumbling. Until then, go ahead and take your petty pot-shots...we can take it.
By the way, which do you think Minnesota tax-n-spend legislators (including "Republican" Matt Dean") will accomplish first: repairs to their already neglected, dilapidated capitol building, or a brand new taxpayer-funded stadium for the lackluster Minnesota Vikings?
[ add comment ]
( 12 views ) |
permalink
|
Click a dot to rate this entry:





( 3.1 / 148 )
---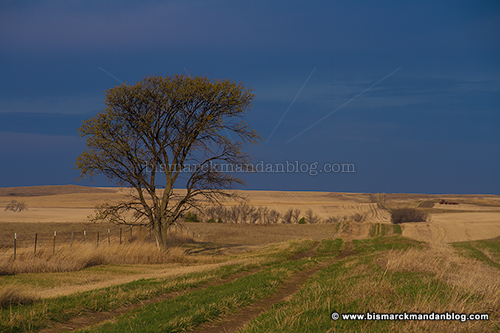 My friend Ken and I were out bouncing my truck around the back roads and trails in search of a couple of old farmsteads to explore with our cameras. As usual, many other opportunities presented themselves along the way. Case in point: this lovely vista along a section line road just after sunrise.
There's so much color in the sky around sunrise and sunset, adding a special touch to an otherwise unremarkable scene. Everything takes on such a unique vibrance during that
Golden Hour
light, and it's great when that happens with something photogenic nearby...and a great friend to share the experience.
[ add comment ]
( 10 views ) |
permalink
|
Click a dot to rate this entry:





( 3.1 / 140 )
---
<<First
<Back
| 30 | 31 | 32 | 33 | 34 | 35 | 36 | 37 | 38 | 39 |
Next>
Last>>