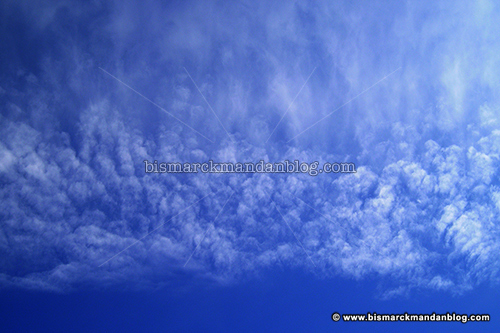 Now that the bleak skies of winter are gone, it's time to enjoy the variety and beauty of North Dakota's skies. I looked up this weekend while driving my little boys around with the roof open. I keep a spare point-n-shoot camera handy in the vehicle most of the time, so I simply pointed it straight up while stopped in a parking lot downtown.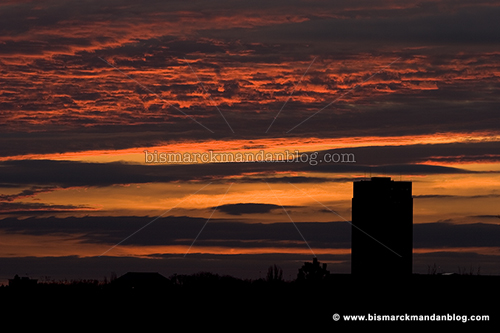 Later in the evening, when the little fellas were tucked away in their cribs, I was on my way home from an after-hours recording session and saw similar clouds with a much redder backdrop. I stopped along the top of Hillside Park to get a shot of the color just before the sun dropped over the horizon for good, taking all that red with it.
What a difference a few hours makes, eh?
[ add comment ]
( 1 view ) |
permalink
|
Click a dot to rate this entry:





( 3 / 206 )
---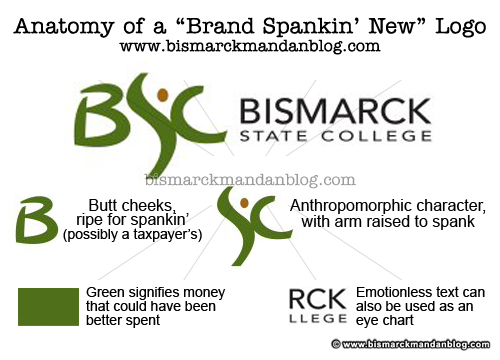 Some days it's really entertaining living inside my head. Case in point was when
BSC announced its new branding effort
earlier this week. At first I thought, "Wow...the designer must have been craving Qdoba Grill or something." Then I had a slightly wacky epiphany.
Note the
anthropomorphic
quality of the S and C.
This Bismarck Tribune article
indicates that the S is supposed to signify the Missouri River and the dot BSC itself; however, a comment to the article by someone who was at the press conference stated that BSC President Skogen pointed out that it can also portray an individual (as in BSC's focus on the individual, I suppose). I'd say it succeeds more on the latter.
Having picked up on the "person" portrayed by the SC, I couldn't help but notice the hand raised up next to the B. My fertile mind put the two rounded features of the B together with the "hand" of the SC, and voila'! Spanking.
As far as the money goes, I'm not against anyone spending a ton of money on marketing, design, advertising, or logos. If nobody did that kind of thing, I'd be out of a job. But when a college boasting a commercial art department does it, I would like to point out a better alternative.
While the $15000+ marketing study mentioned in the Tribune article is for more than just logo design, and that's all good, the $6600 could have been kept "in house" instead. Offer a $6600 scholarship to any BSC student, not just a commercial art student, as the winner of a logo design contest. It would give the college and its students more ownership in the new brand, save the college money, and be a good PR move. Right now they have to explain why they spent over $20,000 of taxpayer and/or tuition money on a logo that not everybody is going to like.
This reminds me of a long time ago when NDSU spent over $20,000 to an out of state company to come up with an all-text logo that was a blatant rip-off of the South Dakota logo. I don't remember the particulars any more, but I remember it being used as an illustration somewhere.
Well, enough talking about spanking...it'll make my kids nervous. I'm hungry...anybody up for some Qdoba Mexican?
[ 2 comments ]
( 93 views ) |
permalink
|
Click a dot to rate this entry:





( 3 / 356 )
---
Sorry, I just had to play around in Photoshop. I got the idea over a year ago when
North Dakota Tourism picked the slogan "I Am Legendary"
. Great slogan perhaps, but it was poorly timed considering the release of the Will Smith movie "I Am Legend." Oops.
Bummer when your new slogan bears an uncanny resemblance to the title of a Will Smith movie, ain't it? Well, I decided to combine the two for a faux movie poster with a North Dakota theme. I played around in Photoshop a bit tonight to rig up this cheesy imitation. It ain't my best work, but it gave me a few chuckles. Now, on to some of my
other
year-old projects around the house...
[ add comment ]
( 1 view ) |
permalink
|
Click a dot to rate this entry:





( 3 / 336 )
---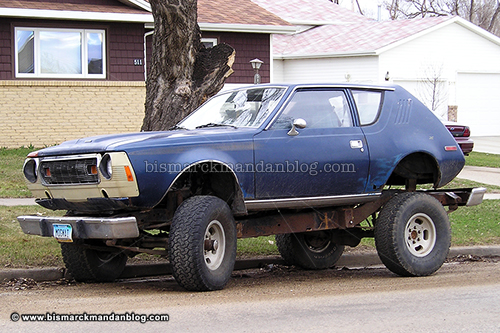 While on my way to help some friends with their computer, I spotted this beast. It's an AMC Gremlin, a car model of some considerable notoriety. I'm not sure of the brand/model of the chassis to which it's affixed, but it makes a pretty proportional 4x4. Now it just needs some paint and TLC.
The license plate reads "MOGWAI." For those of you who don't get that... you are obviously not children of the 1980s.
That or you didn't see this movie.
In any case, I caught the reference instantly.
This was a pleasant surprise, because I already had the "4x4 Mongrel Trifecta" completed: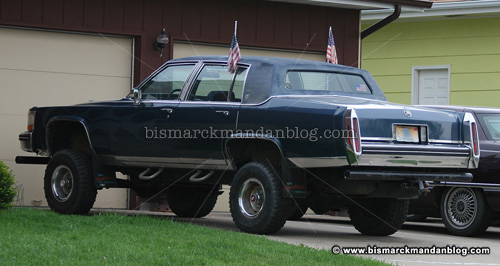 The 4x4 Cadillac was one of my favorites. This has got to be on a Suburban chassis, I can't think of anything else big enough! Maybe a big extended cab pickup frame.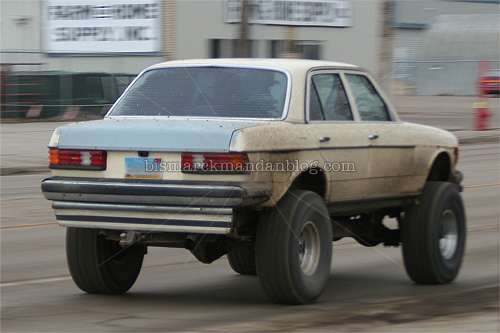 Then there's the 4x4 Mercedes. I bet the engineers back in Stuttgart never imagined this! No idea on the chassis here.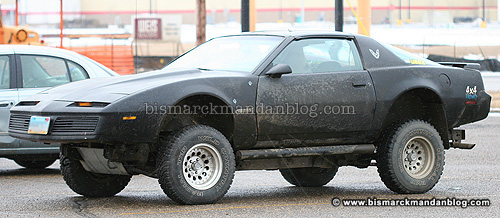 I called this one a "Four by Firebird." I'll put this one up against KITT in the original Knight Rider any day! This one is on a Chevy S-10 chassis, which I knew by sight but also from the "Vortec" sticker on the side of the car.
I figured my work was done with the trifecta. Then I found myself employing a term that doesn't even exist in my dictionary as this fourth photo op presented itself. If I ever run into that pink/red El Camino 4x4 that used to sit in the used car lot over at Cedric Theel a long time ago, I'll have the quintfecta! Ugh...I need to come up with better terminology. I could say something like "4x4 by four" I suppose, that's got a nice ring to it...but what happens when I see a fifth?
[ add comment ]
( 4 views ) |
permalink
|
Click a dot to rate this entry:





( 3 / 194 )
---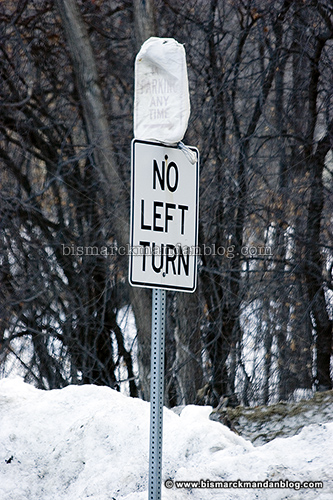 One cool thing about the legislative session is that the parking rules on the state capitol grounds change, which explains the bag over this NO PARKING sign adjacent to the capitol mall. LD80, or Legislative Day #80, arrives on May 6th this year according to the calendar on the state website. After that, some convenient areas available for parking now will once again be off limits. Of course, there will be fewer people vying for those spots.
I remember a time back in the early 90s when my car was hit by an inattentive driver on the capitol grounds. I had parked near the State Library to return some books, and came out to find my driver's side door pushed in. They backed into it with their van, then accused me of parking illegally (thus making it my fault). I pointed out to the highway patrol officer writing the report that, due to the legislature being in session, I was not parked illegally and the guy should have been looking where he was backing up. The officer agreed and noted so in his report.
A short while later I got a call from the guy's insurance company indicating that they were refusing to pay my damages because their insured told them I was parked illegally. I referred the person to the policy regarding parking during the session, and they agreed to pay to fix my car.
It's a bit of an odd phenomenon to see signs bagged like this, but here's the explanation. Two more interesting North Dakota facts:
the parking meter was invented in North Dakota
, and
parking meters are illegal in North Dakota!
[ add comment ]
( 2 views ) |
permalink
|
Click a dot to rate this entry:





( 3 / 203 )
---
<<First
<Back
| 149 | 150 | 151 | 152 | 153 | 154 | 155 | 156 | 157 | 158 |
Next>
Last>>