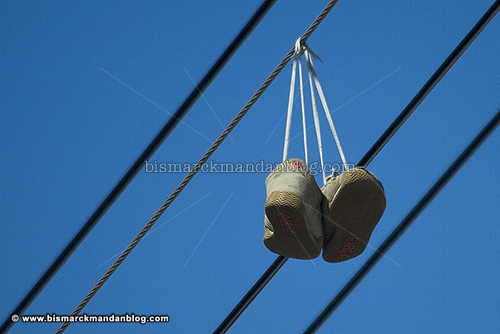 I was sitting at the red light at 4th Street and Divide Avenue. I looked up, saw these shoes dangling from the wires, and immediately thought of the movie Wag the Dog. This looks more like a prank than the tactic shown in the movie, but it was good for the flashback.
How often do you look up when sitting at a stoplight? Try it the next time you're at 4th & Divide!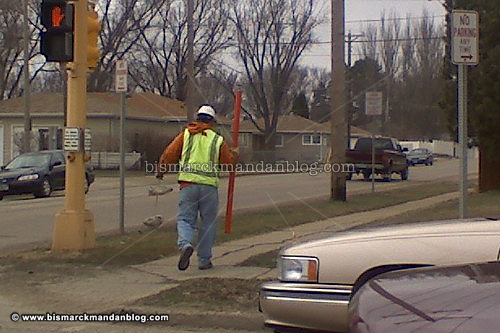 UPDATE:
Never mind...my spies are everywhere, and one of 'em sent me this picture of a city worker removing the shoes. No worries...there are plenty of other interesting things to see here in Bismarck and Mandan!
[ 5 comments ]
( 56 views ) |
permalink
|
Click a dot to rate this entry:





( 3 / 213 )
---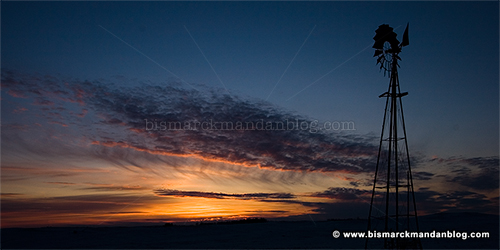 I took quite a few photos of this arrangement with my wide angle lens, kneeling in the snow. Even though I was getting cold, I knew the cardinal rule of photographing sunsets: much of the drama of a sunset occurs after the sun goes over the horizon. Thankfully I had this solitary windmill to keep me company. I prefer to think of this photo as capturing the windmill as it witnessed the setting of the waning sun.
These beautiful colors lasted mere seconds as the sun hit the perfect point, splashing color and shadows simultaneously across the clouds. This is the sliver of time that makes North Dakota sunsets so memorable, and it requires some keen timing and a bit of preparation. They're still the finest sunsets I've ever seen, which is why I never tire of chasing them and posting them here.
[ add comment ]
( 4 views ) |
permalink
|
Click a dot to rate this entry:





( 2.9 / 227 )
---

This is a one-time chance, folks. My friends have a third member of their family, baby Charlie Smith. The handsome little guy was born with
Hypoplastic Left Heart Syndrome
, which meant he had to be born in Rochester and has already endured some pretty amazing surgeries to keep his little heart functioning. I'm told he's got a couple more to go, as well. In the mean time, he and his mommy and daddy have to live in a strange place and will be coming home to some big medical bills. That's where you can help.
You need only to do two things: first, download and print out a copy of
this PDF document
. Second, take it to a Space Aliens Restaurant near you and present the printout when you pay for your meal. They'll donate 25% of the bill to benefit baby Charlie and his loving mommy and daddy.
Isaac and Elysa are truly great kids, and I want to do what I can to help out with this fundraising. If you are unable to make it to SA this Monday, you can also call American Bank Center and inquire about the Charlie Smith Benefit Fund. The address of the fund:
American Bank Center
attn. Tina Valeu
320 N 4th St
Bismarck, ND 58501
Here's the link to the PDF document one more time.
If you have Adobe Acrobat Reader installed, you're good to go. It may take a little bit for the program to load, but the file should download reasonably quickly. Click on the icon below to download the free Adobe Reader if necessary.

When you print the PDF, don't forget to take it with you and present it to your server when you pay for your meal! This is only valid for April 6th at the time of service. Thanks in advance if you're able to help on Monday. You can also download the PDF file and email it to others if you think they'd be interested.
[ 1 comment ]
( 19 views ) |
permalink
|
Click a dot to rate this entry:





( 2.9 / 222 )
---

These four statues sit stranded on an icy island south of Bismarck. There's no telling what might be buried beneath the crust of the ice between them, at least not until we get one heck of a thaw. The stark blackness of these statues seemed fitting for today's cold, overcast day. The one huddled on the right looks especially appropriate.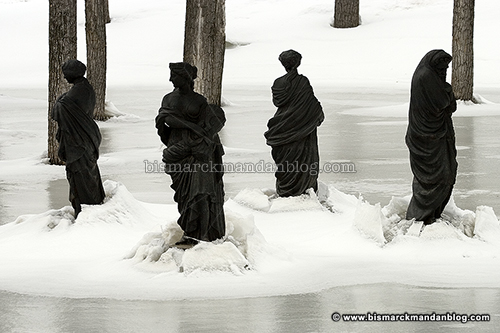 I suspect these stoic figures were waist-high in water and ice a short while ago, if not worse. Even now they stand in the middle of a sea of ice, making it really frustrating for photographers like me. I couldn't get the angle I wanted no matter how hard I tried; unless I felt like slogging through the ice and water, I couldn't find the ideal arrangement of statues and trees. It is what it is, I suppose. It was still a nice find.
[ add comment ]
( 1 view ) |
permalink
|
Click a dot to rate this entry:





( 3 / 229 )
---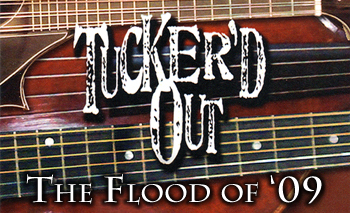 I've written before about my friends from the live TV crew and their band
Tucker'd Out
. They performed on one of the Valley News Live programs down there in Fargo, and it has appeared on the Valley News Live website. You can
click on this link
to see the video - their embed XML tags seem to be broken so I can't post it here.
I love these guys' style, and not just because I'm biased from knowing 'em. In my
original post about Tucker'd Out and their performance at Buckstop Junction
last year I have more about them as well as a link to more of their music. Check them out after the video!
[ 1 comment ]
( 19 views ) |
permalink
|
Click a dot to rate this entry:





( 3 / 272 )
---
<<First
<Back
| 151 | 152 | 153 | 154 | 155 | 156 | 157 | 158 | 159 | 160 |
Next>
Last>>