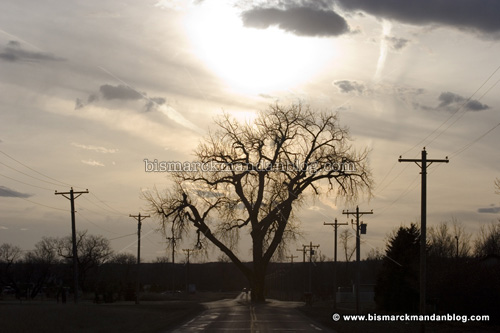 It's been a while since I've taken a picture of this famous tree, parked right in the middle of Burleigh Avenue. Soon its branches will be adorned with leaves. Despite development in the area, this tree is not in jeopardy; at a City Commission meeting I attended, it was discussed that this tree will be protected by curb and gutter because of its importance to the citizens of our fair city. Sweet.
[ add comment ]
( 4 views ) |
permalink
|
Click a dot to rate this entry:





( 3 / 335 )
---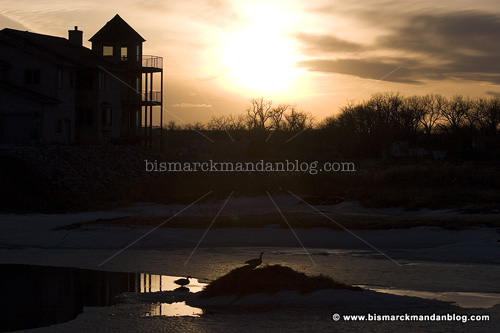 Spring means the return of the migratory species such as Canada Geese (note:
not
"Canadian" ) that keep us company through 'til fall. While the refinery and power plant keep plenty of them here year 'round, we see an influx of snowbirds (pun intended) this time each year. They've gotta live somewhere.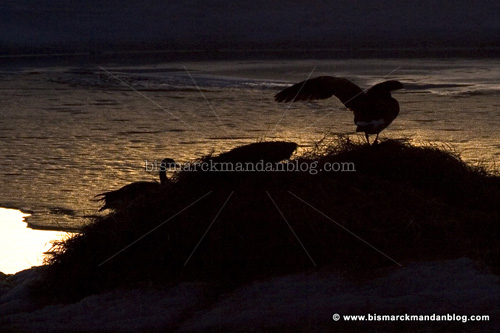 These two geese are staking claim on one of the finest pieces of bird real estate in the area: the little island near Southport Marina. It's right next to the first turn off Fox Island road, which is what I call Riverwood Drive. It looks pretty choice, if you happen to be nesting.
[ add comment ]
( 2 views ) |
permalink
|
Click a dot to rate this entry:





( 2.9 / 248 )
---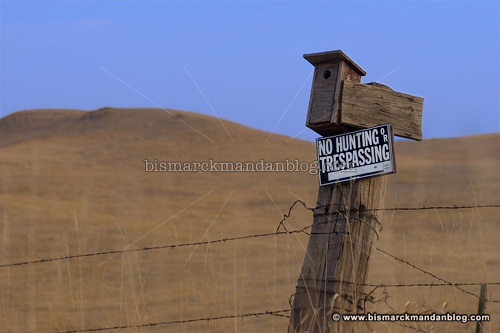 I spotted this oddity along old 10 west of Mandan. Just go with me on the whole idea of the birdhouse dwellers posting the sign, okay? In that case, I can understand the whole No Hunting thing.
I have been known to post a windmill photo or two. I've had plenty of "fallen farms" to boot. Things like this, however, are a more elusive part of that North Dakota prairie charm. They're harder to spot, but they make very rewarding photos when they catch the eye.
This is also the photo featured on my April calendar, described in the post below. You can download it by a link from that post or in the pane to the right.
[ add comment ]
( 2 views ) |
permalink
|
Click a dot to rate this entry:





( 3 / 276 )
---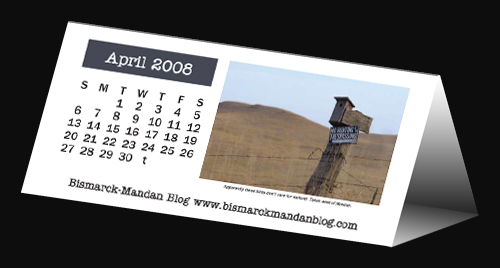 If you think I'm pokey on this month's calendar...talk to my accountant! I still haven't turned in my itemizations for my taxes. Argh. Five days into April, however, I have a calendar available for download. It features a photo of a birdhouse west of Mandan which is adorned with a No Trespassing sign. It's a somewhat funny photo if you attribute the sign to the residents of the birdhouse.
I've got one of those rare moments where both little boys are sleeping (I'm playing "Mr. Mom" today) and I can sneak off to get things done. Of course, rather than tally up my freelance stuff so I can get my taxes done, I do fun things like play around in Photoshop and Illustrator. Now I'm sure there's a gun around here that needs to be cleaned, or that new transmission that needs to be put in my nitro RC truck, or a motorcycle that needs to be detailed for Spring...
Oh yeah, if you want the calendar in PDF format, look for the Download pane on the lower right or simply
click here.
It will open in Adobe Reader, unless you're one of the four people on the planet that doesn't have it yet. Or you can right-click on that link and select "Save As..." to download it without opening the file.
[ add comment ]
( 2 views ) |
permalink
|
Click a dot to rate this entry:





( 3 / 266 )
---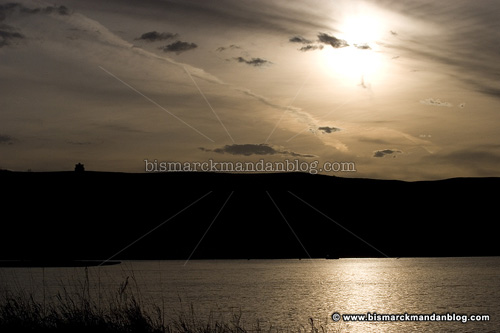 We had a pretty golden evening tonight. Not just in the sky, either. I took little PJ to the park and went down the slide with him in my lap...over, and over, and over, and over. We climbed around the playground equipment, went to the mall to buy some targets and ammo for this weekend, then on our first daddy-son trip to McDonald's. Man, what fun we had!
[ 3 comments ]
( 24 views ) |
permalink
|
Click a dot to rate this entry:





( 3.1 / 244 )
---
<<First
<Back
| 195 | 196 | 197 | 198 | 199 | 200 | 201 | 202 | 203 | 204 |
Next>
Last>>