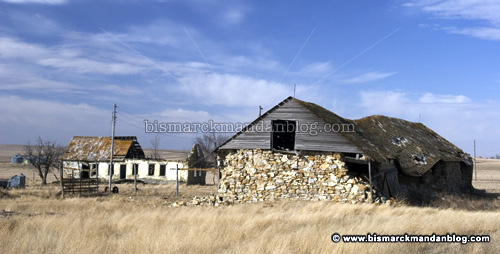 I'm so drawn to buildings like this...not because I'm a National Geographic reporter trying to push an agenda of a dying prairie, but because I find them charming. Someone constructed this farmstead, lived here, and worked here. That's what I find so alluring. I like to wonder what it looked like when it was new, when there was a family here, and what circumstances caused its inhabitants to move on. It's really more about the people, now that I consider it.
This is the first stone barn I can remember featuring. It caught my eye from the road and was not on posted land, so I was able to hike in. This is as close as I came to the buildings; I don't actually try to enter any of the buildings I photograph. First is out of respect for the owners, second is a matter of safety. To capture their spot on the beautiful North Dakota prairie is fulfilling enough.
[ add comment ]
( 3 views ) |
permalink
|
Click a dot to rate this entry:





( 3 / 296 )
---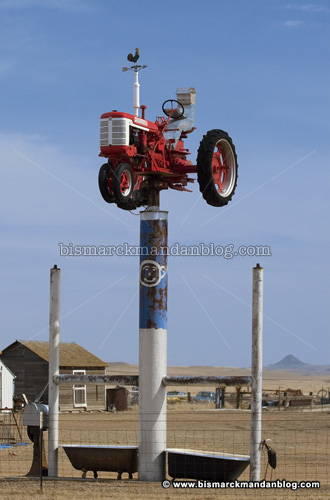 I can't explain why this Farmall tractor is perched atop a pole any more than I can explain the bathtubs at its base! It sure is eye-catching, though.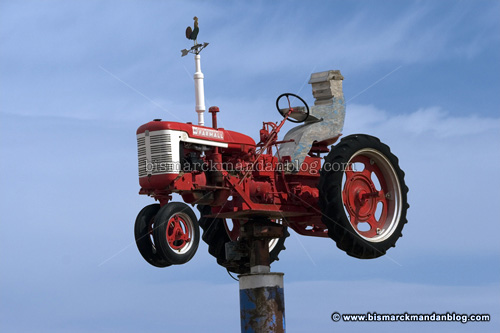 The wooden farmer perched atop this tractor has an almost Lego-like appearance. It looks like the weather has worn away at him a bit; it would be cool to see him with a new paint job!
I spent a few hours poking around west and southwest of Bismarck-Mandan this Saturday. That's when I had the opportunity to photograph this tractor on the outskirts of Glen Ullin. I found lots of other fun things at which to point my camera, and they'll show up here soon as well. None of the other ones involve boxy wooden farmers, though.
[ add comment ]
( 7 views ) |
permalink
|
Click a dot to rate this entry:





( 3 / 580 )
---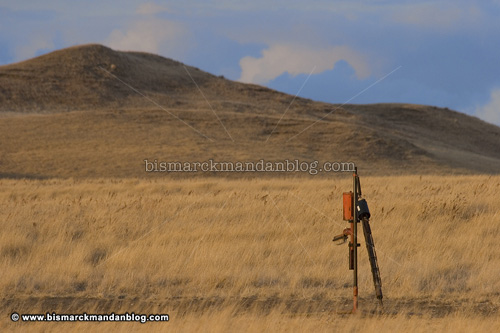 This contraption sits atop a hill near Double Ditch. At a glance from the highway, it looks like a well. Upon closer examination, however, it appears to be something else entirely. I'm not sure what...but what looked like the spout of a well is actually a brush. I'm sure it must have some sort of ranch-related use, but I'm too much of a city kid to surmise what that might be.
[ 2 comments ]
( 87 views ) |
permalink
|
Click a dot to rate this entry:





( 3.1 / 568 )
---
I heard the forecast and knew it was going to be windy. I didn't know it was going to be THIS windy! Not only did it make things inconvenient for an outdoor videotaping session today, I also noticed this while driving away from where I was taping.
This power pole is adjacent to the Bismarck Expressway, near Capital RV. The lines held, and the pole seems intact, so it's just a matter of getting it upright and reinforcing the soft ground. I would not want to be the guy in the bucket truck that had to lean over that thing and attach a tow line to it!
[ add comment ]
( 19 views ) |
permalink
|
Click a dot to rate this entry:





( 3.2 / 476 )
---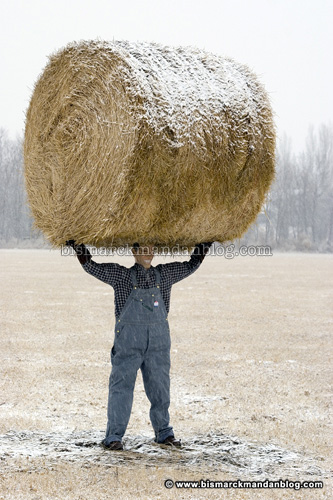 This poor fella stands along south 12th Street, sort of an agricultural Atlas who refuses to shrug. I bet he's cause some serious rubbernecking, though!
Hat tip to Brucellosis for featuring this on his blog. You beat me to the punch! I took some photos of this a while back but hadn't posted them yet, and I'm glad I waited to catch him in the snow. It helps with the fact that the background's pretty unappealing.
This is part of a political campaign display, and is accompanied by a sign for a hopeful candidate. His message: help keep District 30 strong! I'm not showing the sign, though...no free advertising. Especially considering that our three representatives down here are Republicans, so this challenger is presumably a socialist, I mean Democrat. Same difference.
I have since found out that Arnie Zent was vying for a Republican nomination for a vacated seat. My presumption was wrong, as is often the case. That drives home the old lesson: When you presume, you make a pre out of you and me!
[ add comment ]
( 18 views ) |
permalink
|
Click a dot to rate this entry:





( 3 / 472 )
---
<<First
<Back
| 197 | 198 | 199 | 200 | 201 | 202 | 203 | 204 | 205 | 206 |
Next>
Last>>