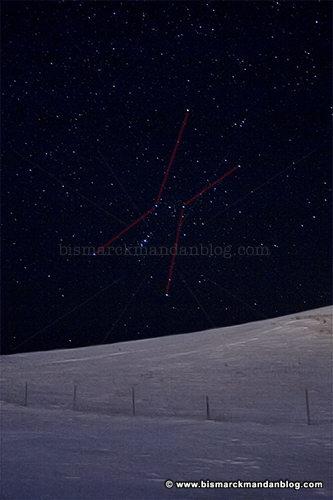 I found myself out west of Mandan the other night chasing Orion, the constellation also known as the Hunter. Its appearance in the sky marks the fall season, and its disappearance is part of summer. I was awfully cold getting this shot, which was a 30 second exposure at the side of a lonely gravel road. The song "Stars" by The Clean seemed an appropriate iPod selection for such an encounter.
Most folks, including myself, find Orion most quickly by searching for the three stars comprising the "belt." There's also another row of "stars" below the belt, but that is actually the Orion Nebula (or M42 if you're a geek). I took the liberty of drawing some red lines on the photo to illustrate the basic shape of Orion for y'all.
In college I took all the fun science courses I could, including astronomy. Our final exam included naming a plethora of constellations and the major stars from each. I can't name all the stars of Orion, but I can tell you that the two brightest are Betelgeuse (yes, I pronounce it "Beetlejuice") and Rigel. For you Trekkies, the pilot of the original Star Trek television series takes place on a mission returning from Rigel 7, a supposed planet orbiting Rigel. I don't know if that will be referenced in the upcoming Star Trek movie. If you're
really
a nerd, keep this in mind for when the movie opens in May. Look for me there; I'll be the one in the Stormtrooper costume. Just kidding. And what the heck is an Aluminum Falcon?
[ 1 comment ]
( 23 views ) |
permalink
|
Click a dot to rate this entry:





( 3 / 229 )
---

The fog comes
on little cat feet.

It sits looking
over harbor and city
on silent haunches
and then moves on.
I first read this poem by Carl Sandburg back in third grade or so. It's hard to remember when, exactly; I was in private school and would go to the 7th or 8th grade for some of my classes, as they allowed students to progress at their own rate. As a result, things tend to blend together in my memory. Then I moved to North Dakota and got rubber-banded back to my current grade in all classes. Sigh...what a buzzkill. Anyway, sorry for dragging you through my childhood. How about that fog photo?
There were two belts of fog tonight: one started above the open channel of the Big Muddy and expanded until it covered the entire river, and the second engulfed east Mandan along I-94. It was downright thick, folks. I was able to hike out along the rip rap lining the boat dock south of Merriwether's. Actually, I
hope
I was above the rock; I'd hate to think I was standing on frozen river, as that'd be pretty hazardous! Just kidding...I was standing where the weeds stuck up through the snow.
I tried a number of different exposures and framings, but the fog was advancing rapidly. I settled on this shot since a good portion of the bridge was still visible. It wasn't long before the entire thing was obscured and I was free to hike back to my warm truck for the drive home to my warm bed. That's where I'm heading now!
[ 1 comment ]
( 20 views ) |
permalink
|
Click a dot to rate this entry:





( 3.1 / 257 )
---

I don't often post images from other sites, but this one seems quite appropriate considering the lunacy going on with the Obamination Administration.
You can order bumper stickers like the one pictured above by clicking
here
.

Update:
This sticker, available now from
www.PatriotShop.us
, seems a little more appropriate for those of us who don't expect the government (ie, our neighbors) to pay for our well being.
[ add comment ]
( 20 views ) |
permalink
|
Click a dot to rate this entry:





( 3 / 291 )
---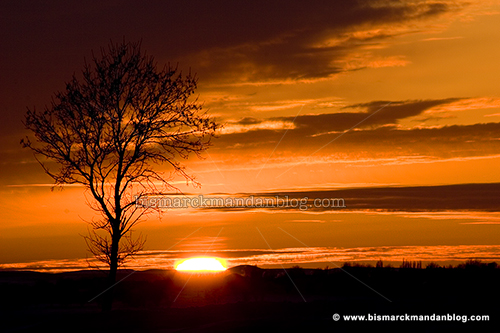 My little boys wanted Daddy to take them out in the truck tonight, so out we went. They got to see their share of trucks and heavy equipment and snowblowers, and Daddy go to stop and take a picture of the sun setting. They're both old enough to walk now, one of 'em is talking up a storm, and we're both sick of winter. That combines into a chance for some more photographic opportunities these days, as we're actually getting out of the house more. The sunsets are starting to resemble summer more than the bluster of a North Dakota winter!
[ 2 comments ]
( 34 views ) |
permalink
|
Click a dot to rate this entry:





( 3 / 349 )
---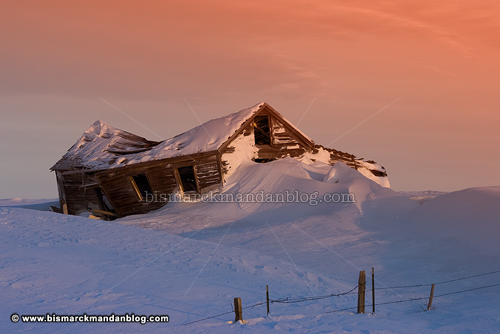 I'm actually glad we got more snow today. I finally caved and bought a beefy snowblower this year, after 30+ years of shoveling, and I was itchin' to get some more use out of it. We always get drifts along our property, so it doesn't take much snow to require such a beast. After all...if it's this cold, it might as well be snowing too, right? Besides, as shown above, it can provide some very lovely pictures at sunrise and sunset.
[ add comment ]
( 8 views ) |
permalink
|
Click a dot to rate this entry:





( 3.1 / 293 )
---
<<First
<Back
| 156 | 157 | 158 | 159 | 160 | 161 | 162 | 163 | 164 | 165 |
Next>
Last>>