Free membership in a very important organization (if you like freedom more than false hope and bad change)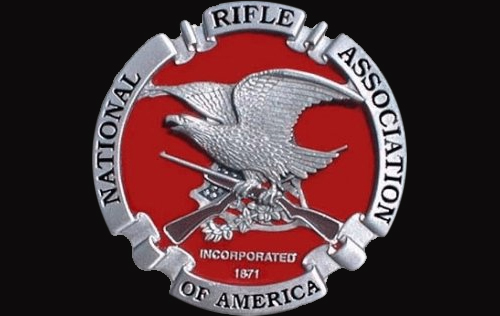 Want to preserve your gun rights? Well, this step in the right direction is free. Click on the link below for a free one-year membership to the NRA. These guys are fighting tooth and nail to preserve the rights guaranteed by the Constitutions not only of our nation, but of our state (and, to my understanding, most states).
Free NRA Membership
[ add comment ]
( 5 views ) |
permalink
|
Click a dot to rate this entry:





( 2.9 / 325 )
---

In my last post I mentioned visiting a friend who lived just downstream from the ice jam north of Bismarck. I didn't get much of a view of it from Fox Island, as it started downstream from the lookout, but from my friend's backyard the view was a little bit better. I grabbed my camera and banged out a few shots, which I assembled into the panoramic shot you see above. It's actually pretty hard to see much, although the ice does pile up more on the right side of the shot.
Obviously the photo for his post ain't the real deal, man...unless you have microscopic vision! The real version is 6000 pixels wide, weighin in at 1.75mb. I don't want to force anyone to have to download a 1.75mb picture every time they come to this post, so instead I'll post a link:
Click here to view/download the panoramic image (1.75mb).
If you want to save it to your computer to view in something other than your web browser, simply right-click on that link and use "Save As..." to download a copy.
This is the ice jam that everyone feared during last week's flooding; the idea was that if this ice jam were to let go, it would send a surge of even more ice and water into an already bad situation downstream. For a while the word had actually gone out that this ice jam
had
let loose, but fortunately that turned out to be untrue. So far it remains intact, and hopefully it won't cause any further problems once it lets go. In the mean time, however, it is starting to back up more water and ice behind it, causing distress for residents living upstream.
[ add comment ]
( 4 views ) |
permalink
|
Click a dot to rate this entry:





( 3.1 / 296 )
---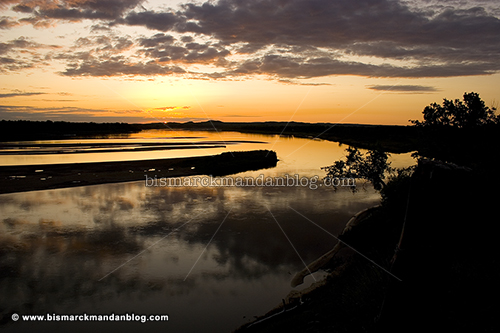 Double Ditch is one of my favorite sunset spots, particularly this spot next to the fencepost on the north end of the park. The warmth of those summer evenings sure seems the antithesis of today's scene.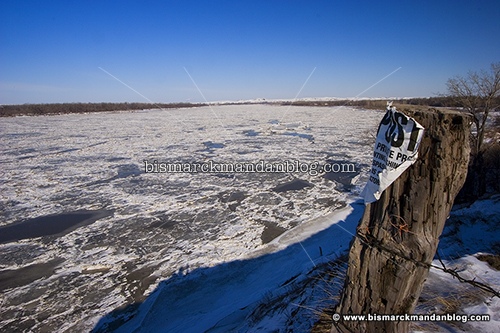 This ice jam is quite nasty, and we sure hope it stays right where it's at for a while. The last thing we need right now in Bismarck-Mandan is more ice and water coming down the way!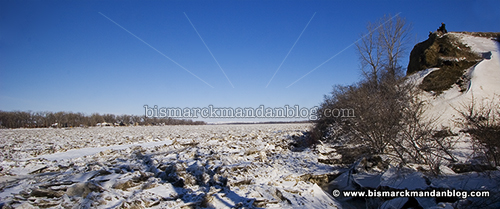 There were plenty of folks with the same idea I had. Double Ditch is a great place to go for some open air regardless of the season, but a spectacle such as this brings even more visitors. You can see some of 'em at the lookout point in the upper right of this picture.

This ice was crackling while I stood at the shore level. That's kind of spooky considering the force involved in such a wall of ice. I saw that firsthand at the Heart River last week at this time. Again, hopefully this ice jam stays jammed until the river clears up downstream a ways.
I stood in a friend's back yard today, on the shore near the start of this ice jam. The water level has gone down nearly six feet at his place. He related that these ice jams break free quickly but take a little while to work their way downstream. Sometimes they jam up again. In any case, we're all hoping for the best here. With more snow on the way, I'm not sure Bismarck-Mandan is out of the woods yet on this whole flooding thing.
[ add comment ]
( 28 views ) |
permalink
|
Click a dot to rate this entry:





( 3 / 242 )
---
I can tell from my site stats that when people come to this blog, they usually view a few pages. I don't know how far back they go, but probably not far enough back to find some of my favorite photos and/or posts. This ice talk, along with the fact that I have NOT risked getting in the way of law enforcement and emergency crews in order to get photos of the flood or ice jam, gave me the idea of reposting this icy encounter from last year. I hope you enjoy.

Ice, Ice, Baby (Originally posted March 1st, 2008)
I have this crazy friend (okay, I have several, and they have me) who told me how cool it is to drive out on the ice of Lake Audubon. Not only is it a big lake, the ice is very thick, and there are islands to explore. Because boats are not allowed out there, the only way to get to these islands is to
drive
there during the winter. They've got beavers, coyotes, and who knows what else on them. I decided to take him up on the idea of a voyage out there. We didn't see any critters, and the clear skies turned cloudy on us, but we did come upon a HUGE pressure ridge. Enormous slabs of ice had pushed straight upward in a line stretching almost completely across the big lake!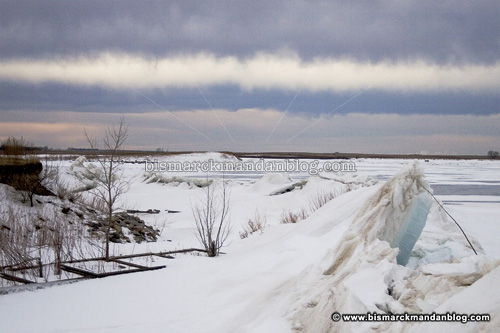 The sky took a dramatic, ominous look as we climbed up onto the ridge. There was no danger of breaking through the ice; it's frozen so thick this year that people are bottoming out their ice augers trying to get a fishing hole! The point of the ridge that we chose to explore was on the shore of one of the aforementioned islands as well, not in deep water.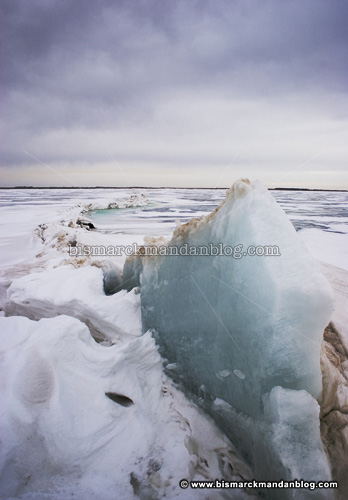 I'm close to six feet tall, but this blue slab of ice was about 1.5 times as tall as me. I climbed up on the ridge to get a decent look at it. I'm told that before the last warm-cold cycle, this ice was all colored blue and lit up on a sunny day. It's as if Superman dropped a crystal from his ice house, if you know what I mean!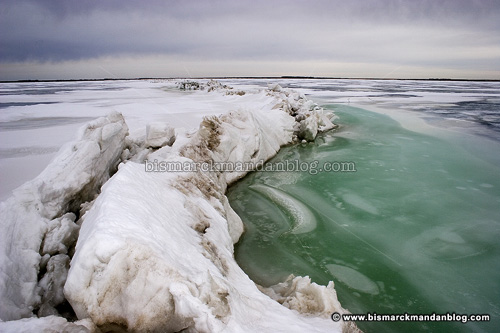 Another spot of color out on the open (albeit frozen) water was this green pool of water. While the ice itself is frozen to a thickness of a few feet, the surface does tend to melt on those warm days. It refreezes when the temperatures drop again, but on a day like today we had plenty of water puddles on top of the ice. We lamented that fact as we walked over to the ridge, as we weren't wearing waterproof shoes! We parked quite a distance away and walked, in case the ice was weakened near the pressure ridge. We needed the car to get home, after all.
One of the things we really wanted to see was wildlife. Aside from a glimpse of a running coyote on the horizon, we saw nothing. Of course; the presence of a camera jinxed it, I'm sure.
This is a really cool trip if you have the opportunity, especially if the lake and the sky comply. In our case, we were fortunate in that the ice is incredibly thick and stable. The sky is pretty dynamic, of course, and I'm glad that it clouded up for us instead of the hard light of a clear, sunny sky. Despite the absence of critters, we call this trip a success...thanks to the sight of this giant ridge of broken ice.
[ add comment ]
( 4 views ) |
permalink
|
Click a dot to rate this entry:





( 3.1 / 262 )
---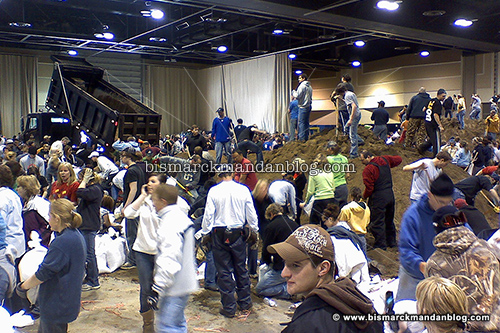 I heard the call for volunteers go out on KFYR radio, so I was ecstatic when our boss called an impromptu staff meeting first thing this morning. Anyone who wanted to go help fill/load sandbags could do so on company time. Needless to say, many of us bolted directly to the Civic Center.
I did not take my camera. I wasn't there to take pictures or blog anything. I had my cell phone, which is how this shot came to be, but that's all. In fact, other than the Heart River ice jam, I have not pursued any photos of this whole flooding ordeal. It just seems a little too much like capitalizing on a situation that is very miserable for a lot of people. If you have read this site long enough to know what I think of ambulance-chasing news reporters, you'll understand my sensitivity in this matter.
Here are a few thoughts and observations from the day:
When I arrived, there were so many volunteers it was an emotional experience. Some were bringing in cases of water along with their shovels. National Guard personnel were briefing us on what we needed to do. The line of trucks waiting to pick up sandbags went all the way up 7th Street to Rosser Avenue when I arrived, so there was plenty of work awaiting.
I watched as Mayor Warford helped re-stack a pallet of sandbags that had spilled. He's had a very busy day due to all this flood-related business, but I was impressed that when he saw something that needed to be done, he did it. He is a rancher, after all.
Everybody was really cheerful and polite. There were lots of "thank yous" and "good lucks" traded between volunteers and drivers. I went where the work was, as different parts of the Civic Center were busier than others from time to time and I hate standing around. In doing so I worked with all kinds of different people. All were friendly and hard working.
There was plenty of hospitality, too. I was up until the wee hours of the morning last night cleaning sidewalks and driveways until my snowblower quit (presumably with a failed drive belt). With very little sleep, I needed a break after only a couple of hours. There was an area with lots of refreshments and snacks. I had a great sugar cookie and a couple of glasses of OJ, thanked the Salvation Army workers, and it was back at it. I saw a couple of National Guard soldiers with a box of donuts and bottles of Powerade, which they were giving to the dump truck drivers as they came in through the tunnel.
There were more volunteers than there was work. That can actually gum up the works a little bit, but I heard tonight on KX News that organizers were pleased with the efficiency given the overwhelming number of people who showed up.
The best feeling in the world is when a group of people come together for a common cause and set about doing it with total commitment. That's why I like working on live TV broadcasts so much. It was so cool to be a part of this whole operation for a good chunk of today, and I couldn't be more proud of Bismarck-Mandan citizens of all walks of life.
This is my first experience with such a disaster situation. I've seen plenty of news footage of things like this helping elsewhere, but it finally hit home. How anyone (ahem, Michele Obama) could say they aren't proud of their country is beyond me. Skinny high school girls worked next to big tattooed biker types as if they'd been long time teammates.
Those who couldn't lift sandbags sat and tied them shut once filled. I helped one such lady who couldn't lift the bags out of her lap after she'd tied them, but she tied them so quickly that there was a new bag ready every time I turned around from stacking the last one. I saw older folks, kids, folks in ripped jeans like me and some in pretty expensive clothing. The variety of folks that showed up with their shovels and their elbow grease encompassed every sort of category you could try to shoehorn a person into. And it ain't over yet.
If I wasn't so sleep-deprived and didn't have a wife and two toddlers, I'd have gone back down there after church tonight. I actually considered it out loud, but my wife brought me back to earth. If you haven't pitched in at one of the sandbagging stations, even for a short time, go give it a try. It's very fulfilling and you can take some ownership in this community's battle against the "Flood of '09." It's a 24/7 operation at this time, we'll see how things progress as the Big Muddy gets cleared of all the ice jams.
[ 2 comments ]
( 64 views ) |
permalink
|
Click a dot to rate this entry:





( 3.3 / 317 )
---
<<First
<Back
| 152 | 153 | 154 | 155 | 156 | 157 | 158 | 159 | 160 | 161 |
Next>
Last>>