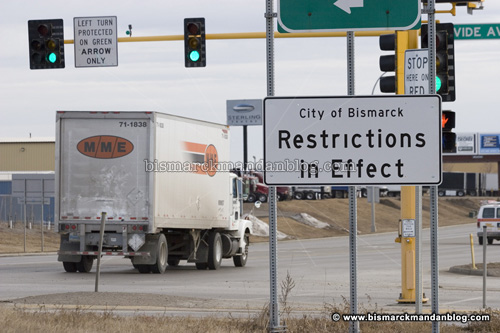 It's that time of year again: the ubiquitous "Restrictions in Effect" signs are popping up around the periphery of Bismarck. Restrictions of what nature, you ask? If your only source of information is these signs, I suppose it's anyone's guess.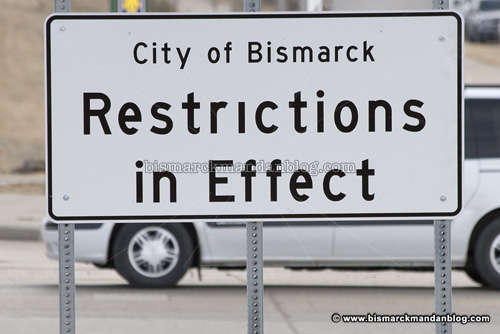 I saw these signs go up last year and thought they were pretty funny. Obviously it's because of the load restrictions on Bismarck roads, which I heard about on the radio, but the signs are vague enough to omit that detail. It's only after someone figured out what was missing and wedged a little "Load" in there that the signs made sense: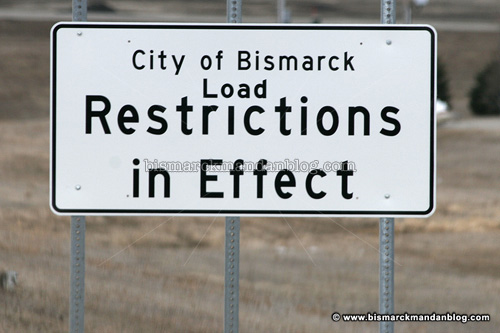 This is how the corrected signs looked last year. I was actually surprised to find an unmodified one posted up along Divide Avenue this afternoon. The top two pictures are from today, the bottom picture from last year.
As you can see in this post from last March,
I was almost second-guessing whether I'd even seen the signs without the word "Load" inserted. Today's sighting of one of the original signs is a bit of a vindication, I suppose. Now someone's going to have to dash up to Divide Avenue with another "Load" sticker!
[ add comment ]
( 5 views ) |
permalink
|
Click a dot to rate this entry:





( 2.8 / 391 )
---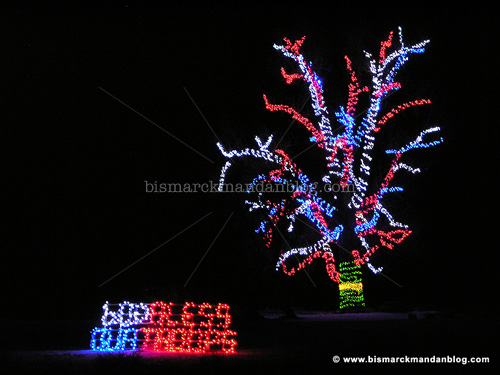 You can see this tree near another popular Bismarck tree; it's in a yard along Burleigh Avenue, between Washington Street and the Fox Island area. This is a large tree, too...although you can't get much of a perspective from seeing it lit in the dark, this is an ENORMOUS tree!
I would have presented a better view of this patriotic display, but I can't. I was out and about with little 3-month-old Jonathan, who just couldn't seem to fall asleep. He was crying until I hoisted him into the truck, then we two dudes drove around and watched Bismarck go by. I started reciting two of PJ's favorite storybooks, since I've read them enough to have them memorized, and my mastery of the art of storytelling put him gradually to sleep. I was about to head home when I saw this tree.
I did have my little 3.1 megapixel backup camera with me, so I set the timer and held as steady as I could. It always kicks into "Slow Shutter" mode in low light, and it's difficult to pull a non-streaked photo when in that mode. Fortunately it turned out okay. I tried to get a shot of it again the other night, and the big sign in front of it had blown over. It's since been fixed, but some of the lights were out when I drove by on my way home Sunday night (probably damaged by the tip-over). Hopefully it'll be restored soon, and you can swing by to see it as pictured above!
[ add comment ]
( 2 views ) |
permalink
|
Click a dot to rate this entry:





( 2.9 / 277 )
---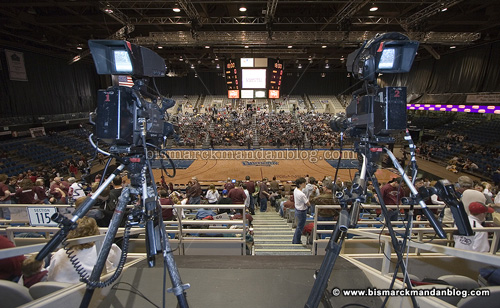 This weekend I worked the championship night at the State "Super A" here in Bismarck. Mandan continues their girls' basketball dynasty, keeping our minds off their football history. Rather than go home completely empty-handed, Bismarck High finished off the Bruins for a boys' championship.
This is a LONG stretch for the guys on the NBC North Dakota TV crew. The Bismarck folks start off with bowling in February, then members of the team from over the state make treks to Grand Forks, Fargo, and Minot for state hockey and the three basketball weekends. That's a lot of nights in hotel rooms, a lot of long work days, a lot of miles traveled, a lot of cables coiled. Oh, and a lot of Applebee's every night. I was on a different crew this weekend, which means no free food for me. Darn.
The TV crew isn't the group most inconvenienced by this, though. Back when the switch was made, in order to avoid a lawsuit from parents of volleyball girls if I remember correctly, it put a crunch on the smaller schools. Girls' coaches would referee boys' games and vice versa, because their seasons were not simultaneous. All of a sudden they were playing at the same time, putting a strain on the system. That also made gymnasium space harder to come by in some places as well. All to make a few kids and their parents happy. North Dakota had watched South Dakota fight a similar lawsuit until its resources dwindled and it finally settled. Now we have two Class B tournaments and the Super A each spring.
[ 1 comment ]
( 20 views ) |
permalink
|
Click a dot to rate this entry:





( 3 / 305 )
---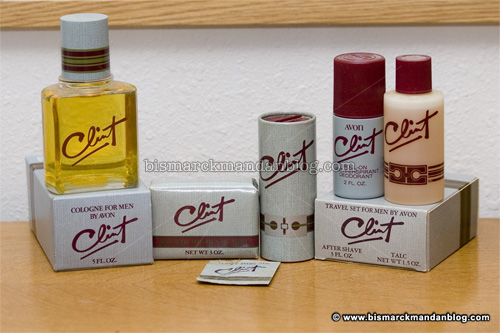 One could accuse me of a clever Photoshop, I'm sure...but these are legit, folks. When I was a kid, Avon came out with a "Clint" line of products. Thankfully my mom scarfed up a set for me, and they've remained in my souvenir box ever since. There's soap, talc, cologne, after shave, and roll-on deodorant.
What do they smell like? I couldn't tell you right now; I'm still getting over the flu, so my nose as stuffed as a Democrat ballot box. I don't recall the fragrance exactly, but I'm pretty sure it doesn't smell like
me
. That would never hit the market!
[ 3 comments ]
( 56 views ) |
permalink
|
Click a dot to rate this entry:





( 3 / 259 )
---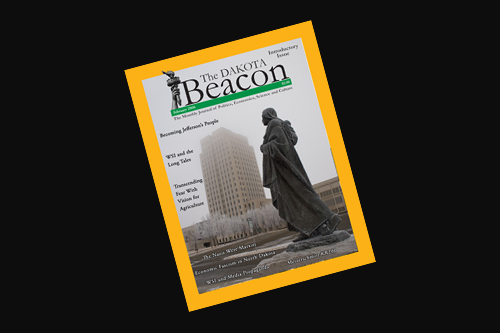 I forgot to mention that the new Dakota Beacon is on the newsstands around town. This one features a shot of the capitol in the icy fog, with the Sakakawea statue glazed over with frost. That was a cold morning!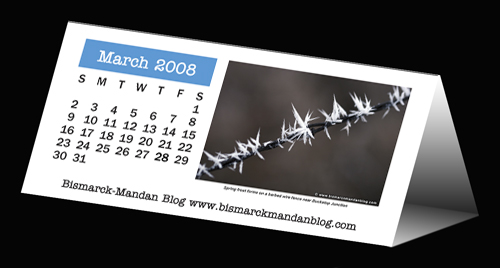 Also, I posted a new calendar. I didn't plan it this way, but it also has a frost theme. This is a macro shot of a stretch of barbed wire north of Buckstop Junction in east Bismarck, with some spiky frost on it. It was an honor winner in a Worth1000 contest last spring, and has always been one of my favorites.
To find a Beacon, visit a number of locations. I recommend subscribing. To download a calendar, click on the link on the lower right panel of this site.
I'm a bit of a statistic this week; for the first time ever, I swabbed positive for Influenza B. Yuck. So I've been a couch pilot since Sunday. Right now my little boy and I are watching Ren & Stimpy on my computer - he's got the toon on one monitor, I'm blogging on the other. But I'm starting to get lightheaded again and want to return to work tomorrow, so I suppose it's time to hit the couch again.
[ add comment ]
( 2 views ) |
permalink
|
Click a dot to rate this entry:





( 3 / 288 )
---
<<First
<Back
| 198 | 199 | 200 | 201 | 202 | 203 | 204 | 205 | 206 | 207 |
Next>
Last>>