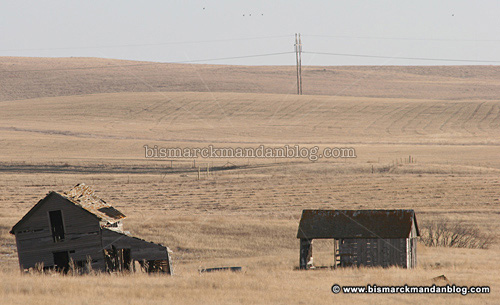 I don't know what it is about the dilapidated, abandoned old farmsteads that dot the North Dakota landscape, but I find them charming in a wistful sort of way. If I see one I've got to get a picture of it.
This house is actually "in" Bismarck, as it's south of Hawktree. You can see it from Highway 1804. That's where I took this picture...it's nice to have some long lenses!
[ 1 comment ]
( 33 views ) |
permalink
|
Click a dot to rate this entry:





( 2.9 / 531 )
---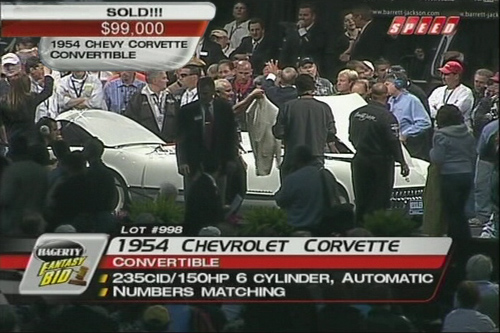 If you watch Speed Channel and happened to catch the Barrett-Jackson Auto Auction (they covered it for three days), you may have seen one of our local boys selling a car there. Dave Ressler, of Ressler Chevrolet, has bought and sold a number of cars at this show. This year his pride 'n' joy is this 1954 Corvette. It sold for $99,000!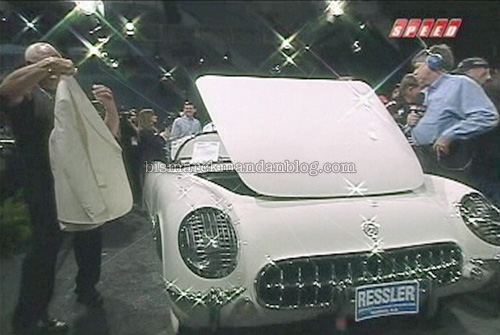 The announcers had a good time with this deal because Dave always brings a sportcoat matching the paint color of the car and includes it in the deal. The high bidder gets the coat draped over his shoulders until he's outbid. In this case the coat only changed hands (shoulders) a couple of times before the auction was completed. But the bidding went higher and higher for three or four minutes!
I was especially interested in this sale, which I caught on TV by accident, because I edited a promotional video for this car late last year. The video was produced to run on a flat panel display next to the car while potential bidders inspected the cars prior to auction. It detailed Dave's history, his passion for Corvettes, hiscollection, and the work put into this particular car. I don't know if it had any impact on the auction, but it sure helped show that Dave's not just some schmuck with a car to sell...he's a true Corvette enthusiast.
[ add comment ]
( 2 views ) |
permalink
|
Click a dot to rate this entry:





( 2.9 / 499 )
---
I suppose it was inevitable since the breakup of Meyer Broadcasting. But it's a shame. These two stations would simulcast at 6am and 6pm and, quite frankly, dominated ratings on radio and television hands-down. But then the Meyer dynasty started to get parted out and cashed in. First the radio stations in Minot and Montana went. Then the cable company. The sound studio. The post production company in Fargo. The broadcast and print holdings in Poland. Then the flagship, the one that started it all, KFYR-AM (and KFYR-FM, these days known as Y-93). And, last but not least, the TV stations all across North Dakota.
At the peak, KFYR-TV's 6am show went from 15 minutes to a full hour, with talent on set in the KFYR-AM studio. Despite the logistical challenges of making it work and be entertaining on both media, I think we did very well with it. I suppose the exodus of talent and the breakup of the stations' ownership meant its days were always numbered.
But back to the present...I saw this coming in recent weeks because KLXX 1270 has started to carry KFYR's news at 6am, 5pm, and 10pm. Since KFYR-AM moved from its old downtown studios, owned by KFYR-TV, to the Anderson Building in east Bismarck, it's not as easy as just running a pair of wires over to the radio station's console. But that shouldn't have anything to do with it. I guess someone's contract just ran out.
Since the TV ratings war in this town is so fierce, KXMB comes out as a big winner in this situation...after all, if you're driving home at 6pm and want to hear the news, you're most likely to hear theirs. KFYR has a lot stronger signal, and KBMR is operating so out of wack (possibly illegally, mind you) that they interfere with 1270 in most places...drowning out their signal almost entirely.
The weird thing is, I listen to talk radio on 1270 AM (a Cumulus station) and have yet to hear any promotion of this. You'd think that they'd want to stick some promos into Glenn Beck or Hannity instead of running stupid Ad Council PSAs. Then again, maybe not...look at their website at
www.bismanradio.com
and it doesn't promote much of their lineup either. I don't mean to harp on 'em for it, it was by sheer accident that I even found the website. I'd suggest to Cumulus, since I like your programming, that you get more aggressive about promoting it.
So it'll be interesting to see how the ratings battle between TV and radio changes, if at all, because of these radio station changes.
[ add comment ]
( 2 views ) |
permalink
|
Click a dot to rate this entry:





( 3 / 439 )
---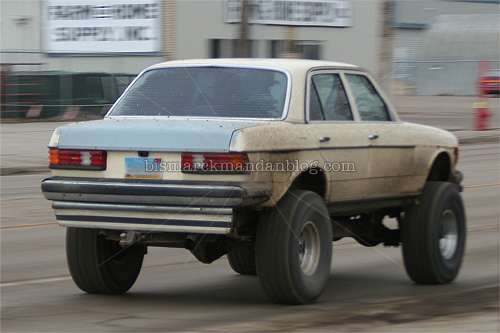 I saw this guy driving his big honkin' Mercedes SL this morning on my way to work. Amazing. I don't know if this is the same guy who has the
4x4 Pontiac Firebird,
but he's definitely cut from the same cloth.
Now if I can just get a pic of that mid-80s Cadillac Fleetwood with the 4x4 conversion performed, I'll have the trifecta!
(I wonder how many hits I'll get on this Mercedes Hybrid?)
[ 1 comment ]
( 40 views ) |
permalink
|
Click a dot to rate this entry:





( 3 / 478 )
---
This isn't exactly a new battle. When businesses such as Space Aliens were first built north of Century Avenue, this fight was already started. As I recall, MDU won. After all, they claim, they are supposed to be the ones serving the city. As the city grows, well, that's where the problems start. Capital Electric doesn't want to retreat as the city limits advance and claims it should serve this area. Judging by the news reports, they're ready to fight for it.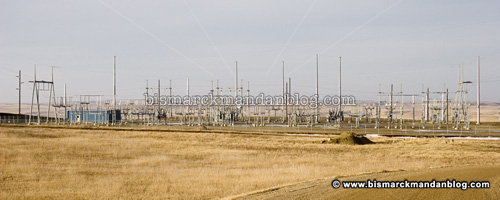 This substation north of 1804 might have something to do with it. These things don't go up cheaply, and it would be nice if Capital Electric could recoup some of those costs by serving a lot of homes in the immediate area.
They already had a substation in this area, but I guess the old one would be too small if it were asked to handle such a load. But we'll never know, will we? So far MDU has come up the winner when contesting service areas in North Bismarck.
[ add comment ]
( 2 views ) |
permalink
|
Click a dot to rate this entry:





( 2.9 / 469 )
---
<<First
<Back
| 329 | 330 | 331 | 332 | 333 | 334 | 335 | 336 | 337 | 338 |
Next>
Last>>