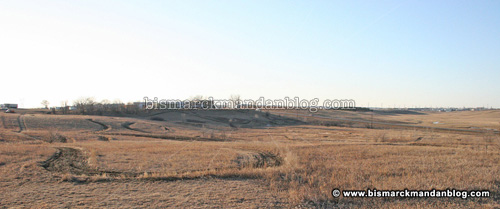 East of Bismarck you can see this trail cut into the hills east of Midwest Motor Express. It winds all around the field along the highway and up along the hill behind the trucking company. There are No Trespassing signs posted along the side of the road. But you know what? There's an option.
The owner of this property maintains the trail for motorcycle and ATV use. He's been gracious enough to open it up to people who want to ride. There's only one catch: you must stop in at the office of Midwest Motor Express and sign a waiver. It's a shame that in today's litigious society a guy could get sued for just about anything. This waiver shows that you agree to use the land at your own risk. I believe you must be 18 to use the trail (since you can't sign a legal document if you're a minor, maybe parents can sign for their kids if they agree to supervise them).
It's a really neat trail and a lot of fun to ride. There are no big jumps that I'm aware of, just a fun trail winding over several acres. It's really a huge trail...the pictures just can't do it justice at only 500 pixels wide.
So if you are over 18 and you are looking for a nice place to ride, and perhaps "the Desert" is just too sandy for you, pay the nice folks at MME a visit, sign the waiver, and have fun. But please ride responsibly...don't ruin it for everyone.
[ add comment ]
( 2 views ) |
permalink
|
Click a dot to rate this entry:





( 3 / 655 )
---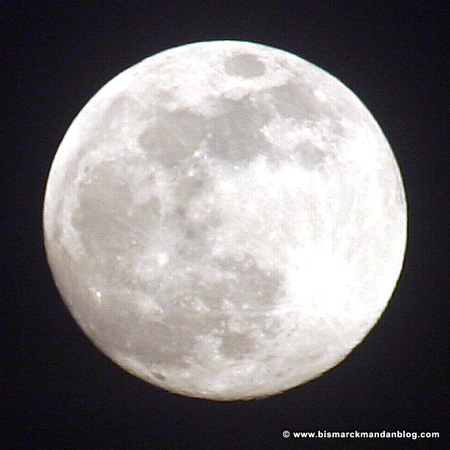 While up at Double-Ditch last night I was able to nab this moon photo. It wasn't actually dark, but the moon is so bright a guy has to clamp the aperture down to get a decent picture. It was actually taken within a minute or so of the picture below!
We still have a few nice "secret spots" around the Bis-Man area that are perfect for astronomy, astrophotography, or just plain hangin' out under the sky. This happens to be one of them, and on Monday it didn't disappoint.
[ add comment ]
( 3 views ) |
permalink
|
Click a dot to rate this entry:





( 2.9 / 538 )
---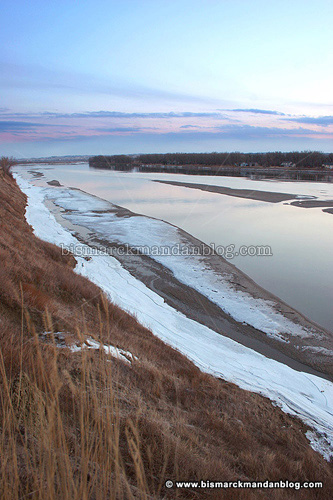 Help! Save the receding Double Ditch Glacier from the ravages of Global Warming!
That kind of nonsense could get me a membership in the Sierra Club. Spring is here and the ice is gone from the main river channel; along the cliffs below the Double Ditch Indian Village, however, the ice is clinging to the banks pretty stubbornly.
Personally I'd like to have a year-round ice shelf here. I could chip off pieces to keep my Red Bull cold!
That sandbar to the right knows a lot of late summer tales. It used to be a tradition in the 80's to have one great big blowout before college started. We'd drag a generator and PA system out there for music, set up volleyball nets and get some bonfires going. It was the last time many of us would get together before we all left town to get back to school. There would be a couple of people shuttling people back and forth from the shore on pontoon boats.
Double Ditch has changed a lot since then. The road used to be a loop; now it only comes in a short way from the north. After that you have to hoof it to get to the actual historic site. It's one of the best places around to watch the stars, but it's supposedly closed at night. Visitors used to be able to park along the cliffs and hang out; now that area is fenced off. But it's still one of my favorite places to go.
[ add comment ]
( 2 views ) |
permalink
|
Click a dot to rate this entry:





( 3 / 604 )
---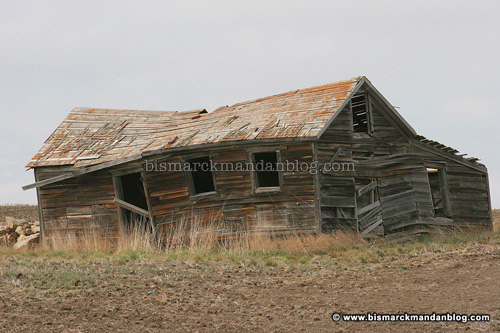 Here's another "fallen farm foto" from the area. This forlorn building sits along Interstate 94 west of town. I actually had to get the truck pretty darn muddy to even get close to this building (I have a habit of NOT approaching them too closely, as they're still on private property) because the gravel road was poorly maintained. But you can actually see it from the Interstate as you travel towards Glen Ullin.
These buildings add a certain unique charm to the ND landscape and are in danger because of the methamphetamine epidemic. It seems that meth addicts like to use buildings like this for temporary labs, and I've heard of a couple of farmers being assaulted or shot at while checking out old buildings on their own property. Many farmers choose to just knock them down and avoid the danger. It's another sad casualty of the plague of meth use that's running rampant in our area.
[ add comment ]
( 2 views ) |
permalink
|
Click a dot to rate this entry:





( 2.9 / 490 )
---
I remember walking through Wal-Mart the night after we premiered the new weather set. I ran into a buddy from KXMB and he said they were flabbergasted...not only by how cool it is, but they couldn't figure where we put it! KFYR's studio is very tiny. They were blown away. And that's with good reason; not only is it a good set functionally and visually, it was designed to look larger than life on TV. And it does.
Then came this camera angle: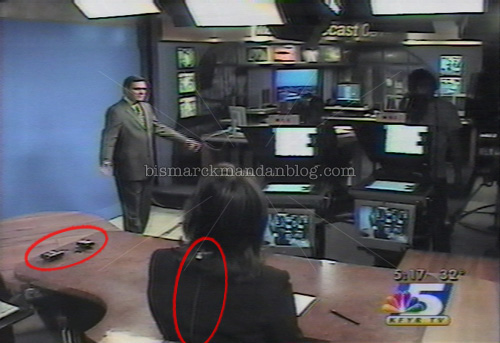 This comes from a lipstick camera over Monica's right shoulder (camera left). You can see the camera above her on certain shots of her. There are a few
major
problems with this camera angle:
1- They just defeated the thousands of dollars spent on the new Weather Center. Now you can see that they're doing "news in a shoebox." Before the thing looked larger than life. Now it looks stuck in the corner.
2- There's stuff lying on top of the countertop of the news set. The camera operators are supposed to check this before the news, but sometimes it doesn't get done. Then it shows up on television.
3- Monica doesn't tuck in her IFB (earpiece) cord. So now that looks unprofessional as well.
When I directed the news at 5,6,or 10, I would boycott this shot. Like I said...it defeats the purpose of having that fancy set in the first place. It was made to kinda mimic the across-the-studio angle used in some network newscasts; unfortunately, you need a big, roomy studio to pull that off. It doesn't work here.
The station's under new management these days, and I'm guessing that's why this shot never shows up any more. It might get used if the director finds themselves without another camera in the right position, but thankfully it's not policy anymore.
I'm not ragging on my former home here...it's just that sometimes a good idea doesn't turn out the way you want it to. I'd say that this particular camera is a good illustration of that. And Kevin still has the best weather set (and Galileo weather systems) in the market.
[ add comment ]
( 2 views ) |
permalink
|
Click a dot to rate this entry:





( 3 / 501 )
---
<<First
<Back
| 328 | 329 | 330 | 331 | 332 | 333 | 334 | 335 | 336 | 337 |
Next>
Last>>