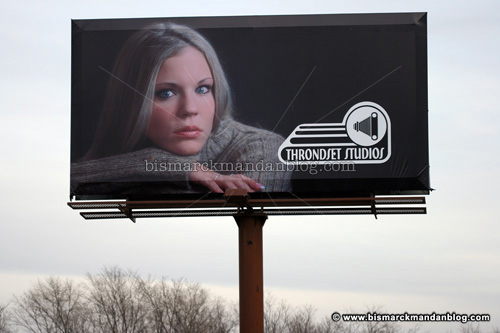 I'm sure the girl on this sign, located at 26th and Rosser, is a very nice girl. She's obviously very pretty. But those lovely blue eyes seem to FOLLOW a guy while driving by! I'm not the only one...in fact, I've had a couple of different friends ask if I've seen "that spooky sign on 26th."
Sure, it's an optical illusion and all that, but it's still quite freaky. Get on Rosser Avenue on or before 26th Street and head east...you'll see what I'm talking about.
UPDATE:
This sign has been rotated out now. It's been replaced by a Metro Collision Center ad. The spookiest thing they ever did was forget to replace the emblems after they painted my car.
[ 1 comment ]
( 48 views ) |
permalink
|
Click a dot to rate this entry:





( 3 / 539 )
---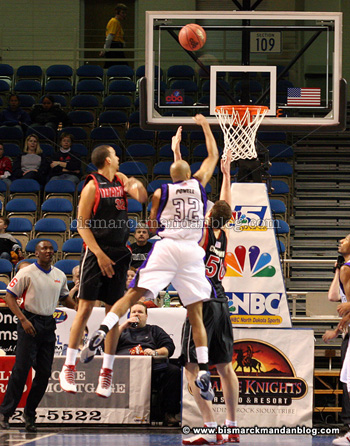 I'm not a sports photographer, but I do have a floor pass for the Wizards games...so I thought I'd try my luck. It's much harder than wildlife, that's for sure. It's going to take more practice, but since the Wizards are pretty much eliminated from the playoffs, I'll have to look forward to next fall.
They had a strong lead going, relaxed, forgot how to rebound, and ended up with the score tied at the end of the 4th. That means they lost the quarter point, and they went on to lose the game at the end of the overtime period. Better luck next year. Their (presumably) last game of the season is tonight at 7:05 at the Civic Center.
One thing that was a surprise to me is all the yelling going on courtside. There was one crotchety old fart sitting in the first row of bleachers on the South wall that did nothing but insult the officials at the top of his lungs. It's no surprise he was sitting there alone; if you were his wife, would you want to sit with him? I was actually embarassed for the guy.
[ 1 comment ]
( 15 views ) |
permalink
|
Click a dot to rate this entry:





( 3 / 524 )
---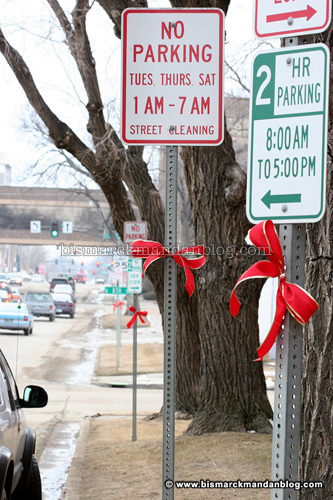 You may have noticed these red bows along your route as you drive through downtown Bismarck. They're not left over from the holidays...they're a gesture by a local girl named Jessica to her fiance, Barry. He gets to see them on his drive to work every morning and know she's thinking of him. She put them up this year in certain parts of town where she knew he would be driving.
If you watch KFYR-TV news, you may have seen a news story where they interview someone from St. Alexius Medical Center, who says the bows are up because of some sort of heart-related awareness campaign. If that's the case, then why do they continue down Rosser and go around Medcenter One on 7th Street? Is this some unprecedented gesture of cooperation between competing hospitals? I don't think so.
I can understand if a local TV reporter gets it wrong...it really happens all the time, especially since the stations rotate so many fresh journalism graduates from out of state. But then for St. A's to go ahead and say, "sure, that was us" is just plain dishonest. Jessica said she called KFYR-TV to set the record straight, but was brushed off. I guess they already got their story.
[ add comment ]
( 2 views ) |
permalink
|
Click a dot to rate this entry:





( 2.9 / 511 )
---
When I have spicy food, which I love, I tend to have some interesting dreams that night. The more I eat, the more kick I get. This can be an especially wild ride since I like to make quick-n-dirty rotini pasketti before bed some nights, and I
always
throw in plenty of basil and oregano. This despite knowing what awaits after my head packs the pillow.
I came home tonight to find that my wife had taken the ISP to a whole new level. She knows how I love this particular dish; we ate it on our first date, our 1 year dating anniversary, and our wedding day! Yet more evidence that she's the most wonderful woman I could have ever encountered: she put her culinary skills to work, gathered the ingredients, and somehow made a dish that is so perfectly identical to my beloved ISP...yet somehow so much better. It's got that special ingredient: love. Double wow. So, I got to shovel a bunch into my head tonight with leftovers to spare. It's going to be a goooooooood lunch at work Tuesday.
Fast forward to sleepy time. I hung around the house to do some chores while my wife went to a friend's place. The evening was winding down as she got home. She wanted to play a game, perhaps with the Peanuts chess set she bought me for Christmas. I, on the other hand, wanted to finish the important work of single-handedly killing terrorists with my X-box. So she started to get ready for bed. Thankfully I not only diffused the bomb and killed the terrorists, I also realized that it was time to turn the darn thing OFF. So I darted off to bed so we could cuddle and recap our day with each other.
Meanwhile, I've got a remarkable blend of herbs and spices working on me. Have you ever had one of those nights where you have an eight-hour dream, and wake up to find you've slept for two hours? I had a couple of those. But then I dozed off pretty hard...when I awoke again, I had to wake up and fire up the laptop for this one. I don't want to forget.
This particular dream started out in a pretty ethereal way, as most do...I ran into a friend who needed their bike fixed and I had a key to the hardware store at the mall (I have no idea where it all came from) and then bounced around to a few other nonsensical situations. Once things started to solidify, I found myself in a fancy hotel/mall complex, with a modular glass roof and white tile, not unlike any of a number of buildings I've visited in Minneapolis. There was some big party on the top restaurant level later that day, and the whole complex was buzzing.
Details then get a little hazy until that evening, when I was at this big party of some sort. I do remember bumping into an international dignitary earlier that evening, and of course he looked like Manute Bol, who I saw on satellite (for real this time) Monday night because he was arrested for fighting with his wife. So I find myself at an offshoot of this party, which is an Italian dinner hosted by my friend Pat. Pat just got married and is an old school Italian, and he'd whipped up a fancy dinner for a few of us.
(I wonder if that would cause me to have a weird dream within a weird dream? Oh man, I better stop right there.)
Manute Bol showed up for a few but didn't like the potatoes...and then I took off to circulate at this huge event.
This is where it gets really wack. I bump into Bruce Willis. His character in my dream is there because of some fancy art exhibit that's part of the gala celebration. The reason he needs to see it is that he lost his wife recently and one of the things she wanted most in life was to see this one particular painting. She never got to see it because they never traveled. Now the painting was here, and this guy was here to see the painting and grieve for his wife. This whole situation actually took what seemed forever.
We broke company for a bit because I ran into Michael J. Fox's character from Boston Legal. He's had a temporary part on this show as a multi-billionaire who is dying of cancer and can't buy his way out. On the last of the three or four episodes where he guest starred he had a big "living funeral" at a pub where everyone had to dress up in a hockey jersey and have a good time. I forgot to look for Sioux jerseys, but I'd have worn one if I was there. But in my dream, he was doing pretty much the same thing: having a big send-off. Apparently I knew him, because I gave him a big slap on the back and we shared a brief conversation I don't remember.
The next thing I remember is that the party's wound down. Most of the guests are gone and all that's left is a full-scale cleanup on all floors of this complex and restaurant and suites. Pat's gone... that party's disbanded too. I run all over looking for Bruce Willis, thinking there's a way to console him. He's nowhere to be found. Michael J. Fox is gone too, presumably having gone to a trendy ski village in the Alps to die alone, as he did in the TV show. And then the question hits me in the face. What's the last thing you'd want to do...ever?
If the last thing you ever did was recorded for posterity's sake, what would it be? Peanuts chess with your wife? A gathering with friends, perhaps over homemade Italian food? Perhaps something silly, meaningless and self-absorbing while the one who loves you waits in the next room for you. You could obsess over some material object or status you can't take with you (Luke 12:16), or depart never having done or seen something you wanted because of a silly hindrance. Or maybe, just maybe, the last remembered thing you did could be the one thing you love the most, shared with the person you love the most. That would be a nice epitaph, wouldn't it?
I signed a pair of life insurance policies today to provide for my wife should something ever happen to me. Perhaps that, combined with the spicy food, put me on this journey. I didn't really think I had my own mortality in mind while signing the papers. Maybe deep down I did.
As I woke from this dream, I actually remember myself walking past the shelves of a gift store in this big complex, my eyes searching a rack of DVDs, hoping to find the DVD of this. Boy, the semiconscious mind is wild, isn't it? Sadly, it wasn't out on DVD yet :-) So I woke up, looked at the big blue 4:34 on the clock, and grabbed this laptop. I wanted to remember this dream because I think that nagging question is a very important one. I've got a friend who's a screenwriter in Hollywood, maybe I should pass this one along to him. Note to Mike: can you get Bruce and Michael J.? Just make sure you send me a copy on DVD. The gift store didn't have it in stock.
(My wife made this wonderful ISP off the top of her head, but offered to write down the recipe in case I wanted to make it on my own sometime. I told her I didn't want it without her, but if anyone wants the recipe I can get it and post it here. It does not contain any hallucinogenics, honest.)
[ add comment ]
( 1 view ) |
permalink
|
Click a dot to rate this entry:





( 3.1 / 54 )
---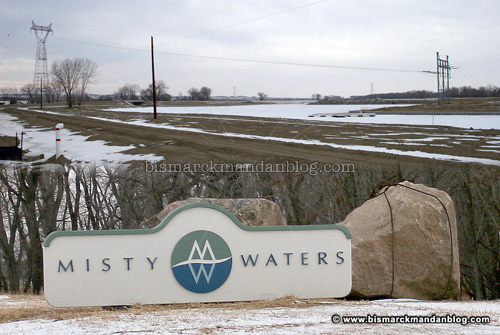 You're looking at a wide angle of a new neighborhood being built along the Missouri River, north of Bismarck. It's called Misty Waters. This new inlet and neighborhood are being built immediately north of the Burnt Creek boat dock. Like the trendy Marina Bay and Southport areas, a spot in this new neighborhood will likely come with a hefty price tag.
The only difference here is the lovely view of the Heskett Station power plant right across the river. "So what," you may say, "I'll get a lot on the east side of the lake." Well, hopefully that blocks the noise. Yes, that power plant makes some pretty good racket. I doubt they'll turn it off at 9 pm for you.
For some reason, people are financing themselves silly to get a house along the river. If the huge payments aren't daunting enough, maybe the noise will be a deterrent. I think, however, there are plenty of people willing to sacrifice to have that coveted spot along the water. Make sure the mortage company throws in a box of ear plugs.
This reminds me of nonsense we went through in Brainerd, Minnesota in the late 90s. People bought land bordering Brainerd International Raceway at a cheap price because of all the noise on the other side of the trees. Then they all gathered forces and got a noise ordinance passed against the track! All of a sudden machines such as our motorcycles were subject to noise restrictions even a stock motorcycle couldn't pass. It was ridiculous, and we were only shut down for a year or two. In any case, if the power plant is too loud for people on the Bismarck side of the river, they wouldn't have any such recourse...no matter how fashionable the neighborhood.
[ add comment ]
( 1 view ) |
permalink
|
Click a dot to rate this entry:





( 3 / 57 )
---
<<First
<Back
| 331 | 332 | 333 | 334 | 335 | 336 | 337 | 338 | 339 | 340 |
Next>
Last>>