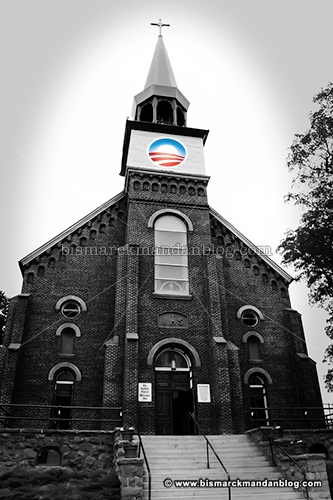 On my way out of the office earlier this week, I saw Monica Hannan open "First News at 5:00" with a story touting an interesting poll. It claimed that a majority of Catholics' opinion of President Obama hadn't changed in light of the Obamacare mandate on "contraception."
I was surprised to hear this poll reported as credible on KFYR, because it ignores two very important facts:
1- The pro-abort crowd has WON this issue if they continue to refer to it as a "contraception" issue. Go back to those same professing Catholics, poll 'em again
AFTER
reminding them that the mandate also includes
ABORTION
drugs. Look up what an "abortifacient" drug is, or a "morning after" pill. Guess what: the Catholic church is going to have to hand
THOSE
out too. My guess is that at a
LOT
of Catholics who don't mind strapping on prophylactics in defiance of the Pope would have a real problem with handing out abortion drugs!
2- It's not just an issue of contraception, or even abortion. It goes far more fundamental. Let's simplify the scenario for a second:
Government: "Hey, church - we want you to do 'X' and we're going to require it by law."

Church: "Um...no. 'X' is against our beliefs and teachings, and has been for centuries."

Government: "Well, that's too bad. We're going to make you do 'X' anyway. After a week of bad press, we'll claim it's the insurance companies paying for 'X', but you're still going to do it. Besides, your membership's doing 'X' in secret anyway...regardless of your church's belief."
So what's the right answer for the churches or practicing Catholics to give here? I'll give you a hint: it's NOT one of acquiescence.
And by the way, it's
NOT
just a Catholic issue. Just because Christian churches don't have a tenet forbidding contraceptives, they are
ALL
united against abortion. That's what brought Catholic, Christian, Jewish, and even Muslim groups together in unity against this mandate. But you don't hear anything about that anymore, do you?
This is how the media works to further leftist agendas: with a vacuum. They locked the issue of mandatory government-funded abortion into a vacuum chamber, and only reported on "the contraception issue." Not only did that take the worst part of the issue out of the argument completely, but it also sliced those unified groups apart and focused only on the Catholic church, an organization liberals knew they could easily roll over. Divide and conquer, 21st century style.
I'm not surprised at how many Catholics have fallen hook, line, and sinker for it...given the fact that the Catholic Church has given in to liberal progressivism long ago in what
Paul Rahe calls "Catholicism's Pact with the Devil."
[ 2 comments ]
( 38 views ) |
permalink
|
Click a dot to rate this entry:





( 3 / 133 )
---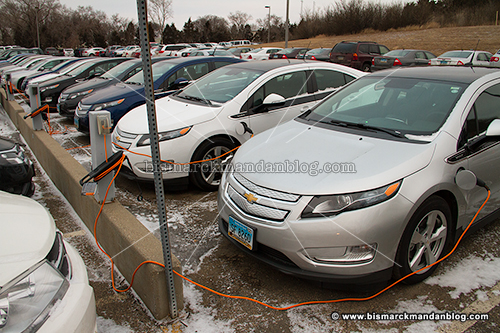 The state fleet grew by ten this week as the DOT purchased several Chevy Volts. These are electric cars with a range of about 40 miles, so I don't think anyone will be running from Bismarck to Fargo (or Minot, or Glen Ullin for that matter) with them without kicking in the backup gas-powered generator. I wonder if they'll make interesting little git-around-town vehicles. They're going to be distributed around the state to the eight motor pool regions for state employees to use on official business. GM has suffered dismal failure in trying to convince the general public to buy these things, so I hope the state was able to leverage a sweet deal before spending our tax dollars on them.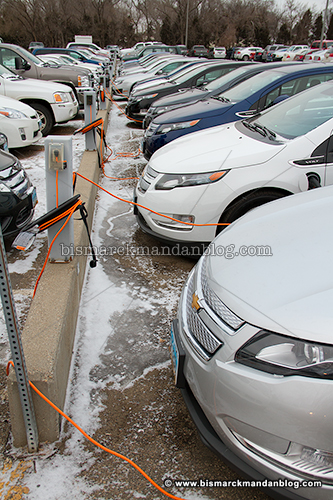 If you sense apprehension in my words, don't get me wrong. I'm not fundamentally opposed to electric cars; I think it's a good idea to explore new technologies. After all, the "brick" cellular phone of the 90's had to precede the smartphones of today. What I do oppose are any simpletons who claim they're "saving the Earth" by purchasing one. Apparently people like that think their outlets are juiced by the Electricity Fairy or something. Let's face it: these things are NOT going to be charged by windmills or solar panels...period. Thankfully I don't get the impression that anyone at the state is making any of these pie-in-the-sky claims. This isn't the first set of electric vehicles to frequent the capitol; there are still some
GEM electric vehicles
in use as well.
All "saving the planet" BS aside, I don't know if I see these things as nearly as big a boondoggle as the state's fascination with ethanol blended fuels. Those are a sure-fire loser, with less thermodynamic potential than gasoline, propped up by taxpayer subsidies in a perverse shell game, while wreaking havoc on the food market. These cars are drawing power from North Dakota lignite-fired power plants, and we can be quite proud of that. I just try not to think of the fact that
each one of these cars may already have as much as $250,000 in taxpayer money already subsidizing it.
[ add comment ]
( 10 views ) |
permalink
|
Click a dot to rate this entry:





( 3 / 145 )
---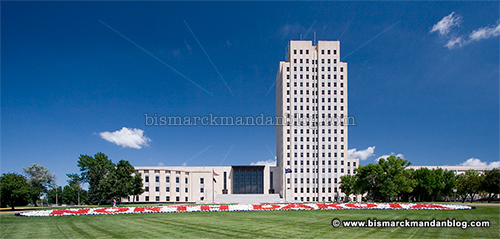 I haven't been able to reconcile the philosophy that a centralized government is a
bad
thing with the philosophy that putting all local spending in the hands of a centralized state government is a
good
thing. The problem with the property tax lies with local governments, and that's where it needs to be fixed. Measure 2 will not accomplish this. In fact, I think it's an example of bad mechanics.
Our legislature meets part time for eighty days every two years...
that
is supposed to be sufficient to take on the responsibility of managing ALL local spending for the state? Not likely. Just the support structure required for the legislature to assume the additional oversight duties would amount to a huge balloon in spending and bureaucracy - and we all know how well
that
works out for the general citizen.
State spending under the guidance of our legislative body has soared time and time again, with no apparent frugality to be found anywhere. Now, according to Measure 2 proponents, this same legislative body is expected to be the responsible party and rein in all this rampant overspending and over-taxation by the local government bodies. These same local entities, I might add, have a pretty decent lobby already in place with the Association of Counties et cetera. Riiiiight. Am I the only one who lacks faith in the fiscal virtue of our legislature? What happens if the Democrats ever get control of it someday and cut loose the purse strings even further?
Remember Governor Hoeven's ill-fated "property tax relief"? It was a shell game which did little if anything to relieve property taxes in the short term, but it hung the issue squarely around the neck of the state legislature. I remind you that the legislature neither levies nor collects property taxes - but thanks to this blunder, they own it in the eyes of the people.
I read another interesting point about rural counties a while ago. Much of the land in these counties is owned by non-residents. If the property tax goes away, it will not be replaced by income or sales tax from these people; they're not here to pay it. This will in essence defund many counties, instead requiring the rest of North Dakotans to ante up to pay the difference.
This proposed measure, Measure 2, is an ill-fitting band-aid. We all agree that local (city/county) governments are abusing their power to spend money, assess property values, and levy property taxes; however, this measure does nothing to address that. It takes the idea of spending out of the hands of one bunch of free-spenders and puts it in the hands of another, one which meets once every two years, is barely allowed enough time to finish its business, and has proven itself no more responsible with taxpayer dollars than the local entities this measure aims to dethrone. The stand against abusive property taxes, if it really wants to enjoy any measurable success, needs to be taken at the local level...period.
[ 3 comments ]
( 34 views ) |
permalink
|
Click a dot to rate this entry:





( 3 / 120 )
---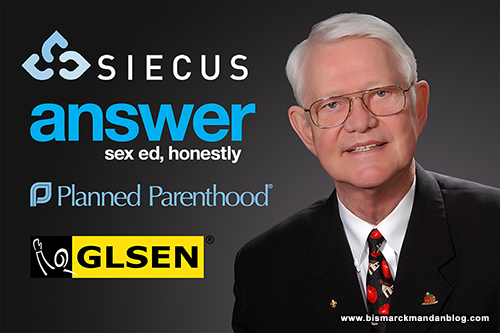 The Bismarck Tribune recently ran
this article
stating that Wayne Sanstead hasn't decided on whether or not he'll be running for another term as head of North Dakota's Department of Public Instruction. He asserts that health and tradition play a factor. I'd like to see another very important factor come into play.
Wayne Sanstead's DPI is persistent in trying to fly a pro-homosexuality agenda under our collective radar and into our children's classrooms. The groups they affiliate themselves with are the same cadre of twisted freaks who
got busted teaching "fisting" and "rimming" to school children in Massachusetts in 2009.
Here's my post from the first time they tried to sneak this garbage into our schools.
People found out about what was planned to take place, they notified their legislators, and the DPI folks colluded with their out-of-state partners to hunker down and wait for the legislative session to come and go. And that's what they did.
Here's my post about when they actually pulled it off, just like they'd planned.
The Bismarck Tribune, by the way, printed a glowing article making DPI's Sandra Tibke look like a cross between a martyr and a modern day Mother Teresa. It's no wonder that, if you try to comment on the Sanstead story highlighting things that concern you about this garbage taking place during his term of service, those comments never reach the light of day.
I admit, I only visit the comments section of the Bismarck Tribune website very infrequently...and only when I find myself with a few dozen extra IQ points I want to shave off by subjecting myself to the comments posted therein. But this time, when I decide to chime in with something that doesn't fit the agenda, it never got posted. The Bismarck Tribune is very transparent on where they stand on the issue.
If Wayne Sanstead does choose to run for re-election, this needs to come out. Regardless of your views on homosexuality, is the public school classroom really the place for advocacy? Do we really want to put our teachers in that position, whether they want it or not? Do North Dakota parents want to cede parental authority in matters of morality and sexuality to their children's schools, whose view on these matters is obvious and agenda-driven? Under Sanstead's leadership, DPI's position seems to be in the affirmative on all counts. We need to stop this, and put an end to his term as head of DPI.
[ add comment ]
( 24 views ) |
permalink
|
Click a dot to rate this entry:





( 3 / 179 )
---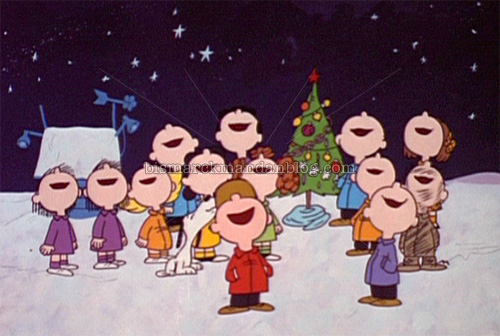 Hark the herald angels sing,
Glory to the newborn King!
Peace on earth, and mercy mild,
God and sinners reconciled.
One ubiquitous Christmas holiday phrase is "Peace on Earth." As the hymn above shows, that is entirely appropriate; however, we tend to assign an earthly context to it by mistake. It's not about peace between men at all; rather, it means peace between men and God. Those four most important words I alluded to in the title are the last four in the verse above: "God and sinners reconciled."
That
is the source of peace on earth.
"And suddenly there was with the angel a multitude of the heavenly host praising God, and saying, Glory to God in the highest, and on earth peace, good will toward men." (Luke 2:13-14)
That peace and good will didn't transmit from man to man; it came from God to all men. Since the fall of Adam, that peace between God and men did not exist. By giving the gift of His son, however, God was offering that peace and good will to men once again:
"For unto us a child is born, unto us a son is given: and the government shall be upon his shoulder: and his name shall be called Wonderful, Counsellor, The mighty God, The everlasting Father, The Prince of Peace."
(Isaiah 9:6)
There's your peace...
"Therefore as by the offence of one judgment came upon all men to condemnation; even so by the righteousness of one the free gift came upon all men unto justification of life." (Romans 5:18)
Repeatedly in the Old and New Testaments, the Bible reminds us that "there is none that doeth good, no, not one." Romans 3:23 points out that
"For all have sinned, and come short of the glory of God."
We need as Savior, one whose birth we celebrate each Christmas. As the angel told Joseph:
"Joseph, thou son of David, fear not to take unto thee Mary thy wife: for that which is conceived in her is of the Holy Ghost. And she shall bring forth a son, and thou shalt call his name JESUS: for he shall save his people from their sins."
(Matthew 1:20)
This was the Savior foretold by the prophets. For example:
"For unto us a child is born, unto us a son is given: and the government shall be upon his shoulder: and his name shall be called Wonderful, Counsellor, The mighty God, The everlasting Father, The Prince of Peace."
(Isaiah 9:6)
God's desire is to restore that fellowship and peace, reconciling (see those four important words once again) us to Him through his Son:
"For it pleased the Father that in him should all fulness dwell; And, having made peace through the blood of his cross, by him to reconcile all things unto himself; by him, I say, whether they be things in earth, or things in heaven. And you, that were sometime alienated and enemies in your mind by wicked works, yet now hath he reconciled..."
If you've read this blog for a while, you know that I believe what Jesus says in the Bible: "you must be born again." He means that in order to be forgiven and assured a place in heaven, you must put your faith and trust in Him. We can not do anything to assuage the sin that we carry in our lives; only He can.
By placing your belief and trust in the Lord Jesus Christ to forgive your sins, acknowledging that He made the only sufficient sacrifice for them on the cross, you can be saved. Only then will you be able to truly partake in that "peace on earth" that the angel of the Lord spoke of when declaring good news to those shepherds.
I love the spirit of Christmas as much as, if not more than, the next guy... but the joy, the spirit, the family time, the celebrations, the lights, the gifts... those are all simply a by-product and a shadow of the joy that God extends to each and every person through His son, the one through whom we enjoy unspeakable joy and peace each Christmas and throughout the year.
[ add comment ]
( 15 views ) |
permalink
|
Click a dot to rate this entry:





( 3 / 152 )
---
<<First
<Back
| 37 | 38 | 39 | 40 | 41 | 42 | 43 | 44 | 45 | 46 |
Next>
Last>>