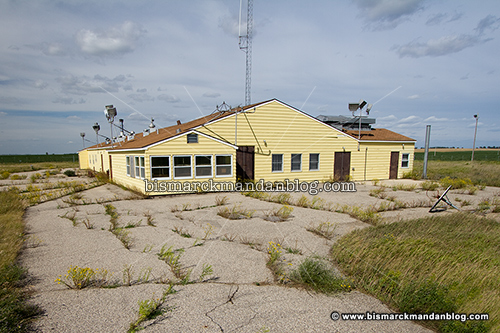 When the 321st Missile Wing was deactivated, its silos were imploded, communications lines cut, and underground launch control facilities filled. The above ground portion of its facilities were turned over to private landowners. I've visited many of these, and sadly many are in a state of decay. Then there's this one.
I got quite a laugh after pulling up to the gate. You may remember that I have a strict NO TRESPASSING rule in my photography, so the gate is as far as we went. There was something odd about this building, and my eyes quickly honed in on a shape in one of the windows, behind the former security desk: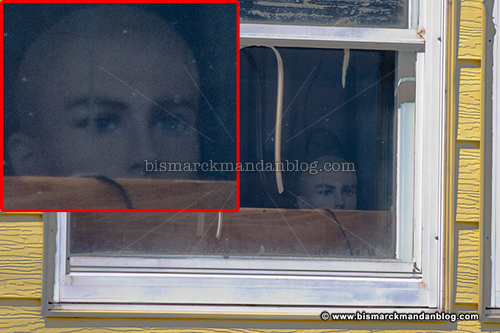 Thankfully one of the lenses I carry is a long telephoto, which allowed me to see what the spooky shape was: a manikin! Boo! The sight of that head just barely peeking over the counter is probably spooky enough to dissuade any potential trespassers...
especially since it reminds me of that bald chick from the first Star Trek movie.
By the way, if you're interested in more of the sights I saw on this trip, check out some older posts:
"Cold War Mancation", Part One
"Cold War Mancation", Part Two
"Cold War Mancation", Part Three

"Cold War Mancation", Part Four
"Cold War Mancation", Part Five:
[ add comment ]
( 4 views ) |
permalink
|
Click a dot to rate this entry:





( 3 / 331 )
---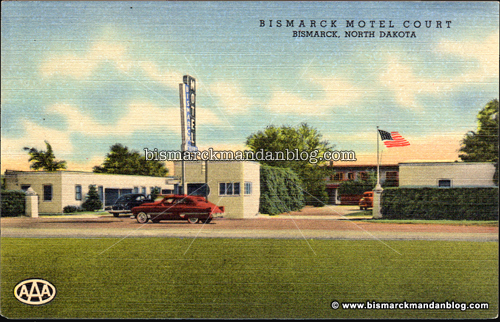 This is one of the old Bismarck postcards in my collection, and it is particularly noteworthy because the hotel it features suffered a terrible fire in January. The postcard was issued by AAA a long time ago. It lists the hotel as "1 Mile East of Downtown Bismarck on Highway US 10 & 83".
It's sad to see parts of Bismarck-Mandan history pass, isn't it?
[ add comment ]
( 1 view ) |
permalink
|
Click a dot to rate this entry:





( 3 / 42 )
---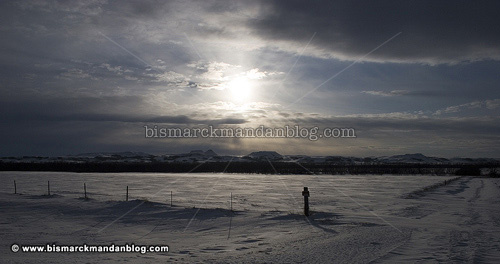 We're back into a cold snap - at least the bleak landscape makes for some interesting photography opportunities!
[ add comment ]
( 6 views ) |
permalink
|
Click a dot to rate this entry:





( 3.1 / 327 )
---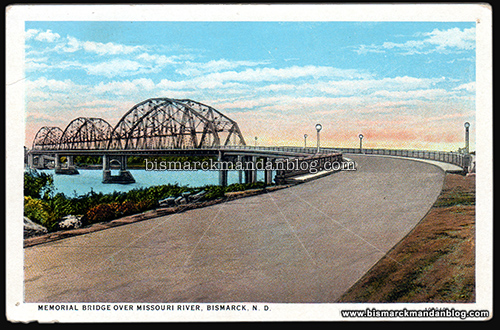 Poking around the other day I found a couple of new postcards. As you know, I've got a fondness for the old Liberty Memorial Bridge. This card features the bridge from way back...even before it connected to west Main Street! I'm too young to remember this, but I sure can appreciate it.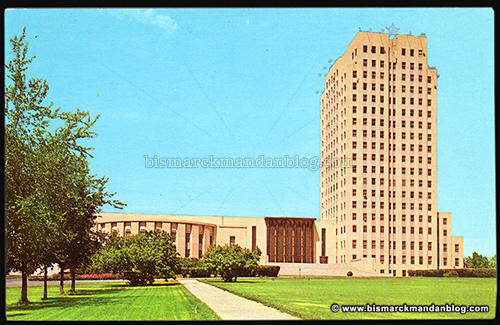 This incredibly blown-out and oversaturated post card is very important to me. Look at the top of the tower to see why: it's got lights hanging from the top edge of the capitol tower! It actually wasn't until I discovered an older postcard of the capitol that I discovered this interesting tidbit. I thought the tower had always been lit from below. I was wrong.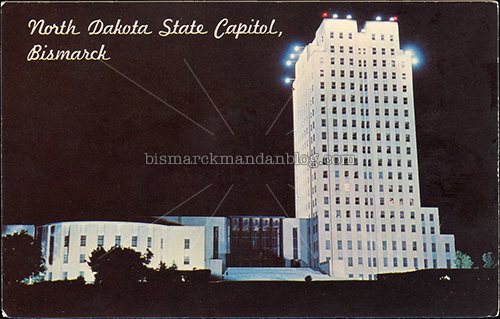 Here's a postcard I bought last year, the one through which I made my illuminative discovery. I'm so glad they light the tower from below now; those lights on the top look really cluttered! I bet it was no picnic changing bulbs, too!
I've got a couple more interesting old Bismarck postcards to share soon. Stay tuned!
[ add comment ]
( 8 views ) |
permalink
|
Click a dot to rate this entry:





( 3.1 / 339 )
---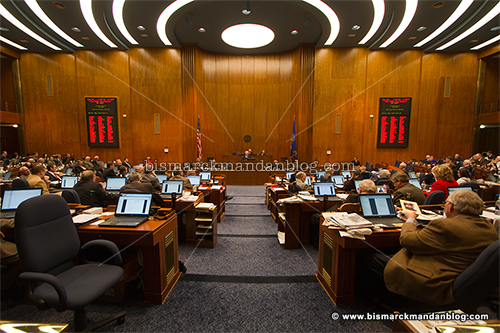 But here they are! I spent some time breaking in my press badge while perusing the legislature last week. This photo is from the House...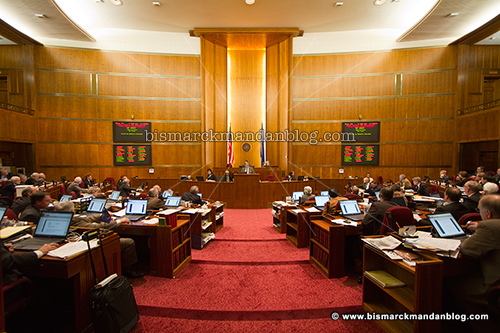 and this is the Senate. This was during a normal day's business, but I'm hoping that the legislature decides to participate in an event I've enjoyed during the past two sessions: Citizens Night at the legislature.
Curious? Check
this link
and
this link
for more.
[ add comment ]
( 10 views ) |
permalink
|
Click a dot to rate this entry:





( 3.2 / 308 )
---
<<First
<Back
| 73 | 74 | 75 | 76 | 77 | 78 | 79 | 80 | 81 | 82 |
Next>
Last>>